When it comes to web hosting, there are some great offerings from various different brands out there. Web hosting in today's times has actually become quite accessible and fairly cheap. This is mainly due to the fact that there are hundreds of thousands of websites being launched every day. The demand brings the cost down where web hosting as a commodity can actually be rented for quite affordable monthly and yearly costs.
While there are web hosting companies that sell their hosting spaces for great prices, there are also companies that will provide you absolutely free web hosting for your website.
Why are these companies offering free hosting offers, you ask? Mainly due to the fact that you as a customer can easily choose to upgrade later to a paid plan whenever suitable for you.
Without any further ado, let's list some of the best free website hosting services out there.
Free Website Hosting Options
Cost: Free ($300 credits for the first year)
Domains: One
Linux, Apache, MySQL and PHP
When it comes to the web, we all know how relevant Google is to whatever you do online. It is most probable that your main email address is a Gmail one.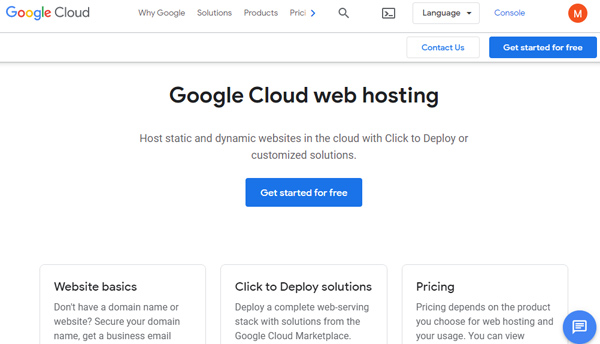 Google offers a year's worth of free website hosting on its cloud servers. You get a bare allocation where you can install CMS such as WordPress quite easily. Google has guides and documentation for you to set up a website quite easily.
When you sign up for Google Cloud Hosting, you will be offered $300 in free credits that you can use for a year without any payments from your side.
Cost: Free
Domains: One
Subdomains: Three
1 GB disk space; 5 GB bandwidth
Linux, Apache, MySQL and PHP
24/7 live chat support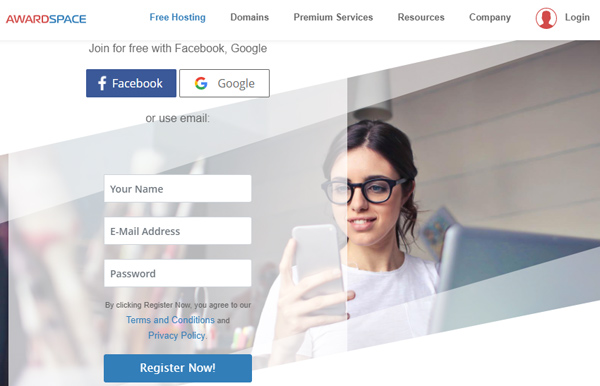 AwardSpace is a premium hosting company with free website hosting services as well. Their free hosting services is definitely one of the best and it allows you to run a server with cPanel which comes integrated into your account.
Cost: Free
Domains: One
Subdomains: Unlimited
Linux, Apache, MySQL and PHP
Knowledge Base support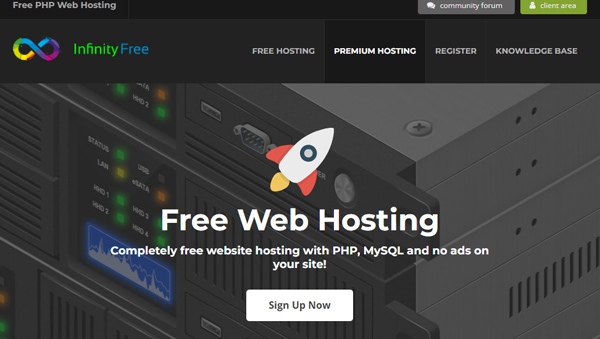 InfinityFree is a free hosting offering by iFast Net and it offers great features with its free website hosting offering. When you sign up, you get access to your own cPanel with access to Softaculous which lets you automate the installation of 40 different CMS options. Your website will be limited to 50,000 hits a day though, but for a free offering, this is a great option.
Cost: Free
Apps: Site Builder or CMS choice from 300+ different options
Knowledge Base support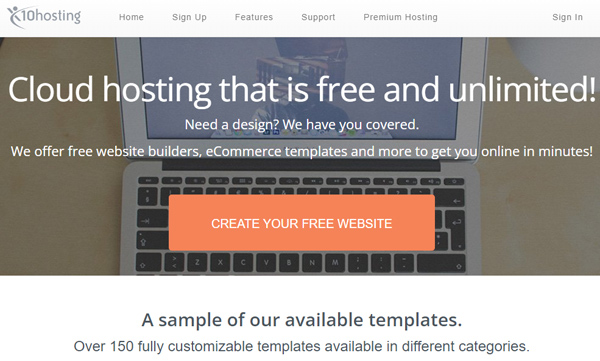 x10Hosting not only allows you to create a website with their own website builder with 150+ free templates, but you can also use WordPress and then create a site with your own choices and themes if you so wish to do so. x10Hosting.com has been around for 10 years which is just a testament of the fact that they are here to stay.
Cost: Free
Domains: One
Subdomains: No
10 GB disk space; Unmetered bandwidth
One MySQL database
Ticket support system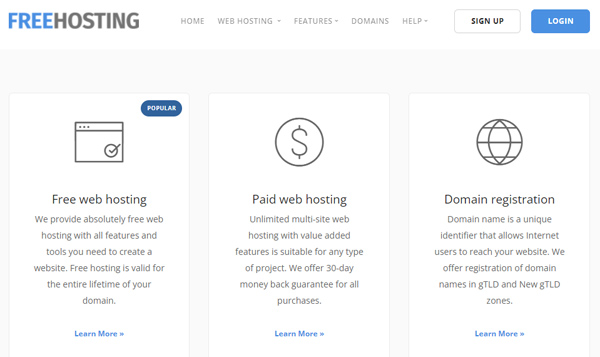 The name of this brand is as obvious as it can be. You get to sign up and avail free web hosting services that will give you access to host one domain but the downside here is that you will not be able to create any subdomains. One mYSQL database also means that you can only have one WordPress installation. Other than that, this is a good choice if you want to get started with a free website hosting service.
Cost: Free
Domains: Five
Subdomains: No
250 MB disk space; 6 GB bandwidth
One MySQL database
FAQ and ticket support system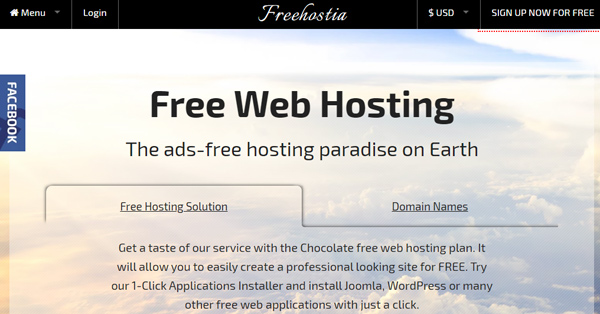 FreeHostia is one of the only free hosting services that will allow you to host more than one domain. This is limited by the fact that you only get 250MB disk space and one MySQL database. This will be suitable for people who want to host websites that have static content. For a blog running WordPress, you will run out of disk space and even the bandwidth as it is limited to 6GB a month which isn't much.
Cost: Free
Domains: One
Subdomains: No
Unlimited disk space; Unlimited bandwidth
All SSD servers
FAQ and ticket support system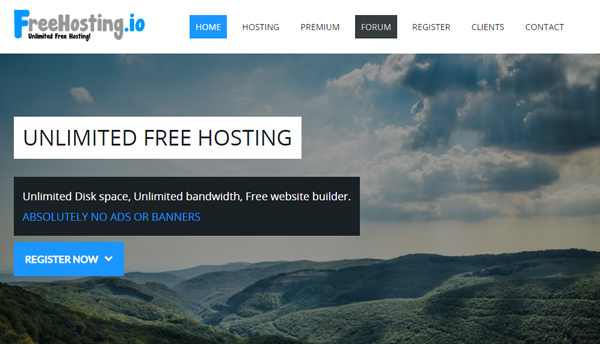 Another offering with the Free Hosting brand name but a different approach to it. The best part about this option is the unlimited disk space along with the unlimited bandwidth. You can choose to purchase a domain from FreeHosting.io or host a domain you purchased somewhere else. Overall, a great option to go for in the free hosting arena.
Cost: Free
Domain: None (host the website as yoursite.byethost.com)
Subdomain: None
5 GB disk space; Unlimited bandwidth
One MySQL database
24/7 support via ticket system and knowledge base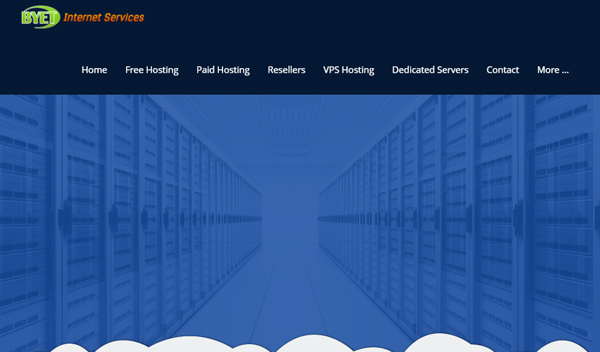 The main USP about Byet Host is that it lets you host a website on their own subdomain(s). Apart from that, it is very much like any other web hosting service out there. You get 5GB disk space in the free plan but the bandwidth will be unlimited. You can host one single CMS in one account due to the one MySQL database limit.
If you're okay with hosting your website on the Byet Host subdomain, then this is a great choice for you.
Cost: Free
Domain: One or host the website as a subdomain
Subdomain: None
1500 MB disk space; Unlimited bandwidth
One MySQL database
24/7 support via ticket system and knowledge base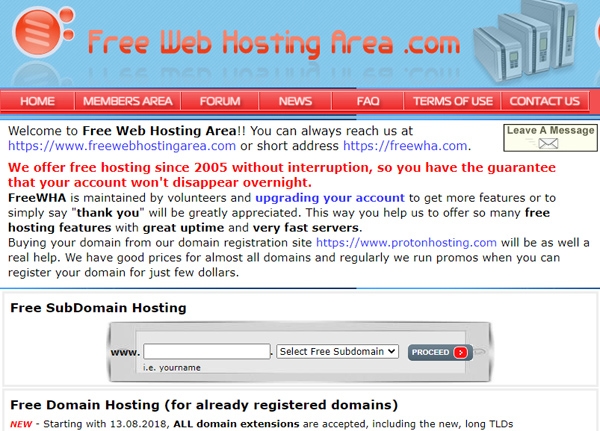 FreeWHA.com or FreeWebHostingArea.com offers free hosting services options. It gives you the option to host your website from one of their subdomains but you can also choose to host a domain name that you already own.
Cost: Free
Domain: One
Subdomain: None
300 MB disk space; 3 GB bandwidth
One MySQL database
Knowledge base support
000WebHost is the last one on our list of free hosting services. It allows you to host a single domain and you get access to a cPanel where you can manage the website and its files. You can use it as a normal web host and install WordPress for a blog. It is limited by 300 MB disk space and 3GB bandwidth.
This host is suitable for WordPress installations that don't need to be updated regularly and don't have a lot of files.
Best Free Subdomain Hosting Sites
With free subdomain hosting sites you can create a free website with their respective site builders. When you create a website with these services, you will get a website with the URL which will be something like yourwebsitename.subdomain.com.
There are a lot of services that will let you do this and the following are the best ones you can use.
Best "Almost Free" Web Hosts
Now that we have discussed the free web hosting sites, we should also just take a brief look at hosting providers that are really cheap and offer their premium hosting plans at a really affordable cost.
IONOS offers a $0.50 per month plan for its Business WordPress hosting offering. You can register a web hosting account along with a domain name for $7 for the first year itself. Effectively, your cost will be $7 for the hosting as well as the domain for a whole year.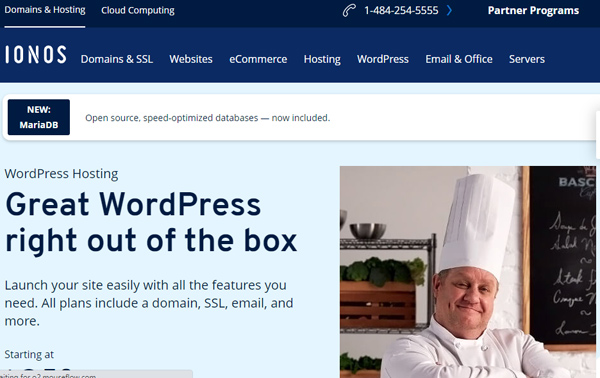 $7 gets you hosting for one domain, 100GB SSD storage, and unlimited bandwidth and this is definitely a great deal for someone who is looking for a good free web hosting alternative with great security and speeds.
Hostinger is a known name in the web hosting industry. They have plans starting for as low as $1.39 a month that will let you host one domain and you can have two MySQL databases. You will get disk space of 30 GB with a transfer bandwidth of 100 GB a month. Hostinger will also give you a Free SSL certificate which you will be able to use on the site you will be hosting.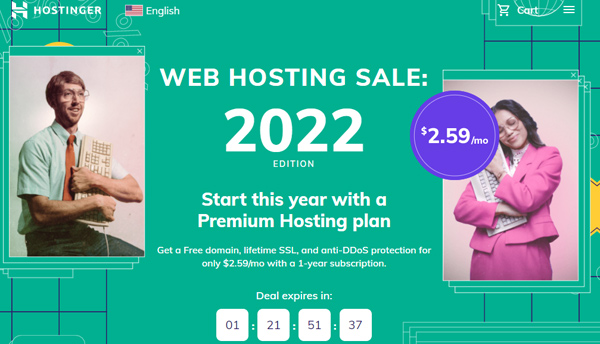 DreamHost offers a Shared Starter plan that will cost you $1.99 a month. This plan will let you host a single domain with a storage of 50GB and unmetered bandwidth. You will also get a Free SSL certificate. If you prepay for a full year, DreamHost will also offer you a complimentary domain name which you can register at the time of purchasing the plan.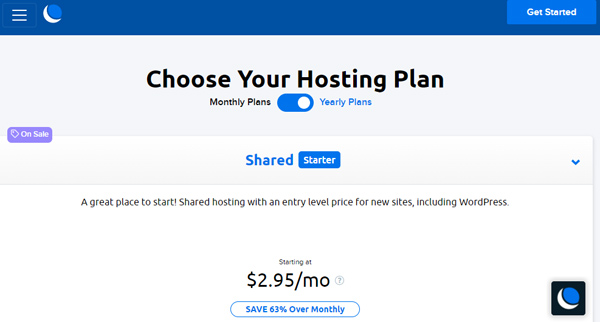 Another great web hosting provider that allows you to rent a web hosting space for as low as $2.39 a month. This gets you space to host one domain name with a 10 GB disk space and unmetered bandwidth. If you wish to purchase the hosting space for the long term, you can bring down the costs to $1.59 a month as well.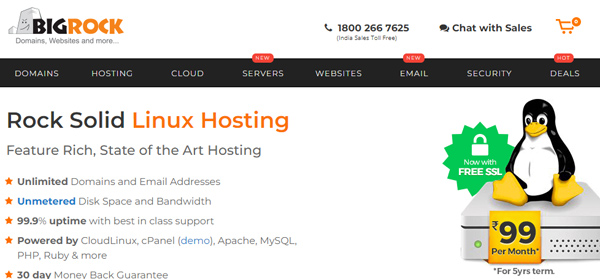 Bluehost has been around for a while and is one of the very well-known and used brands when it comes to web hosting. They have a $2.95 a month plan that you can purchase for a year and that gets you the ability to host 1 website with 50 GB disk space and unmetered bandwidth.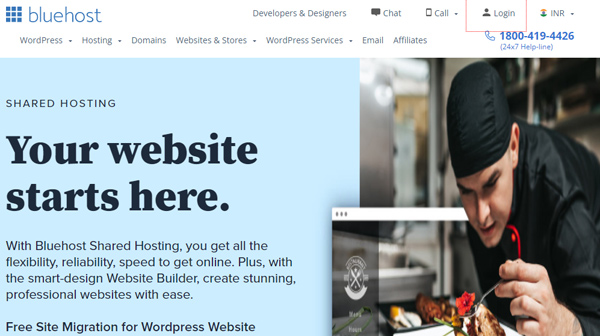 You will also get a free domain registration for a year along with free CDN support for your website. The lack of a free SSL certificate is something that is missed with Bluehost though.
Frequently Asked Questions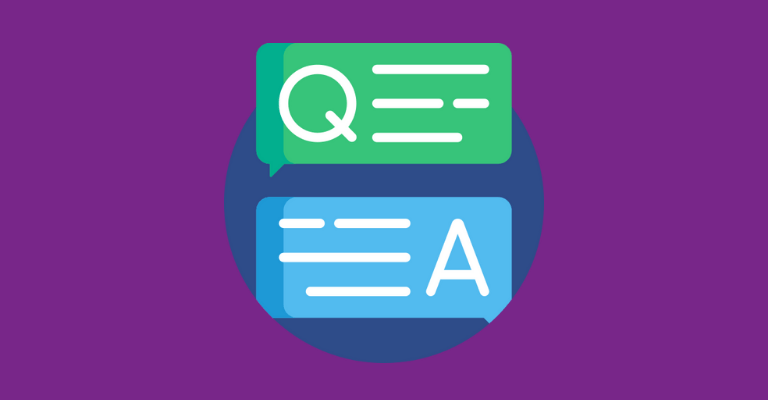 How can I create a website for free without hosting?
With several brands – even Google offering free web hosting services, it has become quite easy these days to launch a website on the web for free. We have listed all the great brands here that will allow you to create an account and then set up a website completely free of cost.
Can domain and hosting be free?
We have already listed great web hosting services that will offer you free hosting services and as for the free domains, you can easily get free domains for extensions such as:
.tk
.ml
.ga
.cf
.gq
These can be registered on services such as Freenom.com for zero cost.
Will free hosting add ads to my website?
Most of the brands we have mentioned here are majorly ad-free and do not add any ads on your websites. Some of them will show ads in your cPanel dashboard which is absolutely OK and can be blocked with the use of an ad blocker.
Why is Paid Hosting better than Free Hosting?
When it comes to security as well as speed, nothing beats premium paid hosting. Free hosting has downsides such as slow loading speeds, spammy websites sharing a single server and IP, and many other factors. Security is one of the biggest upsides for premium hosting brands so if it's security you're looking for, free hosting shouldn't be your choice.
What is the difference between Unlimited and Unmetered Bandwidth?
Unmetered simply means that the bandwidth isn't measured and managed by the provider but it is under a fair usage policy where if it crosses a certain limit, it may or may not stop working. Unlimited on the other hand guarantees a non-limited amount of bandwidth that won't be restricted under a fair usage policy in any way.
Conclusion
We have mentioned a bunch of different free website hosting services for domains as well as subdomains alike. These services help a lot of people get started with their webmaster journey but ultimately, things cannot always be trusted with free services. Security is a huge and valid concern and if you want great security and if it's something you can afford, choose from the "Almost Free" section we have added which will cost you very minimally but give you all the benefits of using a secure premium web hosting service.