Being able to fully compare and contrast websites is important to many people. When you are creating a new blog or website, it is advisable to check out those of your competitors. Online business and information sites are very competitive, and it pays to make sure your website is not just a copy of another established site.
It also pays to make your blog or website stand out from the crowd, so that it gets noticed among all the others on a search engine results page. Unless you can devise some way of being unique, the more established websites and blogs will generally be listed above yours on the search engine results pages.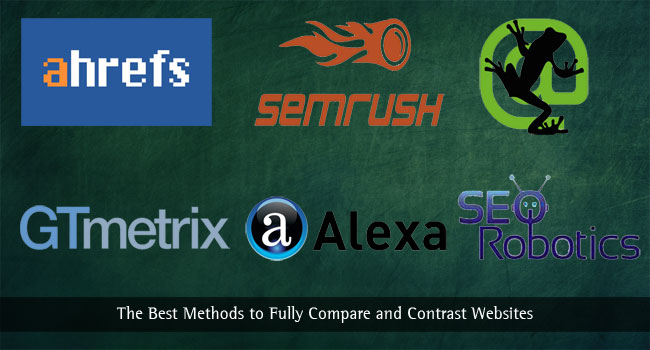 How do you do that? Fundamentally by understanding your competition and what they are doing to get their web pages listed and noticed. By establishing the information that are they providing, and what they are they doing that you can do better! You will find it very difficult to achieve this manually by studying each listed web page or blog post. You need analytical tools that carry out an in-depth analysis of each page to provide you with the information you need.
Here we shall compare the most important of these tools, and how they can be used to assess your competitors. The information they provide will help you to understand who you are up against and how you can beat them at their own game. These tools will help you to compete effectively by enabling you to employ a game plan formulated on a genuine understanding of their business approach, website design and search engine optimization strategies.
The following tools are free to use, although some also offer a paid premium version. Premium versions often offer extra tools or enable their use on multiple web pages.
Here are the best of such tools available free online. Most of these offer a Premium version that extends their usefulness to you. You may have to pay to use the tool on multiple URLs (or web pages) or pay for extended features that are not available in the free versions. Here, we are discussing only the free versions of each tool.
The Best Methods to Fully Compare and Contrast Websites
1. Screaming Frog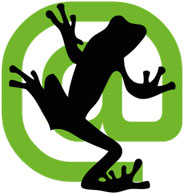 SEO Moz is a highly respected SEO service with a free SEO Option. The free version finds broken links in any URL, analyzes page titles and mete data, reviews Meta robots and directives, and searches and discovers duplicate pages.It fundamentally checks out the basic SEO data on any URL. It also generates a free XML sitemap needed by Google Webmaster Tools. The paid version is expensive, starting at £149/site but does some awesome things!
The free Screaming Frog software will crawl any website and immediately report any broken links (404 errors) and server errors. It will also find redirects (temporary or permanent) and analyze page Titles and Meta Descriptions to let you know of any that are too short or even missing across your website.
It will also find other issues such as duplicate URLs and titles, and also pages with content that is too short. It will view URLs blocked by robots.txt, Meta robots or X-Robots-Tag directives such as 'noindex' or 'nofollow', as well as canonicals and rel="next" and rel="prev".
Screaming Frog also connects to the Google Analytics API and fetches user data such as bounce rates, conversions and revenue from landing pages. This is excellent data for a free SEO application.
2. GtMetrix – Website Loading Speed

A very important factor of website design, especially in the initial stages, is the overall performance and speed of your webpage. GTMetrix combines the scores from the two most popular website speed testing sites Google PageSpeed and Yahoo YSlow and gives the score from their sites. The loading speed is a factor that search engines, particularly Google, take into consideration with their search engine ranking positions.
GTMetrix offers various suggestions as to how to improve the loading time of your website or blog. Just Googling each one of them can guide you as to where you can proceed to implement the suggestions. You can also use the assistance of WordPress plugins such as W3 Total Cache or WP Super Cache. You could also use a Content Delivery Network (CDN) such as MaxCDN, and while this could be helpful, it is not really necessary.
GTMetrix also offers paid versions – the price increases according to the number of websites involved and the services required. All you need initially is to find how long it takes for your website or blog to load, and how to speed it up. That service is free.
Check it out here: http://www.gtmetrix.com.
3. SEMRush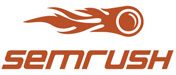 SEMRush has no free option, but you get a free test of each of its tools. The suite of tools is comprehensive, and offers three different packages, each with increasing numbers of reports per day, results per report, and tool available. The Pro version provides 10,000 results per report, the Guru 30,000, and the Business package 50,000 results per report.
SEMRush offers a number of different tools to enable you to fully compare and contrast websites. Its price tag is indicative of how far advanced it is over the free versions of the tools above – although most of these tools also offer paid versions with more functionality. Here are some of the functions SEMRush offers:
Display Advertising: You can find out the top publishers for your adverts, analyze the display ads your competitors are using, and also identify new publishers.
Backlink Analysis: SEMRush enables you to carry out a deep analysis of your backlinks, understand the authority of pages publishing your links, what types of links they are and also establish the geolocation of these links.
Domain Comparison: Compares domains side by side. Find out any common keywords, and keywords unique to each domain. This could be your domain vs. a competitor – or two competitors against each other.
Keyword Tools: Find the keywords relating to your domain that have the least competition. Get over 2 million ideas for keywords and generate up to 50 target keyword lists.
Search Engine Position Tracking: Track your search engine listing position for any keyword and discover local competitors, and the keywords they are using.
Site Audit: Check out the health of your website using the SEMRush SEO analysis tool. This identifies weaknesses in the SEO applied your site, and prioritizes them for attention. This tool also checks out the security of your site and highlights the actions needed to rectify security issues.
On-Page SEO Checker: Analyze the factors used by Google to establish your ranking for any keyword. SEMRush takes this data and suggests actions you can take to improve your ranking. It also carries out a comprehensive analysis of the top 10 performing web pages in your niche.
Backlink Analysis: The SEMRush Search Console integration enables you to see all your backlinks, and it discovers and removes any negative backlinks that may harm you. It sends these to the Google Disavow tool.
SEMRush has many other similar tools relating to social media tracking, brand monitoring and content analysis: making sure your web page or blog content is performing well against that of your competition. It is a comprehensive suite of tools that can provide you with a true comparison of your website with others.
If you run a business, or even are part of a large corporation with multiple websites to maintain, then this is your best choice. It enables you to fully compare and contrast websites, and so give you the opportunity to see what your competition is doing and how you can better that.
4. Ahrefs

Ahrefs is another source of analytical tools in the same vein as SEMRush. It is also highly respected and offers four pricing levels: Lite, Standard, Advanced and Agency. It tracks 5, 10, 25 and 100 campaigns respectively, from Lite to Agency, and 300, 1,000, 4,000 and 10,000 keywords respectively.
Ahrefs provides you with what is likely the best platform available for checking backlinks. Its Positions Explorer tool enables you to get a deep insight into your competitors' search traffic. It gives a clear indication of their keyword rankings and the keywords they are paying money to promote in PPC, CPA and other marketing campaigns. Ahrefs clarifies the type of content that is working for you and your competition and also the content that is being shared the most.
Ahrefs is not exactly the same as SEMRush as a paid SEO analysis tool, but it is not intended to be. The two are different and the best approach to take is to check them both out. Ahref offer a 7-day trial of its Lite and Standard options for just $7. Check it out here.
5. Alexa Rank
The Alexa browser extension offers useful information about other websites, including the amount of traffic they receive. Alexa Traffic Rank is a measure of traffic or visitor numbers. In other words, of the popularity of a website. The Alexa extension also finds other web pages or websites that are similar to yours so you can carry out a visual comparison.
One myth that Alexa debunks is that it only measures traffic to sites that have installed the Alexa toolbar. This is incorrect – it measures the traffic of any website with other extensions that contain Alexa data. Check out the Alexa Blog for more details on this. What it doesn't show is the source of this traffic. Webmasters can increase the Alexa Rank of their sites by clicking on them themselves.
While this has devalued the importance of Alexa Rank to an extent, many still regard it as important when carrying out a web search. This is particularly true of advertisers. If you want to attract advertisers to your site, then a good Alexa Rank will indicate a good flow of traffic.
Also, check out the following links:
Best Methods to Fully Compare and Contrast Websites: Summary
These are the best methods to fully compare and contrast websites that we have found. There are sure to be more, and we shall continue to hunt them down. Naturally, paid versions offer more functionality than those available free. However, some of the free options also provide paid versions with greater functionality. It's up to you to check them out and decide which best meets your needs.
Meantime, if you have any issues or questions to ask then contact us using the comment form provided below.