Online safety is BIG news, especially where children are concerned. The digital world can provide hours of fun and entertainment, but it hides a dark side where cyberbullying, grooming, and inappropriate and frightening information lurks.
Unfortunately, our children are not always entirely safe, aware, or cooperative with their digital devices. So, phone monitoring apps are here for enhanced control over your child's online world.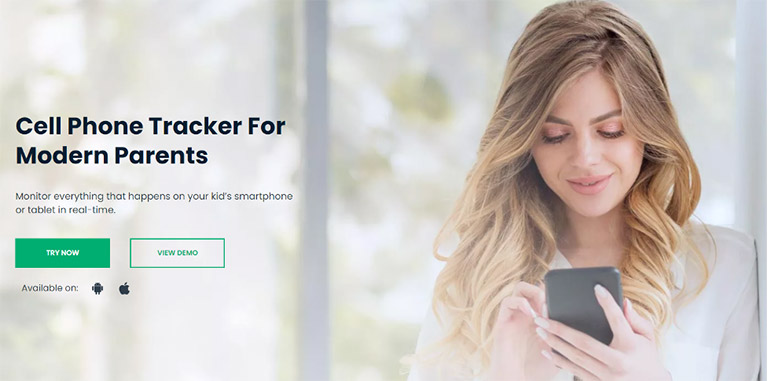 Packed with spy features, the uMobix phone monitoring app covers everything you would expect of a mobile tracking app and appeals directly to parents wanting complete control over their children's online devices.
uMobix parental control software keeps a watchful eye on the cellphone features that a modern child uses:
Social media and messaging platforms – uMobix monitors activity on more than 30 of the most popular apps and social media platforms, e.g., Facebook, Snapchat, Instagram, etc., including dating apps.
Messaging – read allSMS text messages sent and received from your child's mobile contact list, including deleted texts and contacts.
Internet, browsing history, and email accounts – keep a watchful eye on your child's browsing history, bookmarks, and most-visited sites. Scan their mailboxes for information on newsletter subscriptions, contact lists, and all sent and received mail, including deleted files.
Media and streaming – monitor your child's social networks, online albums, videos, and files. Use their camera in real-time stealth mode to check out their company and surroundings.
Location – track your child's cellphone using the GPS phone tracker; view maps and chronologically listed phone locations.
Restrict – delete and block unwanted and inappropriate apps and websites; restrict and disable incoming and outgoing messages, block contacts, and keep your child safe from potential online predators!
For more information, the uMobix online demo dashboard is easy to use and provides a comprehensive overview of all its monitoring capabilities.
Registration and installation are simple, and uMobix phone monitoring app provides customer support for any issues.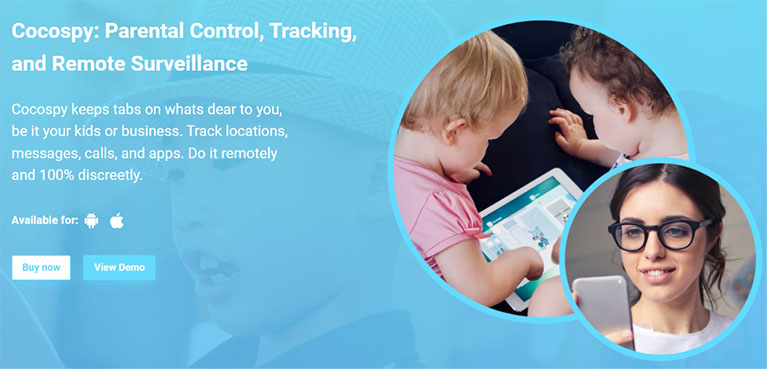 Concerned parents can discreetly monitor their kid's online activity and location using Cocospy remote surveillance tool.
The parental control software runs undetected on your child's mobile device, quietly collecting information on their cell phone activities so that you can monitor them remotely.
Set up your new account on Android or iOS devices with just an email address, choose your price plan, and access an impressive list of spy features:
Location tracking – GPS and maps enable location tracking, listed chronologically on the Cocospy dashboard. SIM card location tracking provides effective backup that works even if your child changes their number or SIM card! (NB – SIM card tracking is not available on iOS devices.)
Geofencing enables concerned parents to manage virtual 'forbidden' zones on a map which activates a parental alert if the geofenced area is accessed. Parents can monitor their child's every movement, even retrieving historical location information.
Internet browsing history – your child's internet browsing habits carry a wealth of information about their interests, hobbies, and pastimes. Access all URLs visited, favored sites, and bookmarks, complete with date stamps.
Social media, SMS, and messaging apps – monitor all your child's sent, received, and deleted messages on popular sites and apps, e.g., Snapchat, WhatsApp, Facebook Messenger, and shared media files and contacts. Access your child's phone call logs to reveal who is calling them, how often, and for how long.
Cocospy is a comprehensive phone monitoring app with good reviews. Its location tracking and stealth mode are notable, ensuring you have a complete picture of what your child is looking at on the web and where they are!

One of the most comprehensive parental monitoring apps around, Bark boasts impressive credentials, claiming awards from The National Parenting Center, Mom's Choice Awards, and National Parenting Product Awards. Created by parents for parents, it offers research-backed, safeguarding technology developed in collaboration with schools and other children's professionals.
Social media platforms, text messages, and emails – Bark monitors a long list of social media platforms such as WhatsApp, Facebook, and Snapchat, including messaging, email accounts, and shared media files. Parents are in touch with their children's contacts, who their friends are, and their interactions.
Internet access and time management – Bark monitors search engines and browsing history. It enables parents to set screen time limits and block access to risky sites.
Location sharing and check-ins – Bark includes a great time-saving feature for monitoring locations! Audible check-ins and alerts enable you to keep tabs on your child without following their moves on a map, although maps are also available for additional security.
Keywords and alerts to danger – parents lead busy lives and can't always read and check every message, email, and website! Instead, Bark phone monitoring app sends a message alert when a potential danger is detected, whether a keyword or attempted access to a blocked website.
The Bark parental control app has fantastic monitoring features and offers an online support network from child professionals when issues arise.
Easy to install on most Android and iOS devices, with full written and video instructions on the dashboard.

ESET is a cyber-security company that catalogs all its products on a shopping page, including the ESET Parental Control for Android. Simply 'add to basket,' with the option to add more than one device at a fixed price per year for each.
The ESET phone monitoring app can help eliminate some of the online safety issues parents worry about.
Blocking and filtering – an age-directed filter automatically blocks inappropriate gaming or pornographic websites and apps.
Time-setting – your child needs downtime from their screens, so take control of their screen time by setting time limits for their devices.
Location tracking – ESET provides location tracking and geofencing. Parents receive alerts when their child enters or leaves a ring-fenced area.
SOS – What a great option for any child-safe phone! Your child presses any key to send an emergency message and their location.
ESET provides a limited parental control monitoring service. It includes location tracking and the ability to monitor and block apps and websites; however, it falls short of many of its competitors in that calls and texts cannot be monitored.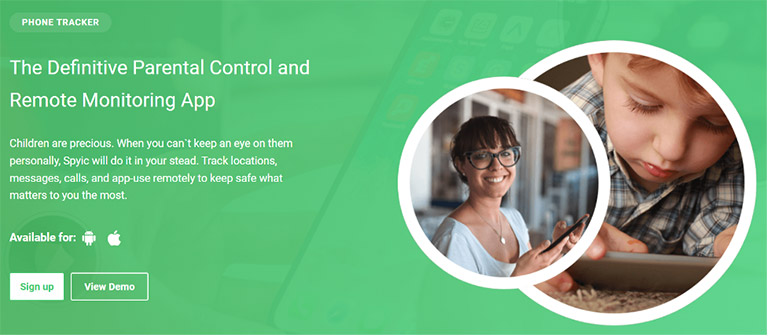 Available for download on both iOS and Android devices, Spyic features many of the services we expect from a parental control monitoring app. The dashboard provides a live demo of the working app and an FAQ page.
Contacts, calls, and SMS – want to know your child's social circles? Spyic accesses your child's mobile phone contacts list and logs all outgoing and incoming calls and messages alongside dates, frequency, and duration.
Social media and messenger platforms – monitor group chats and messages from the most popular social media platforms, including Facebook Messenger, WhatsApp, Tumblr, etc. Check up on media files stored and shared, such as photos and videos.
Web browsing and search history – check out all your child's recent searches, favorite sites, and bookmarks, including how often they visit and when.
Cellphone tracking and location services – using GPS and Wi-Fi, log your child's location history and find them quickly and easily on the map in real-time. Advanced searching using the SIM-card means that you'll locate them even when the phone is off!
Geofencing creates virtual perimeters of restricted areas and receives alerts when they are accessed. The benefit of stealth mode means your child will never know how you found them out!
Spyic.app phone monitoring app offers many features to support parents in monitoring their children. Create a free account with an email address and password, choose your price plan – and begin your monitoring journey!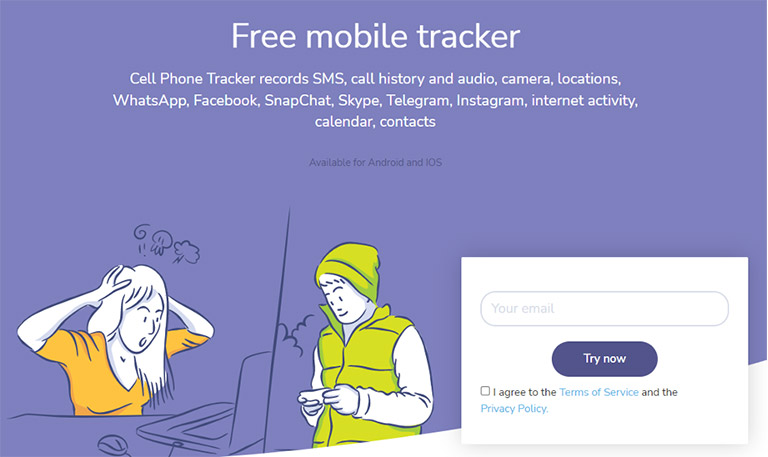 Primarily marketed as a parental control monitoring app, Hoverwatch also targets a broader audience as a general spy app for employers. Monitoring features are similar to other apps, targeting social media platforms, SMS, internet browsing history, and location logging.
Calls, messages, and social media – Hoverwatch monitors allincoming and outgoing messages and attachments; and records all calls. Data from conversations, group chats, and shared media files on popular social media platforms, such as WhatsApp, Snapchat, and Instagram, are tracked.
Location tracker – GPS and Wi-Fi continuously track the real-time location of the target device, and the app continues monitoring even when the phone is off. SIM card changes can also be detected on Android devices.
Support network – the Hoverwatch dashboard does have an excellent FAQ page that includes complete installation instructions and addresses most issues.
Unblock selfies – are you suspicious that someone is tampering with your child's phone? Set up their phone's camera to automatically take a secret picture of whoever unlocks it and catch the culprit red-handed!
The Hoverwatch phone monitoring app has three price plans with different price points: business, personal and professional.
Powerful Basic Features for All Phone Monitoring Apps
Phone monitoring apps concentrate on a few powerful basic features that are a must-have for any quality spy software.
Call Logs – historically, mobile phone bills were printed on paper complete with details of incoming and outgoing telephone numbers, frequency, and duration. The digital call log is now stored in the cellphone's internal memory and attached to a name or contact. The call log, therefore, provides valuable information on who your child talks to and how often. Mobile phone contact lists often hold email and home addresses, telephone numbers, and other personal information.
Browser History – there's a good reason law enforcement seizes computers at crime scenes! Browsing history provides personal, intimate information on your child's interests, hobbies, pastimes, and even their intentions by logging every site visited, including how often and how recently.
Stealth Mode – Stealth mode enables parents to discreetly monitor their child's online presence and physical location. Most parental control monitoring apps offer this service, although access to the target device is necessary to set up the app. Once installed, the spy app can be hidden from view to run undetected in the background.
Social Media Monitoring – social media includes apps where users participate in group activities, social networking, and file-sharing, like chat apps, gaming forums, and networking platforms. They can be a high risk to children's online safety. Monitor your child's social media to protect them from sexual predators, grooming, and cyberbullying by following who they know, how they communicate, and what they share.
Monitor Content – what content does your child store on their phone? Do you know who their friends and contacts are? Where do they go when they are not at home? Who do they see? Every piece of information on an individual's phone tells us about who they are and details of their life.
The average age at which a child owns their first smartphone is around 10 years old. Without adequate monitoring, they could be at serious risk from what they find and who they meet online. Parental control monitoring apps are becoming big business in a world where parents increasingly fear for their children's online safety.