Doubts and confusion are the siblings of every new blogger or internet marketer, who step into the enormous field of blogging. Simply, the reason is the presence of multiple choices that requires a long while for making a good selection. The same phenomenon is present on choosing the blogging platform as well, as there are various blogging platforms and content management systems (CMS) available on web globe. Nevertheless, because of the tendency to spend less, sometimes to spend nothing, most of newbie bloggers stuck in choosing an option among Blogger, WordPress.com and Weebly, services providing the best place for creating your own blog, without spending money. Apart from a newbie, experienced bloggers are also becoming the prey of this dubious selection.
Here, we would like to soften the confusion by means of neutrally comparing all these free blogging services, based on various aspects of blogging. Hope the comparison would be useful, at least for newbie blogging professionals. Now, we will start a forward to these services.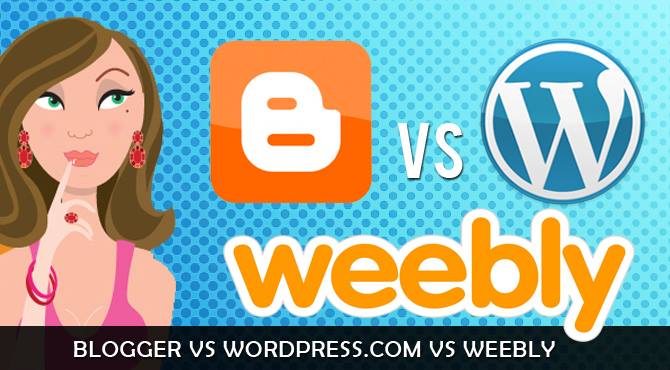 Blogger vs WordPress.com vs Weebly
Blogger (Blogspot)
Blogger is a blog-publishing platform, launched in 2003, currently owned by Google Inc, the Silicon Valley giant. Google Inc acquired the service, which was actually developed by Pyra Labs. Just as you know, anyone can create a free blog at Blogger.com, accompanied by a subdomain of 'blogspot.com'. On top of all facts, all these blogs are secured in top-notch web servers of Google, which is quite an impressive fact. However, the service is just a blogging platform, which you cannot install in your own web servers, though you can make use of DNS for setting up your own domain names over the given sub-domain.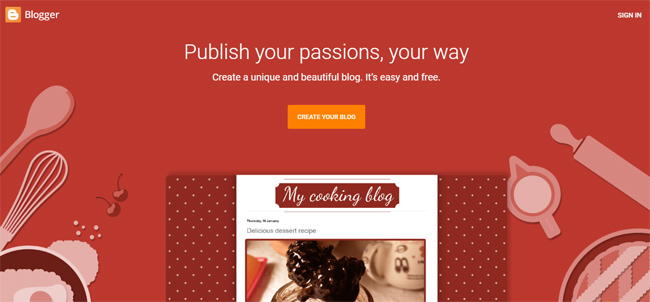 WordPress.com
On the other hand, in the case of WordPress.com, it is a blog-hosting service, which also offers free subdomain and hosting. This service, owned by Automattic, is a commercial version WordPress, the open source blogging platform, and content management system, offering web hosting and sub-domain as a bundled service. This famous free blogging service, launched back in 2005, is also having some extraordinary plans such as WordPress VIP, specially made for enterprise-type websites and blogs. According to reports of October 2012, the service powers 56+ million blogs. This free-to-use blog creating service is also a favorite of newbie bloggers.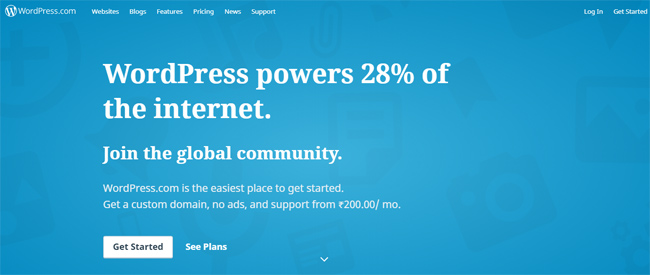 Weebly
While both services, mentioned above, have the label of blogging platform along with other abilities, the case of Weebly is entirely different. This free service, founded in 2006, is actually a service for building websites, with the help of famous drag-and-drop feature. Though some people use Weebly for blogging purposes, competitors of the service are Wix, Webs, etc, rather than WordPress.com and Blogger. According to reports, more than 12 million users are using Weebly to power their free or paid blog, as there is an option to upgrade. However, just as WordPress.com and Blogger, Weebly is also offering a sub-domain, which might be replaced by your custom TLD. We will not hesitate to say that Weebly is the least popular member in this triplet.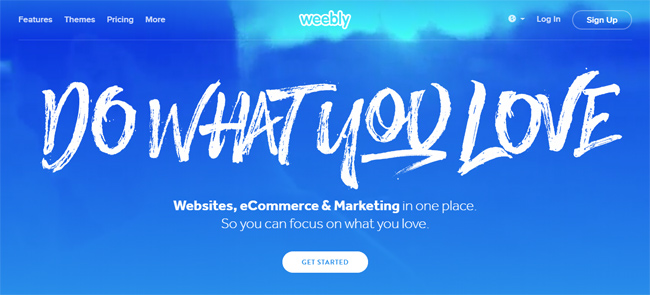 What Does FREE Mean?
The 'FREE' label does not provide same amount features and abilities on these platforms. Here, we will check out what do these three platforms offer under the base plan of their free blog creating process. Indeed, this list can be useful for those, who need more features to run their blog or website successfully.
Blogger
Unlike other services in the group, Blogger does not have an upgrade plan except the ability to include custom TLD for your blog. This means that all customers of Blogger have equal abilities and features, no matter number of visits or earning of the blog. Noticeable features of Blogger are as follows.
Free web hosting from Google, with no limits on daily traffic, disk space or bandwidth along with the top-notch security and reliability.
The service has integration with various Google products such as Google AdSense to keep track of their earnings.
You can upload as much media files you want, such as videos and images. 1 GB of media storage via Picasa Web Albums is offered. However, the service gives you more storage than 1GB, as images with a resolution lower than 2048*2048 will not be considered as the limit. In case, if your blog requires more than 1GB of image storage, you will have to upgrade your plan.
No one can hack your blog unless he knows your Google Account password.
Easy association with Google Analytics and inbuilt stats analyzer can help you in keeping track of your visit statistics easily.
As your blog is hosted on Google's servers, having high integrity, your pages will be indexed quickly than others.
Since no product or service is perfect in this world, there are some problems with Blogger's free blog, which might matter for some of you. Major cons of Blogger are as follows:
Unlike WordPress, Blogger lacks support from various services, which can have an effective impact on your blog.
Even though you can buy a TLD for your blog, it is not your blog, as most of the services are by Google Inc. Indeed, you are not going to get much freedom when compared to self-hosted ones.
Even if you have a TLD with you, first, you have to create a blog with Blogspot sub-domain and then to integrate custom domain, which is not an easy job every time.
If we reckon everything correctly, Blogger offers decent features for everyone, who would like to have a free-blog, along with the Google-supported features such as hosting.
WordPress.com
As we mentioned earlier, WordPress.com has a free plan as well as the ability to upgrade, according to your various requirements. Nevertheless, it is noticeable that no upgrades can bring you that feeling of a self-hosted WordPress blog. However, having something is better than having nothing. Major features in the FREE plan of WordPress.com are as follows.
3 GB storage is too small and you will have to upgrade your plan to premium, once your blog has used more than 3 GB.
You can either set the blog or static page as your homepage, which is quite useful.
Easier integration with social networking services such as Facebook.
WordPress stats for keeping a record of visits.
Many non-paid themes are waiting for you along with the ability to customize.
Multi-platform support through applications for iOS, Android, and Blackberry devices.
Search Engine Optimization is easy when compared to other platforms.
The familiar environment for WordPress lovers, without facing complexities of installing WP on your server.
Of course, upgrade plans make sense.
Some disadvantages you can find in the free version of WordPress.com are as follows.
3GB storage is too small when compared to the limitlessness of Blogger.
You cannot upload your themes (custom themes) from your PC.
No support for AdSense or other advertising services due to the lack of support to add custom HTML codes into your blog.
When compared to the plan of Blogger, WordPress.com offers less ability to customize in the general aspect of blogging, making it their blog rather than yours. Now, we will have a look onto Weebly.
Weebly
Though it is considered as a blogging platform, Weebly is rather suitable for web-building platform, as the service can help you in setting up your desired websites much quickly. However, notable features of Weebly, as a blogging platform, are as follows.
Drag-and-drop is such an awesome feature for building websites and blogs with ease, which allows even a kid to build his own blog after the simple sign-up process. Hence, the simplest UI is an advantage, indeed.
It has a decent but wide range of templates, suiting different intentions of your website.
Third-party code support.
Since the service is a website builder than a blogging platform, it is hard to compare with other ones. However, problems we found after the comparison with others are as follows.
It is simple, not good for complex websites such as e-commerce one.
Though there are some good templates, they are low in number, which affects selection.
Features are basic, which means a professional blogger or internet marketer will just hate Weebly.
This least important member of this triplet has become so because it offers minimal features, which is intolerable for at least some of internet professionals. Hence, we have to conclude that Weebly is an ideal platform for those, who want a simple website for his/her business or photography.
Success of a service is when it has the ability to force the customer to skip disadvantages by means of enhancing its advantages. In that perspective, we have to appreciate Blogger. Now, we have to explore various aspects of blogging in three of these services.
Upgrade Plans
At a point, you might not be satisfied with the free features of these services, especially with Weebly or WordPress.com. Then you need to get more features, by means of upgrading. However, our first service, Blogger does not have an upgrade plan and gives same features for all users, except the ability to integrate custom domains and sub-domains in one blog.
When it comes to WordPress.com, you can observe a drastic change in things, as the service has more than one upgrade plans, suiting different needs of user. There are two plans: Premium and the Business plans, offering two levels of abilities. The premium plans can give you features such as 13 GB space, advanced customization features, VideoPress, direct mail support, etc. On the other hand, the 'Business' upgrade, provides high-end customization including premium themes, unlimited disk space and live chat support for technical doubts and issues.
Nevertheless, Weebly offers minimal upgrade options, classified into two versions, Starter and Pro. The starter version, available for $8 per year, has premium support, branding-based customization and statistics whereas the latter, costing a monthly fee of $12 has some professional features as well.
Well, in this section too, we have to support Blogger, as the service is giving all those features except live support, even without upgrading to the plan. The second place is given for WordPress.com even though it lacks some notable features.
Customization
Customization is an inevitable feature for those, who need more than a usual blog or website. Thus, you will have to go deep into your CMS or blogging platform and perform some effective edits in it, which may redefine your website or blog through the magic of codes. Hence, before preparing the final verdict for a blogging platform, you should check out its ability to customize.
Our first warrior, the Blogger, provides decent customization options via its template designer, which includes various aspects such as colors, backgrounds, etc. However, the ability to customize also depends on the theme you are using. For instance, you can get all these customization tools if you are using the default Blogger theme whereas you will miss some of third-party themes. In addition, ability to add third-party HTML and JavaScript codes are also noticeable in Blogger along with some Google-only widgets and service integrations such as AdSense. Thus, Blogger provides a decent range of customization features in their service.
When we talk about WordPress, the open source CMS, the most accentuated factor is its support for core customization. However, when it comes to WordPress.com, Automattic has just made things worse, making it even hard to edit the CSS of theme in the basic version. Even after shifting into the premium version, you will not be able to edit the core files [PHP] of your WordPress, which is in-built feature in WordPress CMS. Thus, we have to conclude that WordPress.com has minimal amount of customization abilities when compared to Blogger. Still, you can make use of in-theme edits.
Just as all other cases we discussed, Weebly also fails here, because of less ability to customize. The service hardly has customization options, making it hard for coders. Even though you can get some pro-features after upgrading, those are not enough for the competition between WordPress.com and Blogger.
Blogger is the winner of this section as well. Even though it takes your HTML and XML coding skills to account, it offers good customization abilities, when compared to WordPress.com or Weebly. Thus, you should definitely go for Blogger, if you want good customization features without spending your dollars.
Monetization
Unless you want to blog for just passion, you might want to monetize your blog, where the blogging platform can help you. However, in three of these platforms, the ability of monetization is different.
Blogger, from the Silicon Valley giant, offers multiple options for monetizing your blog. Blogger has integration with Google AdSense and Google Affiliate Ads, which are reliable and easy ways to earn if you have good traffic on your blog. Ability to add third-party code makes you able to use any other advertising solution in the blog and hence good revenue.
Sadly, when it comes to the basic version of WordPress.com, you hardly have options for monetizing blog except adding affiliate links or normal banner ads throughout your posts or blog content. As the basic version does not allow you to put third-party HTML or JavaScript content, you cannot add AdSense or any other kind of advertising solutions. Hence, if you want to insert ads on your site, you should not select WordPress.com.
Nevertheless, monetization is the only section, where we would like to praise Weebly. In Weebly, you can get various options for monetizing your blog such as AdSense, third-party code as well as normal banner type advertisement. This means that you can do well in advertising with Weebly, even without integration with AdSense or Affiliate ads.
At least in this section, there is a tie between Blogger and Weebly, as both of services have multiple options for monetizing.
Conversion
Sometimes, you cannot allow your websites stay as a blog, at least in some pages. For example, you are making a major change in your blog and you do not want visitors to view that unfinished form. Then you would have to insert an under construction page as the homepage. Here comes the inevitability of page conversion.
In Blogger, you can create static pages with media and other content in it. However, it lacks feature to convert the page to a homepage. In addition, all those pages have to follow the same CSS of your template.
You have the same abilities of static page creation in WordPress but you can also make them visible as the homepage of your blog, in some situations, which is quite useful. Indeed, WordPress.com has more styling options for static pages.
Weebly is the star when you have to create static pages for your blog. The drag-and-drop feature of the service is very useful than you expect. You can add various elements such as text, code embeds, and other media. All these can help you in making the page look awesome.
Hence, in this section, we highly recommend you to use Weebly.
Final Verdict: Blogger vs. WordPress.com vs. Weebly
Viewing all that we said except the section of static pages, we have to point out that Blogger is a much better choice for your free-blog, which can provide you many features that have been listed premium on other services. Hence, blogger is the best platform, with which you should start your free blog. What do you think? We are waiting eagerly to hear your valuable opinion. Do let us know via comments.