When comparing blogging full time vs. part time, we are fundamentally discussing the professional and the amateur blogger. In one case, the blog is the source of the blogger's income, while in the other it is more of a hobby that might also makes some money. Sure, there are those that depend on their part-time blogging to supplement the day job, but for professionals, the blog is the day job.
Blogging full time involves a different type of commitment than if you blogged only part time. Full time blogging is more than just trying to make money from your blog. It involves an overall income strategy to provide you with sufficient income to live on and do all things you want to do with your life. Moving from part time to full time blogging is a big decision, so here are some of the pros and cons of each.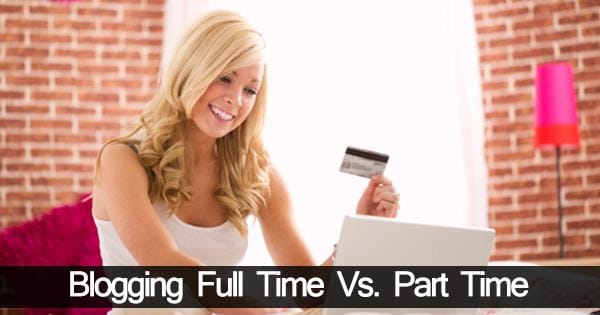 Blogging full time means giving up the day job. The social benefits of this are significant:
You are your own boss with nobody to answer to but yourself.
You can work the hours most convenient to yourself.
You can take time off if the family is sick without asking permission.
You can take your vacation when it suits you.
You avoid driving to work through traffic and rain every morning rush-hour.
You save on parking and fuel.
Every penny you earn is yours – and the taxman's!
You can likely think of many more, such as no need for child minders, you make your own decisions and you don't have somebody watching you and assessing you all the time.
However, there are some disadvantages of such social freedoms. It requires good discipline. It is easy to take too much time off and to allow breaks to last too long. Many people find it difficult to discipline themselves to adopt a professional approach to being self-employed and working from home.
Financial Aspects of Full Time and Part Time Blogging
When you blog part time, you have a regular income from the day job. This offers financial security, and many part-time bloggers blog to make extra money to improve their standard of living. Full time bloggers, however, blog to make a living! They have no paycheck coming in every month!
Blogging full time means you must make enough, not only to feed and clothe you and your family, but also to pay the mortgage, medical bills, college loans, and so on. Full time bloggers are running a business, not blogging for fun or extra cash as most part-time bloggers are doing. If you make the decision to blog full time, you will need to:
Draw up a business plan
Brand and promote your business
Monetize your blog
Invest in your business
Maintain accounting records
Pay your own taxes
Save for your own pension
Pay all your own expenses
Monetization will be extremely important and should be part of your long range and short range strategic business plan. Part time bloggers often take what comes, but you must plan ahead if your blog is your sole means of income.
The Approach to Blogging: Fun or Work?
The most significant difference between blogging full time vs. part time is in the mindset of the respective groups. The overriding objective of a full time blogger is to make enough money to live on. Many who decide to take the plunge have a partner who continues to work. However even here you would be under pressure to match your partner's input into the relationship.
Part time bloggers tend not to approach blogging in a businesslike manner, but regard it as a part-time activity to be carried out in their spare time. Full time blogging must be approached professionally. It is important to invest and to plan ahead. You must plan your monetization and set income goals over defined periods. That is a major difference between the part time and professional blogger.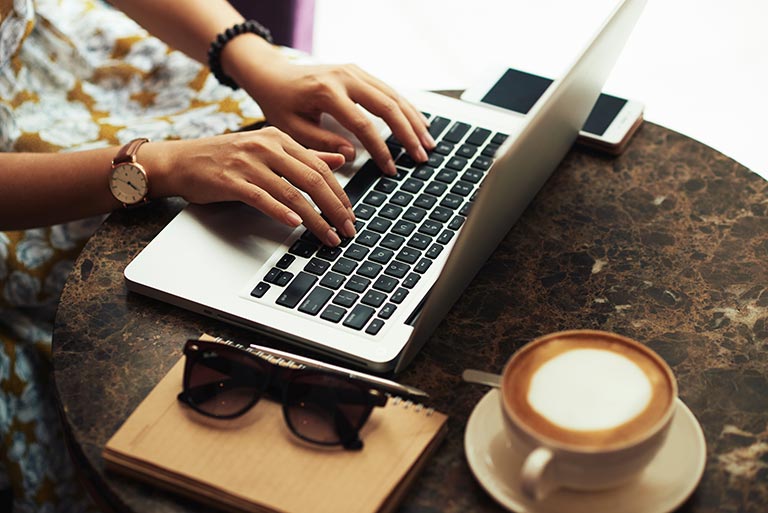 Consistency Is King
Another difference between the two is consistency. For a blog to be successful enough to make a living, you must have a consistent topic. The business must be branded to represent that topic. People looking for specific information should look to your site for that information. That also means consistently good information. All your posts should be original and you should make sure any guest bloggers are offering accurate content of high quality.
Part-time bloggers do not need this degree of consistency since they do not rely on the internet for their livelihood. It is also likely that a part time blog will not have the time spent on it to build consistency and high quality into it. Part timers can post whenever they feel like it. Full time professionals post regularly. Many post at the same time each day, so that their followers know when to check it out.
Importance of the List
Everybody says it, but that does not make it any less true. The money is (at least partially) in the list. When comparing blogging full time vs. part time, the pro will include an opt-in subscription form to build a list of interested followers. Maintaining this list will take up a significant part of the professional blogger's day. Maintenance includes creating fresh content, writing eBooks, compiling weekly newsletters, programming autoresponders and so on.
SEE ALSO: Mistakes That You Should Avoid While Starting a New Blog.
A large part of a professional internet marketer's income can come from the list. Part time bloggers will be less likely to build a subscription list. If they do then it will not be maintained as consistently, and newsletters will not be emailed by autoresponder at the same day and time on a consistent basis.
These are the main differences when comparing blogging full time vs. part time. The overriding difference is the importance of the profitability of the blog. That then leads to the subsidiary characteristics of consistency in content, quality and the administration of the professional blog.