When you are offered cheap web hosting, make sure you understand why it is cheap! Most web hosting services advertise a cheap monthly cost, but this usually involves an advance payment for 12, 24 or even 36 months of hosting.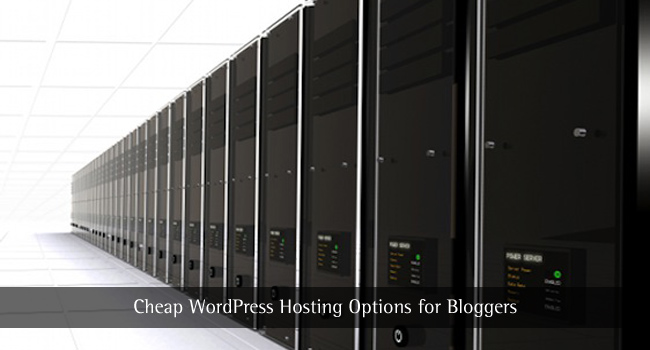 If you are looking for cheap hosting, you might be short of cash until you get your blog going. So what makes these hosting companies think you can afford almost $100 in advance? Or even $144 for 3 years in advance?
Keep in mind that you do not need to sign up for a general web hosting service if you only want to run a WordPress blog, although specialist WordPress hosting tends to cost more. There are two basic types of web hosting services that are suitable for a WordPress blog:
Regular Web Hosting
With a regular web hosting service, such as HostGator and Bluehost, you can install WordPress from the control panel and run your blog either as your main website or as a subdomain on your site.
Main Website: Most web hosting services offer unlimited domains. This means that you can run as many websites and blogs as you like using your hosting account, one of these being your blog. If you choose to run your blog on its own domain, you must first pay for and register a domain name and then point the DNS details to your web host. You can register a domain name specifically for your blog, which will appear in the form myblog.com in addition to paying for other domain names to run as separate sites on your hosting service.
Subdomain: A subdomain means that you can have a regular website, and run a blog on a separate directory on your site. It would then have a web address or URL in the form of myblog.mysite.com rather than just myblog.com. In this case you have no need to register and pay for the 'myblog' name, just for the 'mysite.com' domain name.
Specialist WordPress Web Hosts
There are a few hosting companies that offer hosting just for WordPress. With managed hosting such as WPEngine, the host makes sure that you are using the most recent updates and plugins, and also maximizes your security and blog speed. The functionality of your blog is looked after for you, leaving you to focus on its content, SEO and promotion.
Here is a selection of cheap WordPress hosting options for bloggers who want to keep their initial outlay low until they have satisfactorily monetized their blogs so that they are self-sufficient. Do not use the word 'cheap' in a search however, since most reputable web hosting services will use the term 'low cost'.
Free Web Hosting
Before we start, just a word of warning about free web hosting. There is no such thing as 'Free' online. If you get something free of charge, there is a reason for it. With web hosting, that usually means one or more of the following issues:
Malware or adware being downloaded to your computer.
You pay a high price after a 'Free Trial' period.
You have adverts on your blog that you cannot remove.
Your site looks cheap and cheerful, which is not what you want if you want to make a serious impact with prospective clients and customers.
Your blog lacks functionality.
You get little or even no support if you have a problem.
Your site may be open to hacking: security is your problem, not theirs.
Plus others that you may come across if you choose free web hosting; a serious potential issue is that your blog could be shut down without notice for no apparent reason. You may have breached some obscure condition of service, or those running the 'free service' might close down their operation. We shall focus here on a few inexpensive hosting services that you can use to keep your blog hosting costs to a minimum.
Cheap WordPress Hosting Options
The cheap web hosting services we suggest here are reliable and offer an excellent service for the price they charge. In each case, when you check pricing, make sure you understand the difference between paying monthly (if that is an option offered) and paying in advance (which is normal with just about all hosts.) Here are some of the aspects of each you should investigate:
Are there any limitations on bandwidth – or the amount of material you can upload and download.
What type of servers do they have and are they fast?
Do they offer one-click installation of WordPress?
Do they offer unlimited domains and subdomains – in case you want to start a regular website alongside your blog?
Is their support good: do that have 24/7 telephone support or online chat?
That said, here are our top choices for cheap WordPress hosting that satisfy all of these questions:
Bluehost generally offers a cheap option for those seeking WordPress hosting, for example:
Bluehost is highly regarded web host for regular websites and WordPress blogs. It ticks the above requirements for a good, inexpensive web host, and offers one-click WordPress installation. Support is excellent with a support ticket, live chat and toll-free worldwide telephone support. You can't get better than that.
You also get a full anytime money-back guarantee and unlimited domains and email accounts. You can get a free domain name, and generally, Bluehost is seen as being a reliable web hosting service that offers all you can need when starting up a WordPress blog. However, as stated earlier, cheap prices may not be all they seem.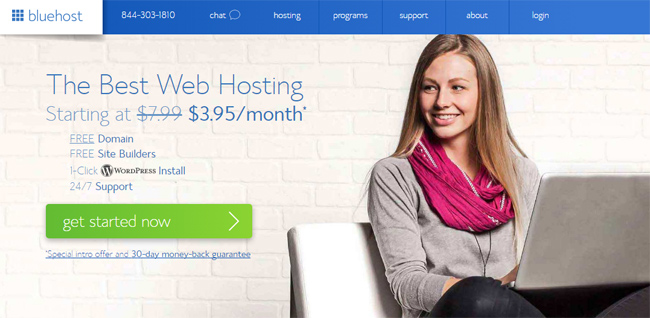 The $3.95/month price is based upon paying 36 months in advance for the Starter package with only one domain and 100 GB storage. This is fine if you have just the one WordPress blog and no extra website.
You will likely be interested in the initial 12 month term, or perhaps 24 months. However, the Bluehost advertised $3.95 applies only to 36 months in advance, so you pay $237 to get started. OK if you feel confident, but what if you are testing the water, and want to try a blog for two or three months?
That is not enough time, as you will find out, but can you pay your Bluehost account monthly, even if it would be more per month than if you committed to a full year at $5.45/month ($65.40)? The answer is no! The minimum you can pay with Bluehost is a year in advance. Unlike HostGator (below) you cannot pay monthly. However, even then, the prices are still very low for a premium web hosting service offering a one-stop shop for web pages/blogs, email addresses, subdomains and databases.
HostGator offers a similar service to Bluehost, with a base price of $7.95/mo for 12 months, although in this case you get unlimited storage with your one domain. Go to the next levels and you get unlimited domains. HostGator charges 5.95$ for 36 months.
Each of the plans gives you unlimited storage and bandwidth. The Business service also gives you a free private IP and SSL and also a free toll-free number.
HostGator ticks all the support boxes and also offers one-click WordPress installation from cPanel. It is hard to distinguish between Bluehost and HostGator, although Bluehost has its own modified form of cPanel. I prefer the standard cPanel layout as offered by HostGator, but it really is just a matter of preference. There is next to nothing to choose between the two other than price.
DreamHost offer just one shared hosting package, which like most of those above, offers unlimited everything. DreamHost prices start at $10.95 for monthly billing, dropping to the equivalent of $7.95/month for 3 years of advance billing. Standard web hosting runs cPanel, with one-click installation of WordPress. The company also offers dedicated WordPress hosting.

They also offer a 14-day free trial, although the benefits of such free trials are questionable when you have to switch your domain name to use it properly on your blog. There are ways of carrying out such trials with your working blog without permanently moving it over, however. Check out our blog post that shows you how to test a new host before switching.
DreamHost is more expensive than Bluehost or HostGator, but it does offer awesome support, and the firm's WordPress Hosting service takes a lot of the issues of using WordPress out of your hands. This is well worth an extra few dollars each month. You get automatic updating to the latest WP version, pre-built visual themes, and a high level of security on your blog.
Justhost offers shared and VPS hosting and is suitable for beginners and experienced bloggers. It provides excellent 24/7 support with one-to-one assistance until your problem has been resolved. Justhost is offering an introductory price reduction, starting at the equivalent of just $3.95/month for a 36 month term. The monthly price is the regular $7.99.
To compare like for like, you should use the Pro version to compare prices and services.

The Starter plan is for one website, including one free domain name although it only allows 100 GB of web space. You are also limited to 5 parked domains and 25 subdomains. If you want more, the Plus option gives you unlimited everything and is the most popular option.
Just host is a relatively new service with less history behind it than those above. However, those that use it give it excellent reviews, its support is unbeatable and it is a viable alternative to the more established cheap WordPress hosting options for bloggers. You can install WordPress with a single click.
iPage also offers a free domain, along with unlimited space and bandwidth. You can sign up at the special introductory price of $2.49/month for a 24-month advance payment rather than the standard $7.99. If you to the registration page then leave it without registering, you are given an exit offer at $1.99/month.
iPage offers shared, VPS, dedicated and WordPress hosting, with unlimited domains and an excellent 24/7 support service by email, phone or live chat. This service has its own control in place known as VDeck. It is said to be at least equal to cPanel, but with better functionality and more options.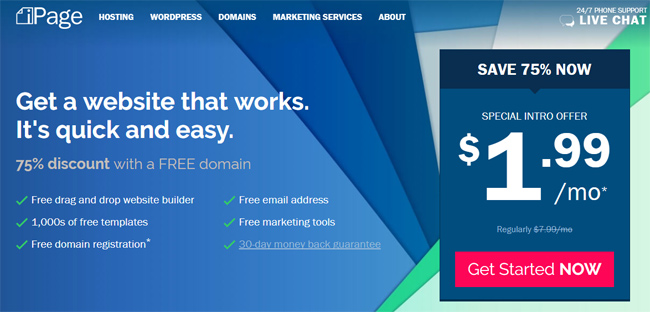 This appears to be an excellent cheap web hosting option, including the WordPress hosting option which takes the hassle out of setting up and servicing a WP blog. It is a good option for both new and professional bloggers.
Where a free domain is included, you do not own it, so must return it if you switch hosts or pay the host the going price for that domain name. It could be awkward if you could not, or do not have the opportunity to do so, because you could lose your hard-won branding. Check this before signing up. Your web host might or might not come to an arrangement with you regarding ownership of the domain name if you decide to switch.
You can find special offers on each of these WordPress hosting options at various times throughout the year.
Free WordPress Hosting
Just like free web hosting discussed earlier, you may find a number of free hosting options online that also claim to specifically host your WordPress blog. Avoid these at all costs, because they can close your site down at any time without giving you any reason. You can also get hosting for a dollar or two, but also be very careful with such inexpensive offers.
Sure, they can work well for you for a while, but if they close down, or even get a bug or security leak, you have nowhere to go for help. Free WordPress hosting services have no commitment or obligation to you or your blog. You can lose everything in the blink of an eye.

This is mentioned in the passing because it is not a cheap WordPress hosting option at $29/month. However, if you find those above not to your liking, and you would rather pay a little bit more for dedicated WordPress hosting by WP experts, then WP Engine is for you.
You can find more about this and the above WordPress hosting options on our web hosting blog posts.
There are many different cheap web WordPress hosting options for bloggers. Those above are our choice and are fairly close to each other in cost. We cannot recommend one above another. However, if you prefer to have your WordPress blog kept up to date with the latest versions and plugins, and then the WordPress specialist hosts are likely to be best, although most people involved in WordPress blogging get along perfectly well with their inexpensive HostGator, Bluehost and DreamHost accounts.