Efficiency, productivity, and profitability are crucial for the success of any business, whether it's a small startup or a huge corporation. Analyzing and discussing these indicators allows companies to keep their finger on the pulse, develop efficiently, and understand whether their resources — time, money, and workforce — are being used properly. Business meetings are the most convenient and effective way to check and discuss all indicators, generate new ideas, and keep communication within teams at a high level. Let's figure out what types of business meetings exist, their features, and the best way to conduct them beneficially.
What are Business Meetings?
Lest it seems like every cup of coffee you drink with a colleague is a business meeting, let's break it down. A business meeting is a gathering of at least two people to discuss company goals, needs, and problems, plan, set goals, foster relationships among employees, make decisions and generate ideas.
We tend to believe that a business meeting is all about serious people in formal business suits sitting around one table. Modern technology and video conferencing solutions like Zoom, Whoosh, or Google Meet have brought this activity to a new level. Modern technology lends a shoulder when discussions cannot be held over the phone or by email, and face-to-face meetings take time and money. It makes it possible to hold business meetings with people located anywhere across the globe.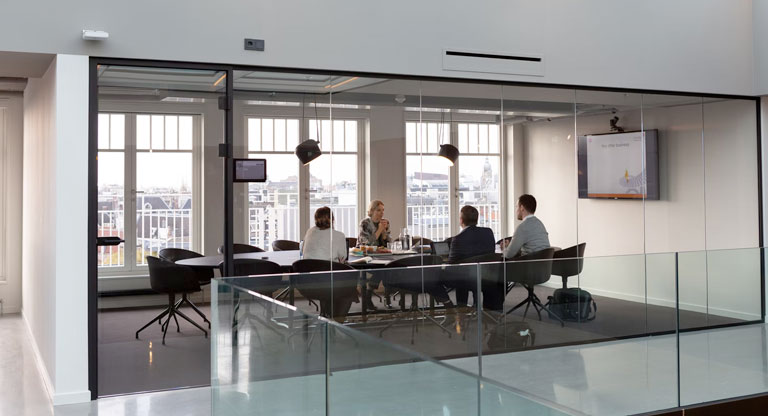 Type of Business Meetings to Help Your Business Prosper
Let's review the most common business meetings and dive into their peculiarities.
Progress Update Meetings
Daily, weekly, and monthly meetings have become every company's routine. They are held to share up-to-date information among all team members or employees on the status of projects or the company's situation as a whole. These meetings reveal whether there are problems in communication and understanding of the overall goal that may lead to ineffective work of the entire team. Companies use progress update meetings to discuss and solve existing problems, set goals and make decisions that will lead to the successful execution of the project or the milestone in business development.
Typically, these meetings are used to discuss:
the team's/company's progress and accomplishments since the last meeting;
challenges encountered;
uncompleted tasks, reasons, and solutions;
goals to be accomplished by the next meeting.
Problem-Solving Meetings
It is not difficult to guess from the name that such meetings aim to find solutions to particular problems. These can be both basic and current company challenges, as well as emergencies that require immediate action and resolution. As a rule, the participants of these meetings are not only managers and project leaders but also executives who have the expertise and know how to solve the existing problem. For a meeting to be successful, you must inform all participants of the problem in as much detail as possible and create an atmosphere of the utmost trust, where each team member can express their opinions and actively participate in brainstorming and discussion of solutions proposed. At the end of the meeting, you should have several options for solving the problem.
Decision-Making Meetings
As a rule, chairmen, heads of departments, and managers who have enough experience and professionalism to make a decision take part in such meetings. Ideally, the decision-making process takes place after problem-solving meetings. For a productive meeting, you should invite top experts on the problem in your company, present participants with proposed solutions to the problem, weigh the pros and cons of each, and make a balanced decision. As a result of the meeting, you should put together a document that outlines the actions to take to resolve the issue.
When an issue requires the involvement of many participants and thorough research, meetings can be spread out over several sessions to give the team time to gather the necessary information to make the most effective decision.
Idea-Generation and Sharing Meetings
Every team member and employee has their ideas, which they share over lunch with a colleague or discuss in a chat. But you will never know about them unless you arrange idea-generation and sharing meetings. These sessions should have as friendly an atmosphere as possible and include people from different departments so that their opinions and perspectives are diverse. Such meetings are very interactive, where everyone can engage, resulting in a brainstorming session that will help generate new ideas to enhance your business. Moreover, the idea-generation meetings will benefit the employees' relationships.
Team Building Meetings
Why is it necessary to engage in team building if people already see each other eight hours a day? However, such meetings are aimed not only at increasing team spirit, strengthening relationships, and enhancing loyalty to the company but also at attracting potential candidates. Team building can take place in various formats — from board games and picnic outings to interactive training sessions and online workshops. Everything depends on the objectives of the meeting. Either way, creating more amicable communication within the team will help your company grow.
Executive Meetings
These are regular meetings held by the CEO, director, or board to discuss the current situation, possible challenges, strategic planning, and other aspects of the business that do not require immediate action. These meetings do not usually involve drastic or unscheduled decisions.
One-on-one Meetings
Some issues require no more than two people to discuss or resolve. Participants can choose the format of the conversation, and topics can vary from a sales pitch to a discussion of personal growth opportunities within the company. The two-person meeting should be treated as responsibly as a large meeting. If you arrange the meeting, make sure that you inform the other person about the subject of discussion and the format of the talk. Don't forget to schedule the meeting and send a calendar invite.
Treat any business meeting seriously, and don't underestimate its impact on your company. Keep track of the latest technology and solutions that can help you simplify the organization process, stick to the basic communication fundamentals, be honest, and talk to your team.