What is freelance writing with respect to content writing and article ghostwriting? What are the advantages and drawbacks of carrying out freelance content writing from home? Can you really make money doing this or is it like many other internet jobs, it sounds great but the pay is bad?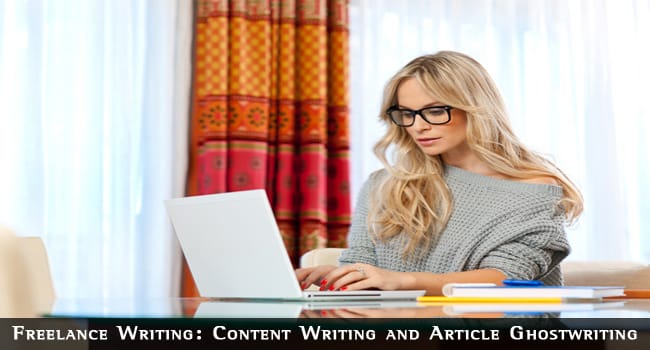 Quite frankly, if you want to make money as a freelance writer of web content and blog posts, there are certain qualities and qualifications you will need before even thinking of the job. However, if you can meet these requirements, then what you earn is up to you. Your hours are not limited and you are working from home.
There are also some qualifications to this, arising from the fact that the internet is universal, and the local cost of living is irrelevant to what people will pay for your work. $5 to one person might be a good income, while another would not write for less than $20. Before discussing the advantages and disadvantages of freelance writing from home, let's first define what the term actually means.
What Is Freelance Writing?
Freelance writing is fundamentally self-employed writing for payment, rather than being a paid member of writing staff. Many journalists are freelancers, who offer their work to various newspapers and magazines, selling to the highest offer. Freelance fiction writers write short stories for magazines and journals. Here we are discussing freelance content writers, who write blog posts, web page content or articles for submission to article directories.
This is also known as article ghostwriting or web content writing, and you can work freelance in this type of business in two distinct ways. a) You can offer you services through an online agency such as Elance or ScriptLance. They will take a percentage of your earnings: up to 8.75% with Elance. You find many writers on these agencies working for very low fees. Or b) you are generally better setting up your own freelance writing business from your own website.
What Are Content Writing and Article Ghostwriting?
In content writing you will be writing content for a client's website. There are three fundamental types of client:
A. They possess poor writing abilities themselves, and need you to write their content for them.
B. The most common language online is English, but many do not speak sufficient English to write their own content.
C. Your clients are too busy to write their own content, and employ others to do so while they use their own time doing what they do best.
Article ghostwriting involves writing articles on the subject of the client's website. Your clients will generally belong to one of the above categories. These articles will normally be submitted to article directories together with a text or HTML link to a web page in a section of the article set aside for this, known as the author's resource or bio. Both of these, content writing an article ghostwriting, are forms of freelance writing.
Advantages of Freelancing From Home
Freelancing with your own writing business from home offers three distinct types of advantage:
a) You work for yourself
You can set up you own website and offer to write on subjects on which you feel most competent. You can set your own prices, unlike agencies where you will be bidding with others for advertised assignments. In such cases, the work goes to those offering a combination of proven ability and low price.
You can set a fixed price for certain categories of work or word-counts. Because you are working for yourself you get 100% of what is paid to you. You do not have an agency looking over your shoulder, and can advertise in any way you want. You can buy up a good client base of people who have been satisfied with your work.
b) No fixed hours
Since you are working from home you have no fixed hours. You can write when you please and use your writing talents to provide you with some extra spending money or a full time income. You can take any time off you want, and if the kids get sick you can look after them yourself at home. Your office is at home and you have no traffic jams to struggle through each morning.
c) You gain knowledge while working
You will soon find yourself building an extensive knowledge of a large variety of topics, and will eventually develop a fantastic general knowledge about the internet, search engines, online business and many individual topics.
Disadvantages of Freelance Article Writing
You must go looking for work because it will not come to you. While agencies will charge a fee, it is easier to find work there although most clients will expect to pay as little as possible. If you go it alone you will have to advertise. The best way of doing this is to set up a website then write and publish articles promoting the importance of article marketing and blogging to potential clients' online businesses.
These articles will not only attract readers, but will also be advertising your standard of writing. It is important to have a good command of the language you are using, and understand the importance of semantics in the use of vocabulary. Your grammar must be very good. It is not true that grammar doesn't matter as long you can make yourself understood – you might get paid $2 an article, but you won't make a lot at that price!
All your time will not be spent writing since you will have a fair bit of research to carry out. In order to attract clients you must have something to offer, such as free keyword research and perhaps an extension of your services, such as offering a submission service to article directories and social networks, a blog posting service and perhaps even make Twitter tweets.
What You Must Know
A freelance writer must have a good knowledge of how search engines work, and you will be expected to keep yourself up to date with any changes such as Google's many algorithm updates and new tools. You must know how LSI works (look it up) and what web content factors influence the search engine ranking of your work. Examples include KD (keyword density) and the importance of where the keywords are used in the article.
If you are writing articles for submission to article directories, you will need at least a basic working knowledge of HTML. Back to grammar – Ezine Articles is the biggest article directory and does not accept articles containing poor grammar or use of vocabulary.
Freelance writing is a good job to have if you can build yourself a regular clientele. Many people are looking for content writing and article ghostwriting services, and as the online community grows, so too will the demand for freelance writers.