Whether you display a full RSS feed or an RSS summary depends to a large extent on your reason for using RSS. Is it to improve your search engine ranking or to genuinely provide information to your visitors? Here are the pros and cons of offering summary RSS feeds and full-text feeds.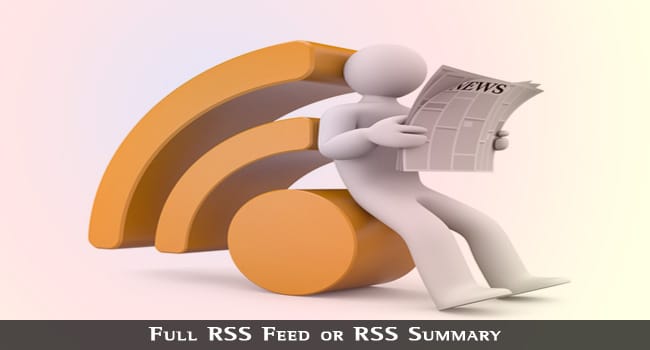 RSS Summary Feeds
When you provide a RSS feed for your blog, you have the option of showing the full blog post or just a summary together with a link back to your blog. Many people choose to display summary feeds so they can entice a reader back to a website that is highly commercialized. In other words, they want you to click on their affiliate links, AdSense or other adverts within the content of the full post.
This is certainly one of the benefits of an RSS summary, and in many cases the primary reason for not offering the full feed through the RSS link. Many people skim down summary feeds and click those that interest them – if you had offered a full RSS feed of a commercialized blog, then potential visitors would possibly just skim past it.
Another reason for using a summary is exactly as described above: many people skim through feeds, and summaries are easier to run your eyes over than a full post. Some people skip the full posts and check out the summaries for something that catches their eye. This is particularly true with popular topics where large numbers of feeds can be aggregated, even when appropriate tags are employed to filter them.
Fundamentally, though, the only real advantage of using an RSS summary is that they tend to generate a greater number of click-throughs to your blog, podcast website or vlog (video log). If this is important to you, then it may be your best option. However, as will be explained below, that might not be such an advantage at all.
Full RSS Feed
With a full RSS feed, the entire web page or blog posting is provided to the reader. Many full feeds get republished on other websites, so it makes sense, therefore to include links to other pages on your blog or website since such full RSS feeds must be republished in full and not edited versions.
Not only do you get the important link juice, but readers can also find other pages on your site through your own links. Do not include more than two links or Google might think you are link spamming. Even then, the links should be related to the topic of your post. So if your post relates to training dogs, not only should be embedded links not point to your web page on training cats (you wish!), but to a page on training techniques or equipment.
Another benefit is that not all those receiving your feed will scan summaries, but might only scan headlines or even entire posts. That's when your post could catch new traffic, bearing in mind that each click back to your website or blog represents traffic that you can make use of – if you know how!
You can also benefit from advertising on the feed: readers will be more likely to respond to a full-feed advert, or at least click on the ad, than if they first had to click to get to your blog post. In fact, many people will deliberately avoid ads on blogs that they might click on feeds.
You can include a list registration form on your post or a link to it. You can offer great content for other people's web pages, and some sites actually make a living offering this, ranging from text to video content.
Another benefit of a full feed is that many, particularly those accessing the internet using mobile devices, can pay a hefty fee for bandwidth usage. In such cases, they are more likely to download your feed offline than to click to reach your full blog site.
Not only that but if you want your feed to be included in appropriate directories and blog lists, then not all will accept RSS summaries. Don't worry too much about losing potential visitors to your blog, because most people interested in the content of your feed will click on your blog in any case, particularly if they have a comment to make.
The reason for the full version being the preferred format for republishing is that webmasters are able to retain visitors for longer on their own web page with a full blog post or web page, and so more tend to republish the full version than a summary that in turn leads readers away to your site from theirs. Better for you perhaps, but not if they refuse to republish, as most do – in which case you get nothing.
Conclusion
Fundamentally, it is up to you: if you want more clicks to your blog from your feed, then a summary might achieve that – but that's about all. If you want to increase link juice and search engine listing position, then a full feed will do more for you than a summary. Very often an excellent feed offering just what readers want is hiding behind that summary, but if they don't want to leave their own site to read it, then tough!
Neither is guaranteed to do anything for you at all, since that depends on the quality of your post, your blog or website and of the service you are offering. However, on balance, it is likely that you would benefit most by using a full RSS feed rather than an RSS summary.