For those who consider Blogging as a profession, there are a number of ways to monetize their blog, such as affiliate marketing, advertisement, paid posts and sponsored posts, etc. Nonetheless, when we consider opinion from experts in blogging, it seems that Google AdSense – advertisement network from the Mountain Valley Giant – is the choice of majority. It has to be noted that, in any case, Google AdSense is one of the most trusted, widely used and extremely popular advertising network, especially when it comes to the case of blogs and websites with medium and high traffic. That having said, when it comes to newbies in world of blogging, creating a Google AdSense account and embedding advertisements in your websites or blogs is considered somewhat tiresome! Well, on the contrary, it is a completely simple task to have an AdSense account and thus start earning from your blog or website. In this article, we will have a step-by-step tutorial to create an AdSense account. Yet, we guess a brief introduction to AdSense will be helpful for newbies out there.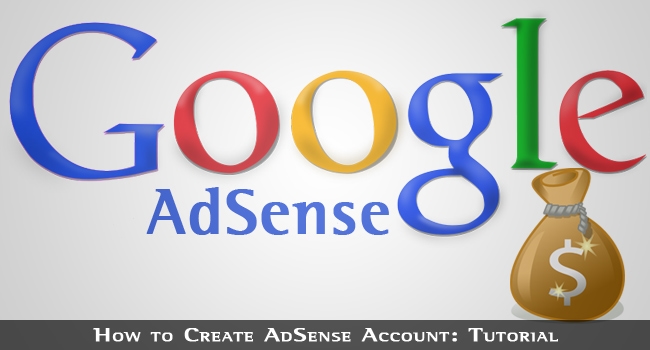 Google AdSense
As we mentioned, Google AdSense is an advertising network from Google Inc that is meant to let publishers of blogs and websites show advertisements along with their content. The program works based on pay per click basis and it is indeed a powerful source of revenue if you have a website or blog with huge reach. As of now, Google AdSense does offer different methods to receive earnings, including EFT and Wire Transfer, and minimum requirement of earning is $100. And, for the technical aspect, Google AdSense works based on JavaScript and you have to simply insert codes into your websites or blogs to enable Google AdSense and start earning!
Step One
First, you have to visit sign-up page of Google AdSense; you can follow this link to reach the particular page! To move on with registration process of Google AdSense, you must have a Google Account. As a blogger, we guess you will be having a Google account, and you can click on Google Account sign in if so. On the other hand, if you don't have one Google account, you can create an account using the second link.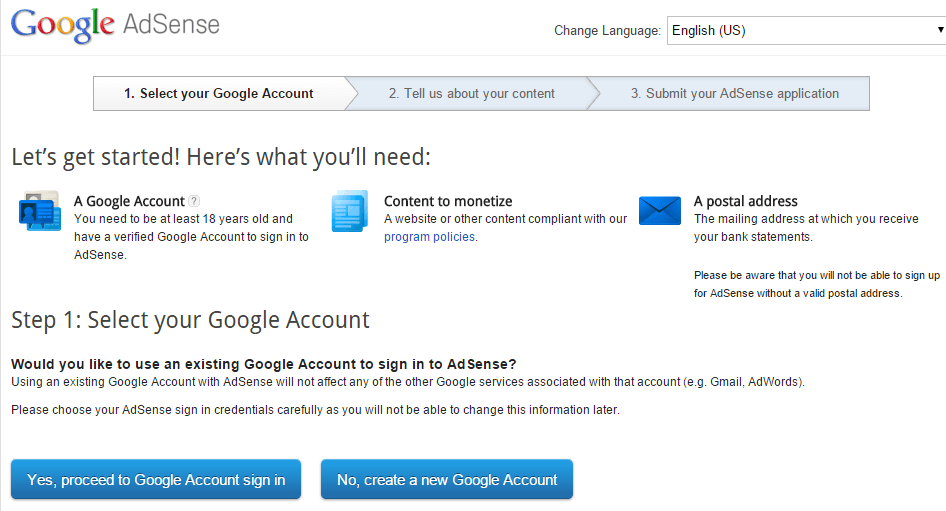 Step Two
This is perhaps the most important step in creating an AdSense account! Second section of registration process, 'Tell us about your content', is where you have to provide details about your blogs/websites that you are going to insert these advertisements in. First, in the Website Information section, you have to provide URL of your website and the primary language of website.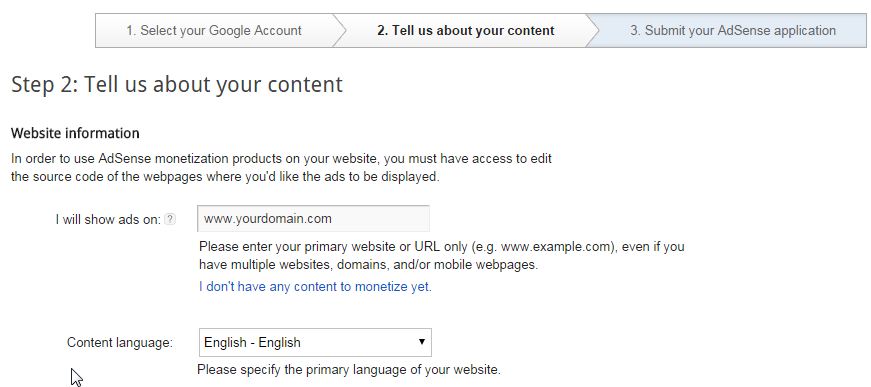 In the second part of page, Google AdSense Terms and Conditions and Program Policies, you can see some of the most important factors when it comes to Google AdSense. As you might have heard before, policies include the prohibition of clicking on your own ads, placing ads in inappropriate websites such as pornography etc. If your website accepts the mentioned aspects, you can click on the 'Continue' button.
Step Three
It is the real section of Google AdSense account sign-up process! In order to submit your AdSense application, you've to provide contact details of yours. First of all, you have to select country and time zone of yours. In the next section, you have to select which kind of account you have – Business or Individual. You have to be a bit careful here, as the availability of money transfer methods depends upon which kind of account you have. And for your information, you can receive your AdSense revenue through different methods like check, Electronic Funds Transfer and Wire Transfer.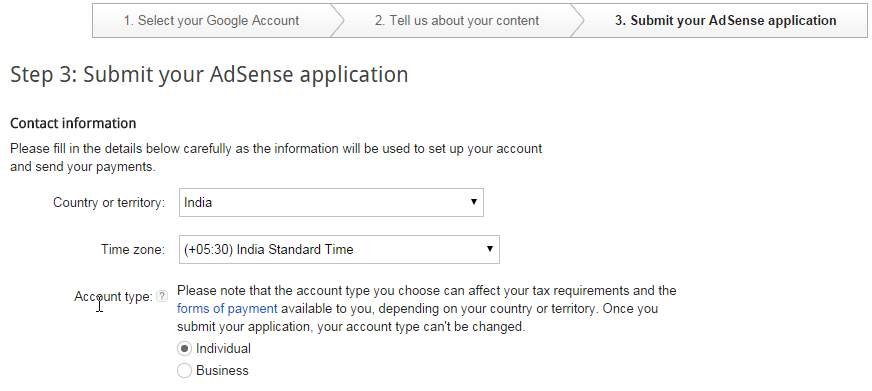 Further, you have to provide your address, to which your revenue checks and PIN will be sent! Here, you have to be quite careful, especially while inputting payee name. Despite the fact that it's possible for you to change payee name in some countries, it is always appreciated to provide accurate payee name that matches with your bank account. In addition, you have to provide details such as street address, city, state, PIN code and mobile number.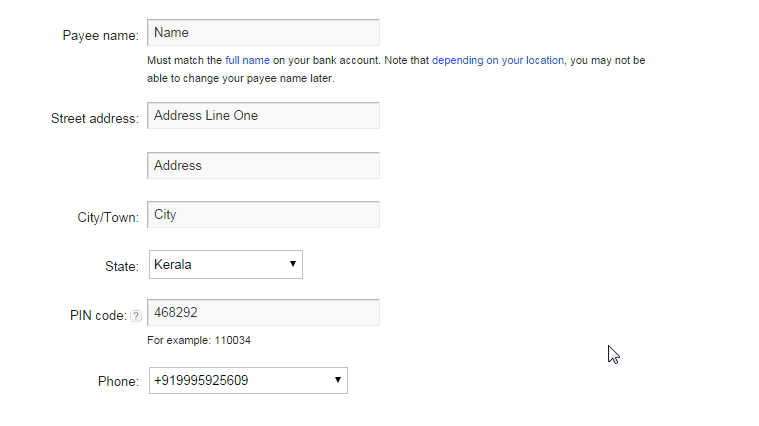 In the third section, you can say how you knew about Google AdSense as well as your preference towards receiving emails from Google. In the latter case, you have an option to select emails that you want in your inbox – you can get a list, consisting of Newsletters, Special Offers, etc, to choose from.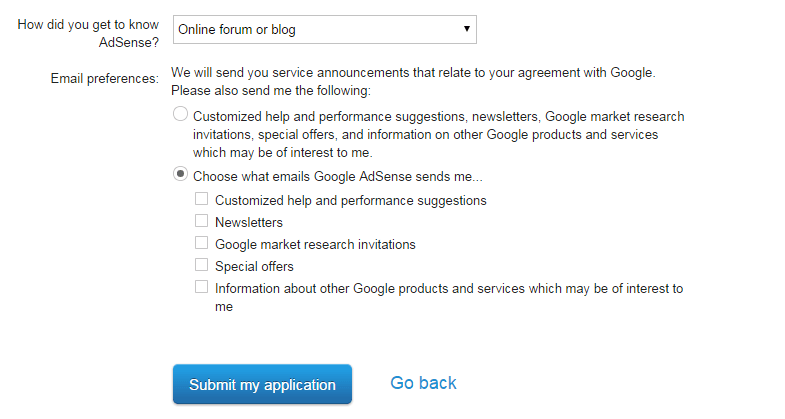 Once you have filled in, you can click on 'Continue' button given in bottom part of page.
Step Four OR Time to Wait
Well, yeah, as you have submitted your AdSense application, it is the time to wait, because Google AdSense team is, nowadays, a bit strict about letting bloggers use their advertising networks. So, the team will review various aspects of your website or blog and mail you.
If your AdSense account has been accepted by the team, you have a few jobs left such as inputting tax information of yours, providing your AdSense PIN, etc. Once you have completed all these steps, you will be able to be smooth when it comes to managing your Google AdSense account, and receiving your earnings in the convenient format — let it be EFT, checks or wire transfer.
Extra Note
Due to several kinds of frauds in application of Google AdSense, Google has tightened the terms and policies when it comes to Google AdSense approval. Thus, you should be as authentic and credible as possible while providing info in AdSense application. And, we hope this tutorial will be helpful for all to create an AdSense account in less time.