LG TVs are reliable, user-friendly, and innovative devices if you have closely followed technological trends over the past few years. Unfortunately, I just faced an internet connectivity issue. I usually use an Ethernet connection but it was suddenly not working, so I was going to connect LG TV to wireless network.
Now, my LG TV says WiFi is turned off. So how to turn on WiFi on LG TV? Follow these steps I've did below!
How to Turn On WiFi on LG TV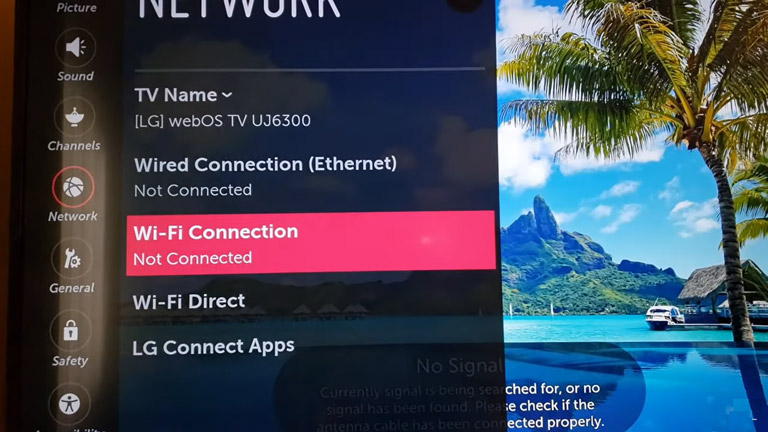 Follow the steps to "turn WiFi on" on your LG TV.
Hit the "Home" button on your TV remote and select "Settings" in the right corner of the screen.
Go to Network > WiFi Connections > Wireless network.
Tap on your WiFi network and type in the password.
Viola! Now your LG TV will connect to the internet.
How to Fix LG TV WiFi Turned Off Problem
1. Connectivity Issues on Your LG TV
If you have an LG TV WiFi problem, here are two common hacks you can try to fix immediately.
Disconnect your LG TV and leave it for at least 60 seconds before plugging it back in. It will soft reset your LG TV, and then you can try reconnecting it to a WiFi network.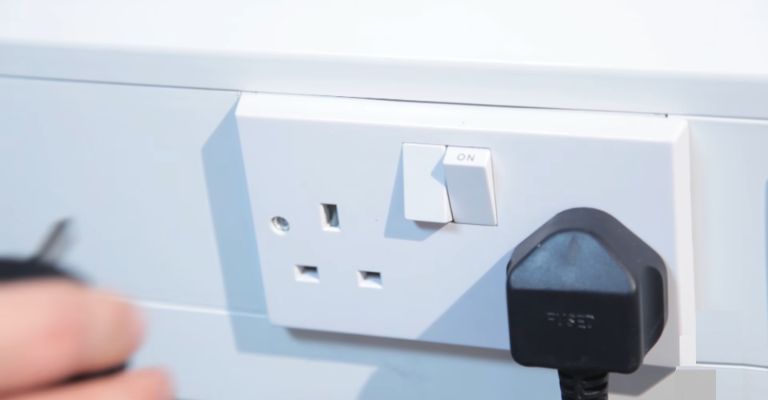 2. Try resetting your LG TV to its factory defaults by choosing All Settings > General > Reset to initial Settings.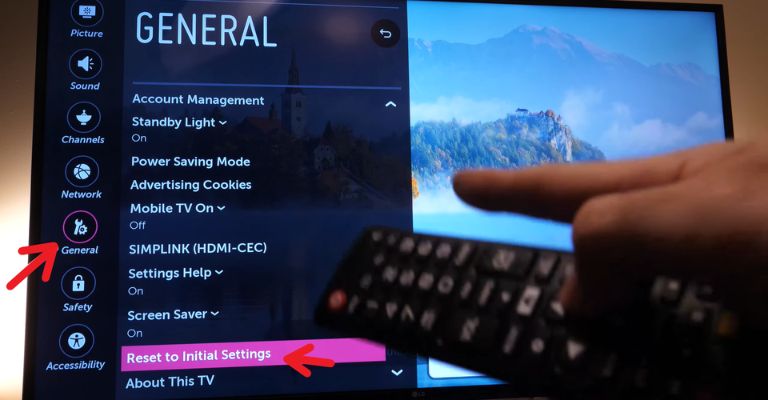 If neither of the two hacks resolves the WiFi issue on your LG TV, try troubleshooting the connectivity problem using the methods mentioned below.
2. Change Your TV's Location Settings
Sometimes LG TVs have connectivity problems when the location settings are set to "Set Automatically."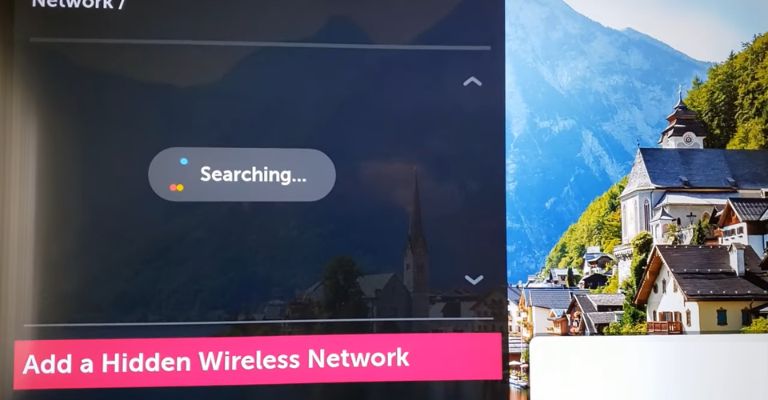 The TV's software often finds it hard to determine the location, causing the WiFi to stop working.
Luckily, this problem can be fixed by manually updating the TV's location. You can edit the location by following the steps below.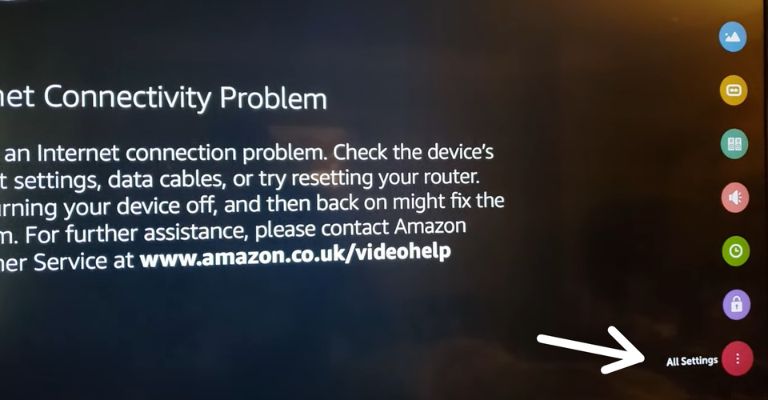 First, go to All settings and select General.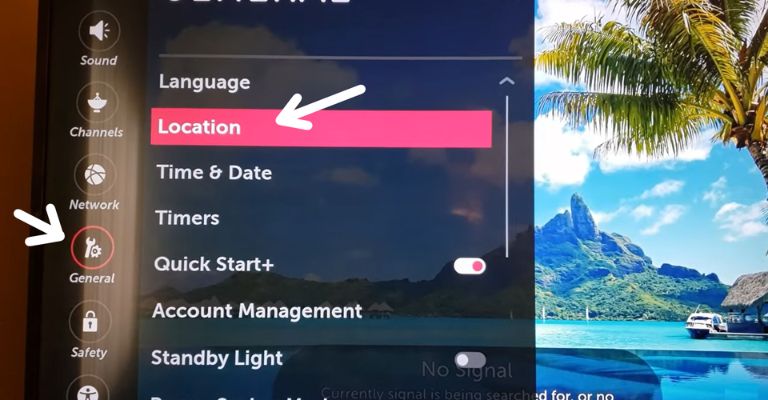 Click on Location and change the location in the LG Service Country.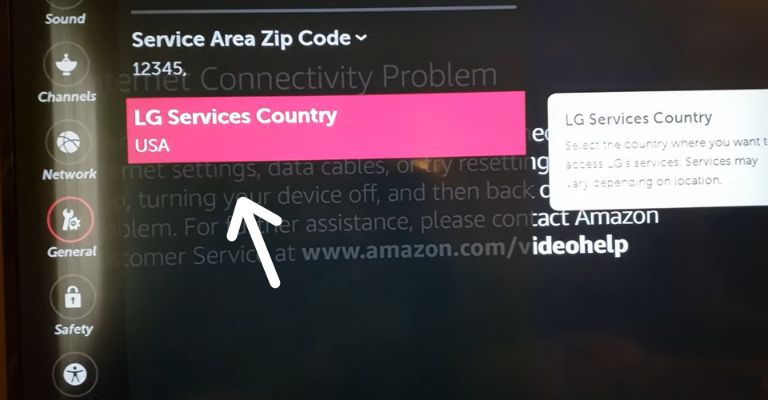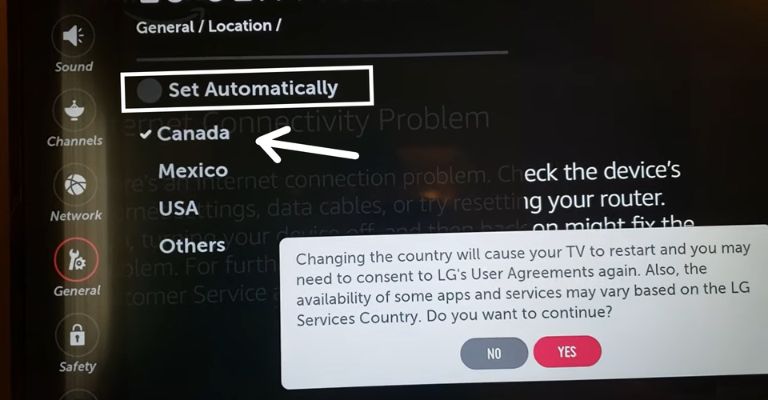 Note that you need to choose a random country instead of your country from the list. Once selected, the TV will reset and restart automatically. Now, open the settings again and change the location to your current country.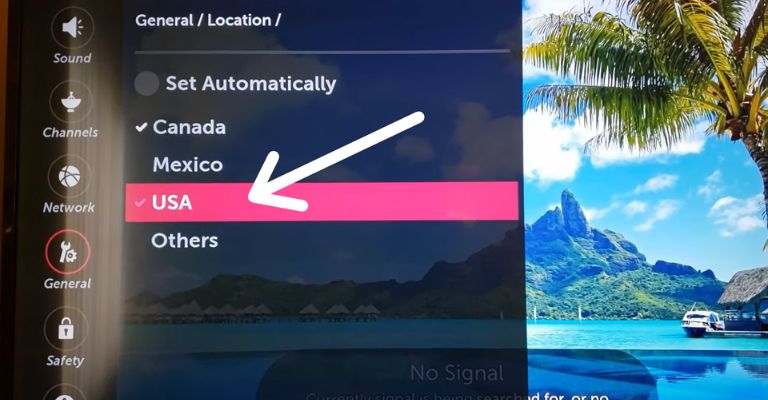 Your TV will reset once again, and now change the location settings to "Set automatically."
Your LG TV will ask you to set up your WiFi connection, and once you complete it, your TV's WiFi should work fine.
3. Fix the "WiFi Is Turned Off" Error
If you have an older LG TV, you may have seen the "WiFi is turned off" pop up on the screen when you try a WiFi connection. It seems to be a manufacturer's fault, as it can be caused by a bent or folded WiFi cable inside your TV.
If you see this message popping up on your TV screen, follow the steps below.
Place your TV with the screen facing toward a flat surface.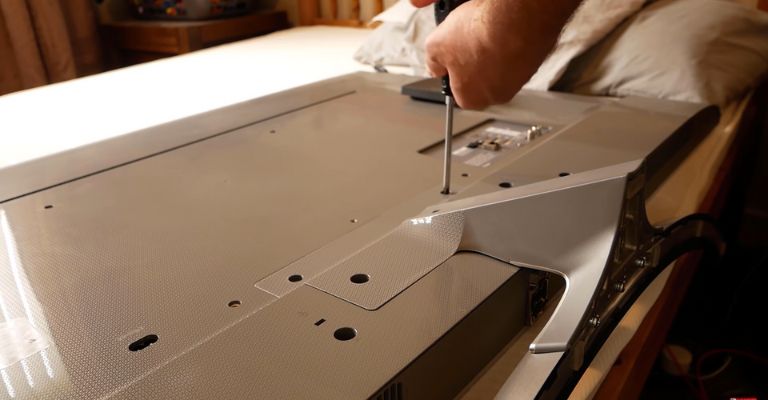 Now, take the back panel off.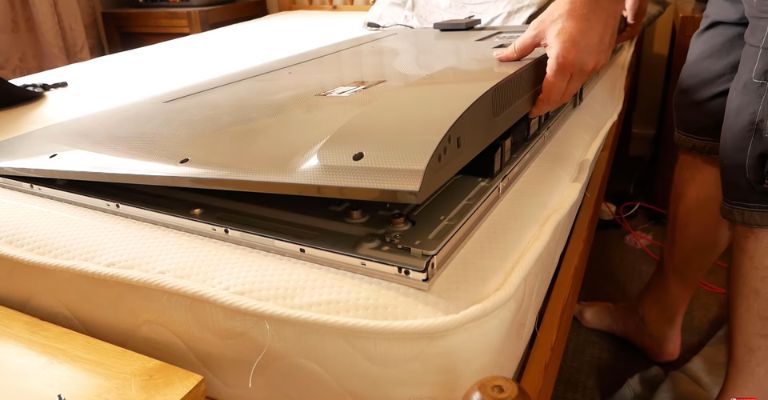 Check the silver cable attached to the WiFi module at the bottom. If they are crimped, folded, or bent over, try straightening them up with proper care to avoid any damage.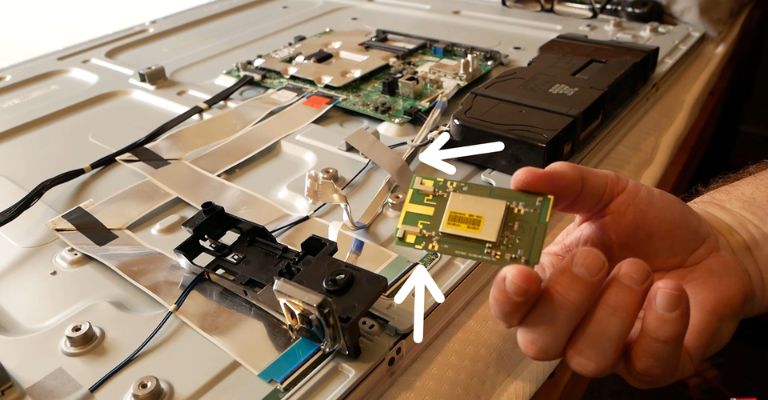 Put the back panel in its place and try connecting to a WiFi network.
4. WiFi Keeps On Disconnecting
If you notice your LG TV keeps losing connection to the WiFi, here's what you need to do.
Connect an ethernet cable for a stable internet connection.
See if there is any USB hard drive connected to your LG TV, as it can interfere with the WiFi signal.
Keep away devices that could easily interfere with the WiFi signal, like cordless phones, microwaves, and baby monitors.
Try bringing your WiFi router closer to your LG TV.
If you're still experiencing the WiFi problem, then the next thing you can do is to talk to your internet service provider and see if the problem is not coming from their end.
5. Disable Quick-Start Feature
Most TVs are not integrated with the "Quick Start" feature, as sometimes it can cause connectivity problems on your TV. So, it's best to turn it off.
Go to "All settings" and scroll down to "General."
Hover over to "Quick Start" and disable it.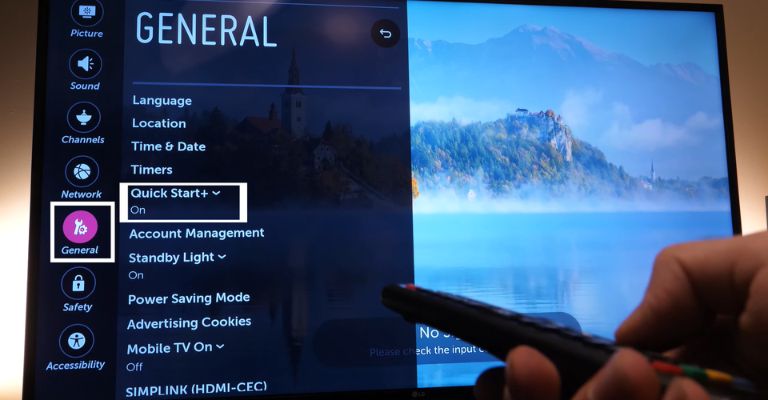 Now, unplug your TV and wait for 60 seconds.
Meanwhile, hold down the power button for 30 seconds.
Plug your LG TV back in and power it on. Try reconnecting your TV to a WiFi network.
6. Your WiFi Network Does Not Show Up on the List
If your WiFi connection is not appearing on the list, do the following steps.
Make sure your router is powered on.
Keep the wireless router as close as possible to your TV.
Disconnect the router and TV, wait 60 seconds and reconnect them again.
7. Connected to a Network, but No Internet Connection
If you're connected to a network, and there's a "No internet connection" error showing up, try using the internet on another device (such as your smartphone) to check if the internet is working.
If it's working great and your LG TV is still not receiving internet access, talk to your internet service provider to resolve the issue.
8. Update TV Software
If your TV has no access to the internet, it can also happen due to outdated software.
If that's the case, try updating the TV software and see if this resolves the issue. Note that to download software updates, you will need an internet connection. So you can use an Ethernet cable to connect your WiFi to the TV and then download the latest updates. Here's how.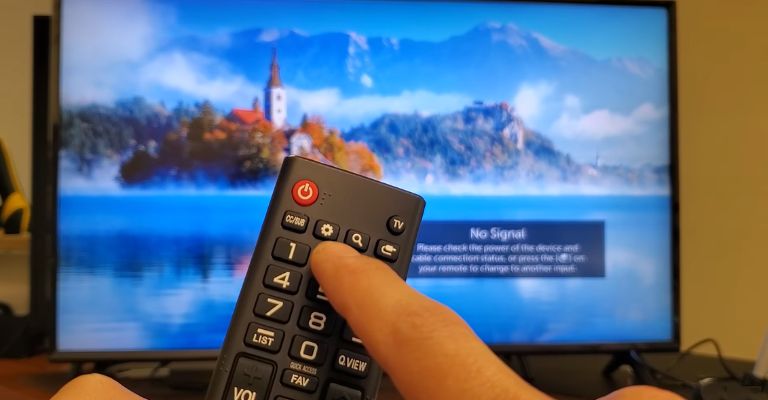 Press the menu/settings on your TV remote.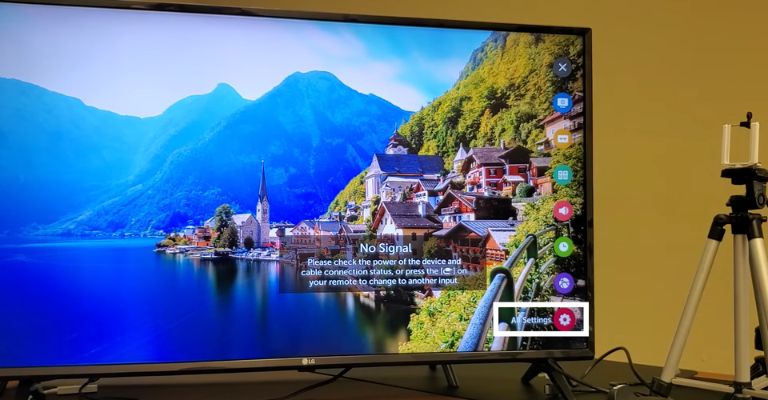 Go to All settings and open General.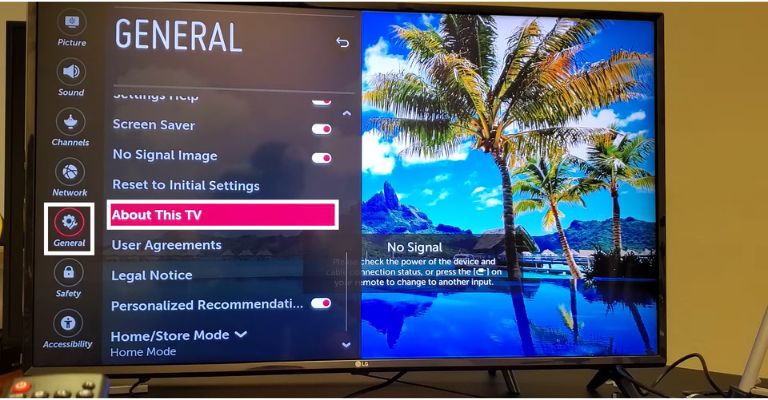 Scroll down to "About this TV" and download the latest updates.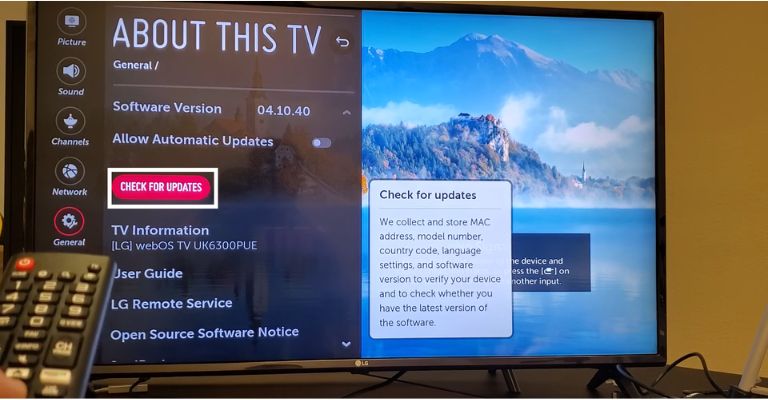 Hopefully, this will resolve the WiFi connectivity issue. If it doesn't, contact LG customer support.
Different Methods to Connect Your LG TV to WiFi
You can also opt not to connect your LG TV to the internet if you're worried about internet security. However, note that you will lose some smart features.
There are quite a few alternatives available if you don't want to set up wireless connections but still want to use the apps.
Ethernet or Wired Connection: You can connect the router using an ethernet cable and plug it into your LG TV. This will ensure your TV has access to the internet as long as your router is working.
Gaming Console: If you own a gaming console like the Xbox Series X, PS5, or PS4, you can connect it to your TV and stream Disney+, Prime, Netflix, and other digital content streaming platforms.
Streaming Device: Another great alternative is to use a streaming device if you don't want to connect to a WiFi network. For example, you can consider purchasing a Chromecast, Firestick, or other similar streaming devices.
Frequently Asked Questions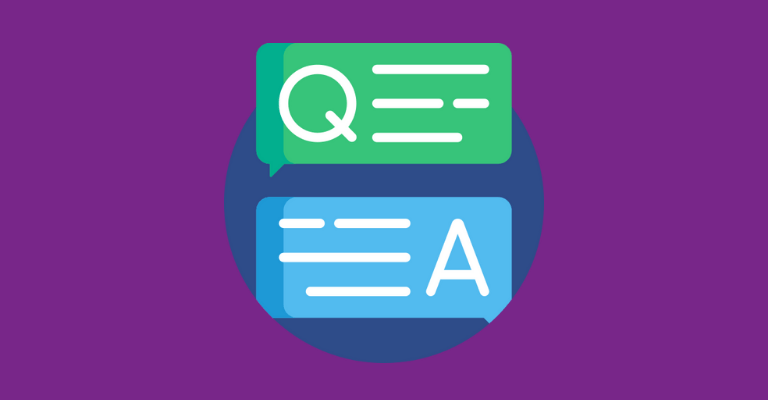 Why Won't My WiFi Turn On on My LG TV?
If your LG TV not connecting to WiFi, it could be for any of the following reasons:
> WiFi is turned off on your TV, or the signal is too low. 
>TV software is not up-to-date. 
>Software bugs or errors can be an underlying problem. 
>Incorrect time and date settings, as well as DNS settings, can prevent your WiFi from connecting to the internet.
Unfortunately, there is no WiFi button on the LG TV. If you want to connect your TV to a WiFi connection without a remote, you have to use a USB mouse and connect it to one of the USB ports on your TV. Now, press the small button under the LG logo and then scroll down to Input. Finally, use your mouse to connect to WiFi.
The Bottom Line
If you are experiencing connectivity issues and don't know how to turn on WiFi on your LG TV, don't worry. Just press the home button on your TV remote and open All Settings > Networks > WiFi Connections > Wireless Network. There, click on your network and type in the password.
If this didn't help you fix connectivity issues, here are some troubleshooting methods you can try.
Unplug your TV and wait 60 seconds to soft reset your TV.
Reset your television to its factory settings.
Change your TV's location settings.
Fix the "WiFi is turned off" error.
WiFi keeps on disconnecting.
Disable Quick-start feature.
The WiFi network does not show up on the list.
Update television software.
If you're still not able to get your WiFi back up and running on your TV, here are some alternatives you can consider, like using a gaming console, a streaming device, or an Ethernet cable.
Were you able to resolve the WiFi connectivity issue on your LG TV? Let us know below in the comments!