Google Alerts is a marvelous tool to use when you are seeking information on specific keywords. Knowing how to use Google Alerts in blogging is essential if you want to remain competitive, whether you are a professional blogger or use a website to provide a service or a product.
Why? Because keeping up with new information is critical in any business! Google Alerts detects changes in web content relating to a stated keyword or phrase and notifies you of such changes either to your email address or in an RSS feed in for of a link you can copy to your RSS reader. Even the most inexperienced blogger should be able to appreciate the benefits that such a service can offer.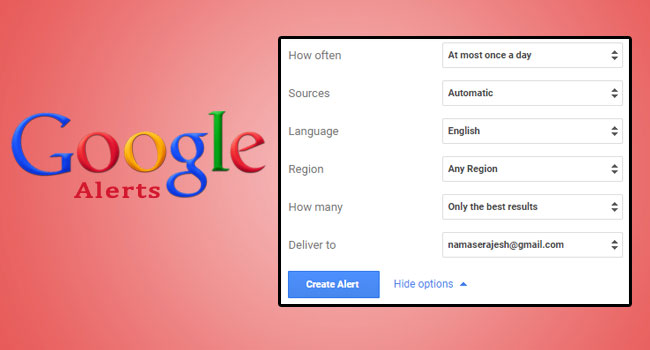 You might want to collect information on a specific term to enable you to write an informative post or even an eBook. Perhaps you have written an article and want to find out what activity there has been on your title. Google Alerts is one of the most powerful free tools available, but it is often overlooked. It monitors the web for a new use of words and phrases and even sends you an email or updates an RSS feed every time it finds a new result.
Before you can use this service to improve your knowledge of your niche and enable you to use this to monitor your blog or website's exposure, research leads or even think out of the box to beat your competitors, you must first set up your Alerts. Here's how.
How to Set Up Google Alerts
If you are logged into your Google account, your registered Gmail address will be used as the email for your Alerts. If you want to use another email address, then log out first, and then you can select the address of your choice.
1. Find the Google Alerts Form
Go to the Google Alerts main site at http://www.google.com/alerts (the URL might redirect you to the Google address for your country, but this is your start link). Click to 'Create a New Alert' and find this form:

If you are logged into Google, your Gmail address will show. In that case, you will also have the option to have alerts sent to an RSS feed, but you must be logged into Google for this. If you want to use a different email to your Gmail address, log out and then go back the above site. The RSS option was canceled by Google in July, 2013, but has now resurfaced as an option – but only if you have a Google account (this does not mean you must have a Google+ account).
2. Enter Your Search Query
This can be a keyword, such as 'blogging tips', the title of a publication you want to follow or even your business or blog title. Take ours, BloggingTips.Guru: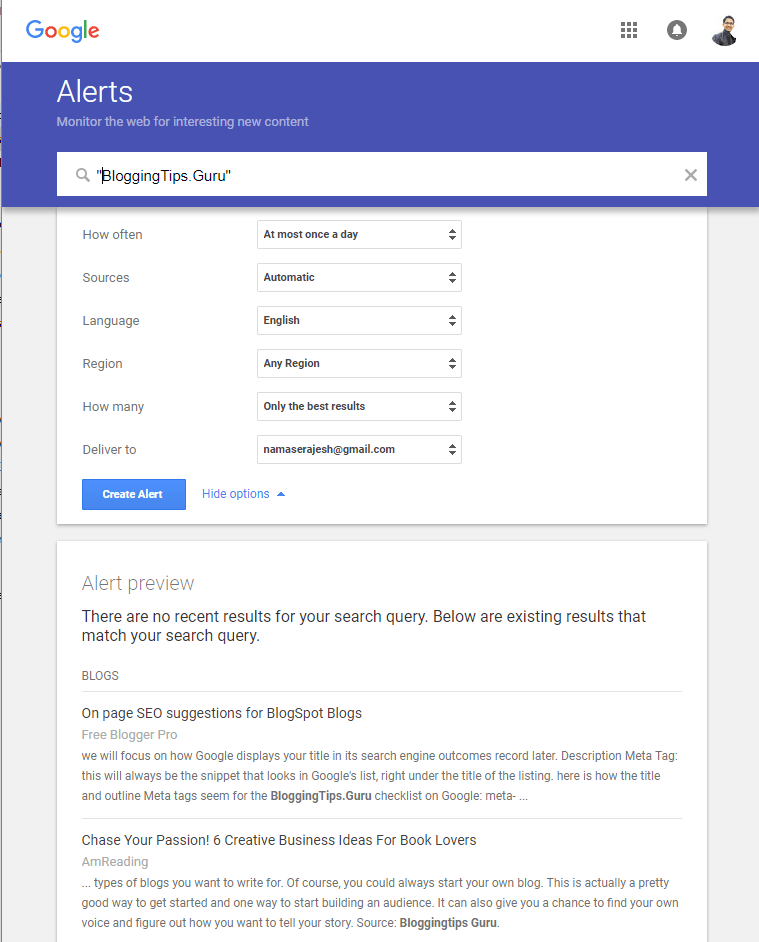 You will notice the options available on the form:
Search query: Enter anything you want. A keyword, a product, an article title, a person's name, a business name or anything else you want information on (more on this later).
How often: You can set the frequency of your Alerts: as-it-happens, once a day or once a week. This is self-explanatory.
Sources: You have a choice: Everything (as shown), News, Blogs, Videos, Discussions and Books. You will receive alerts on anything Google receives where your keyword or phrase appears in your choice of one of these types of publications. To use two or more specified types, then set up two or more Alerts.
How many: You can choose between 'All results' and 'Only the best results'. The latter likely to be chosen by Google's search and ranking algorithms.
Your email: As stated previously, you can enter your own if you are not logged into your Google account, otherwise it will be your Gmail account along with the option of selecting an RSS feed to your blog or website. The latter is not available unless you are already logged into Google. When you choose this, you will be provided with an RSS link that can be copied into your preferred RSS reader.
How to Use Google Alerts
This section refers to how to use Google Alerts itself, not the concept which has been covered above. What are the benefits you receive by using this service? In how many ways can they help amateur and professional bloggers? What benefit are they to businesses or even to individuals with hobby sites making money using Adsense?
Here are some ways in which this extremely useful Google service can help every one of these groups or individuals, but more importantly, how Alerts can help you become more successful than you are right now. If you are not already a multi-millionaire, then Google Alerts will be of assistance in getting you there! Let's use 'Once a day' as your frequency for now:
A. Monitor Your Niche
By entering your niche (e.g. 'quilting') as the search query, you will receive daily updates whenever anything new and relevant is published and found by the Google search engine. Some topics such as sports will receive many daily updates, while quilting might receive few if any. In such cases, perhaps weekly would be the best frequency.
However, you will be informed whenever Google finds something new online on quilting, whether it is a completely new listing or an update to an existing listing. This enables you to monitor your niche and keep current with everything listed by Google on that topic.
B. Check Your Competitors
You can enter a competitor's name as your search query, and will receive all new information that mentions that name online. This is a very good way of keeping current with what your competition is up to. If you want to be truly successful in any form of business, online or not, then you must know what your competitors are saying, doing and planning.
C. Check Out Product Innovations
Perhaps you sell a general product such as golf equipment, a specific line such as golf clubs or even a specific manufacturer such as Callaway. By setting up a Google Alert on any any of these terms: golf equipment, golf clubs or Callaway, you will get regular notification of anything new in these areas of interest.
This might help you to offer the microchip golf ball that never misses the hole faster than any of your competitors – perhaps even to get a worldwide license on it! If that doesn't make you a multi-millionaire then quit marketing!
D. Monitor Questions Being Asked
If you know what questions are regularly being asked in your specific product or service area then you can be proactive in answering them. It may not be technically proactive, but you will have answers to the issues that most people seem to have. That must be of benefit to you.
Simply set up Google Alerts on the most popular questions that may be asked. You will then receive notification according to your chosen schedule whenever these questions are asked, or those calculated by Google's search algorithm to meet the meaning of your search term. For example, on the topic of starting a blog, you could set up a separate Google Alert on each of:
How to start a blog
Starting a blog
How do I start up a blog
How to start blogging
How to set up a blog
You can also use synonyms for 'start' such as 'begin', and use terms such as 'how can I'. Now just wait for Google to send you alerts on where and when these terms have been used in blog posts, web pages, submitted articles, social networks and any other publications that Google has indexed.
Finding Search Queries: If you need some tips on the types of questions that people ask in your niche, then use some keyword tools. Try the free version of Wordtracker. Enter your phase, and Wordtracker will provide you with a list of variations of that phrase that people have used in the past to find the information you offer. There are many other free keyword tools available online that a simple Google search will provide for you.
E. Check Out Your Publications
Perhaps you are involved in article marketing, and submit your articles to directories, you can use Google Alerts to monitor the exposure of your articles online. Simply use the title in the search query, and you will be informed of each new published incidence of that title. You can do the same for any eBooks you have published – receive Alerts whenever your titles are used. Perhaps the user is seeking information on the topic, in which case you can start an association and ultimately offer them your book.
You could even use it to detect plagiarism: but make sure that the body of the article is also yours, and that the title is not the same through coincidence. You could also use close variants of your title to find publications using the same theme.
F. Monitor Yourself
You can monitor yourself using Google Alerts. Use your own name as the search query, or a brand you own. Whenever somebody mentions your name or your brand in a website or blog, you will get mail from Google informing you of the fact. You can check up the source and find out where and why – all information is useful in business. Who knows? It might be a sales opportunity.
G. Preventing Identity Theft or Fraud
Your personal details should be specific to you and you alone. You can arrange to have regular alerts for your details appearing anywhere on the web. Use your address, landline, cell number, email address and any other personal details as search terms. Google will inform you if these details appear in any public site online. Don't use sensitive information, such as your bank details or logins, but your National Insurance or Social Security number is fine.
H. Identifying Regional Clients or Customers
You may have a local business, or might be interesting in finding local people who have been seeking services or products that you can provide. Enter a search query in the form of "Birmingham Italian Restaurants" or "Mumbai web design". You will be alerted whenever such a search is located. This may offer you the opportunity to be proactive and offer your services as a local firm.
The same is true if you are seeking a job locally. Use a variety of search queries relating to the type of work and your location, such as "Paris plumbers" or "Accountant Boston". Sure, you will get people offering such work as well as seeking it, but it is easy to filter out those that relate to your needs. It is a free service after all, so expect to a little bit of work to get the best results!
These are all suggestions, and you are sure to think of many more uses for this simple free tool.
Refining Your Alerts
Google Alerts are operated by Google, so you can use the various search parameters that are permissible in Google search engine searches. For example, you can narrow your search by being specific with your keywords. Google Alerts uses broad search, just as the regular search engine does, unless you use quotes to be more specific.
If you want to be alerted specifically for the whole term "professional bloggers" then use the quotes. Otherwise, you may be alerted for reference to bloggers in general. In the same way, you can use the minus sign to denote exclusions for the search. So if you want references to London England and not London Ontario, enter London -Ontario (you would likely have to do the same for the dozens of other Londons in the world, but you get the idea!).
You can also limit your alerts to sources within specific websites, such as 'blogging site:bloggingtips.guru' or exclude specific sites by adding the minus sign before the site's name. If you simply want to track mentions of the website itself, use its name without any www, such as bloggingtips.guru – then any new references to bloggingtips.guru will be emailed to you or feed to your Google RSS feed.
Google Alerts – Summary
Google Alerts is an extremely useful tool for any blogger. If you understand how to use Google Alerts in blogging, you will find it easier to keep one step ahead of your competitors than if you were without it. Check it out; try it and find out how to use it to your best advantage. It's just like using a search engine, only rather than provide you with a list of sites containing your search term you get a list of sites making fresh use of that search term.