This WordPress SEO tutorial focuses on the major aspects of integrating SEO with WordPress and teaches an SEO newbie or SEO company how to integrate without bugs or loose ends. A blog, irrespective of the CMS used to generate it, is no different to a regular website in its need for search engine optimization. Blog posts are in competition with all other online publications in their need to be listed when a search engine user seeks information online.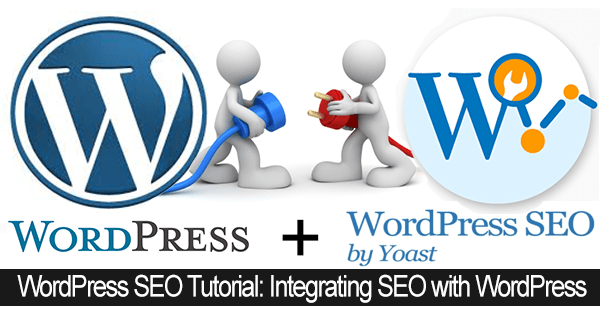 We shall take Google as an example, because it is the largest-used search engine by far. Periodically, Google spiders or crawlers will visit the World Wide Web and check out every listed page that is published online. Algorithms will be used to list pages containing unique content and mark out the more important words and phrases used in each page.
User Search Terms and Blog Keywords
A user of the search engine will enter a search term into the search box. Google algorithms will search its index for the words and phrases used in that search term and list web pages in order of relevance according to its own calculations- based upon over 200 different parameters.
It will seek the search term in its entirety with words used in the correct order for sure, but might also list web pages containing only selected words if these pages are of sufficient relevance. So a search for 'How to Use SEO with WordPress' might find a post titled 'WordPress SEO' in the #1 position- because the general SEO on that page is better than the page containing the entire phrase in word order.
Search engine optimization (SEO) is the process of optimizing a web page or blog post as far as possible to achieve a high listing position (ranking) of that page once it has been indexed by Google. Only Google knows the 200+ parameters used in making that calculation, but we know many of them and can take steps to do our best to maximize our chances of a high ranking for a particular search term (keyword).
In this WordPress SEO tutorial we will focus on a few of the factors involved in achieving this and some ways of integrating SEO with WordPress. First the basics:
WordPress SEO Tutorial: Meta Data
Google looks closely at the Meta data that appears in the Head section of your HTML – the HTML at the top of the source code that is visible to spiders but not to human visitors to your site.
The most important of these items are the Title tag and Description Meta tag. The Title tag is the heading of your Google listing while the description is what appears under it. Your main keyword for your WordPress post should appear first in the title, and also in the first few characters of the description.

Google will consider both categories and tags in its ranking calculations. Each is important, although categories are hierarchical, and can lead spiders down into deeper pages within your site. Which you mainly use is fundamentally your choice, because it has only a slight effect on your ranking, but you must use at least one of each. It is important that you use both in order to best represent a particular post or page.
You can use an unlimited number of tags but are best to keep to one or two categories for each post. Google spiders like to be led by the hand (or leg), but not given too many ways to get to each page on your website – keep in mind that your blog is a website and each post has an individual URL (see permalinks below).
Permalinks
Permalinks are the visible links between pages or posts, and are what Google uses in its calculation of your search engine ranking. The default WordPress permalink is: ?p=, so if your post is the 110th then its URL will be /yoursite.com/?p=112
If the name of your post was WordPress-SEO and if you set the Custom Structure' to /%postname%/ then it would read /yoursite.com/WordPress-SEO/ – far more SEO friendly, and also informing visitors about the topic of the post.
You could also set it to /%category%/%postname%/ so that if your post had been given the category 'SEO' then the URL would read /yoursite.com/SEO/WordPress-SEO/ thus informing the search engine of the file path of the post.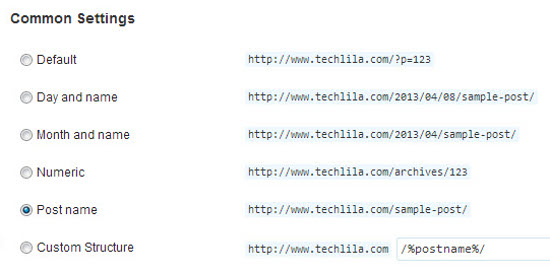 SEO With WordPress Images
Images can be optimized for search engine optimization by adding a title and alternative text description of the image in case it should not resolve in a specific browser. This is done by using the 'title and 'alt' attributes in the html that retrieves the image.
You should use the main keyword for the page in these attributes, such as < . . . title="WordPress SEO" alt="WordPress SEO WP Logo">. The < . . . part is the initial html that retrieves the stated image from the stated web directory.
These are the main basic components of WordPress SEO. Rather than carry out this manually, here are several free plugins available than enable you to integrate SEO with WordPress. The two most popular are All in One SEO Pack and WordPress SEO by Yoast – and they are also the best of those tested.
Here we shall be using Yoast since it has several advantages over the others particularly in terms of SEO analysis. All in One SEO Pack is similar to Yoast in use but does not offer the page analysis or many other options of Yoast.
Using WordPress SEO Plugin by Yoast
After installing and activating Yoast's WordPress SEO plugin, the SEO components appear at the bottom of each post. Once you have completed the post you will see: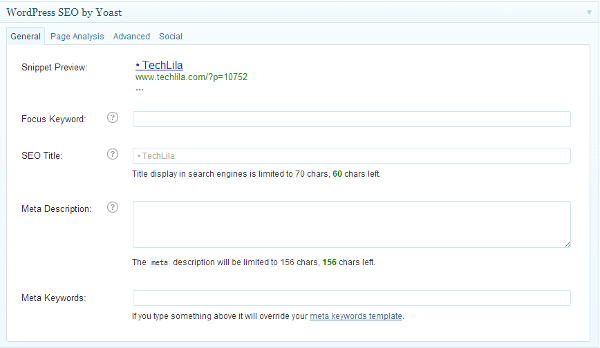 Snippet Preview
This is pre-filled with the title as you entered it in the post, and is what will show by default in its Google listing (if listed).
Focus Keyword
This is the main post keyword, on which the content is focused. Without a focus keyword being entered you will not receive an SEO report from Yoast. You should enter your most important keyword/phrase here – the term for which you most want to be listed.
SEO Title
The title you would prefer to see in your Google listing. Changing this will also change the 'Snippet Preview' but not the actual title in the post. Only use this to reduce a long post title to the 70 characters (incl. spaces) recommended for a Google listing. Like the post title, the SEO title should contain the focus keyword right from the beginning.
Meta Description
A description of your post, preferably beginning with the focus keyword. This is limited to 156 characters and is what Google visitors will see under the title in your listing.
You also get the opportunity to add categories and tags to your posts. Restrict yourself to one or two categories, although there are no restrictions on tags. However, it is not good to use too many tags, and generally 5-6 should be sufficient to define your blog.
Page Analysis
Once you have finished and are ready to save or publish your post, click on the Page Analysis tab. Attend to anything in red, and everything in green is fine. Orange and yellow items are up to you. Yoast tends to overstate the optimum keyword density, so use what you feel is correct. Some people go for 0.7 – 1.0% while others go higher.
Keyword density is not as important as it one was with Google. Other search engines might look for a higher keyword density of up to 3.0, although this might be punished by Google that uses its LSI algorithm that looks for semantic relevance to the topic in the general vocabulary to replace much of the keyword requirement. With Google, 0.7 – 1.8 should be good.
When in doubt follow Google!
Ignore the 'Advanced' tab unless you are experienced in SEO – when you will not be reading this! The Social tab enables you to use alternative Descriptions for posting on Facebook and Google+ It can help you to avoid duplication in this way and is easy to do.
SEO With WordPress: Optimization of Images
Yoast does not cover SEO with images, yet it is important to use the title and alt tags with your images as explained earlier. There is a plugin known as SEO Friendly Images Pro for WordPress.
Simply fill in the boxes in the plugin settings and the job is done. Many people fail to optimize their images, and this could help you jump ahead of them in the rankings.
Summary
This WordPress SEO tutorial gives you the fundamentals of integrating SEO with WordPress and fundamentally how to make sure you are at least covering the basic requirements of WordPress SEO, and that you are not missing anything important. However, it is not the whole story, and much of the Google ranking algorithm involves linking strategies, site structure, comment optimization, backlinking strategies and use of social sites in marketing. These, however, are for another day, since the above is sufficient to take in and implement for one blog post!