Of all the blogging tips a professional blogger might read, the importance of list building is one that should be heeded. You might think that any visitor to your blog will automatically return for more, but that is not the case. Most statistics published online show that only around 15% – 20% of traffic to a blog comprises returning visitors.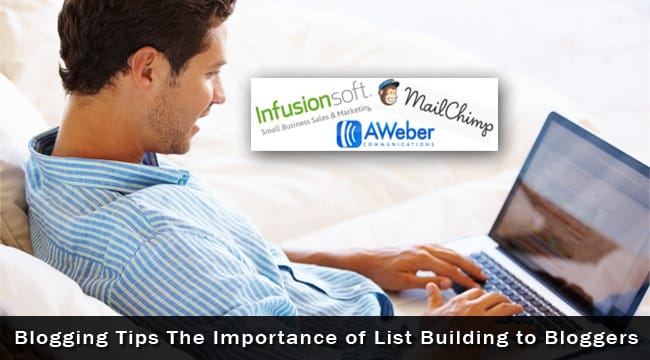 What this means is that of every 100 visitors you get, you are allowing 80% – 85% to leave and never return. What can you do to improve this figure? Sure, you could try to find out why they never return, but how can you do that if you don't know who they are? You could ask them to comment on your blog, but if they are not interested enough, why should they?
That is the whole ethos of list building: to be able to keep in touch with your unique visitors and persuade them to return to your blog. Once you get them back, you should do your best to keep them back, so how do you do that? These blogging tips show you how to build an emailing list and how to make use of it.
List Building Blogging Tips
There are defined steps that you should take in order to build your own list. Most old sayings have a ring of truth to them, and the old saying "The money is in the list" is one of them. Not everybody agrees with this, but I have yet to meet a professional blogger who regrets building their list.
1. Choosing an Autoresponder
An autoresponder is a software application that fundamentally replies automatically to emails. However, the more advanced services, such as AWeber and GetResponse, can collect email addresses from customized subscription forms, form them into a list and automatically send regular emails to the entire list. Check Autoresponder Reviews before choosing autoresponders.
The two mentioned are the most popular, although if you are looking for a free service then Listwire gets great reviews. Each of these allows you to design subscription forms, collect email addresses and program emails to your subscribers – plus more.
2. Designing Your Subscriber Form
Each of the above services enables you to design you own form from templates provide. You can add your business logo and name to the form and select the fields you require. Generally, a first name and email address is all that you should require, although you can add others and select those that are mandatory.
For example, you can also request a geographic location or telephone number, but leave these optional. Only a first name and email address has to be mandatory for the system to work correctly.
SEE ALSO: How to Build a List: Using an Opt-In Form and Squeeze Page
3. Choosing an Offer
For most people, their contact details are valuable to them. They won't simply provide them to you on request. You need something to persuade them to complete your form. You have likely come across many types of subscription forms online, and the more common types of offer generally involve at least one of the following:
A free course – for example, a 10-part course on link building, or a 7-part course on professional blogging.
Hints on how to be successful online – One idea would be to offer 12 blogging tips (the numbers on all of these hints are optional), one tip being delivered by email every 2 or 3 days.
A free report on a topic such as 'Most Popular Dog Breeds' The Importance of Carbohydrates in Your Diet.'
An eBook on the subject of your blog. There are plenty free PLR eBooks available online that you can make your own by adding your own cover and rewriting much of the content.
A regular newsletter – Generally, we find that newsletters or courses are better than one-off gifts such as eBooks. Once your customers get used to having regular emails from you, they will react better to further emails over and above your offer.
Perhaps you can think of a more appropriate means of persuading people to provide their contact details than the above examples. Such inducements tend to work very well, and you will soon be on your way to building a good subscription list of visitors who were interested enough in your niche to visit your blog and to fill in the form.
Your form should include a 'Subscribe' button, with that wording on it, and a call to action, such as 'Sign up Here.' The professional autoresponders are generally good at designing these. The objective is to persuade people to register quickly.
Another important factor is to ensure potential subscribers that their information will be used responsibly. State something to that effect, and also you can add a link to your Privacy Policy immediately below the 'Subscribe' button – make the Privacy Policy open in a new window.
4. Positioning the List Building Form
Your form should be situated in a very prominent place on your blog. This could be:
a) At the top of your sidebar
b) At the bottom of the page or post
c) In the footer
d) In your 'About' page
e) In a feature box
f) In a special squeeze page (opt-in page) designed to collect email addresses
You can use any of these, or even a number of them. A good selection would be to use a, b and f plus perhaps e. You will know how each of the six would relate best to your blog. In general it should be adapted to suit your own blog design.
5. Using Your List Building Skills
Your list building skills may have resulted in a long list of names and email addresses, but how are you going to use it? What type of emails should you send?
The first email your subscriber will get will be a confirmation email where they must confirm their subscription. This is known as a 'double opt-in' and your autoresponder will normally ask you if you want to use it – always click 'Yes.' Then nobody can claim you are spamming them, because they would have had to fill in the form and then confirm it.
The next email will provide them with the promised gift: the eBook, report, or the first issue of your newsletter or course. You will be able to program the frequency of your course in terms of days from the subscription date. You can set this to a frequency you wish – every 2 or 3 days, or even weekly.
Never go longer than weekly or they will forget what they subscribed to – 2 days is best to begin with so visitors get used to your emails. You can then send 'broadcast' emails to your entire list at once on a regular basis, or even to individual subscribers.
Email Marketing
Email marketing is a skill in itself, and can be discussed only very briefly here. You can use your email marketing skills to offer training or blogging tips, make special offers of your products or services and to promote affiliate products. Many people have thousands of contacts on their lists and some over a million. The more you have the better.
If the conversion rate for your list is even just 1%, then for every 1,000 you should make 10 sales. Not all products will suit all people, so mix the products between mailings to try to capture as many sales as possible.
Don't worry if you don't get much response at first; many people take a lot of persuading and research has repeatedly shown that, unless they are specifically looking for it, it takes an average of 7-8 views of an advert or product for people to make a purchasing decision. That's why TV adverts are so repetitive!
List building is one of the most potentially profitable blogging tips you should act on. Practically every successful internet marketer and professional blogger has a subscription form on their website or blog. An mailing list is a great way to persuade your visitors to trust you. Few people purchase from a website on their first visit. Once they have put your trust in you, and you have proved you know what you are talking about, then they will be more likely to buy from you.