The following product promotion tips should be use by anybody that wants to promote a product online. It is immaterial whether that is a physical or electronic product or service. The following tips are for bloggers, internet marketers and others who are trying to sell their product or service online.
Promoting a product is not a one-off action. Product promotion does not involve a single magic bullet that brings you all the traffic and sales that you want. You will not maximize the sales of your product by using only one of the following ideas.
You must be committed to doing all you can to promoting what you have to sell, whether that is an eBook, software or a birthday cake; whether it is your own product/service, your business or an affiliate product, where you get a cut of the selling price for selling it!
The information below will help you to promote a product – any product or service – if you have the commitment and dedication required to act upon it. If you come up with reasons why this sales technique or that type of promotion won't work for you, then you are likely to fail.
That's because a) you are making excuses to save yourself the effort, and b) your heart isn't in it enough to become a success. Try every one of these and you should find it almost impossible not to succeed. The failures are those who do things by halves and are not fully committed to learning.
So enough of the talking – let's start!
You may have heard the term 'list-building' and might already have joined a list or few and be receiving regular emails from people trying to sell you products. Maybe they annoy and maybe not, but the fact is that many people have made their fortunes by building large lists of interested people and then exposing them to products multiple times.
It's a proven fact that people need multiple exposures of a product before they decide to purchase it. That's the theory behind repetitive radio and TV adverts. There are several reasons why potential customers might not buy right away:
They don't have the cash right now – but they may do on payday. People are more likely to buy online products, particularly info-products and software, on payday rather than later in the month.
They don't have their debit or credit card to hand right now. It's in their jacket downstairs, and they can't be bothered to go hunting for it (yes, that is a reason for not buying your product.)
It's the wrong time of year. The holiday period, vacations, birthdays and other expensive events might be putting too much strain on their finances. Maybe next month …
The customer is not convinced your product can help them. They might need more information on it before they decide to buy – they might even need more information on their problem, or whatever the reason was for them visiting your website or blog. They visited for a reason! It rarely happens accidentally.
In each of these cases, you may feel, "Okay – they might buy the next time they visit my site."
How are you going to achieve that? Almost everybody that visits a website or blog visits only once, never to return, unless they have an incentive to do so. That might be the great content or blog posts you write, but you can't bank on it.
The answer is to collect their email address so that you can contact them. The way to do that is to register with a professional autoresponder company such as AWeber or GetResponse and start to build up your email list. These firms enable you to set up forms on your site to collect personal details, and to auto-send emails at pre-set intervals.
Your visitors won't fill in your form just because you asked them to, but what if you offer them a course on their niche. How about a 7-part course on link building or a 12-part course on how to promote a product online? Offer 10 product promotion tips, or 8 quilting tips – one tip per mailing.
This would enable you to keep in touch on a regular basis without the accusation of spamming. You could also offer an eBook free of charge, a free report or some other one-off offer. However the course is best because you then have permission to send multiple emails – each one containing the sales link to your product.
Another option is a series of newsletters in which you provide useful information on the recipient's niche, along with reasons why your product can solve their problem or help them make more money online. The vast majority of successful online entrepreneurs have large emailing lists of interested people – every one a potential customer, many of whom have purchased multiple times.
Get a product in front of your customer at least seven times, and you will have a very good chance of a sale. Autoresponders such as AWeber and GetResponse are not free, but they are worth their price many times over in the financial benefits they should bring you.
2. Offer Affiliate Deals and Joint Ventures
If your product is electronically deliverable, you can allow others to sell it for a share of the sales price. There is no finite number of copies of an eBook or an App as there would be with a physical product such as a dog basket. You can offer an affiliate deal to your list members and to others via your website. Offer them 50% of the price for each product they sell.
Alternative try a JV: a joint venture, where your partners can sell their product to their list for a good commission such as 60%, and you can agree to sell theirs to your list. People involve in a JV want to make sure that your product is high quality, so you must give them a free copy to evaluate. You don't do this for an affiliate agreement.
Join an affiliate site, the most famous and best of which is Clickbank. This company will then list your product on its site for affiliates to promote. There are others if you search online for 'affiliate platforms' although Clickbank is the most popular.
3. Article Marketing: Write and Submit Articles
It has been said by some that article marketing is dead. This is total nonsense, and is a misinterpretation of the Google Panda update. Badly written articles are dead, true, because Google deindex pages on which they appear. Short articles of less than 500 words are also dead, and the publications that still publish them are being punished.
However, well-written articles that offer readers useful information on the subject are still being indexed and well-ranked by Google. Ezine Articles, Go Articles and Amazines are all still going strong, only they have changed their rules so that only well-written articles, with good grammar and spelling, and lots of good information are being published.
So, by writing articles on the topic of your product (or having them written for you), and publishing them on as many article directories and ezines as you can, you will receive lots of exposure to potential customers. Google lists articles on such publications just the same as any other web page that is published online.
You can include links in the author's resource to both a content page dealing with the issue your product resolves and to your sales page. This provides you with potential PageRank points and also eyes on the links from readers.
4. Guest Blogging
Guest blogging does not permit you to directly promote a product, but you can get your name better known and also a backlink to your site. You can approach bloggers directly, and ask if you can guest blog for them.
Before doing this, however, it pays to make an attempt to become a perceived expert in your field or niche. Keep in mind that we are discussing product promotion here and are seeking ways how to promote a product online. You must therefore be seen to be somewhat knowledgeable about your niche if you have a product or service to promote.
It should not be too difficult to build a reputation within your niche community. Start by making a few comments on blogs and forums, and perhaps helping to help a few people with problems or answer questions that have been asked.
Eventually, contact the blog owner and comment that you have seen a few questions on the same topic, and would it be okay if you wrote a guest blog to answer some of these. You will likely be asked some questions as to your reputation and standing in your niche, and may or may not receive an invitation to guest blog.
5. Press Releases and Adverts
Imagine if your product was featured on the New York Times, the Sun in the UK or on CNN! That is sure to bring masses of traffic to your website or blog. The vast majority of internet marketers are unable to use these media for advertising due to cost.
However, there are press release services available online at reasonable prices, and all you have to do is to write a bit about your company and your product and then submit it. You can find a number of press release services online, ranging in price from around $50 upwards for a single release. However, it's best to begin with a free service which you can get here: Prlog.org
Read the site and its requirements, and then create your own press release to publish on their site.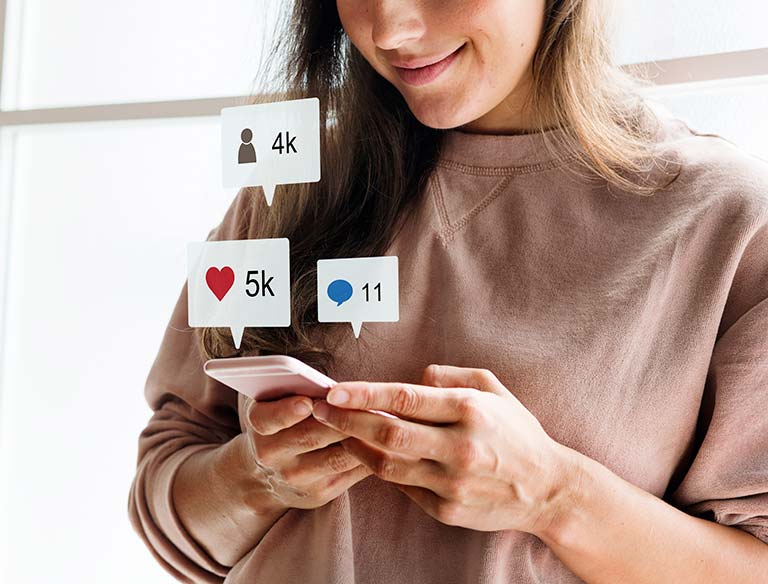 It pays to use social media, and also to have a static website in addition to a blog to help promote a product or service. At the very least, you can maximize your online presence and domain authority by using the following platforms for product promotion:
a) A website
b) A blog – promoted and pinged on Technorati, Reddit, Delicious.com
c) A listing of that site and blog on a Google Webmaster Tools account
d) Google+ product page
e) Facebook company/product fan page
f) Advertise on Craigslist for your geographic areas – one advert for each area
g) Pinterest Boards
Here are more details on each of these:
A: Website
You don't need a full website to promote a product: a minisite will do, consisting of two or three pages. If you already run a blog, then it's easy to add a regular website in the form of an add-on domain, or even a subdomain in the form of a directory on your main domain. You don't need a new domain name – your website URL can take the form www.myapp.mysite.com and operate just like a regular website.
A static website page is often more effective than a blog page, particularly if you don't want your blog landing page to be a static page rather than display the latest posts. You can then market your product from the web page with promotional material, a content page describing the need for the product or service and how it can be used, and a sales page with purchasing options. These pages can be linked to your blog.
B: Promoting a Product with a Blog
If you have a regular website rather than a blog then it easy to set up a WordPress blog. If you have cPanel on your site, find QuickInstall and install WordPress from there. Set up your main sales page and product description on your website, and use the blog to publish regular promotional posts.
Post topics could include details of the issues or problems that the product can help resolve, and how it can save the reader time or money. A blog makes it easier to provide fresh content, with the possibility of high search engine rankings for each post. Include a link to the sales page on each post.
C: Google Webmaster Tools
Register for a Google account if you do not already have one. The one account gives you access to all Google sites, including YouTube, Gmail, Google+, Adwords and Google Webmaster Tools. Go to Webmaster Tools at www.google.com/webmasters/tools/ and click to add a site.
You can check how to use Google Webmaster Tools on our blog post: Why Google Webmaster Tools Will Help Your Google Ranking. It is very important to have your websites and blogs listed here along with an XML sitemap if you want exposure in Google's search engine results pages. One of the best ways to promote a product or service is to have your site ranked highly on Google's search engine results pages (SERPs).
D: Using a Google+ Business/Product Page
In addition to your Google+ profile page, you can also set up a business page to promote your products. Because Google takes over 60% of the world's online search traffic, it always pays to use the tools that Google provides. Google+ is Google's primary social networking platform, and you should connect your Google+ profile to your website and blog. You can do this by using a common email address on each.
E: Facebook Product Page
Facebook not only offers you a Home Page and Timeline, but also the facility to set up fan pages and business pages. Click on the cog wheel at the top right of your Facebook Timeline, then click on "Create Page":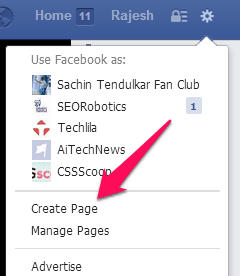 You will then see six options, including an option to create a page to promote a brand or product. Click on the 'Brand or Product link:

You will then be given a drop-down menu to choose the type of product. We are using 'App Page' as an example here: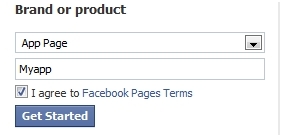 Enter the name of your product then click on the blue button and follow the instructions. A Facebook product page can be a very powerful way of promoting your product or service. You can enhance this power by including a link to your Google+ business page and your blog.
F: Using Craigslist
By placing an advert on Craigslist in your local area and also in one or two high-population areas, you can improve your local exposure while also providing links to your website or blog. This should enhance the likelihood of a high search engine ranking – both Google and Bing. Simply go to the Craigslist site and select a location from those provided. You then see this page (using Albany as an example):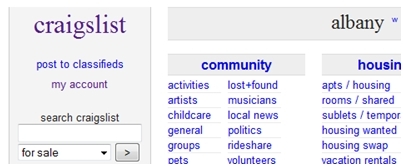 Click on 'my account' and you can either login or register for an account. The instructions on placing an advert are then easy to follow. Adverts are free, and you are permitted to include a website/blog link.
G: Pinterest Boards
There are several ways to use Pinterest to promote your products, but one of the more effective is to set up a 'Best Sellers' board. If you sell more than one product, pin your best sellers onto one board, and provide a link to that board from your website or blog. Not only will this generate more interest in your target product, but you are exposing multiple products. You could also use a board to pin all your back-sells and upsells for your primary offer.
Pinterest is become increasingly more popular, and is a particularly useful advertising medium if your product is craft-related or looks good visually. Graphics design, recipes and floral products are all examples of products where Pinterest is a valuable promotional tool.
7. Using Videos
Videos are always good platforms for commercial products. You can make a video that demonstrates the benefits of a specific product. This can be done using your cell phone or a webcam for regular videos demonstrating the benefits of physical products, and Camtasia or a similar keystroke/screen recorder to demonstrate software products in use.
Videos tend to work well for advertising and promotion, and they can be used in a number of ways. You can use your video on your sales page, your blog or post it on YouTube.
Make a YouTube Video
Most products can be promoted on YouTube, although the medium is best used to demonstrate their use rather than simply to present a product. For example, if you demonstrate a software application or cell phone app in use, you are much more likely to make a sale than if you simply describe it. Videos are easy to make using the free software described in our post "Best Screen Capture and Video Screen Recording Software Review".
However, videos themselves have to be promoted, and the various techniques described in this post can be used to promote both the product and the video promoting it. You can provide a video link on your main product sales page, and on your website and blog. It often pays to invest in a professional video to promote high-ticket quality products where the price justifies the cost.
8. Interlinking Your Publications
There was a time when interlinking all your websites and pages was a good thing. Now however, you run the risk of link spamming, so be careful with your external linking strategies. Links can be helpful in promoting a product or service, but create them meaningfully and not just as a matter of course.
There is nothing wrong with linking your website sales page to your blog and vice versa, so long as each relates to the same product or niche. It is also permitted to link your site or blog post to each individual social bookmarking and networking site. However, don't link every page in your website to each other. This can be counter-productive.
Another way of linking your various publications is to claim authorship for them. You can find out how to do this on Webmaster Tools, or read the instructions in our blog posts Author Rank and Google Plus 1: Effects on Google Ranking and How to Implement Google Authorship Markup in WordPress.
9. PPC Advertising
PPC (pay-per-click) advertising is one of these production promotion tips that can work very well or can cost you a lot of money for nothing. The two most common examples are Google Adwords and Facebook adverts.
Fundamentally, you pay every time a visitor clicks on your advert, so they must be very accurate and specific in describing the product and the sales page must be very persuasive. They are easy to set up and the instructions easy to follow. Some prefer Facebook while others believe Adwords to offer best results because they appear in the SERPS and are hence visible for targeted searches.
You can use either, and you have control of what you spend. You can set a daily budget, whether that is $5 or $50. Once you reach the budget figure, your adverts are taken down until next day. They can be effective, but keep in mind that you pay even if a visitor is clicking just for interest sake. You enter a type of auction for keywords, those paying most for a keyword being placed in the most prominent position.
10. Get Testimonials and Reviews
Testimonials are gold to you. Many times, potential buyers will hover over the 'Buy Now' button, and then leave it. They need some reassurance that they are spending their cash on the right thing. A testimonial from a customer with the same problem as them will go a long way towards convincing them to click on that button!
If you have already sold your product, then ask the buyer for a testimonial. You will occasionally find that this works. If not, then send free 'review' copies to friends or even to people in your email list and ask for their review and honest opinion. You can use the response as testimonials – at least the positive ones!
If you know the email address of an 'expert' or internet guru, then send them a copy and ask if they will give you a product review. Some do, most don't, but they can be worth a great deal to your credibility, and you will lose nothing by trying. Publish your testimonials and reviews on your sales page and in your emails.
Many people use social networking sites for information on products they are thinking of buying. Post some reviews on Facebook and Google+, even if they are from your family and friends, but they must be genuine. Make sure those reviewing the products have used them first! Do not pay for reviews, although you can provide a free copy to friends to try out.
Make sure their reviews are honest – one or two negative reviews will not hurt you, particularly if you post back, thanking them and stating that you have checked the problem and have resolved it. You could send them a revised copy and request a revised review. That will pay dividends, particularly when the public sees that you can react positively to negative comments. Honesty always pays off better than subterfuge, so never try to pull a fast one on your potential customers or clients. They will see through it and you will be the loser.
Product Promotion: Summary
These 10 product promotion tips will enable you to effectively promote a product online. It is not enough just to use one or two of them. Try to apply as many as possible for best results. People are not queuing up to purchase from you – they need some persuasion. Even if they were looking for your product, you still have to put it in front of them.
The two main objectives of product promotion are a) to make your product visible to those that need it, and b) to persuade them that they would benefit by purchasing it. Always stress the benefits – make it clear that your product or service will save them time, save them money or improve their own product. Get your brand's name out there and get it recognized, but always be honest and truthful.