If you're facing volume or sound issues on your Samsung Smart TV, there are quite a few fixes you can try. These fixes often resolve the "Samsung TV volume stuck or not working" issue in no time.
But in other cases, you may have to contact Samsung remote support to resolve this glitch on your Smart TV.
Samsung TV Volume is Not Working/Stuck
If your Samsung TV volume is stuck or not working, you could reset your TV's Smart Hub. To do that, press the Settings button on your TV remote and go to Self Diagnosis under the Support menu. Click on Reset Smart Hub and enter the default security PIN "0000." Your TV will reset in 30 seconds, and its volume should work fine now.
1. Disable Smart HUB Autorun on your Samsung TV
Sometimes the Smart HUB of your Samsung TV often causes the "volume is not working" issue. So, try disabling it by following the steps below.
Go to "General" and select "Smart features."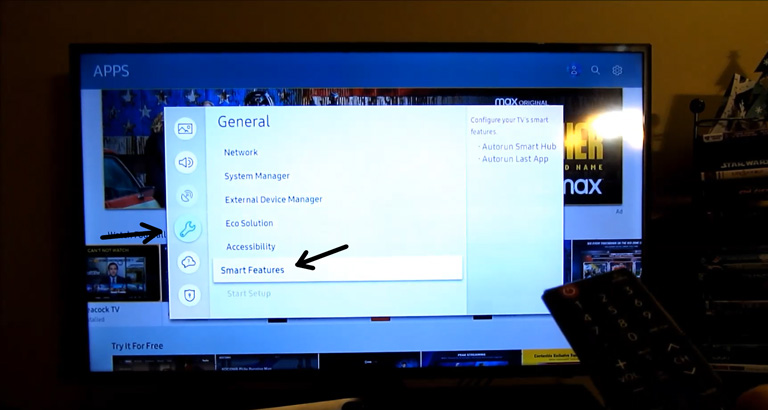 Now, disable both "Autorun last app" and "Autorun Smart Hub" options.
Hopefully, this will resolve the stuck volume issue on your Samsung TV. If it doesn't, move on to the next fix.
2. Try Resetting the TV's Smart Hub
Samsung Smart TVs are integrated with a customizable app store known as Smart Hub.
Resetting the Smart Hub will remove all your account information and restore all settings to their factory defaults.
Once you do that, you need to log into your account again.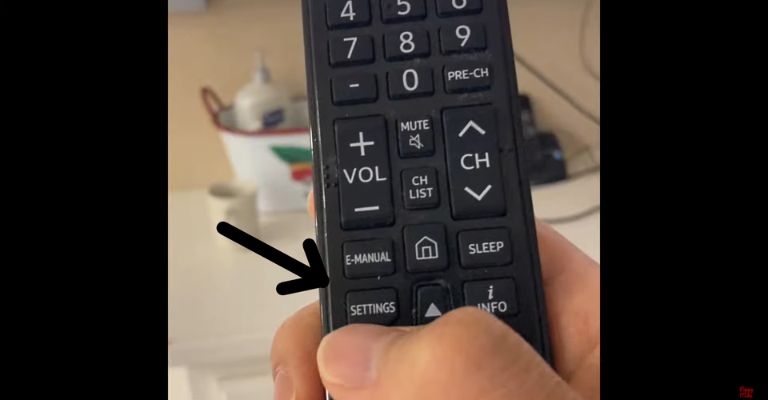 So, click on the Settings/Menu button on your TV remote.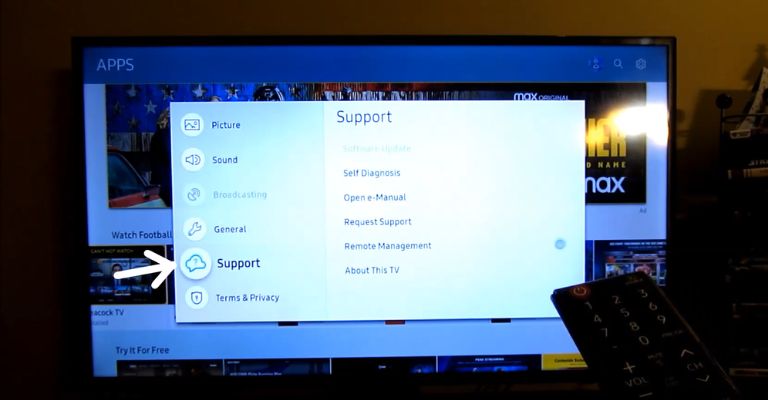 Then scroll down to the Support menu and select Self Diagnosis.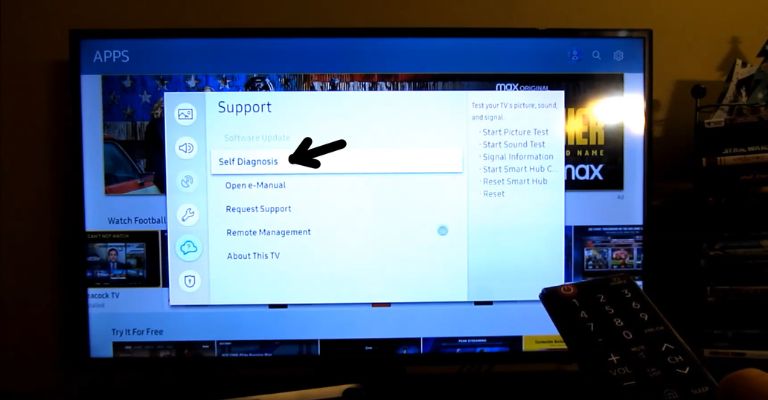 There, click on Reset Smart Hub.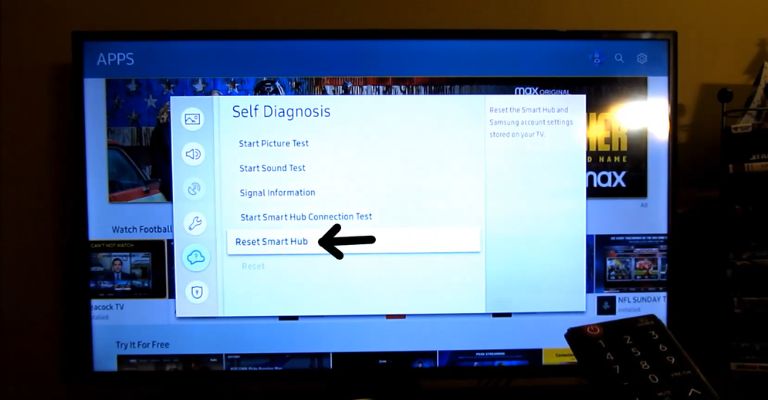 The next prompt on your TV will ask you to enter the security PIN, which will be "0000" by default if you haven't set one before.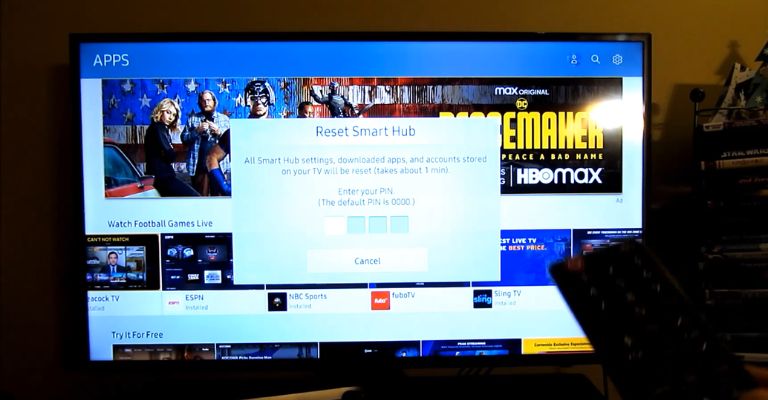 Now, press enter, and your TV will reset. Hopefully, this will resolve the volume issue for you.
If it doesn't, then try deleting unused apps on your TV. Because if you don't, you may experience the volume issue again after a couple of days or weeks.
3. Delete Any Unused Apps on Your TV
After resetting the Smart Hub, you should consider deleting unused apps to free up some memory on your TV.
It will ensure you don't face the "Samsung TV volume stuck" issue again.
Samsung TVs automatically update and clog their memory with downloaded apps. To resolve the "my Samsung TV volume is stuck" issue, you need to remove unused apps. Here's how.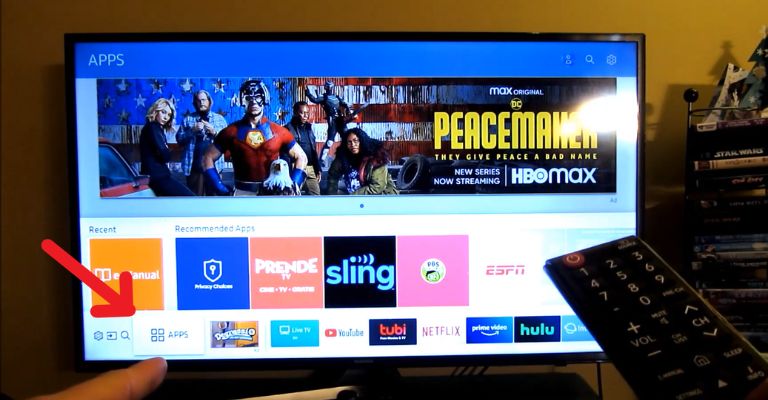 On the home screen, open the "Apps" menu at the bottom left corner.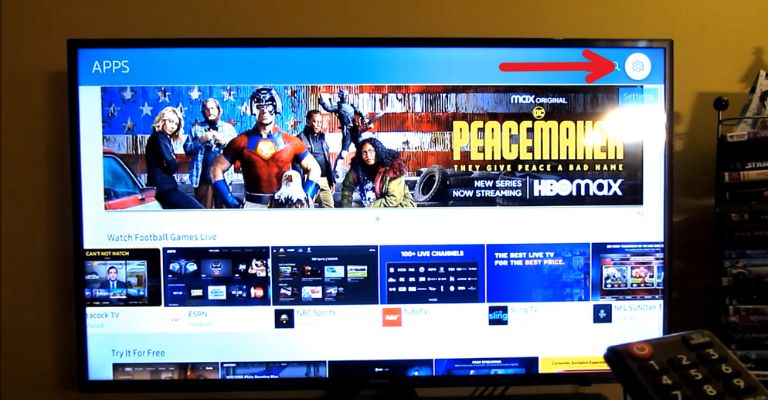 Now, select the "Settings" option at the screen's top right corner.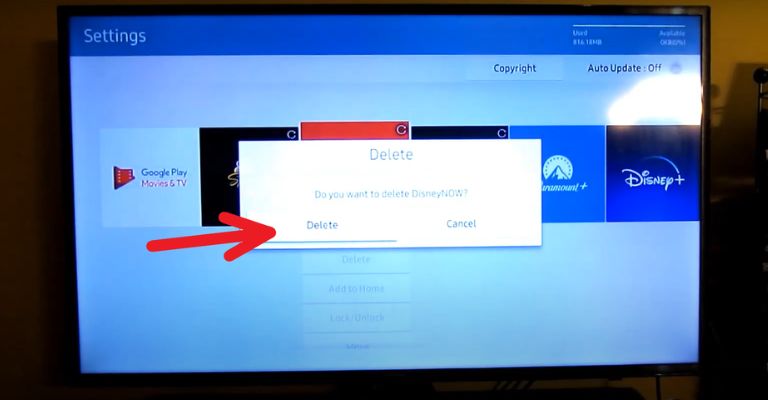 You'll see every app downloaded or added to your Samsung TV there. Some apps are added during the automatic updates, and others are already pre-installed on your TV.
Make sure to go through each app and remove any that you don't want or use.
Note: Some apps are installed on the system, and Samsung won't let you remove them, like, VUDU, Prime Video, Hulu, Netflix, etc.
4. Only Use the Samsung Remote
Sometimes you can get your Samsung TV volume stuck using a generic remote. So you should only consider using the Samsung remote on your Smart TV.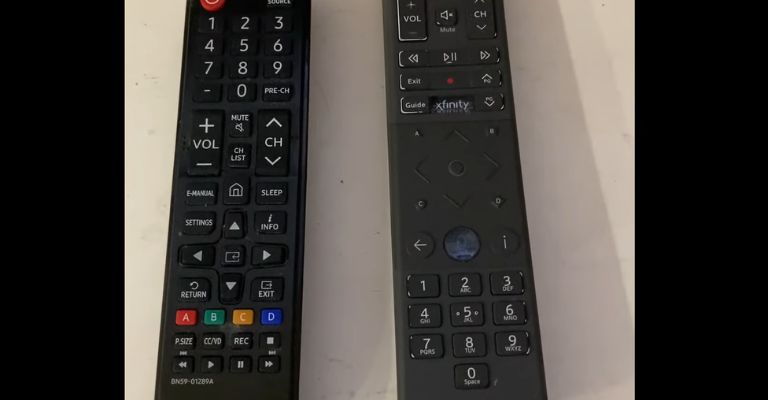 Avoid using generic remotes like DirectTV, Xfinity, a cable remote, etc.
Many Samsung TV owners have reported that they were able to fix the issue by following the steps above, but when they use a generic remote again, the problem reappears.
It's still unclear why this issue arose in the first place, but it is suggested that the signals from another remote may interfere with the Samsung remote and caused this issue.
So, it's best to get rid of all generic remotes.
5. Unplug Your TV
Another great way to resolve these types of issues is to soft reset your Samsung TV. Power cycling your TV will fix unwanted problems that occur from time to time.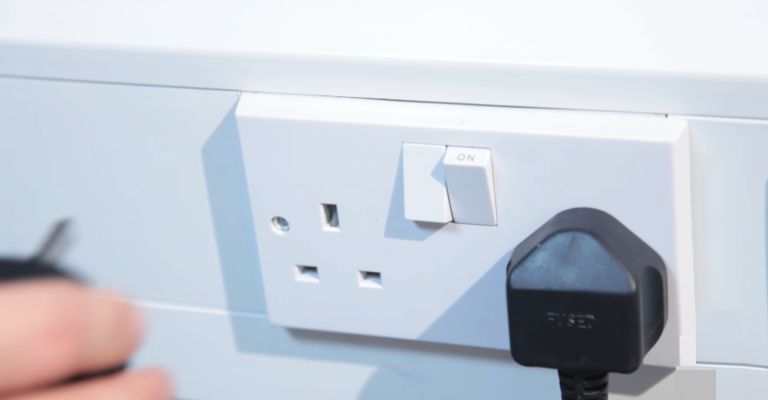 So, disconnect the power cord of your Samsung TV and leave it for 60 seconds.
In the meantime, hold down the power button on your TV for 30 seconds. This will drain any power left inside the TV and enable your Samsung TV to soft reset itself.
Now, plug your Samsung TV back in and see if the issue is fixed. If not, try resetting your Samsung TV and restoring its settings to the day it was purchased.
6. Factory Reset Your Samsung TV
If not a single fix has worked and you are still experiencing volume problems, try resetting your Samsung TV.
Resetting your Samsung TV is quite different from a soft reset, as it will hard reset your TV's settings back to their factory defaults. All your settings and information will be deleted from your TV.
So, try the fixes mentioned above before hard resetting your Samsung TV.
If you intend to consider a factory reset, here's how to do it.
For Newer Models (2019 And Above)
First, open Settings and go to the General menu.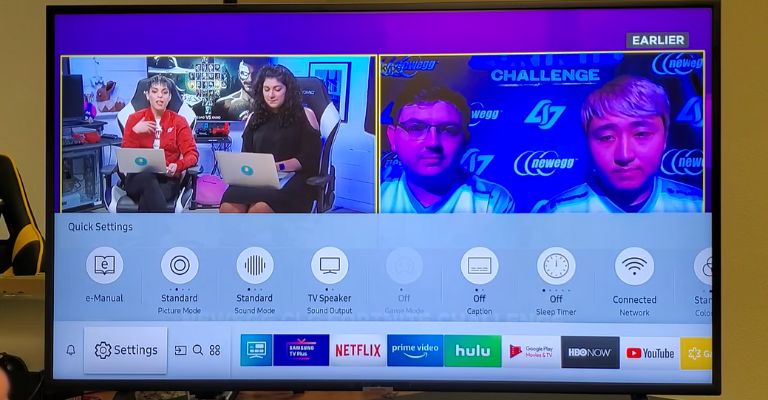 Click on reset and enter the default security code ("0000" if you don't know what it is).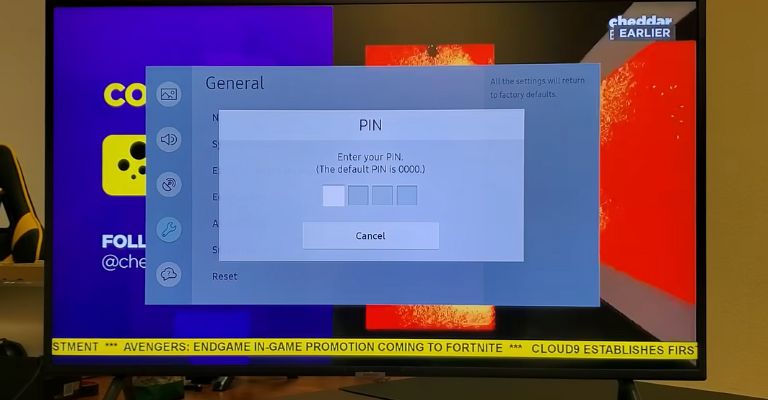 Viola! Your TV will reboot and then take you to the setup menu.
Older Models (From 2018 And Below)
Go to settings/menu and select Support.
Open the Self-Diagnosis menu and click on Reset.
If your TV asks for a security pin, type "0000" if you have never created one.
7. Samsung Remote Support
If your Samsung TV volume control is not working or is stuck, contact Samsung Support at 1-800-726-7864 (8 AM-12 AM EST) and request remote support.

Go to the TV Menu and open the Support section.
Click on Remote Management, and read the terms and conditions before agreeing to the service agreements. A PIN will display on the screen. Give it to your support agent.
Now, your agent will be able to access your Samsung TV.
Note: Ensure your Samsung TV is connected to a high-speed internet connection, as it will allow your support agent to access it properly and fix the issue. If it's not, you will face trouble connecting your TV to your agent.
Frequently Asked Questions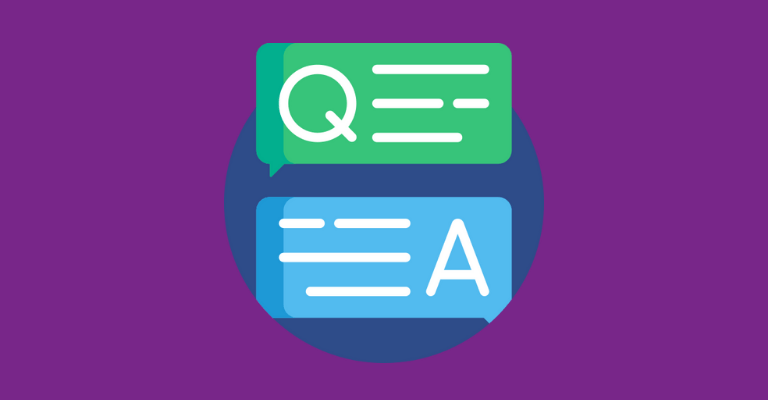 Why is the Volume Stuck on my Samsung TV?
Here are some reasons why the volume gets stuck on your Samsung TV. 
> An overloaded memory. 
> It needs a new system update.
> It needs new remote batteries.
> System glitches or malfunctions. 
Luckily, these issues can be resolved with quick fixes like updating the system software or closing background apps. 
Why is my Samsung TV Volume Not Working?
Here's something you can do when the volume on your Samsung TV is not working. 
If your TV has audio-out or headphone settings under the sound section, make sure it is set to audio-out. 
> Ensure all A/V cables are connected to the right TV port. 
> Try testing your TV using another input source like a Blu-ray Disc player, DVD player, or VCR.
> Power-cycle your Samsung TV. 
Hopefully, this will resolve the volume issue on your Samsung TV. 
How do I Fix the Volume on my Samsung?
If none of the hacks worked for you, then try changing the sound settings back to normal. Here's how. 
> First, go to Menu using the TV remote. 
> Open Sound and select Speaker Settings or Additional Settings. 
> Change "Auto Volume" to "Normal" and press enter. 
This will stabilize your volume settings back to normal and hopefully resolve any issues you're having with your TV volume. 
How Do I Reset The Volume On My Samsung TV?
Here's how to reset the sound settings on your Samsung TV. 
> First, go to Settings in the Smart Hub panel. 
> In the sound section, open the expert settings.
> Scroll down and click on the "Reset" button. 
> Tap on "Reset all sound settings" and press enter to confirm. 
The Bottom Line
Don't worry if your Samsung TV volume is stuck or not working. It's a common issue with easy fixes.
Try resetting the TV's Smart Hub.
Delete any unused apps on your TV.
Only use the Samsung remote.
Unplug your TV
Factory reset your Samsung TV
Samsung remote support
Hopefully, this guide has helped you resolve volume issues on your Samsung TV. If you were to solve the volume problem using any other method, please share it in the comments below!