What exactly are Search Engine Optimization (SEO) Services? In the search engine optimization industry, SEO services are services used to improve the visibility of websites and, as a result, the amount of organic search traffic they receive. These are frequently given by SEO businesses or freelancers knowledgeable in all facets of SEO.
What Is The Importance Of SEO?
Search engines are responsible for over 93 percent of all site traffic. If you want your site to be seen, you must be indexed on crucial search engines and have a good ranking on those search engines. Other interesting facts regarding Google and search engines, in general, include the following:
73 percent of searchers will not proceed past the first page of search engine result pages (SERPs)
Google handles more than 5 billion searches every day.
Google handles more than 4 trillion searches every year.
The average click-through rate for the first page of search results is 19.3 percent, while the average click-through rate for the second page is 10.57 percent.
Every year, between 16 and 20% of all searches are for something completely new. No one has ever attempted to locate them before.
Mobile devices account for 60% of all Google searches.
Google controls 95 percent of the mobile search engine market.
Location-based searches account for around 30% of all mobile Google searches.
Approximately half of all "near me" inquiries result in a store visit.
Mobile devices account for seven out of every ten Google searches for food.
Google is the starting point for 46 percent of product searches.
Google is the most popular search engine, accounting for 90 percent of the market.
In an idealistic situation, you could create a website and wait patiently for visitors to arrive at your website. Meanwhile, there is probably a slew of websites dedicated to specific themes comparable to your own.
In order to list websites in any particular role in the search rankings for a specific search of keyword, search engines must pick which sites to show on that position. Implementing SEO best practices is essential for ensuring that your website receives online traffic from suitable search queries in search engines.
Which Are The Main Factors Affecting Search Engine Ranking In 2020?
To boost search engine traffic to your website, SEO is essential and must be applied. Uncertainty surrounds the exact algorithm that search engines employ to decide how websites are ranked. Because there are dozens of ranking elements to consider, providing a definitive answer is difficult; nonetheless, we have created a list of the essential ones for your benefit.
Content
You may have seen that content is everything, which is certainly true when it pertains to SEO. Search engines strive to provide consumers with the most helpful content available based on their search query at the most fundamental level.
One of the reasons Wikipedia articles are frequently rated highly is that they continue to be thorough and dependable resources. Search engines will examine the details and information, the freshness of the material, and the relevance of the content to the searcher before determining if the source is reliable to the searcher or not. For example, consider the following scenario: you own a clothing website and offer clothes in various sizes.
In order to effectively market your brand, you need to ensure that your website has content that is related to your products. Besides product pages, this may include information about fashion history, how they are created, or even the most stylish design of all time. Your website's content is the most important building element in attracting traffic to your site.
UX (User Experience)
You may have great content, but if your readers have a negative experience with your website, they will abandon it and never return. In order to prevent this, search engines prioritise websites that provide a positive UX and rank them higher in the search results. So, what exactly constitutes a positive user experience?
Page loading time is quick.
A website that is optimised for mobile devices
Navigation is without issues.
There are no pop-up messages.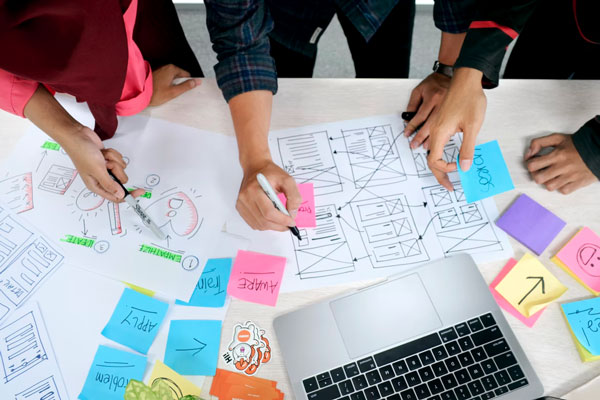 Users must devour your content and move through your website in a timely and concise manner. This has grown progressively vital as mobile devices become more prevalent and account for a more significant proportion of overall online traffic than ever before.
In 2021, Google plans to release an upgrade to its algorithm based on user feedback and experience. As a result, this hitherto unappreciated aspect of web development is set to get a significant increase in relevance.
SEO On The Technical Level
There is some similarity between the characteristics that affect user experience and those that affect technical ranking criteria. The best practices for increasing page performance on the web involve metadata optimization and web architectural considerations, as well as other factors.
Metadata optimizations, for example, may increase click-through rates on search result pages, boost image ranking, and even assist in the discovery of your content through voice searches.
Metrics Relating To User Feedback
When a user searches for content, search engines focus on the data collected they leave behind as signals to guide them. The click-rates for a certain search or whether a user presses the back button incredibly fast after clicking on a match are examples of what is included.
Unfortunately, these ranking indicators are not always obvious. Web workers must depend on minor indications left by search engines and input from search engine specialists and personnel to determine their positions.
Backlinks
A backlink is simply a link that directs visitors to your website. Search engines take into account the number of links referring to a specific page as well as the domain that is linking to it. Others will likely want to connect to you if you have excellent content that they see as reputable and detailed.
On the other hand, search engines consider the content of the links when determining the worth of a link. Therefore, they are not all made in the same way. A soccer blog with an ESPN link to it, for example, will be viewed as particularly trustworthy and useful by the search engine, as will any other blog with an ESPN connection. Yet, if your buddy's new culinary blog includes a link to your website, this will not be regarded as significant. Despite the fact that your friend could!
Please keep in mind that this ranking indicator has been exploited in the past by sites that took benefit of the algorithms in place at the time of their creation. The outcome was that search engines put out upgrades to guarantee that search results were as accurate as possible.
Ensure that providers who offer you backlinks have their ethics and procedures thoroughly investigated.
What Is The Need For SEO Services?
You could be enticed to forego hiring an expert and attempt your own SEO on your own. However, while it is possible to attain prosperity on your own if you are in a highly competitive field, it will be highly challenging. For example, consider the following scenario: an audit company wants to rank well for searches such as "audits near me" or "contract auditing."
Without specialist skill and education, it can be very challenging to outperform competitors in a competitive market where many audit firms may be vying for visibility.
Another factor to consider is the amount of time and range of expertise required to carry out SEO consistently and efficiently. Therefore, a good SEO programme necessitates the integration of a wide range of skillsets, which include the following:
HTML
JavaScript
CSS
Content development
Creative design
Web strategy
Videography
UX/UI
PR
Establishing and retaining media relationships and collaborations with reputable publications and organisations is challenging. However, these become critical when you want to achieve power and put your faith in yourself. The fact is that for a company to push itself thus far outside of its primary sector would just be counterproductive.
What Are The Different Types Of SEO Services?
There are various SEO services available, and they should all be customised to meet the specific demands of your company. So let's take a closer look at what a thorough SEO approach looks like in reality.
Deciding The Goal
Deciding where to start with your SEO campaign might be one of the most challenging steps to take. But, at the end of the day, it'll all descend to what your objectives are.
For example, if you have a Software as a service (SaaS) solution that caters to a particular niche, one of your goals may be to raise brand visibility and encourage people to look at your online store. On the other hand, if you're a publisher, your objective may be to improve your position and traffic on web searches that are particular to your region or location.
This procedure may be walked through by skilled SEO and digital professionals, who can help you get your programme moving in the correct path.
Technical Audit Of The Site
Site audits for SEO examine all of the technical elements of your website that may impact how a search engine may assess the page you are submitting. This comes down to the following for a website:
Crawlability: This refers to the ability of a search engine crawler to locate and access the material on your site.
Indexability: Do your pages appear indexed in the search engines when people look for them?
User Experience (UX): Do your sites load rapidly on every device, regardless of the platform? Are there any pop-up windows?
In addition to crawling your website, coding and several diagnostic tests are performed during site audits. The results of site audit frequently provide hundreds of action items, but SEO professionals can assist you in prioritising them.
Strategy For Keywords
It is critical to link your company's offering with customers' terms to search for products and services on search engines. Keyword planning services necessitate a thorough grasp of your company's operations as well as user behaviour.
It involves an examination of monthly keyword volume patterns, a competitive analysis, an analysis of search engine results pages, and a prioritising process. The final result is a focused keyword plan that serves as the cornerstone for long-term SEO accomplishment.
Analysis And Strategy For Contents
High-quality content portrays your site as expertise and is required in order to boost organic traffic and improve search engine results. The content strategy is often derived from your keyword plan and involves a gap analysis of the information available on your website.
Perhaps your website does not include the high-quality ontent required to achieve high rankings for your chosen keywords. Content analysis and plan will provide you with a road map to attain improved search engine results.
Optimisation Of The Home Page
These tools help you optimise the material you currently have for the keywords and subjects you want to rank higher in search results. Title modifications, the inclusion of targeted keywords in body content, appealing imagery, and the optimization of page design for interaction are all examples of actions.
Optimisation Of Off-Site Resources
Elements beyond your website's control might also have an impact on your rankings. These comprise the quantity of backlinks pointing to your website from reliable and reputable websites, Google Business optimisation, brand management, review website optimisation, and social media domain upgrades, to name a few examples.
Once you've created compelling c, off-site optimization will assist you in amplifying your message and, as a result, increasing search engine traffic.
Reporting
One will never understand the extent of the effect of your work until you record and measure key performance indicators (KPIs). SEO professionals continually monitor keyword ranks, organic site traffic, trends, backlinks, and screening tests to assess and improve their clients' SEO efforts.
It's a lot to keep track of, and not all monitoring systems are made alike. Partnering with professionals in this field may help you save a considerable lot of time and cost.
Website Supports
In order to follow SEO advice, you may want continuing website assistance, which is something that many organisations can provide as a service. For example, suppose you need to guarantee that new material is continuously uploaded to and optimised for your website. Website assistance will come in handy in this case.
Analysis Of Competitors
In certain cases, simply knowing that your website has improved in ranks and traffic isn't enough. You also might want to keep an eye on how your rivals are doing in order to guarantee that you stay one step ahead of them.
Competitor SEO monitoring monitors how your rivals' rankings changed over time, as well as key performance indicators (KPIs) such as domain authority and predicted traffic. Increasing competition may indicate that further SEO and content investment is required.
Analysis Of Contents
Search engines and users highly value high-quality content, yet you don't always have the resources to produce content on a large scale.
The services of an SEO content development firm assist you in developing material based on your keyword and content goal. It is also adjusted on a continuous basis to guarantee that it stays up to date and valuable to the audience.