There is handful of ways to earn from blogs/sites, including affiliate marketing, paid posts, etc. Still, AdSense is capable of holding its popularity among bloggers, who are interested in having sustainable earnings from blog. It has to be noted that there are a few characteristics Google AdSense that help the advertisement network to stay in best-choice list of professionals. First is the fact that Google AdSense is from Google Inc., undoubtedly largest web giant! It is also worth noting that if you have a decent traffic in your blog, this advertisement method can be the finest among different ways of revenue. When it comes to WordPress-based blogs, however, managing advertisements and AdSense account has become an easy task due to availability of productive WordPress plugins. In this post, we have come up with an amazing list of WordPress plug-ins that will help you integrate AdSense ads to your blog and manage several aspects of ads you publish such as size, position, type etc. We hope all these plug-ins will be helpful for every blogger among our readers.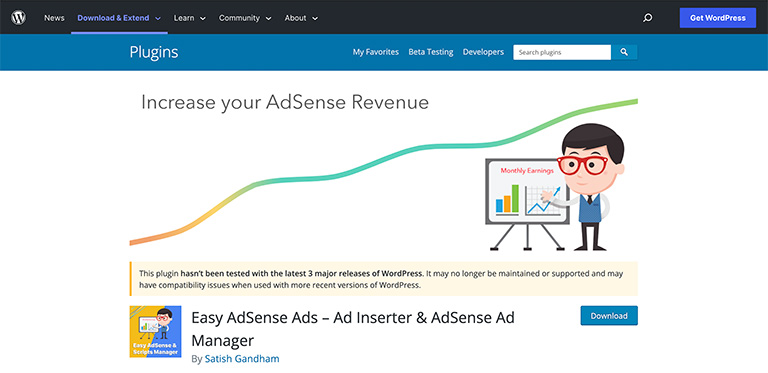 Just like many other extensions, Easy AdSense Ads & Scripts Manager isn't dedicated for Google AdSense. It works as a unified Ad Management plugin for WordPress sites. On the contrary, however, this plugin offers better options for customization. On top of everything, Easy AdSense Ads & Scripts Manager is integrated to WordPress Customizer, where you can have instant previews of ads you have inserted. Also, customizing aspect of Easy AdSense Ads & Scripts Manager allows you to publish ads on selected pages. That is, if you do not want ads to appear on a not-so-legal page, you can set that up in the Control Panel.
Easy AdSense Ads & Scripts Manager offers some other features too. For instance, you can set up different ad units for different devices, thus giving enhanced reach for the campaigns. Also, you can display multiple ads in a single location, thanks to the Ad Rotation feature. One more thing about Easy AdSense Ads & Scripts Manager is that you can use the same plugin to insert additional Scripts and Opt-in forms. Last but not least, you have complete control over alignment and design of the ads. One thing we love about the plugin is that it's completely free to use. There are no locked features or hidden options — and it's regularly updated.
It is a free Google Adsense plugin which is an improvement over the much successful yet discontinued plugin – Quick Adsense. This plugin is now used on big websites having millions of monthly impressions. There are some really good features of WP QUADS plugin. One being – Dynamic Ad sense positioning – You can position the ads to the beginning, middle and at the end of the post, assign ads after 'more' tags, after certain paragraphs and assign ads after certain images. So there are a number of positions for you to experiment. There are various other improvements to the original Quick Adsense plugin – Performance improvements, Multi-language support, Import / Export function makes plugin migrating to other sites easier. Copy your ads code to other sites and much more. Worth trying.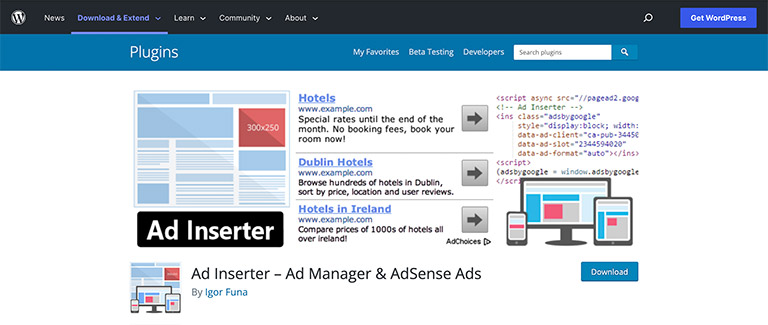 Ad Inserter is yet another effective WordPress plugin for AdSense management in WordPress blog/site. Though the plug-in says it is perfect for AdSense and Amazon ads, you can insert any kind of HTML, JS, and PHP code-based ads to 16 code blocks Ad Inserter offers. Along with some preset display options, such as before content, after content, before excerpt, widget, you can insert advertisements in any part of your blog by inserting specific shortcodes. While testing this plugin, Ad Inserter seemed quite intuitive due to its tab-based interface to set up ad blocks. In each tab, you can insert corresponding advertisement codes and rename code block if you want. There are also options to choose one display option, block alignment, where do you want these ads visible, whether you need to enable manual insertion of this particular ad block etc. Altogether, for those who want to manage multiple advertisements from AdSense and other networks such as Amazon.
Although control panel of Ad Injection may seem a bit complex, this plugin is the most customizable one you can get at least for the time being. It offers variety of features such as a test mode, in which only blog administrators will see advertisements, restricting visibility and number of ads based on length and date, ability to show random ads, along with deep-level customization in each of mentioned sections. For instance, you can set different criteria when you'd like to restrict visibility of advertisements based on length of post. In the second section, you have to just insert your advertisement codes. Viewing all these features together, Ad Injection is quite an effective plugin for AdSense.
Last but not the least, Simple Ads Manager seemed to be a simple yet productive AdSense plugin in our experience. It does not offer that much features, but does its job very well! Unlike aforementioned plugins, Simple Ads Manager has different pages for editing and adding new advertisement blocks. In Settings section, however, you can set some options regarding visibility of ads such as position. In addition, Simple Ads Manager will send you an email consisting of monthly statistics of advertisement campaigns. Therefore, we think Simple Ads Manager is a simpler solution to manage both your AdSense and non-AdSense advertisement options.
Among these plugins, our personal favorite is Easy AdSense Ads & Scripts Manager plugin, as it allows us to set up AdSense ads in a few clicks. Which plug-in from the list do you use on your blog? Do let us know through your comments.