I couldn't find my Roku TV remote, and it was obviously such a hassle without it. Fortunately, I found ways to switch on and off a Roku TV even if the remote was missing or malfunctioning.
Here are my tried and tested steps on how to turn on Roku TV without remote, and I have to tell you, they're very easy to follow! You won't worry much anymore when you misplace your Roku remote. Here goes.
Can You Turn On Your Roku TV Without a Remote?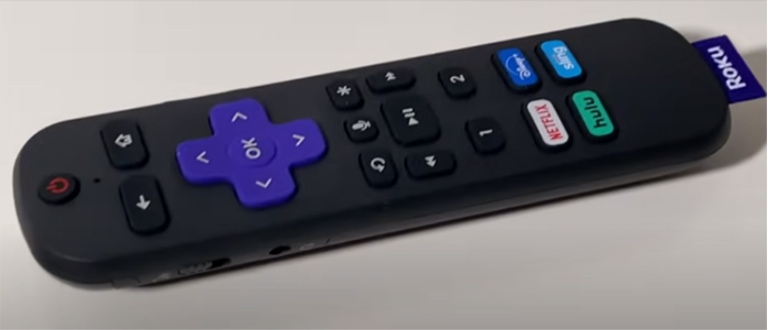 Yes. First, you'll have to find and press the actual power button on your Roku TV's bottom center, side panel, or back panel to turn on the device. Also, you can turn your Roku TV on and off using the Roku mobile app, universal remote or cables, and satellite.
How to Turn On Roku TV Without a Remote
Here are some of the methods you can follow to achieve this:
You'll have to use the power button on the TV to turn it on if you've misplaced your Roku remote.
The year, make, and model of your TV will ultimately determine where the power button is located. The four key areas to look at are listed below. Keep in mind that the instructions below imply you are facing the TV's front.
a) Middle, Underside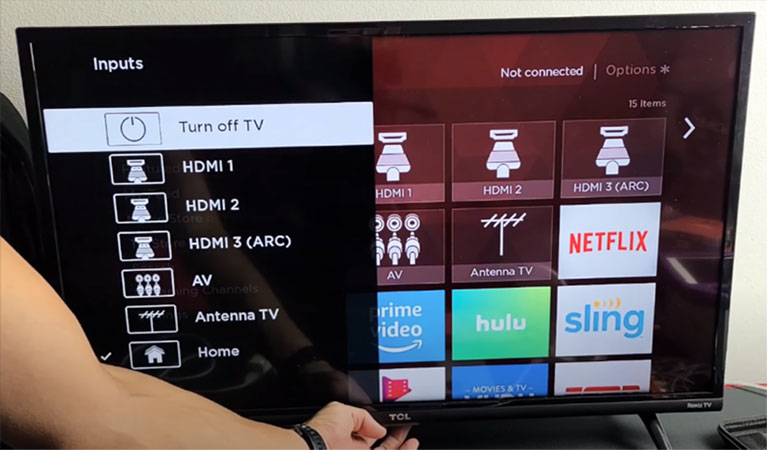 The power button on your Roku TV is typically found directly beneath the center of the screen. It's a hidden location, and many people aren't even aware that it exists, so don't regret it if you couldn't discover it.
The real power button is located there, although the location may vary depending on the model you have. It may be a little farther back on the underside.
To find it, simply reach below and feel around.
b) Back of TV, Right-Hand Side
I'd be willing to guess that the power button on your Roku TV is on the back, on the right side, if you've looked everywhere and still can't find it.
Examine your TV's right-hand back side by moving it a little away from the wall. There ought to be a tiny power button there. It could be worth getting a flashlight if you can't see it. Look at the back left side as well for good measure if the back right side is empty.
c) Front Left, Underside
The location of the power button is really poor! The receiver should be located near the front left of your Roku TV's underside (your remote interacts with it).
There is a tiny power button right behind that receiver. It's simple to overlook. To turn the TV on and off, simply keep pressing this area.
d) Back of TV, Left-Hand Side
It's time to look on the back left side of the TV if you couldn't locate the power button on the back right side of your Roku.
Once more, move the TV a little bit off the wall and look this time at the left-hand back side of your television. There should be a tiny power button there. You should check this out if you have a Sanyo Roku TV.
2. Use the Roku Smartphone Application as a Remote
You can utilize the free Roku App to switch on your TV if, for some reason, you can't navigate to the power button on it. Using the Roku mobile app offers an alternative to physically hitting the power button to turn on your Roku TV. You can control your TV via IR and WiFi regardless of whether your smartphone has an IR sensor.
To use your smartphone as an alternative remote for your Roku TV, here are steps to follow:
Go to your smartphone, and install the Roku Mobile Application. It's available on the Apple Store and Google Play Store.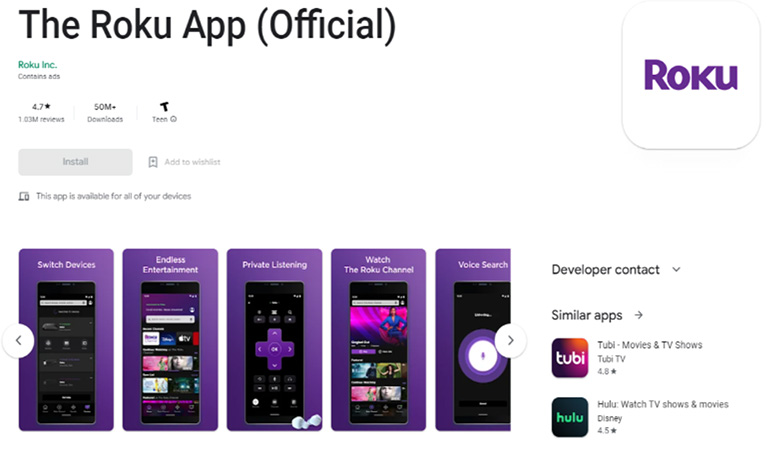 Open the Roku App, then follow the on-screen tutorial.
After that, on your phone go to Device. You'll see the Roku app searching for nearby Roku devices.
Choose your Roku TV and hit the Remote icon.
Once both devices are linked, you'll be able to control your Roku TV using your smartphone.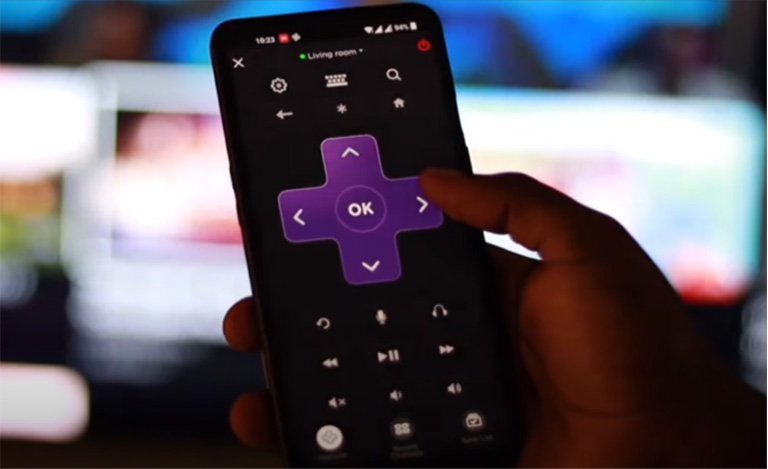 Now, turn on your Roku TV by touching the red Power button on the top-right side of the screen.
To set up a wireless connection on your Roku TV, proceed to these steps:
Using your virtual remote, go to Settings then Network.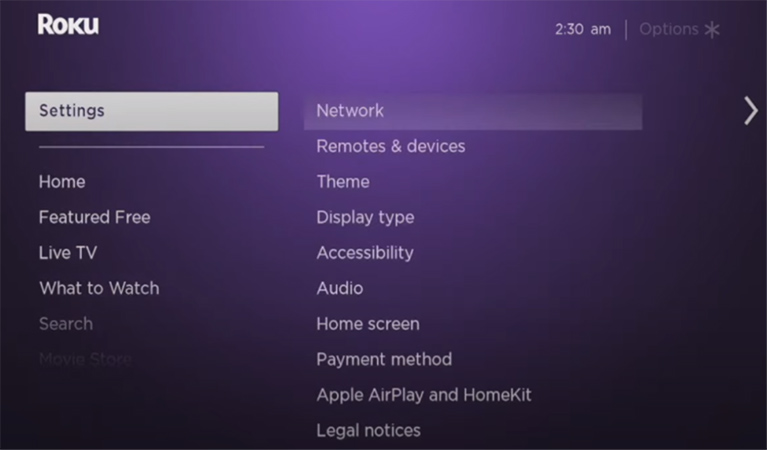 Select Set up connection. The TV will be searching for nearby wireless connections.
Choose your Wi-Fi network and insert its password. Your TV will now be linked to Wi-Fi.
If prompted, go ahead and reconnect your smartphone to the Wi-Fi connection same as your Roku TV.
Since I almost always have my phone on hand, it's super convenient to use the Roku app. I even actually use my phone as my remote more now than the actual Roku TV remote!
3. Use a Cable or Satellite Remote
If you have a remote control from a cable or satellite provider, think about configuring it on your Roku TV. You will find all the Roku remote program codes listed here. To set up your cable or satellite remote, simply look up the code in the table and follow the directions from your service provider.
It's important to remember that not all of the buttons on your Roku TV remote may be set to correspond to the buttons on your satellite or cable remote. The good news is that you can use it to turn on your Roku tv.
4. Use a Universal Remote
Utilizing a universal remote is another option you might try. It has a specific program code that is set up to interact with different brands of smart TVs. To connect the remote to the TV, you must locate the brand's unique pairing code.
You can use it the same way you would your standard Roku remote control if it is paired. It's a perfect substitute for performing standard instructions like turning on and off your Roku TV, adjusting the volume, changing channels, and much more.
5. Get the Roku TV User Manual
After following my directions above, if you're still having difficulties locating the power button on your Roku TV, you can try looking up the user manual for your specific model and year.
The model number should be visible on the backside of your TV. Enter it into Google, followed by the brand and "user manual". In the manual, you'll probably find a diagram indicating what each button on your TV does and where it is located.
What to Do When Roku TV and Phone Can't Connect
Whether your smartphone is having difficulty scanning your Roku TV, consider power cycling it and seeing if it appears in the device list later. Follow these instructions to restart your Roku TV:
Log out of the Roku app on your smartphone.
Unplug the TV from its power source and give it for fifteen seconds.
Afterward, plug the power cord of the TV back into the socket. Then open the Roku app.
Allow your smartphone to scan for your Roku TV for one minute.
Choose your Roku TV from the list of devices that will display.
Frequently Asked Questions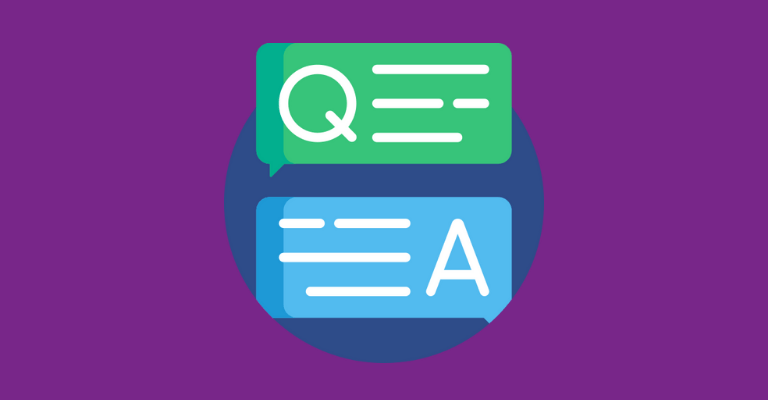 Can You Use a Universal Remote With Roku?
The answer is that your Roku TV can work with your universal remote.
Is There a Universal Roku Remote?
The universal Roku remote can control up to 15 devices and is compatible with more than 500,000 products from more than 6,000 different brands. Plus, it includes an official app that makes setup simple.
Can I Use a Roku TV Without an Internet Connection?
Internet access is not required to operate Roku TV normally. However, you must get the internet to use the different apps you download from there, watch Live Streaming TV, and so forth. Also with the internet, you may use Roku to purchase and access Roku services like Hulu, Netflix, and Amazon Prime.
Why Is My Roku Remote Not Pairing?
Replace or reset the batteries in your Roku remote if you're having trouble pairing it. If the problem persists, examine Wi-Fi or HDMI connectivity problems.
Physical power buttons are included on the sides, back, or bottom of every Roku TV.
Is There a Way to Manually Turn On a Roku TV?
Yes, if you've lost your Roku remote, you'll need to use the TV's power button to turn it on. The location of the power button on your TV will depend entirely on its year, make, and model.
Can You Start a Roku TV Without the Remote?
Discover and press the actual power button on your Roku TV's bottom center, side panel, or back panel to turn it on without using the remote control. As an alternative, you can employ the Roku mobile app to control your Roku TV without the traditional remote.
Final Thoughts
Roku TV is a trustworthy platform for watching several videos from free and premium channels. But to utilize your Roku TV easily, you'll need a working Roku remote control. As a result, this article should help you if you need to turn on your Roku TV without a remote.