When busting the myth behind unlimited web hosting, it's important to be sure about what we are discussing and what type of web hosting is involved. It's also important to get the definitions right! Unless we are all on the same page regarding the meaning of the words we are using, then there is likely to be a great deal of confusion – although we have that already!
Unlimited web hosting? You read about it on just about every web hosting site: 'unlimited storage', 'unlimited bandwidth', 'unlimited domains' and so on. Are these things really unlimited, and does it depend on the hosting service you choose? Do they become 'more unlimited' the more you pay? Does the real meaning of the term vary according to the hosting company using it?
What we shall be doing here is to compare what is genuinely being offered by web hosting firms on their web pages and what words such as 'unlimited' actually mean. Ask 100 people what unlimited bandwidth means and you will be lucky if 5 can tell you. What's bandwidth for a start!
What is Bandwidth?
"What is bandwidth?" It is unbelievable (or perhaps not) how often that question is asked, and it's not surprising since it seems to be used indiscriminately for different things. In short, the meaning of bandwidth depends what you are referring to. It's important to get this right here, because when you are offered 'unlimited' bandwidth by your web hosting service, it means a completely different thing to the bandwidth of your internet connection.
Your internet bandwidth relates to the speed of data transfer. You can relate it to a pipe: the greater the width of a pipe, the more water it can transfer in a given time. The greater your bandwidth, the more data can be passed in a given time (though the cable need not be bigger). A fiber optic cable is significantly faster than a standard telephone DSL (or ADSL) cable, so it is allocated a greater bandwidth – it can pass signal packets faster.
It makes sense in a way when you relate this to the term 'bandwidth'. However, why all the complexity? Why just not refer to 'internet speed' or to connection speed? Why bandwidth? We know about a 'broadband' connection, so what's the alternative? 'Narrowband'?
Come to the subject of web hosting and you find a totally different definition of the word. They incorrectly use the term to mean the amount of data transferred within a set period of time. Nothing to do with speed! That period could one month, for example. You can have high bandwidth (can upload lots of files) at a very slow speed. So the two usages of the word are completely unrelated. You can theoretically use up your monthly bandwidth allocation in a day or a month.
Unlimited Web Hosting
Unlimited Bandwidth: Unlimited web hosting can offer 'unlimited bandwidth' – as explained above, not meaning unlimited data transfer speed (which would be ridiculous since it's limited to the speed of light), but meaning that there is no monthly limit to the amount of data you can upload or download to and from your hosting account.
Unlimited Data Storage: Unlimited web hosting also offers unlimited hard disk storage. You would read that to mean that there is no limit to amount of storage space you are permitted. You can store as much data and as many applications as you wish on the (unlimited) hard disk space allocated to you. Think about that for a moment.
Unlimited Databases: It may also offer unlimited SQL databases, which appears to mean that there is no limit to the number of databases you can store on your account irrespective of their size. If you know databases then you will know than some can be huge, with gigabytes of data and millions of individual entries.
Unlimited Subdomains/Domains: These refer to subdomains on your site, which are basically mini-sites stored in a separate directory on your domain, or new domains – operating different websites with their own domain name from your account. Where offered, you would be unlikely to create so many websites you would break any rules.
The Myth Behind 'Unlimited' Web Hosting
The upshot is that these guys must have unlimited server space! It must be huge to enable every client to store as many databases, content files and images as they want, and to offer the transfer capacity to allow all customers to transfer as much data between the server and their computer as they want, no matter the demand placed on that server by everybody else!
That would be an amazing service was it true … but it's not! Nor is it a lie, because it's technically true. The term 'unlimited' has two fundamental meanings:
Unlimited = With no limit, or unrestricted. In other words, there is no restriction, which is how most people would interpret the word. This is just as we have described it above, requiring an amazingly large and limitless server system offering no limit to the file storage space or volume of data transfer at any one time.
Unlimited = Without a specified limit, but we will tell you when you have broken our rules! So strictly, there is no stated limit to bandwidth or storage space, so it is semantically 'limitless'. It's also a cop-out! However, it's a form of words used by all web hosting services. That's why this is not a criticism of any specific web host, but a warning to our readers who are seeking a new web hosting service.
Whether this is your first web host, or if you have not yet fallen foul of the Terms of Service or the Acceptable Use Policy of your current host, keep this in mind: there is no such thing as 'unlimited' in web hosting!
Qualifying Statements Defining Unlimited Hosting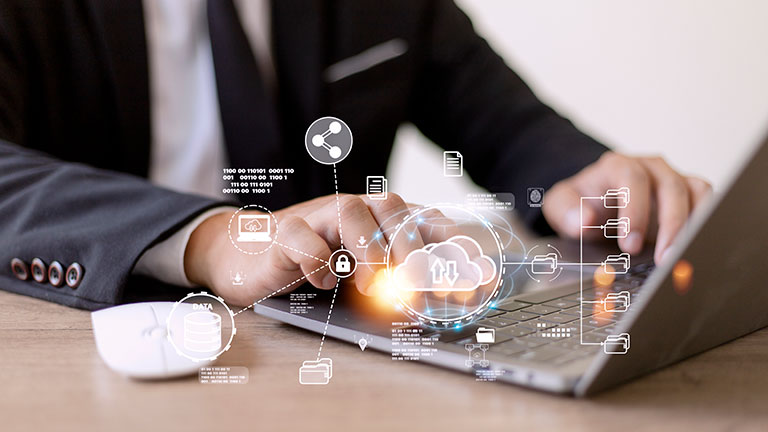 Obviously, no web host can offer truly unlimited storage or data transfer speeds. Even unlimited data transfer uptime cannot be guaranteed. For that reason, you will find some qualifying statement on the web host's website. It may not be easy to find, because it is 'small print' after all, but it should be there.
This comes from HostGator's 'Acceptable Use Policy' for all hosting services:

And this from Bluehost: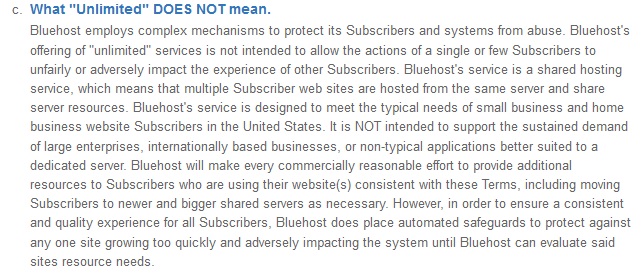 Unless they refused to believe the unlimited statements as they were likely intended to be believed, most people will not have hunted these explanations down. Nevertheless, a large minority has, and people are getting wiser about the way vendors market their products.
It is important for you to understand that the time might come when your online business has grown so much that your 'unlimited' shared hosting service cannot handle it. VPS or dedicated web hosting may then be your better option. When your traffic, domain size and/or your level of downloading and uploading files approaches a critical level, you will likely receive a statement from your web hosting service pointing this out.
Conclusion
There is no 'unlimited' web hosting. There is web hosting where no limits have been set on your monthly data transfer volume or on the amount of server disk space you use to store your files. However, should such use of resources exceed that which your web host deems reasonable for your level of hosting service, then it will inform you or even cancel your account.
Make sure that you keep in contact with your web host if you believe that you might possible breach its Acceptable Use Policy. If you your site is heavily involved in movie, music and other media file transfer and storage then this might apply to you. Keep in touch with them – it's better to be safe and have to enhance your so-called unlimited web hosting service than to have it cancelled without warning!