Are you experiencing issues with your Vizio SmartCast? Don't panic! It's a common problem, and there are proven fixes that you can try at home.
Vizio SmartCast not working can be frustrating, especially when trying to enjoy your favorite TV show or movie. However, before you call for technical support, there are simple steps you can take to get your SmartCast up and running again. Let's dig in.
Vizio SmartCast Not Working
To resolve Vizio SmartCast issues, try these simple solutions: restart your TV, power cycle your router/modem, test your network connection, refresh SmartCast Home, update your TV's firmware, and/or factory reset your TV. If the issue persists, seek help from Vizio support or warranty.
What Is Vizio SmartCast?
Vizio SmartCast is a platform that enables users to stream and access digital content on their Vizio Smart TV. It allows users to browse and stream content from popular streaming services such as Netflix, Amazon Prime Video, and Hulu, from the TV's built-in apps.
SmartCast also features voice control, allowing users to navigate and control their TV using voice commands. In addition, SmartCast supports casting content from mobile devices, making it easy to share photos, videos, and music on the big screen.
Related Reading: Vizio TV Turns On by Itself (How to STOP It!)
Why Is SmartCast Not Working on Vizio TV and How to Fix It?
SmartCast may not be working on a Vizio TV due to several reasons:
Poor network connectivity
Outdated firmware
Corrupted app data
Hardware malfunction
Compatibility issues
Therefore, it's essential to troubleshoot and isolate the root cause of the problem before applying the appropriate solution. Below, we've compiled a list of proven fixes that you can try to resolve the issue and get back to streaming in no time!
1. Restart Your TV
If Vizio SmartCast not working, try soft resetting your TV. Power cycling your Vizio TV can help resolve most of the issues you may experience while streaming content online.
There are two ways to soft reset your Vizio TV: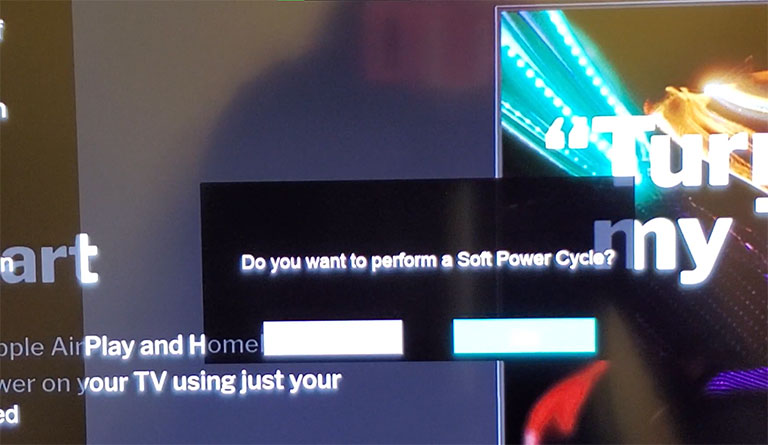 Press the Menu button on your Vizio TV remote.
Go to System > Reset & Admin > Soft Power Cycle.
If that doesn't work, consider performing a hard power cycle.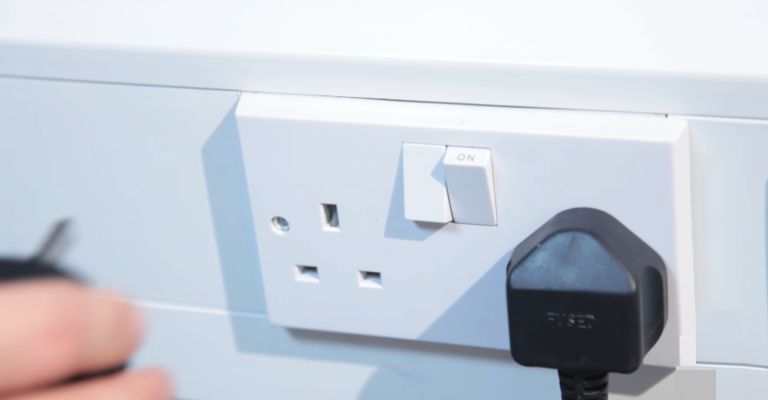 First, unplug your TV from its power source.
Make sure to also disconnect the power cable connected to your TV.
Hold the Power button for 30 seconds before plugging them back in.
Once plugged in, press the power button again and hold it for another 30 seconds.
Turn on your Vizio TV and see if the SmartCast is working again.
Holding the power button on your TV allows you to drain any residual power inside it and let it reset itself.
However, if this didn't resolve your issue, move on to the following fixes.
2. Test Your Network Connection
To enjoy uninterrupted streaming on SmartCast, it's crucial to have a reliable WiFi connection. Any disruptions in the network can cause the system to malfunction or even crash. If you encounter issues like Vizio TV SmartCast not working, it's best to check your network connection and ensure it's stable.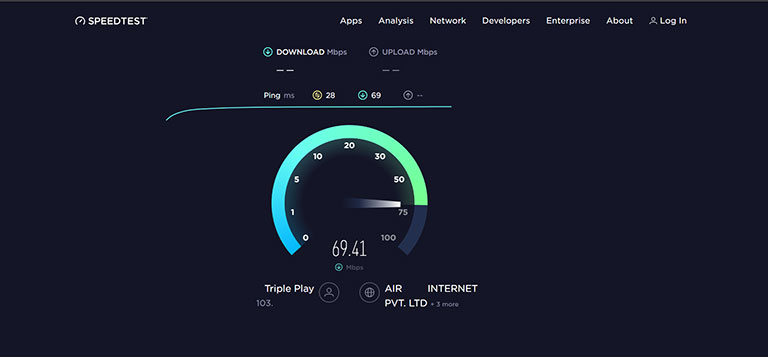 To troubleshoot, start by checking your router's lights to ensure they are all turned on or blinking correctly. Any warnings in the form of red, amber, or orange lights indicate a problem that needs attention. You can also test other devices you own to see if they can connect to the internet.
If your internet connection is found not working or down, contact your Internet Service Provider (ISP) for further assistance to resolve the issue quickly.
3. Power Cycle Your Router/Modem
If you've already tried power cycling your TV and Vizio SmartCast not working, don't give up just yet. Restarting your router/modem can often be a simple solution to fix SmartCast issues.
To do this, press and hold the power button on your router until it flashes and turns off, then hold the button again to switch it back on.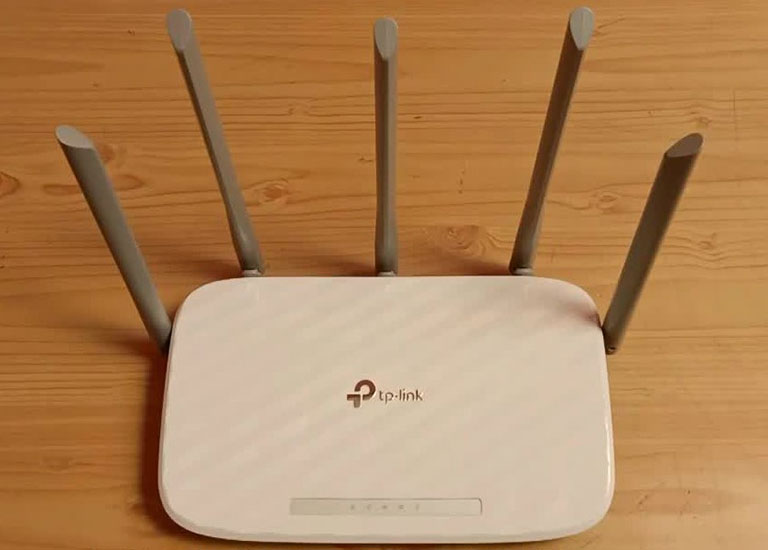 Alternatively, unplug it from the power outlet for at least a minute before plugging it back in.
Now, leave your router for a few minutes to re-establish its connection, and then try reaccessing the SmartCast once all the lights on the router are flashing green. If the issue persists, consider getting a WiFi extender or moving the router closer to the TV to improve connectivity.
4. Refresh SmartCast Home
If you encounter problems with Vizio SmartCast, the user interface may be to blame. Fortunately, you can refresh it quickly. Here's how:
Make sure the TV is on the SmartCast input.
Go to TV's Menu.
Open the System menu.
Look for an option to refresh the user interface. If there isn't one, try changing the language to something else, like French or Spanish.
Wait for SmartCast to load.
Once it's loaded, change the language back to English.
Check if all the features of SmartCast are now working correctly.
By following these steps, you should be able to refresh the SmartCast user interface and resolve any issues preventing it from working correctly.
Related Reading: Vizio TV Won't Turn On (Try This Fix FIRST)
5. Update Your TV's Firmware
If you own a Vizio TV, you may occasionally receive software updates that improve its performance and features.
Although these updates usually happen automatically, there's a chance that you might miss them.
If you're experiencing issues like your Vizio Smartcast not working, it's possible that you're running an outdated version of the firmware.
To update your Vizio TV's firmware:
Press the "Menu" button on your remote and navigate to the "System" option using the arrow keys.
Once you're there, select "Check for Updates" to initiate the update process.
Your TV will now search for available updates and install them automatically if any are found. After the installation, turn off your TV and turn it back on again. This should fix any Smartcast issues you were experiencing.
6. Factory Reset the TV
Sometimes, factory resetting your Vizio TV may be necessary to resolve issues. However, keep in mind that this process will erase all of your TV's settings and return it to its original state. If you're comfortable with this, follow these steps: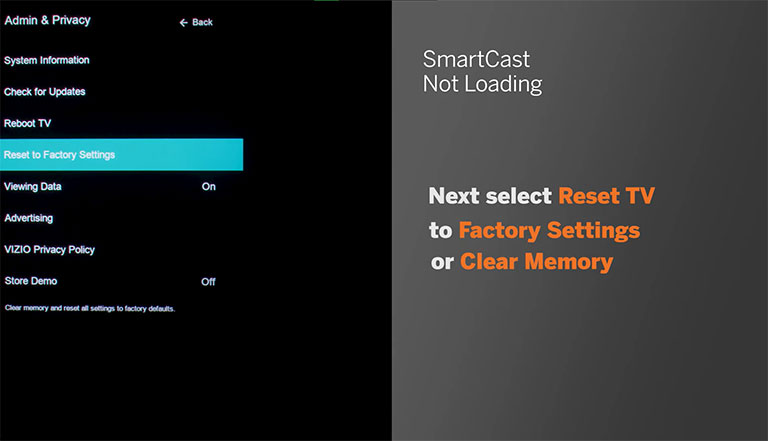 Using your TV remote, go to Menu and then System.
Select Reset & Admin and choose Reset TV to Factory Settings.
Your TV will automatically restart in a minute or two and complete the factory reset process.
After the reset, you'll need to redo your settings and reconnect your TV to your WiFi.
7. Contact Vizio Support
If you've exhausted all your options and are still experiencing issues with your Vizio SmartCast, contact Vizio support for further assistance.
Their professionals might have expert troubleshooting methods to help you resolve the SmartCast issue.
You can contact them at 1-844-254-8087 during these working hours:
Weekdays: 8:00 AM–11:00 PM CST
Weekends: 8:00 AM–9:00 PM CST
To get the fastest response, it's best to call them during the weekdays, between 1:00 PM – 5:00 PM (CST).
8. Check Vizio Warranty
If you're struggling to get Vizio Smartcast to work despite your best efforts, don't worry—there's still an option to explore. Check whether your TV is still covered by the manufacturer's warranty.
You can do this by describing the issue to Vizio and letting them determine whether it's covered or not. If it is, they'll either replace or repair your TV. And if you need in-home service, that's covered too. It's definitely worth a try, so don't hesitate to reach out.
Related Reading: Vizio TV No Sound (This Fix Worked for Most)
Frequently Asked Questions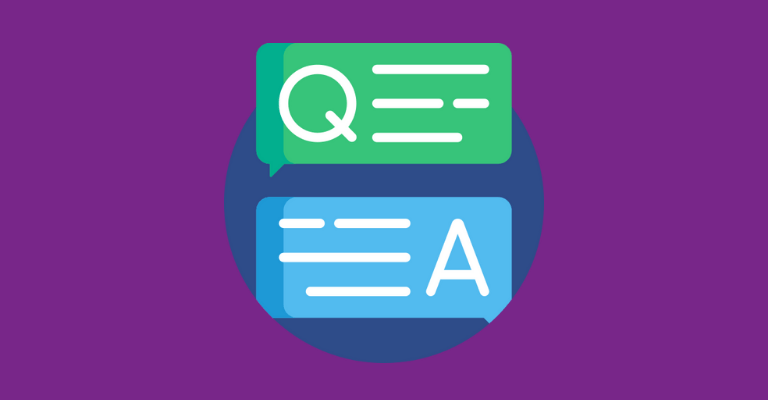 How Do I Reset My Vizio SmartCast?
To reset your Vizio SmartCast TV, go to the Settings menu, select "System," then choose "Reset & Admin." From there, select "Reset TV to Factory Defaults" and confirm the action. This will erase all customizations and return the TV to its original settings.
How Do I Update SmartCast on My VIZIO TV?
To update SmartCast on your VIZIO TV, press the "V" button on your remote, click "System" menu then select "Check for Updates".
Is My VIZIO TV Compatible With SmartCast?
If your Vizio TV was manufactured after 2018, your device is compatible with SmartCast. You can look for the SmartCast logo on the packaging or check the model number in VIZIO's list of SmartCast-enabled TVs.
The Bottom Line
Vizio's Smartcast is a built-in app platform available on all their TVs. If you're experiencing issues with Smartcast, don't worry; the solutions are often simple and can be fixed in just a few minutes.
Here are some fixes to try in order:
Restart Your TV
Test Your Network Connection
Power Cycle Your Router/Modem
Refresh SmartCast Home
Updating Your TV's Firmware
Factory Reset the TV
If you've tried all of these troubleshooting steps and the issue persists, it may be time to reach out to Vizio's support center and check your TV's warranty for repair or replacement options.
Vizio's team of experts can help diagnose and solve the issue, while your warranty can provide peace of mind and protect your investment. Don't hesitate to seek further assistance if needed.
Did you resolve the Vizio SmartCast not working issue? If so, please share your experience in the comments below!