Before discussing the difference between the unmanaged and managed VPS hosting services, let's first define this type of web hosting so that we are agreed on the topic of discussion. VPS is short for Virtual Private Server, meaning that this type of web hosting virtually provides you with the benefits of having a private server all to yourself. In fact, you have a section of a server reserved for your use only.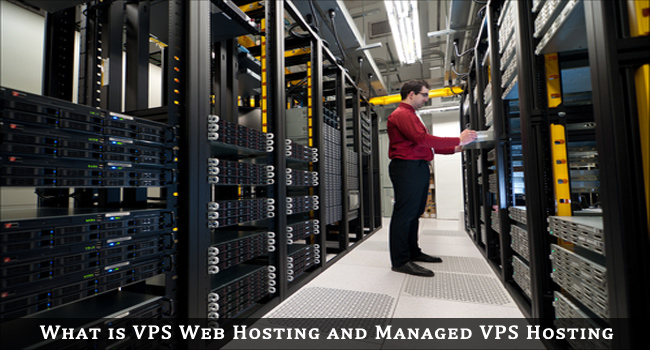 With normal shared web hosting, you share a server with many other users. The space available to you depends on what is being used by other clients at that time. Although it may be advertised as offering unlimited storage space and bandwidth, in practice it is possible for you to experience downtime due to excessive demand on the server.
With VPS web hosting this is unlikely to happen because you are paying for your own server space. As long as you do not exceed this, then your site will continue to run without interruption. It is fundamentally a web hosting service somewhere between shared and dedicated hosting. You don't get all the server space, but you get that amount reserved for you which is not shared by others.
Regular VPS Web Hosting Vs Managed VPS Web Hosting
So what's the difference between regular VPS hosting and managed VPS hosting? If you are experienced in running and maintaining a server then you will likely have no need for a managed VPS service. However, if you are among the vast majority of users, then it will be essential unless you want to spend a great deal of your time learning about servers and how to maintain them.
Unmanaged VPS:
With this type of hosting the host is responsible for the server and for making your share of it available to you. You are responsible for the software you install on it, its updates and much more. You may hear or read about the term 'LAMP' with regard to servers. This refers to the Linux operating system, the Apache webserver application, the MySQL database software and the PHP scripting language – all very important in the smooth operation of your website.
Software Installation
If you choose an unmanaged service, then you would have to install this yourself – and would not get support if you did so wrongly. Many believe that if you know what these are, and can install and configure them yourself, then you have little need of a managed web hosting service of any kind. However, even experts like to sit back and work on other projects while their hosting is being looked after for them.
Security
The security of your site is your responsibility with unmanaged VPS, and you get no support other than for the server itself. If you have issues with subdomains or add-on domains, then you have nobody to contact for advice. Your support will be what you can find using an internet search. The results are not always expert!
Control Panel
Another issue with unmanaged hosting of any type is that you do not get a control panel. If you are used to using cPanel, for example, you can add that to the items you have to install yourself. Good and reliable Control Panel software does not come free.
CPanel itself will cost $200 annually directly from cPanel, or $15 – $20 monthly from a distributor. When comparing prices, add that to your unmanaged VPS hosting costs. Some offer semi-managed services when a cPanel is provided – but that's all.
There some advantages to unmanaged hosting. It is cheaper for a start, and if you are technically minded then you have a great deal of freedom in how you fill your VPS server space. Many professional bloggers use an unmanaged VPS service because it saves them money on hosting and allows them to use their expertise to customize their service as they prefer it.
Managed VPS Hosting
Managed VPS hosting includes many of the features you will be used to if you have ever used a regular shared web hosting account. More often than not this will include cPanel which offers you most of the important tools needed to set up and run an efficient website or blog. Here are some other features usually offered by hosted VPS:
Full Support: 24/7 telephone support, Live Chat, email support and a ticketing system. Many of the top VPS hosting companies offer all of these.
A full LAMP set including the Linux, Apache, MySQL and PHP.
Simple installation of software such as WordPress and MySQL.
Regular backups of your files – sometimes daily.
The ability to sleep well at night, in the knowledge that your website and blog will be well looked after, and will still be online in the morning.
Nothing is more satisfying than waking up in the morning with more money in your bank account from overnight sales than you had the previous evening. Both managed and unmanaged VPS web hosting can manage the blog that you hope does this for you.
The former is likely the better choice for you if you have little experience in knowing what to do with root access to the server. However, if you are confident in using servers, you can purchase cPanel and use that on your unmanaged account.
Before we discuss prices and available options, it is important that you understand that there are differences in how providers define 'managed' and 'unmanaged' in terms of web hosting. Some offer more services in an 'unmanaged' account than others.
Economics of VPS Hosting Options
We shall be discussing average prices here rather than actual since these tend to vary with time.
You can currently get unmanaged VPS hosting for around $10/month. Managed VPS varies. Be careful with such services. Many offer-semi-managed VPS that does not offer a cPanel. When comparing prices make sure you know what you need, and are not paying for a service that you will never completely use.
HostGator and Bluehost both offer managed VPS, for example, but although their prices differ, so does the level of service and support. Check each very carefully before making a decision. Many people choose the wrong service on price alone.
Who Should Use Unmanaged VPS?
Those who should use an unmanaged service will know who they are themselves. They will be able to install the software needed to make their hosting work as they want it to, and will have the knowledge to control and customize the daily operation of their part of the VPS server. This is for techies who know what they are doing, not for those that require Fantastico De Luxe to install their software and a third party to provide performance statistics.
Who Should Use Managed VPS?
Managed VPS is for those with larger websites or professional bloggers who must have their own part of the server to ensure that their site is never down. Shared hosting does not offer enough guaranteed space for them. They may not have the same depth of knowledge as those using an unmanaged service, and they welcome cPanel and everything that comes with it. In other words, the average person or business that needs more security and guaranteed use of the server.
Summary
VPS web hosting provides you with guaranteed space on a server, which you do not get with a shared hosting account. There are two types of VPS. Managed VPS web hosting is most suitable for those that are upgrading from a shared hosting account.
Unmanaged VPS hosting is for those with the ability to configure their server at the root level to meet their needs and to manually install the software needed to operate their website or blog. You will likely know yourself which of these options best suits your knowledge and experience.