As a phone user, it gets to a point where you'll need to block some numbers due to privacy or personal reasons. However, a question that keeps bothering many of you: What will happen when I block the number on my Android phone?
In this article, you'll get to understand what will happen to your calls, messages, and other apps. Also, I'll give you a procedure for blocking someone using the Phone app or Message app. Not forgetting, you'll get to know how to unblock someone using your Android phone.
Come with me!
What Happens to Calls After Blocking a Number on an Android Phone?
Regular calls are primarily impacted when you block a number. After blocking a phone number on your Android phone, you won't get regular calls from that number. Therefore, phone calls from your blocked number will be automatically rejected. You won't get voicemail notifications either. However, you can still call them from your end and converse with them.
What Happens to Messages After Blocking a Number on Your Phone?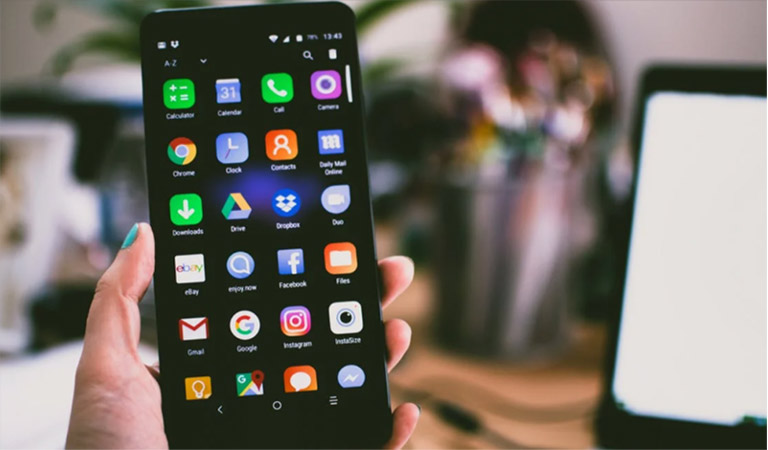 Blocking a number also has a significant effect on SMS texts. It prevents that number from sending you text messages (MMS or SMS). Calls and messages both have a one-way effect. When you text the person you've blocked, they'll receive your message, but they won't be able to respond to the text message.
What Happens to Other Apps?
Blocking a number through Contacts, Settings, or the Phone app only affects normal messages and calls.
You can still get calls from the blocked number through other apps such as Instagram, Snapchat, WhatsApp, Facebook Messenger, etc. Therefore, if you don't want them to contact you anymore, you'll have to block them on each of these apps.
What Happens When the Blocked Person Calls You?
Depending on your carrier, a blocked contact can hear different things when they try to reach you. For instance, some people may be met by pre-recorded messages stating that the number is unavailable, busy, or unable to accept calls, among other things. One ring will be heard by others before the call automatically disconnects.
How to Block a Number on Android Phone
In most circumstances, you could block calls via the Messages or Phone app, though the process can differ based on the device model and Android version.
1. How to Use the Phone app on Android to Block a Phone Number
On your Android device, go to the settings of the Phone app and select the Blocked contacts option to block a contact or phone number.
Here's a full step-by-step breakdown:
Launch your Phone app.
When on the Call Logs or Dial tab, click the More Options menu, shown using three vertical dots at the upper-right side.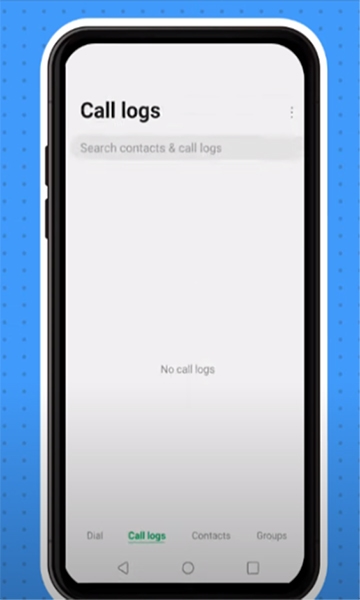 Go to the drop-down menu and select Call Settings.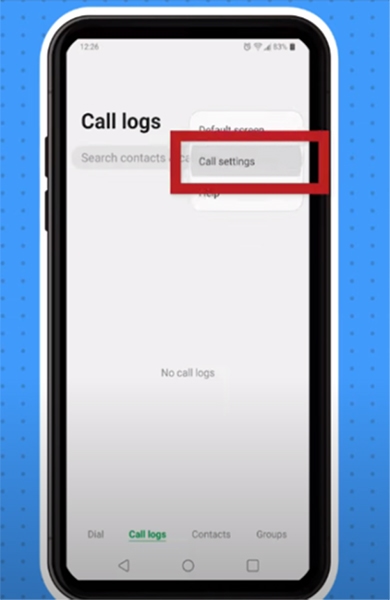 Click Call blocking & Decline with message in the call settings.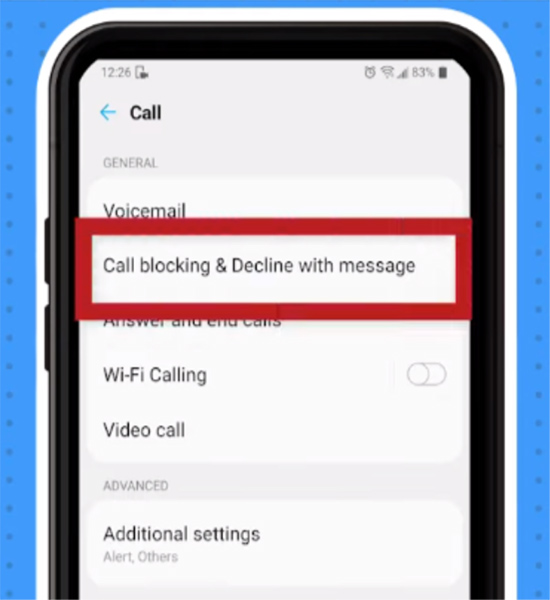 Select Blocked numbers.
Choose the plus symbol on the upper right to place the contact you want to block.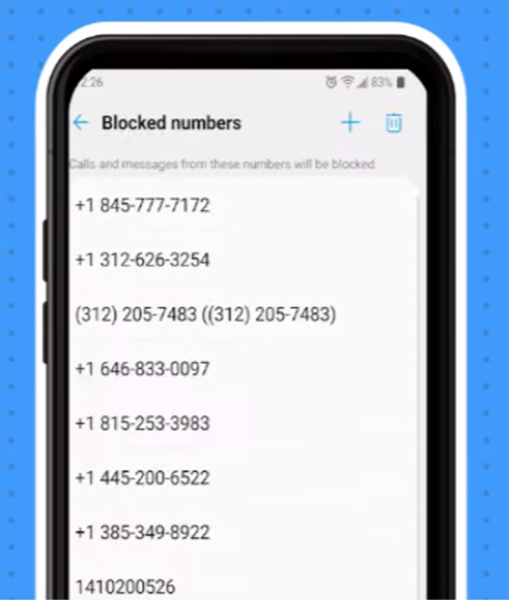 After seeing the pop-up that appears, click New Number. Either way, you can decide to block numbers from your phone's call logs or contacts on that same pop-up.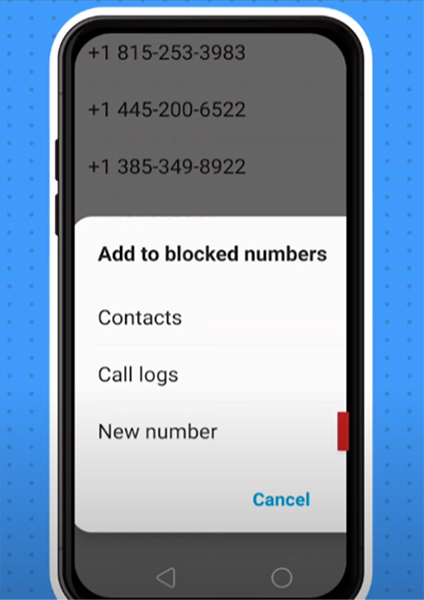 Enter the number you'd like to block texts and calls, then select Block.
2. How to Block a Number on Android Using the Messages App
By following the procedures listed below, you can block a number by using the Messages app:
Launch the Messages application.
Tap the top-right corner's three vertical dots.
From the drop-down menu, tap Settings.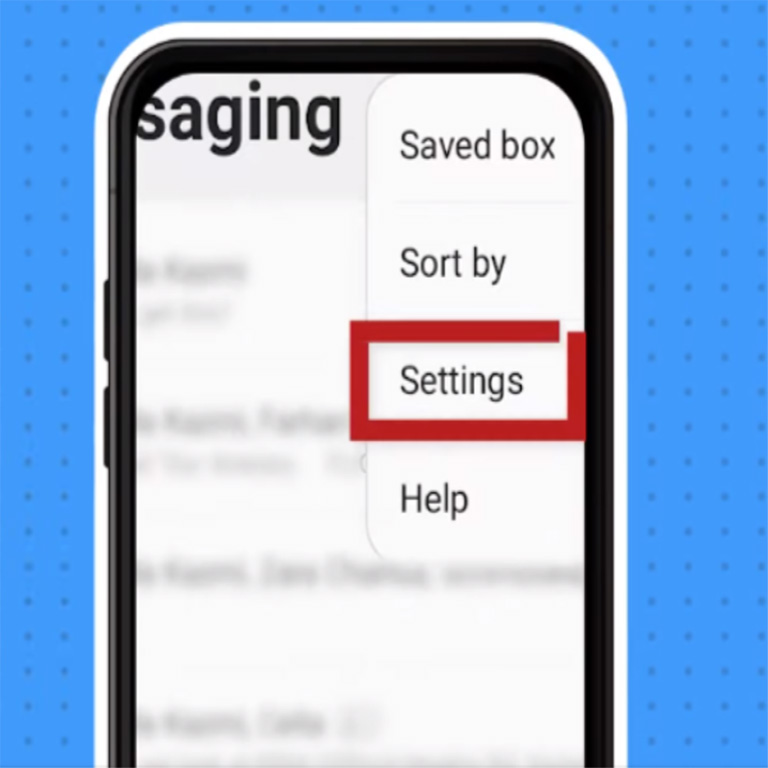 In the settings, select Message blocking.
Then select Blocked numbers.
To add a number you'd like to block, click the plus sign in the top right corner.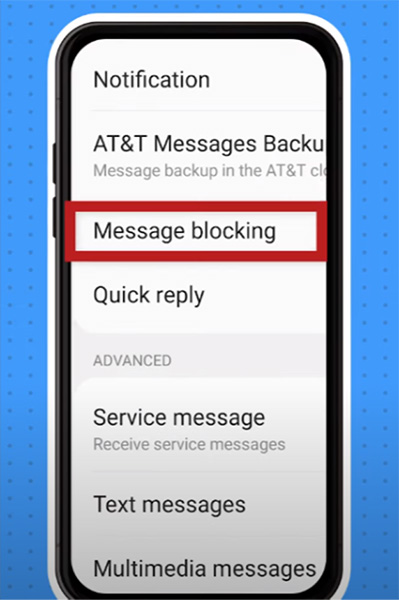 Select New Number from the pop-up that appears.
Type in the phone number manually from which calls and texts you want to block, then click Block.
Can Someone Tell When You Block Their Number on an Android Phone?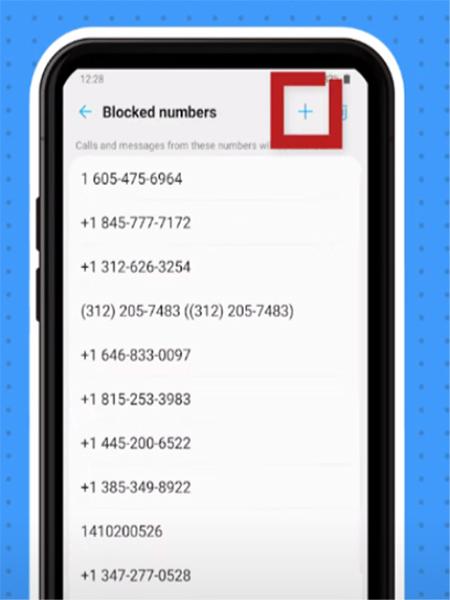 Anyone you block won't get a notification when they've been blocked so they won't be aware of it. Whenever they attempt to text or call you, it either gets disconnected immediately, goes straight to voicemail, or filters into the spam box.
They might assume that you're unavailable at that particular time. They won't be able to tell whether you received any texts they attempted to send you, and they will all wind up in your spam folder.
There is no easy method to determine whether or not someone has been blocked unless they have prior knowledge and an understanding of how blocking functions.
Fortunately, there's a way in which you can find out if someone has blocked you.
1. How to Know When Someone Blocks Your Calls
The following are easy ways of determining whether or not someone has blocked you:
Dial the number to see if your call goes to voicemail. If the contact you have called is not off when this occurs, there is a possibility that they have blocked you.
If you call and the call goes to voicemail, use a different number to call. When the call is successful, it is clear that the person blocked your phone number.
You can find and hide your caller ID. Making a call does not detect this. Making a call now that the caller ID has been hidden will reveal whether the individual you are calling has blocked you.
How do you hide your Caller ID?
Go to your Phone App.
Open the Menu.
Choose Settings, then tap Call Settings.
Click on Additional Settings and click Caller ID.
Tap Hide Number. If you repeat the process and select Show Number, you'll be reversing the feature.
If you continue connecting to voicemail whenever you call, regardless of the time of day, it indicates the other person has blocked your phone number.
2. How to Know When Someone Blocks Your Text SMS
It is possible to identify a blocked SMS by failing to get a delivery note. Additionally, on some other Android phone models, you will receive a notification that the message has not been delivered.
You can hide your caller ID and send a message with an alternative caller ID if you wish to know when someone has blocked you. If you get a delivery notice, that makes it clear you've been blocked.
How to Check if a Blocked Number Has Tried to Contact You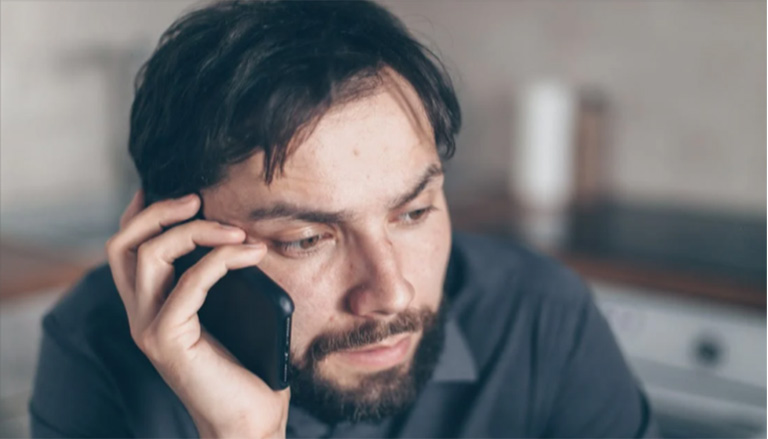 There is a way to determine whether a blocked number has attempted to contact you, although the notifications for calls and texts from persons you blocked might not be active compared to regular ones.
The sender cannot get a delivery note if you block texts and calls, but you will be silently notified of the texts and calls.
While calls go straight to voicemail, blocked messages are delivered to the spam folder's Unknown Senders inbox. You can still access the blocked number's full profile to identify who it is.
To view texts from the inbox of Unknown Senders that have been blocked:
Go to the Messages app.
In the top right corner, click More.
Select Archived. You will see every blocked message from here.
How to Unblock a Number That Was Blocked
Blocking a number does not have a lasting effect on an Android phone. You can always undo this by searching the list of blocked contacts and retrieving the number.
Follow these steps to unblock a blocked contact from your phone:
Launch the Phone app.
Click More.
Click Settings.
Select Blocked Numbers from the menu.
Select Clear after tapping the phone number you would like to unblock. By doing this, the number is automatically removed from the list of blocked numbers, and they are now free to call and text you as usual.
Frequently Asked Questions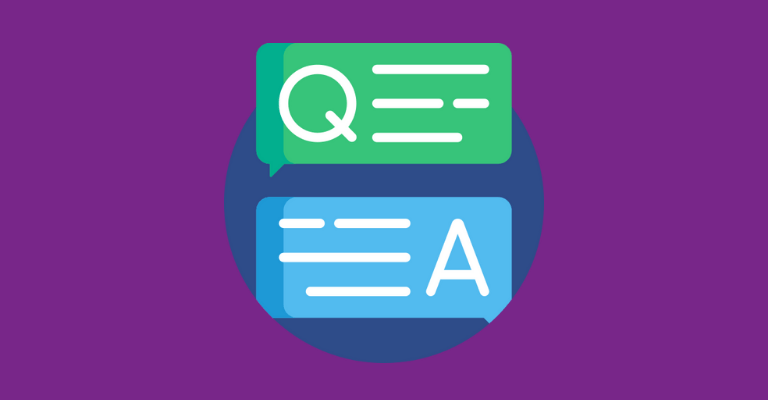 Can You Text Someone You Blocked?
Yes, you can text someone you've blocked. They will receive every message you send to them. You can still text them since blocking someone prevents them from texting you.
Will a Text Message Be Delivered if Blocked?
When you cannot view the delivery report or read the receipt, this is a sign that you have been blocked. The text you already sent will remain visible in a blue bubble, though it won't have any delivery information below it, such as a "Not Delivered" note.
When You Block Someone on Android, What Do They See?
If they text you, their texts will still appear to have been sent, and they won't be informed that they have been blocked. On the other hand, if they try calling, they'll be directed to voicemail, giving them the impression you are unavailable.
Can You Tell if Someone Blocked Your Number on Android?
Yes, call using your phone number first. Listen to the voicemail if the call ends up in voicemail. Try again calling with a phone with a different caller ID. If the phone goes through, it indicates that the recipient has blocked you.
What Happens When You Block a Number on an Android Text Message?
Blocking a number prevents that number from sending you text messages (MMS or SMS). You won't get the message even if it's sent from the sender's side.
What Do Callers Hear When You Block Them?
A call is considered normal if it rings the typical number of times before going to voicemail. Callers will only hear one ring and then get diverted to voicemail if they're blocked. Also, a strange ring pattern can sometimes indicate that your phone number has been blocked.   
Conclusion
I hope I answered all your questions concerning this subject. You don't need to worry when you block someone because you have the power to contact them when you want, but they don't. If you are uncertain about being blocked, I have given you a way in which you can follow and know the truth.