Search engine optimization (SEO) has been around for many years now, and it continues to grow both in popularity and significance in today's world of business. Every company, regardless of the field of operation, can benefit from this form of marketing. So, why is it important for your construction business?
For one, it helps generate organic traffic to your website. Apart from this bringing in leads and sales, it can help you build credibility and put you in a strong position with regard to your competition. Another big advantage of organic traffic is its cost-effectiveness. Since marketing is part of overhead expenses, investing in SEO will save you a lot of money in that regard further down the line, and help you generate more profit in the long term. Of course, you need to learn how to accurately calculate profit margin before you can decide on how much to invest in SEO and other marketing techniques.
In this article, you'll get all the important answers regarding why SEO matters to your construction business. But first, here are the basics of search engine optimization:
What is SEO?
You've probably come across this term several times on the internet. As the name suggests, it's a marketing technique that focuses on enhancing your brand's visibility in any search engine's results.
According to live statistics, Google handles over 3.5 billion searches per day. These queries seek to find information from at least one of the 1.7 billion websites that exist today. This means when a person searches for information that relates to your brand or field, Google will go through millions of websites and put the most relevant ones at the top end of the search results. (1)
If you employ the right strategies and techniques, a search engine will reward you by placing your website at the top of its results pages. This means you'll be visible to prospects, which, in turn, means more opportunities to do business with them.
How Does SEO Benefit Your Construction Business?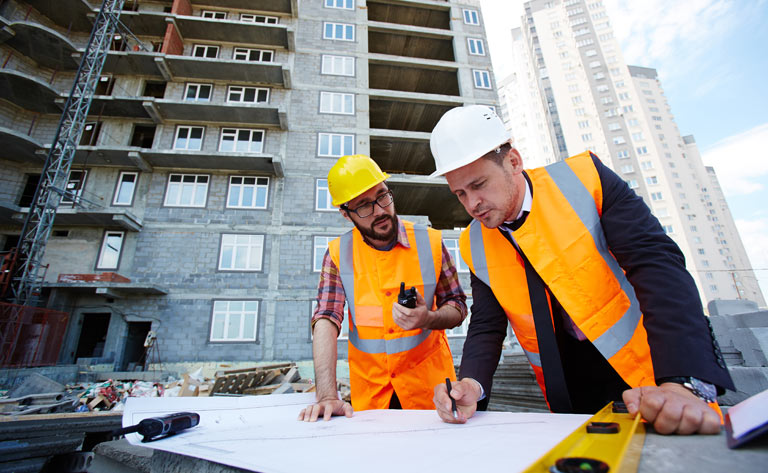 Here are some benefits of SEO to the growth of your construction business:
1. You can showcase your best work
As mentioned, websites play pretty much the same role as brick-and-mortar stores. If you've got pictures of construction designs or a set of completed projects, you can showcase them on the internet. However, this can only have an impact on your business when people can find and visit your site, and this is where SEO comes into play. (3)
Unfortunately, many construction businesses have a weakness in this area. Most of them do a lot of good work, but they don't let potential clients have a feel of how the process works––from the project application phase to completion. You can beat your competitors by leveraging the power of SEO and letting your target audience find you whenever they make relevant Google searches.
As you rank among the top in Google search results, your videos and photos will be able to attract potential customers. In the long run, you'll be able to experience a constant flow of orders, which is every company's dream. To enjoy even more of these benefits, you can link your field service management software like Jobber to your website. This way, the visitors you gain can easily access more features of your company and even book your services right away.
2. Generates quality traffic to your site
Your website is where potential customers will visit whenever they need to purchase goods from you or need some clarification. As such, it's imperative that you generate enough traffic to make it easier for prospective clients to find you. The best way of doing this is through SEO.
Search engine optimization allows you to attract high-quality potential clients by ensuring that those who click the links to your site have interests related to your field. For instance, when someone searches for anything within your industry niche, one of your web pages will appear among the results. As such, there are higher chances of making your next sale through this channel because the internet users who visit your site are already searching for products and services that you offer. (2)
3. Allows you to gain clients' insights
Having insights into your customers' needs is one of the most effective ways to grow your business. Before launching any SEO strategy, it's important that you understand your target market. Are your potential clients located in a specific location? What are some of the keywords they use in their searches?
With this information in mind, you'll have a rough idea of your customer's ever-changing needs. With a proper SEO strategy, you won't only have an insight into these demands but also understand what you need to do to compete with the best in the market.
At the end of the day, you'll be able to recalibrate your services and offer relevant products to your client base. As you pass across information about these changes and other important messages about your company to clients, you increase the popularity of your brand. This makes it even easier for people to find you online, which is the main objective of any SEO strategy.
Conclusion
Sticking to the old methods of marketing may frustrate your overall performance, and you might lose many potential clients. As more businesses move to the online world, you should also think of effective strategies to keep your construction business as competitive as possible.
SEO is one of the most important marketing tools used by all businesses, and you can leverage its power, too. Ranking top in the search engine results list means your work is exposed to more people, which increases your chances of getting more clients. Therefore, in your next marketing campaign, make sure you include search engine optimization.
References
"50 Google Search Statistics & Facts", Source: https://www.semrush.com/blog/google-search-statistics/
"11 Proven Ways to Drive Traffic to Your Website", Source: https://ahrefs.com/blog/how-to-drive-traffic-to-your-website/
"9 Reasons Your Offline Business Must Have an Online Presence", Source: https://www.thebalancesmb.com/putting-offline-business-online-2531853