In our life, there are times when we need to change our devices. It could be upgrading to the new version of an existing device or changing brands on the same platform. You can also be moved from one platform to another. All of these cases require you to perform phone to phone transfer from your old phone to the new device.
Wondershare MobileTrans is the answer to your troubles regarding transfer messages from Android to iPhone and other essential data. This tool can change your outlook regarding phone data transfer, turning a hectic and lengthy process into a simple and short one.
When transferring all data from your old device to your new one, MobileTrans – Phone Transfer is the tool you need. It can transfer over 18 types of data, meaning almost all data on your device is covered. Data can be transferred across devices on the same platform, cross-platforms, and your computer system.
The data transfer speed is amazingly fast, and the complex procedure has been simplified for your ease and reduced to just a few clicks. MobileTrans – Phone Transfer offers you data security, meaning you won't lose your data, and any existing data on the new device will not be deleted or overwritten. Follow these steps to complete your phone data transfer from one device to another:
Step 1: Choose the Phone Transfer Module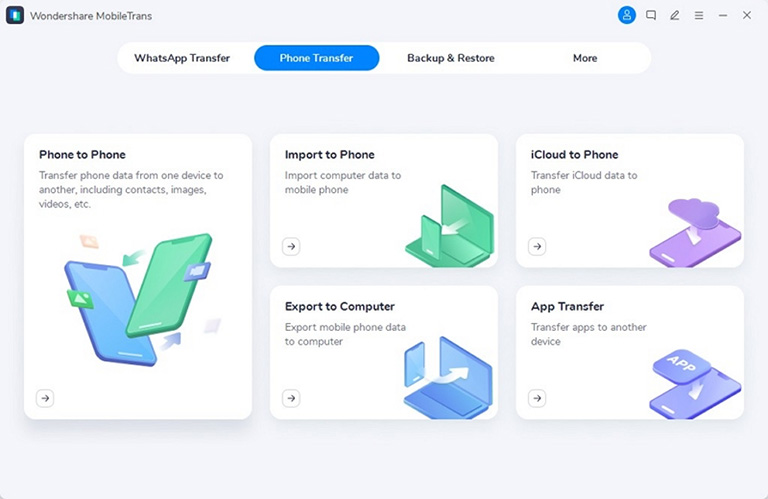 Go to the "Phone Transfer" mod after running MobileTrans and pick the "Phone to Phone" feature. Now connect both devices to your computer using USB cables.
Step 2: Select the Desired Data to Transfer
The app will detect them and assign them to the positions of "Source" and "Destination" once you connect the devices. Ensure that both devices are at the right placement; you can use "Flip" to correct their position. Here you can select the data you want to transfer across devices.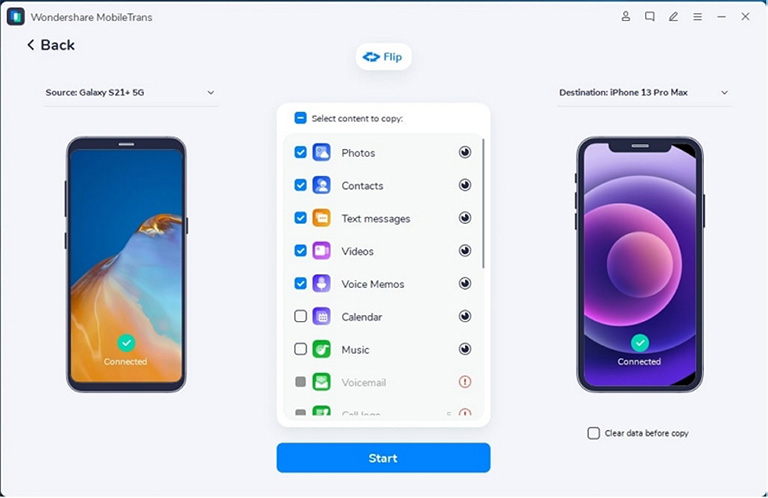 Step 3: Complete the Transfer Process
After you have selected the desired data, click on "Start" to begin the transfer. If you want to delete existing data on the "Destination" device, you can select "Clear data before copy." Once the process starts, wait patiently; it will be completed within a few minutes.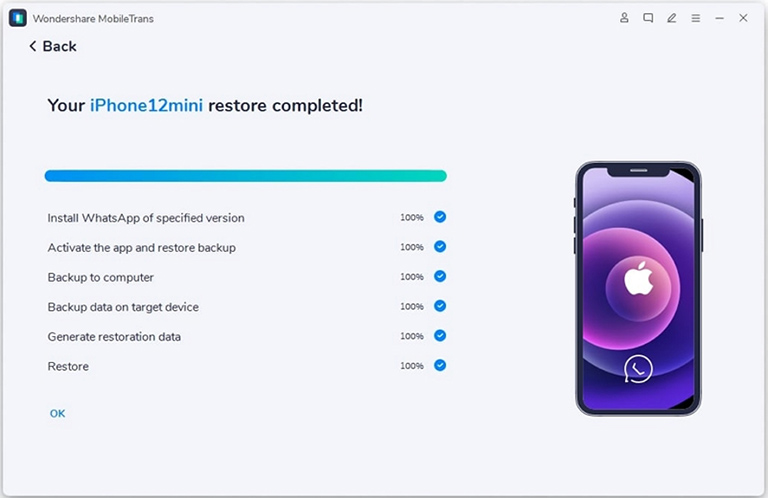 WhatsApp is a widely used app among users in the world. That means a lot of your essential data is located there, ranging from important chats to documents to videos. Wondershare MobileTrans – WhatsApp Transfer is an excellent tool for WhatsApp transfer as it will transfer all types of data stored there. WhatsApp backups stored on Google Drive can also be retrieved and restored on iOS devices using it.
The WhatsApp data can also be merged with existing data on the new device, and it can even recover deleted or lost data. Aside from WhatsApp, MobileTrans – WhatsApp Transfer also support data transfer for WhatsApp Business, GB WhatsApp, Kik, LINE, Viber, and WeChat. Below are the steps you need to follow to complete WhatsApp transfer between devices:
Step 1: Launch MobileTrans and Select WhatsApp Transfer
Choose the "WhatsApp Transfer" module, and pick "WhatsApp Transfer" here. From it, click on the "Transfer WhatsApp Messages" feature to continue the process.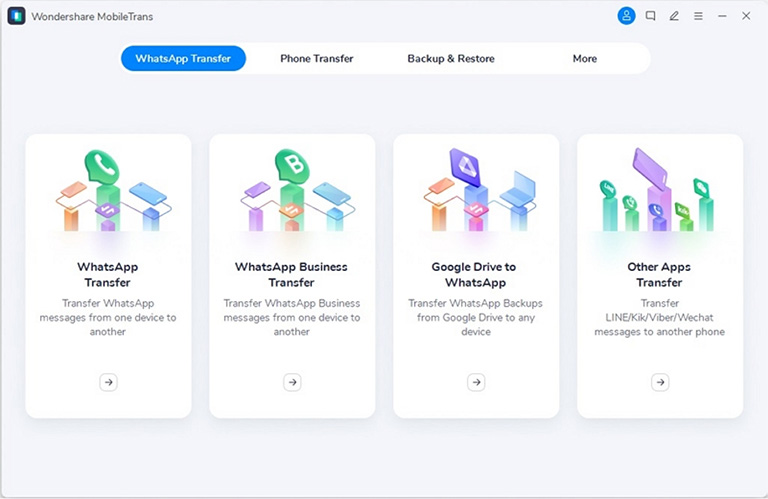 Step 2: Establish the Connection
Now connect your devices to your system and let the MobileTrans detect and allocate them to their respective positions. One device will be assigned to the "Source" and the other to the "Destination." If the order is wrong, press "Flip".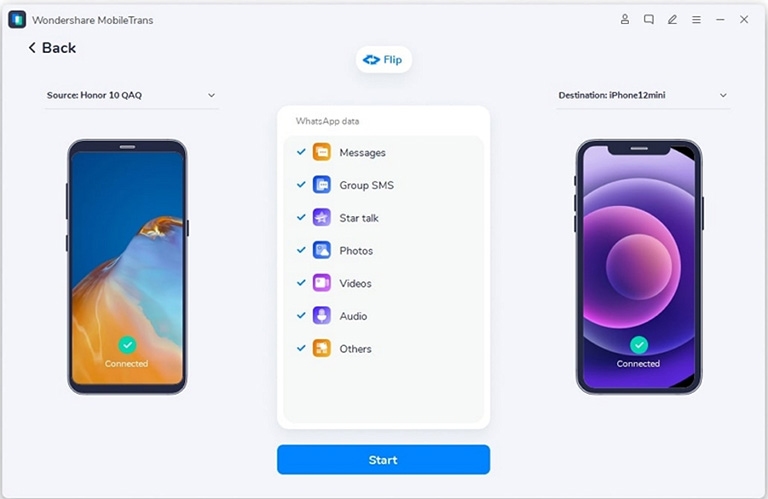 Step 3: Complete WhatsApp Data Selection
You can select the WhatsApp data you want to transfer to another device. Once selected, press "Start" and wait for the process to complete. Do not move or touch your devices, as it can disturb the process. Once the process is completed, remove the device, and now you can access your WhatsApp data on the new device.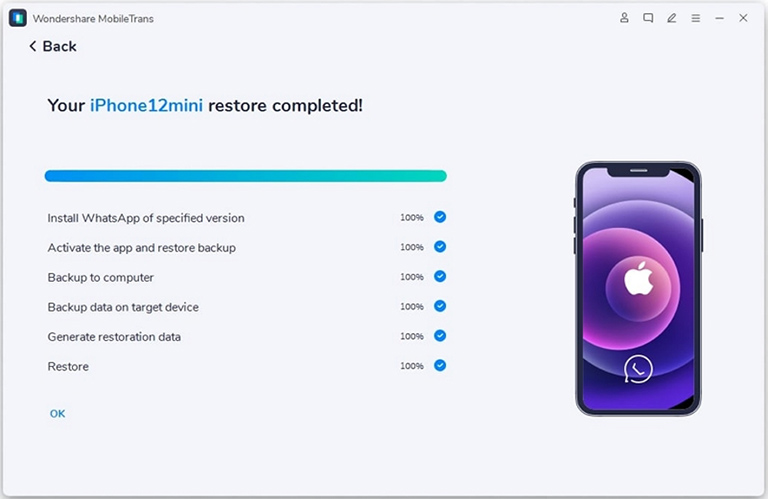 The music files available on your device can be transferred using the Phone Transfer feature, but what about your playlist created on online streaming platforms? Worry not, as Wondershare MobileTrans – Playlist Transfer now offers you the ability to transfer your playlist between different online streaming services. It makes enjoying your favorite music across platforms much easier and smoother.
Wondershare MobileTrans – Playlist Transfer currently supports music playlists transfer between Apple Music, YouTube, YouTube Music, Spotify, and Deezer. Below are the steps you need to perform to transfer your music playlists across platforms:
Step 1: Access the Playlist Transfer Feature
On your system, open MobileTrans and go to the "More" tab. Here select "Playlist Transfer" to transfer your music playlists.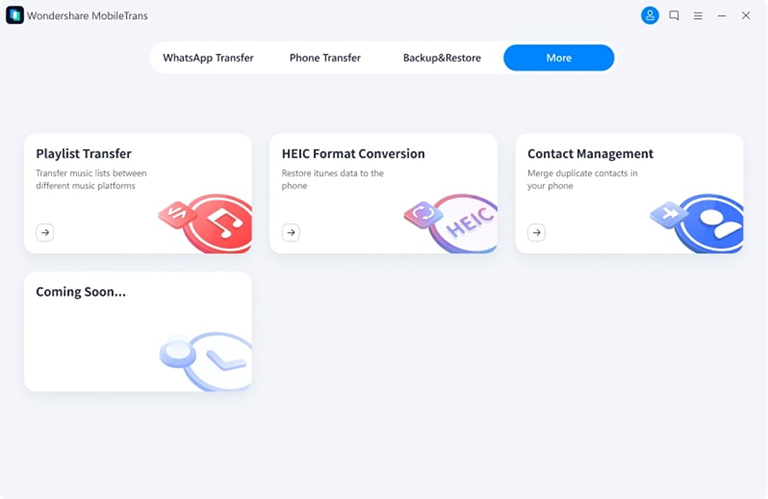 Step 2: Choose the Streaming Services to Transfer Playlist Across
After clicking "Playlist Transfer," it will show you all the available streaming platforms. Next, choose and sign into the music platform you want to transfer your playlist from and the music platform you wish to transfer your playlist to.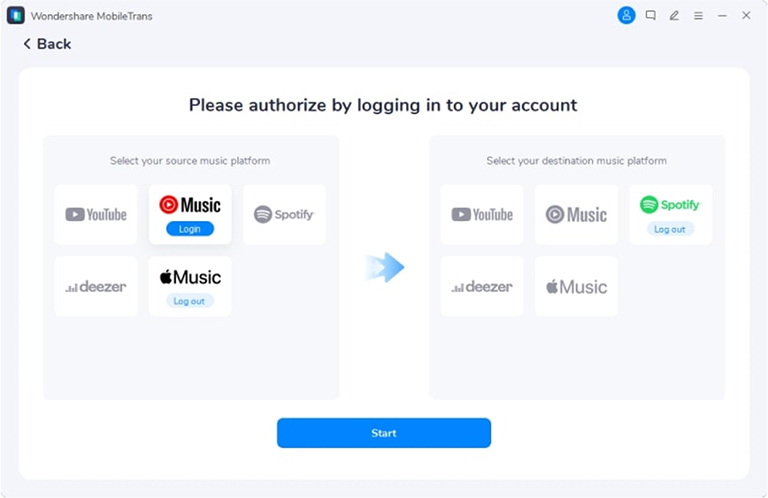 Step 3: Complete the Playlist Transfer Process
Once you have selected and signed into both platforms, select the playlists you want to transfer. After choosing the desired playlists, click on "Start" and wait for the completion of the process.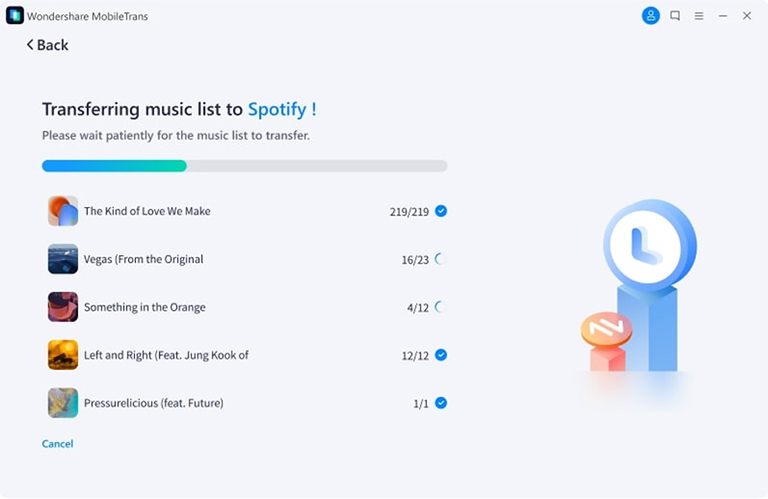 Wrapping Up
Wondershare MobileTrans is an incredible tool providing you with many unique and impressive features in one place. It can make the process of switching between devices smoother and easier for you. The tool already provides a lot of features, and it continues to be further improved and updated. In short, Wondershare MobileTrans is a must-have tool when dealing with multiple devices and platforms.