The Google Keyword Tool was replaced in 2013 by the Keyword Planner. This replacement introduced several issues to people using it as a general keyword analysis tool. One of these is that you must have a Google AdWords account before you can use it. Another is that it does not automatically give you a related keywords list, though you can get one with a bit of work.
You can no longer check out a Broad, Exact and Phrase match and you can no longer target results for specific types of device, such as laptops, tablets or mobiles. Many people are unable to use the new Keyword Planner because they do not have an Adwords account. We have therefore researched some good alternative keyword research tools that you can use in its place.
Those we chose are all free keyword research tools because the Google keyword tool was also free. It would be a true alternative where you have not to pay for it. There are many paid tools available, but the vast majority of commercial applications offer much more information than the average blogger needs.
One of the issues of the better tools is that they are free versions of these commercial applications. They are offered free with limited functionality in the knowledge that those that like them may pay for the full version. This will be mentioned throughout this review, along with the comment that some are useful to you only if you use them for your own single site, and not to seek keywords for multiple topics.
Free Alternatives to Google Keyword Tool
In the examples discussed, where it is relevant to do so, we shall use the keyword 'electric cars' in our test searches. The keyword and results are irrelevant – it is the explanation of how each works that matters here. However, if you are interested in the topic of electric cars then have the results free on us!
Keep in mind that keywords results for this topic could apply to toy cars as well as the new electrically powered automobiles – so it's an ambiguous subject! Let's find out what we get with each of the options below!
1. WordPot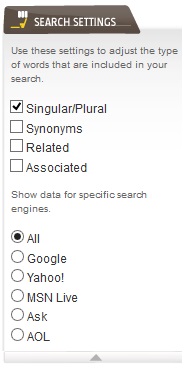 WordPot is one of the best free keyword tools available. There is only one negative, as there is with most of the free tools: it is a free version of a commercial product. You are therefore restricted to one project: I tried to search on two topics in different Projects and was informed my limit had been reached. If you can stick to the one 'Project' which can involve up to different keyword searches each day, then you should not have a problem.
Once you enter a keyword your results come up almost immediately – it is very fast. You can select results from all common search engines or select your own:
As you can see, you can select singular and plural version of your keyword if you wish. You also search for synonyms, offering you a much wider search option. This is useful in seeking keywords for terms such as 'baseball cards". Synonyms will also seek 'ball game cards' and so on.
Related and associated words will further widen your search to other terms that people may use to find your website or blog. However, be careful how you use these, because they can dramatically increase the number of keywords found, and this might not be good with this type of free tool. With free tools you want to limit the number of keywords found, because there is often a daily maximum.
As mentioned above, the problem with a free version of a commercial service is that you are limited in the number of searches and keywords permitted. It is easy to go over your allocation if you use any of these options in the free version of WordPot.
When you carry out a search, the screenshot below shows the business end of your results. We used 'electric cars' as a topical keyword.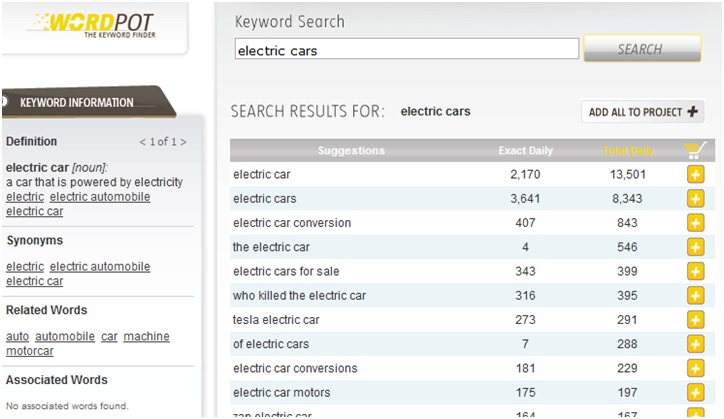 We also clicked for single and plural versions of the keyword. Not only do you get the daily searches on your choice of search engine (All in our case) but also the searches for the exact keyword (Google's exact match) plus the total where the keyword is used either as part of the search term, or the term broadly matches the keyword (=Google's Phrase and Broad matches).
This resolves one of the Google Keyword Planner issues – where these options are no longer available. They are available with WordPot, though the latter two are combined.
The left hand 'Keyword Information' provides some useful information. It defines your keyword when it can (sometimes this will be blank) and offers synonyms, related words and associated words. You can use these to modify your search using the options in the Search Settings section shown earlier.
Another useful feature of WordPot is the fact that you create 'Projects'. This is done automatically for you, based upon your initial keyword used. With the free version you are permitted only one project. You can add different keywords to the one project.
Negative aspects of WordPot: The free version (we shall discuss paid keyword tools later) is restrictive in how you can use it. If you are involved in only one niche then it's not too bad – you can use that niche as your 'Project'. You are restricted to 25 searches but you should be able to get by with that!
Another negative is the fact that it returns daily searches and not monthly. While this might not matter to many people, results can be skewed by current events according to your niche and keyword. You will also find it difficult to compare results with those other tools that report monthly results.
Nevertheless, WordPot is listed first because it is one of the best alternatives to Google Keyword Tool around – the best probably if you have just one niche and are not carrying out keyword analysis for others with different niches. The next is close run second – it might even be a first.
SEO Book is another commercial product offering a free version. It provides what it refers to as 'rough suggested daily search volumes by market for Google and Bing Yahoo! Search network.' Whatever that means! However, it does more than just that.
You can use the 'fuzzy' matching feature which employs stemming to return keywords related to your search, just as WordPot discussed above does with its related and associate searches. What it does that WordPot does not is to relate keywords to the Google AdWords program. It provides Google's own estimated bid to attain the #1 position on Adwords (right hand of Google's search engine results page) and how much traffic to expect from that position.
You also get links to Google Trends, Google Suggest and other tools that provide information regarding your target keyword. Not just that, but links to social sites such as Delicious, Topix.net and Blogsearch give you information about the hot topics on your niche and the resources that other people are using to find information on it. That could help you with your social networking and bookmarking campaigns.
Here are our results using 'Electric Cars' as keyword:

This returns slightly more results than WordPot for the keyword, and singular forms are not provided. However, the relative results tend to concur. Note that the total monthly searches are exactly 30 times the daily searches.
This raises the question: are the monthlies 30 times the daily searches, or the dailies a thirtieth of the monthly searches. This is a cheat, because this is extremely unlikely in the real world.
BUT: Click for a 'Fuzzy' match and you get: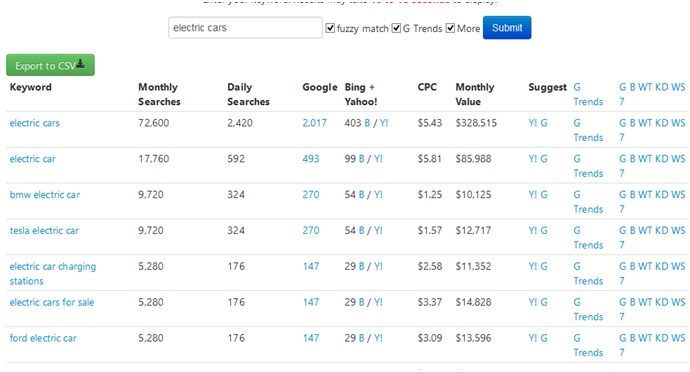 Now you have singular results of the keyword and related terms. Keep in mind that WordPot results are from all search engines while those from SEO Book are only from Google, Yahoo and Bing. Nevertheless, there are significant differences – the keywords found by the respective tools are different.
Yes – a lot depends on the algorithms and systems used to find these results. However, which set do you use? You will find this with the vast majority of internet analytical tools: results rarely tally, and this may be largely due to the coding of the search tool.
That's also why many professional bloggers use more than one tool to find the same information. What these applications do is to give you a snapshot at a specific time of what that particular tool has found. They give you a guide, so keep that in mind when we discuss the other free keyword research tools below.
Link section: The links on the right in the screenshot above are an awesome feature of SEO Book. They offer links to:
G: Google AdWords Keyword Planner
B: Bing Keyword Research
WT: Wordtracker free service (though read the Wordtracker review below)
KD: Keyword Discovery tool
WS: WordStream free keyword tool
The only reason for SEO Book not being our #1 choice was that it does not offer worldwide results. Otherwise, it beats WordPot easily.
When you sign up for the free trial, you are asked for your Google AdWords details so Wordstream can collect your existing data. You then get access to your free trial. What if you do not have an Adwords account? You can still take advantage of the trial which we did here, again using the same keyword:

This is adequate keyword information. You get a list of keywords, their estimated search volume based on previous results and an estimated CPC – cost per click. What you should look for is the best balance between high volume and low competition.
That is fundamentally it for Wordstream. It is good basic free version of a keyword tool that offers you the information you need. Estimated clicks for various keywords in your niche and competition.
Not difficult to use but with some drawbacks. Like many others, SpyFu is most useful to Adwords users – in which case why not just use the Google AdWords Keyword Planner? When you enter a keyword into the search bar you first get this type of information:

This is great if you are researching the use of your keyword on Adwords. If not, you can still get some useful data from these figures. Even then, the following information will be of more interest:

One of the issues I have with these results is that you cannot arrange them in order of number of searches or ranking difficulty, so you must scroll down to find the figures for each keyword. My main keyword 'electric cars' is not shown in the free version. Just below these results is a 'Show More' link – click that and I get:

Now the seed keyword does appear at the top. However, it all seems to be focused on Google AdWords, rather than be useful as a general keyword research tool. If you use Adwords, then SpyFu might suit you better than Google's own tool, although it is restricted to results from the USA and UK.
5. Uber Suggest
Uber Suggest is often recommended as a keyword research tool, and it is good – if you are looking for keyword ideas. It does not give you search results, but generates longer tail keywords based upon your seed word or phrase.
You can add a letter or number after the keyword to generate new keywords that have actually been used online in searches. Thus, for electric cars:

The results for the original keyword (electric cars) are on the left. You can then add letters or numbers as shown to generate keyword beginning with those. Uber Suggest is good if you are short of keyword ideas, but is otherwise not useful for general keyword research since you get no search figures.
At one time, Wordtracker was the only tool available to anybody looking for keywords used by those seeking online information. The large number of such tools available today is an indication of the explosion of the internet, particularly the World Wide Web that started up on the internet in 1991.
Wordtracker is still a leader in keyword analysis and research, and it did offer a free service that enabled you to find the top 100 results for any keyword. However, that free version has now been withdrawn. Visit the site, and click for the free version, and this is what you get: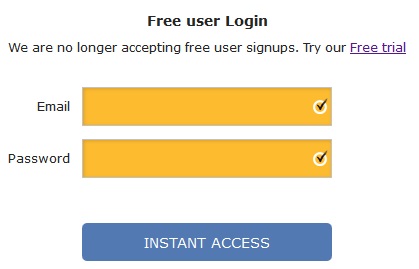 Click for the Free Trial and you eventually get to a registration page requesting your credit card details. No doubt they will take the fee at the end of the trial period if you fail to cancel. This is OK, but it is not a free keyword tool and shall not be considered here.
Many others promote Wordtracker as a free keyword research tool, but it is not. It is mentioned here because some of our readers might wonder why it has been omitted – that is why!
7. Keyword Eye
Keyword Eye makes keyword research easy. Here is what the free version offers:
10 Keyword searches per day
Up to 100 keywords per search report
Selection of Google databases from 25 countries
Here is one view of the results: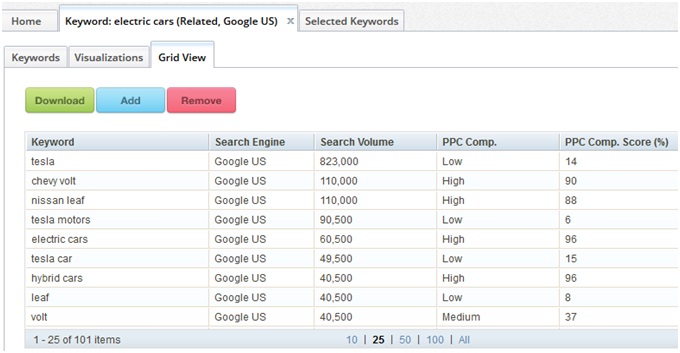 We have chosen the USA for this analysis. The search volume is per annum. PPC Comp. indicates the level of competition for PPC adverts – the lower the better. You can also view the results as a keyword cloud, or as a graph in terms of competition.
Keyword Eye is very easy to use, and if you are looking for keyword ideas or a simple comparison of the popularity of various keywords then it is ideal. Again, however, it is restricted in geographical scope.
Conclusion
These are the top free keyword tools that we could find. They are presented in order of preference, best first, but each person will have their own priorities when using them. Each is different in a way that it is used and the information presented. They may not all be free once you have finished your trial period, but you register again for another trial if you wish – you may have to use another email address!
What struck us were the differences in results for the same keyword in all of these different tools. They may be in the same orders, but the actual figures varied significantly. What this means is that they must present archived results rather than actual on the day, because these tests were all carried out on the same day.
Ultimately, this is irrelevant because what you are seeking in keyword research are the best keywords to use for your blog or website, normally using the main niche keyword as a starter. You might build one or two pages on really popular keywords with plenty users and lots of competition, and some with low popularity but also very low competition.
If you rank highly for a number of the less popular search terms, but also include the more popular keyword on other web or blog pages in your site, then you will keep all of your visitors happy. That's one sign of a good site.
There are several excellent paid keyword tools available, although these are mostly used by SEO service providers, website developers and large corporations. Such people may have to research thousands of keywords in dozens of different niches, in which case free tools would be of less interest to them.
That is because most free keyword tools offer limited functionality and limited results. When discussing alternatives to Google keyword tool, which was free to use when all is said and done, we are not really considering paid keyword analysis tools whether they cost $9.99/month or $99/month. We are looking for free tools that can be used instead of the Google keyword tool.