As a gaming creator, it's always important to record high-quality gameplays that make the audience feel engaged. Creating the best and most entertaining gaming content requires different essential tools, and a game screen recorder is one of them. To capture excellent gameplays, having a powerful game screen recorder is a must that makes the content game recording process much easier and smoother.
We've got plenty of screen recording tools, all of which have fantastic features. Thus, it isn't easy to choose the best one for ourselves from a list of hundreds. Some game recorders are extremely technical, which makes them difficult to use. At the same time, some game screen recorders only have basic features that don't even meet the recording requirements. Here in this article, we've mentioned a balance of all kinds of basic to advanced best game screen recorders.
EaseUS RecExperts is one of our favorite game screen recorders for many reasons. This tool has basic to advanced features, such as annotations, webcam recording, audio recording, and more. Most importantly, EaseUS RecExperts V3.0 has a dedicated Game Recording Mode with all the essential features you'll need to capture the best in-game moments. The best part is that it lets you record gameplays without any FPS drop. Hence, no more worries about the frame rate drop. Besides this, it is capable of recording all kinds of high-end to low-end specifications games with ease. Here comes another best part. It lets you capture gameplays in 4K resolution without lag issues, which is spectacular.
We would appreciate EaseUS RecExperts offering such a smooth game recording experience, even on low-end PCs. You can record game screens separately without getting disturbed by any other program while recording. It also covers small details like showing frame rates, recording time, and recording size of the video file while recording the screen. One of EaseUS RecExperts' highlighting features is its Picture-in-Picture Mode, which lets you record the screen in PIP mode. To sum up, it's an all-in-one screen recorder tool that enables you to record gameplays as well as different screens with ease.
Pros
Intuitive UI
Various Recording Mode, including Gaming Mode
Supports Webcam Recording
Adjustable FPS
9+ File Export Formats
Supports Automated Recordings
Fantastic Customer Support
Cons
Integrated Editing Feature, But Limited
Can't Set Audio In Decibels
Quite Expensive
2. Xbox Game Bar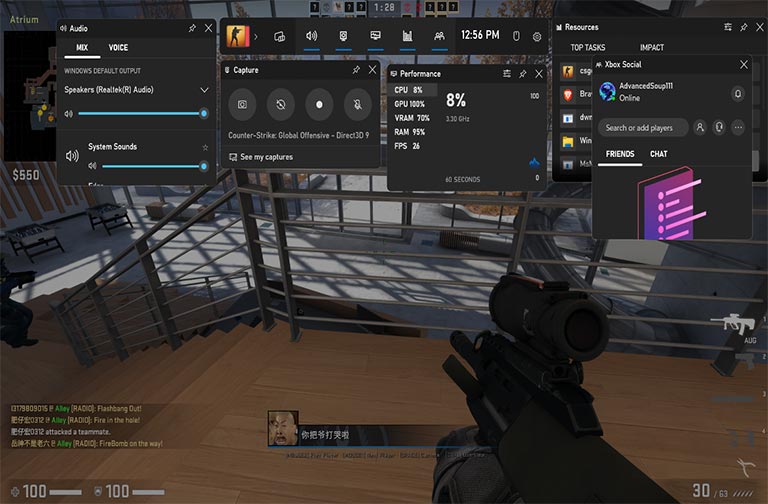 Xbox Game Bar is an integrated game screen-recorder tool in Windows. One of its primary functions is to let us record gameplays and capture snapshots while playing games. By far, this is one of the best game screen recorders for Windows PC because of its minimal and intuitive interface. Its easy-to-use interface makes the process much simpler and smoother. This is the reason many users prefer Xbox Game Bar over other third-party screen recorder tools to capture gameplays and snapshots. Not only this, but this built-in game screen recorder also has a few advanced features, which are barely present in other game screen recorders.
For instance, it shows the CPU resources while playing games to check what applications are using the most resources and affecting the performance. You can also check the GPU, RAM, and VRAM usage in a small pop-up while playing games. It indicates high-resources tasks with a red dot and low-resources tasks with a green dot. You can also control the system's sound and sounds from other tabs in one place with ease. One of its prominent features is that it shows the FPS while recording. As it's a built-in tool, you can access it using the Windows + G shortcut key. You must try this tool if you're a beginner or want some basic recording features.
Pros
Easy-To-Use Interface
Free To Use
Adjustable Interface
Live CPU Usage Graph
Spotify Integration
Cons
Can't Record Whole Screen
No PIP Mode
Can't Record Apps, Like File Explorer and Maps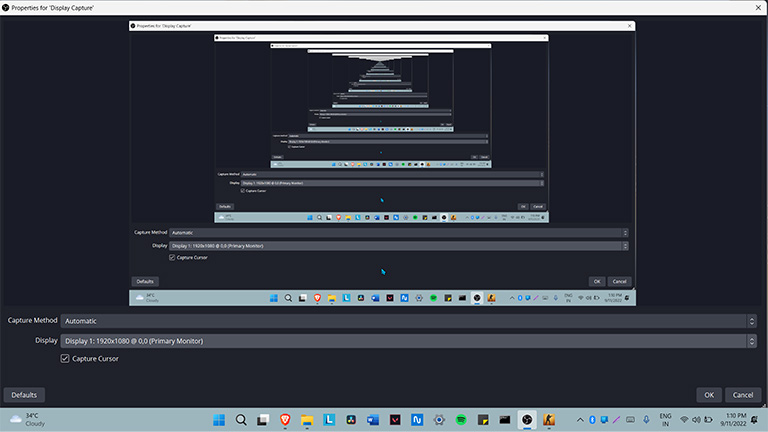 OBS Studio is again another popular offline video recording and live streaming software. This tool is pretty advanced compared to other tools, like Nvidia ShadowPlay and Xbox Game Bar. Due to this, you have to dedicate enough time learning this game screen recording tool from in and out. Of course, it lets you record gameplays and computer screens without any lag problems. Besides this, it also enables you to live stream on different platforms, like YouTube, Twitch, etc., with ease. You also get access to some advanced features to add some spark to your live streams and videos. For instance, OBS Studio also lets you mix audio and video in real-time without such lag issues.
We usually prefer this tool to the users who want to live stream on different platforms as it lets you set up an unlimited number of scenes. You can switch between those scenes seamlessly and also add amazing transitions. OBS Studio also offers audio control features that can be modified while live streaming and recording videos. You can change the desktop audio, mic audio, etc. You can also use per-source filters, like noise suppression, noise gate, etc., to enhance the streaming quality. This tool is ideal for users who want some amazing features but need to spend enough time learning these features. You should try it, especially if you're planning to live stream on Twitch or YouTube.
Pros
Flexible and Customizable
Best for Streaming
Free For All
Works Well On Low-end PCs
Cons
Higher Learning Curve
Advanced Features, But Overwhelming
Some Glitches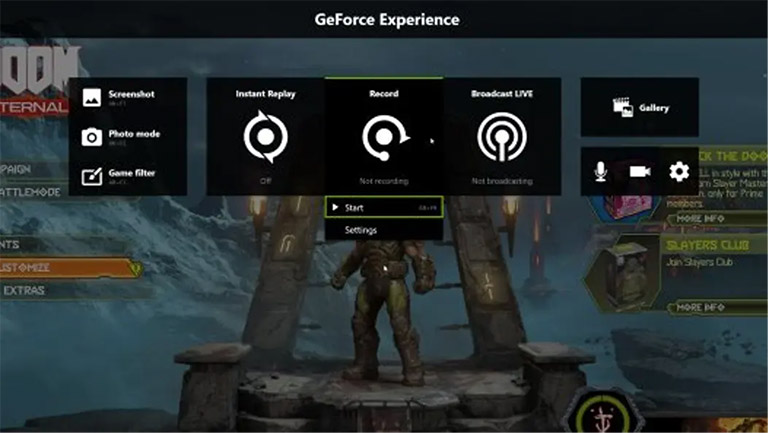 Nvidia ShadowPlay is a popular screen recording game that only comes with Nvidia graphic cards supported systems, as it's developed by Nvidia. You can use the ShadowPlay tool to capture screenshots and gameplays with audio and webcam. It's a pretty basic tool with a beginner-friendly interface which could be another reason to choose it over other game screen recorders. One of the best parts about Nvidia ShadowPlay is that it's optimized for all Nvidia graphic cards to offer the best screen-capturing experience. You can access this tool using the Alt + Z key combination in between the game for screen recording.
Moving further, Nvidia ShadowPlay has a very useful mode called Instant Replay. This feature automatically saves the last 30 seconds of gameplay on your system's storage. Besides this, it also has the NVIDIA Highlights feature that automatically records important moments, clutches, match-winning moments, and more and saves them in the device storage. Another interesting feature of Nvidia ShadowPlay is that you can directly stream in high quality on different platforms, like Facebook Live, Twitch, or YouTube Live. One thing we liked most about this tool is its game recording capabilities. It enables us to record gameplays in 8K HDR at 30 FPS and 4K HDR at 60 FPS without lag issues.
Pros
Easily Accessible
Performance Is Good
Cons
Only Works With Nvidia Graphic Cards
A Few Glitches
No In-depth Settings and Preferences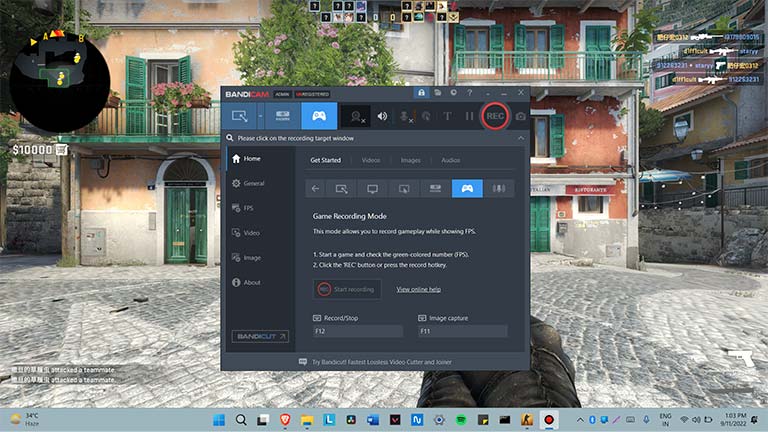 Bandicam is another modern game screen recorder that lets you record gameplays in high resolution. You can record gameplays in up to 4K (3840×2160) UHD. Surprisingly, it allows us to record gameplays at 480 FPS using our system's hardware and GPU powers. Its Hardware Acceleration feature lets you utilize the system's graphic powers in high-resolution gameplays at high quality and compression rates. One of the best highlights of the Bandicam is that it enables you to record both game audio and voice at the same time.
What we like most about Bandicam is that it allows us to upload videos to streaming platforms like YouTube directly. You don't need to do additional encoding; that will save plenty of time and effort. Also, this screen recorder tool lets you record a particular part of the screen and the entire screen. In addition, if you have multiple overlays, you can add them while recording the gameplay, so you don't need to add them later. We tested this tool and had a great experience as this doesn't lag and records gameplays without any FPS drop.
Pros
Easy to Use
Dedicated Game Recording Mode
No Recording Limit
Free, But Limited
Direct YouTube Sharing
Audio Capabilities Include Internal Audio and External Audio
Cons
Bandicam Watermark On Unregistered Version
Decreases FPS on Low-end PCs
No Live Streaming Feature
Verdict
There are dozens of game screen recorders present out there, but choosing the best one is always a difficult task. For your convenience, we shared the 5 best game screen recorders with you. All the game screen recorders mentioned in this article serve different purposes. But, EaseUS RecExperts will always be our personal choice for recording gameplays and capturing snapshots. We already shared several reasons for choosing EaseUS RecExpert over other game screen recorders. For instance, it enables you to record a specific part of the screen as well as the entire screen. You can also record the webcam along with the screen to make the gameplay recording more interactive and engaging.