Using our Squirrly Coupon Code, you can save money every month when you use Squirrly SEO to optimize your blog posts. If you know what Squirrly is, then it's a no brainer! It's an amazing offer, giving you 25% off per month at the regular Squirrly price. Before you decide, here are some reasons for using this amazing WordPress plugin.
There is more to SEO than most people understand. Getting your blog posts listed in a prominent position on Google's search results is not easy – but you can make it easier for yourself. It involves understanding what people want when using keywords in Google's search box. It involves making the best use of social media in your research and analysis and making sure that your blog posts give people what they are seeking.
Squirrly Coupon Codes
Squirrly is free if you write only five posts a month on one site. It offers an excellent SEO service but lacks the keyword research, auditing, and analysis functions of the paid versions. The version recommended for most bloggers is the Pro version at $29.99 monthly.
You can save $90 a year on Pro plan by using our Squirrly coupon code. This is a 25% reduction. That reduces your $29.99 to $22.49 each month – for life! YES: That's right: 25% off FOR LIFE if you use our Squirrly Coupon Code.
How to Use Coupon Code
Using our Squirrly coupon code is easy.
Simply click on the link and discount coupon will apply automatically.
You will get the full Pro version of Squirrly for $22.49 a month – a saving of $90 a year. That's a small price to pay for the fantastic benefits you get when you use it.
| Product Name | Coupon Code | Description | Expires |
| --- | --- | --- | --- |
| Squirrly SEO Pro | | US$ 22.49 Monthly | Dec 31, 2023 |
| Squirrly SEO Pro | | First Month – US$ 20.99 | Dec 31, 2023 |
| Squirrly SEO Business | | US$ 53.99 Monthly | Dec 31, 2023 |
| Squirrly SEO Agengy | | US$ 56.99 Monthly | Dec 31, 2023 |
Squirrly SEO Plugin Versions
The Squirrly SEO plugin for WordPress is a software application that looks after the search engine optimization of your blog. SEO is essential if you want a high ranking for your posts, particularly on Google. While a little knowledge of SEO will help, beginners and professional bloggers can leave it to Squirrly to get it right.
This is not an alternative to Yoast, though many people compare them. It can be used alongside Yoast to maximize and analyze your post's SEO.
There are four versions of Squirrly:
The Free Version of Squirrly is for those who write no more than five posts each month. It offers most of the plugin's features but keyword research and analytics are not provided. The version we recommend for the average and professional blogger is:
The Pro Version: Priced at $29.99 monthly ($22.49 monthly after discount), the Pro version is for unlimited posts on up to 7 different sites. You also get 100 each of keyword research, SEO audits, and pages analyzed using Analytics. The Pro version will meet most needs.
The Business Version: Priced at $71.99/month ($53.99 monthly after discount) this is intended for business or any individuals needing SEO serviced on up to 7 different websites or blogs. This is not needed unless you manage SEO for many large websites.
The Agency Version: Priced at $75.99/month ($56.99 monthly after discount) this is intended for agencies. This is not needed unless you manage SEO for many different clients. The fact that Squirrly is used by SEO professionals should give you confidence in its proficiency.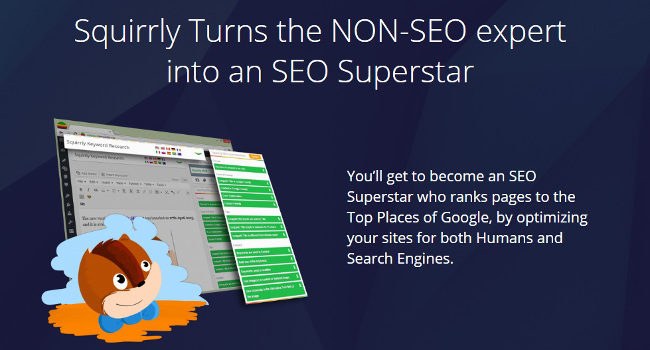 The Modern Approach to SEO
Modern SEO is more than just the use of keywords. It involves understanding social media and what people are looking for. What problems do they have, and how can you help resolve them? What can you offer to meet their needs? Good research can do all that, and Squirrly can help.
This WordPress SEO plugin has a great number of tools squirreled away in its drey. Its keyword research tool is very useful in suggesting some great keywords that you can use: short and long tail. Shorter keywords are generally used by many other bloggers, but they are also those most used by people searching for your service or product.
Long tail keywords represent the phrases people use in Google's search box. They are not as common as single words or two-word phrases, but they are used in searches, and you face less competition when you use them. By writing posts optimized for both types of keywords, you maximize your traffic potential. This is where Squirrly comes in.
Keyword Research: This can be a long and arduous task if you do it manually. Squirrly does it for you in an instant. Simply enter a word or phrase relating to the theme of your blog, and Squirrly provides you with a list of potential keywords and phrases.
The right keyword can maximize your traffic by getting posts and pages listed as high as possible in Google search results. Traffic is essential to any business or professional blogger– and it gets clicks on your posts. What blogger doesn't value clicks!
SEO As You Write: Squirrly keeps an eye on the SEO aspect of your writing as you write it. You can run it alongside Yoast or other SEO applications to maximize the optimization of your posts to their highest level. The traffic light system shines red, amber, or green according to the optimization level of your text. If it is red, you can use Yoast to find out why or Squirrly itself will help you out. You can make the necessary corrections until the light shines green though it's not always necessary.
Analytics: Squirrly carries out various forms of analysis to establish what search engine users are really looking for. It audits and analyzes your SEO and assesses social signals to help you make the best use of social media.