No matter how large the internal storage you have for your computer and other devices, at some point in time they run short with the increasing data. USB flash drives here come to work as great external storage to keep all your important and needed data safe and secure.
Besides storage, USB flash drives are a great means for portable data movement, and that too in a hassle-free manner. USB flash drives also work as great external storage to keep all your precious photos safe and secure.
No matter how many precautions you may take, losing your data from USB flash drive is not a rare situation. Reading this article means you too have faced a similar issue and now looking for a solution on how to recover permanently deleted photos from any kinds of storage devices.
No worries as well will help you with the best solutions and tools.
Part 1. Common Reasons for Photos and Other Files Loss on USB Flash Drive
Before proceeding with the best solutions, first, let's discuss the common reasons that might result in the loss of photos and other data on USB flash drive.
Broken, corrupted, or damaged device.
Deleting the photos and other data accidentally from your USB flash drive.
Format error while formatting the device.
Infected drive or a virus attack.
Removing and ejecting the device in an improper and unsafe manner.
Removal of the drive during the data transfer process.
In addition, to the above, there might be several other reasons for the loss of data from your USB flash drive.
To get back the deleted photos from your USB flash drive, a professional photo recovery software is needed. Though you will come across multiple options while searching for one such tool, the right selection is important to ensure that the success ratio is high and the task is done quickly and easily.
Recommended by experts, Wondershare Recoverit stands up to all these and other aspects. Working with both Windows and Mac systems, Recoverit Photo Recovery can easily help you recover photos, videos, and other data from USB flash drives as well as a wide range of other storage devices. More importantly, the entire process of photo recovery involves just a few steps and the process is pretty simple.
Steps to recover deleted photos from a USB flash drive using Wondershare Recoverit:
Step 1. Connect USB Flash Drive to the system
First of all, connect the USB flash drive from which the photos have been deleted to the system on which the software is installed.
Step 2. Launch the software and choose location to scan
Open Recoverit on your computer and then from the main interface choose the connected USB flash drive as the external device for scanning the lost data.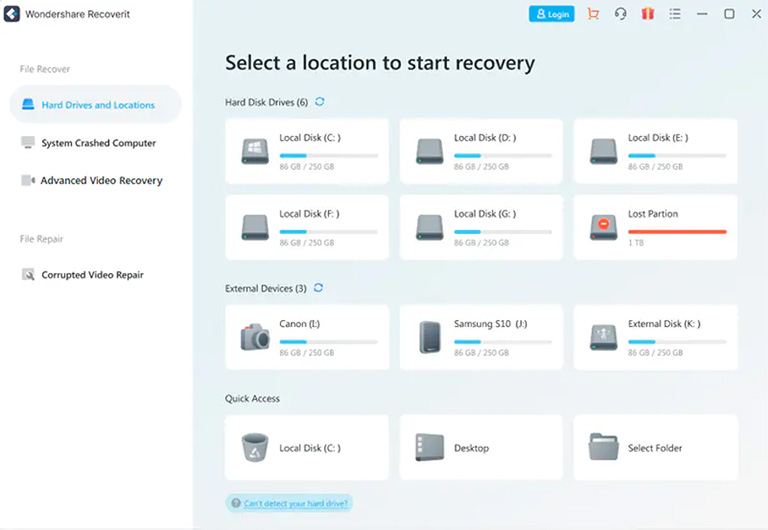 Step 3. Scan the recoverable photos
The software after detecting the drive will start its scan automatically. The interface will keep showing the recoverable files during the process and if needed, you can even filter the files to quickly find the data you want to recover.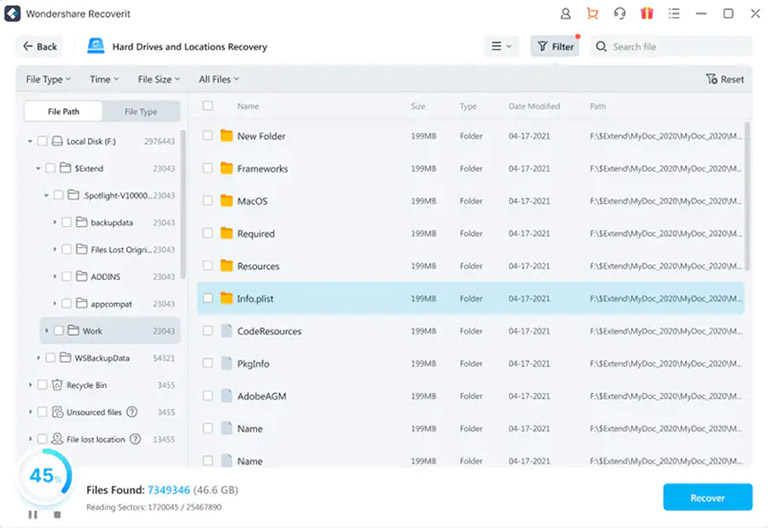 Step 4. Preview and recover photos
Once the scanning is complete, the tool will show the recoverable files that you can also preview. Next, choose the desired photos to be restored and then click on the Recover button to get them back to the selected location on your system.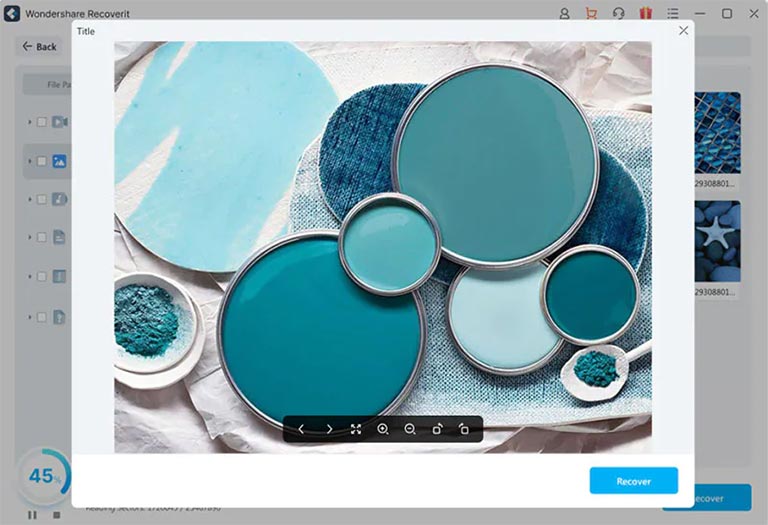 It's not only the ease of use and quick process but several other factors that make Recoverit Photo Recovery the best software to get back deleted photos and other data from USB flash drives and a host of other devices as well. Check them out and know yourself.
Allows recovery of more than 1000 types of files and folders including photos, videos, emails, audio messages, office documents, and more.
Support recovering data from more than 2000 types of devices including USB flash drives, SD cards, digital cameras, action cameras, and more.
More than 500 types of data loss scenarios are supported including virus attacks, device formatting, accidental deletion, system crashes, and more.
High data recovery success rate of more than 95%. No data, no charge commitment.
Allows previewing of unlimited recoverable files.
Provide filtering of the data into several categories.
Allows users to access the crashed computer data by creating a bootable USB drive.
Part 4. Tips to Avoid Deleted Photos on Your USB Flash Drive
A few precautions and tips can help you prevent losing the photos and other important data on your USB flash drives. Some of them are listed for you to take care of and avoid the situation.
Taking a backup of your photos and other data on some other external drive or cloud storage is a good way to prevent data loss.
Avoid using USB flash drives for files that are frequently updated.
Make sure to use a reliable USB flash device like SLC, and others,
Always ensures to remove the USB flash drive from a system safely. Incorrect removal of the drive can corrupt the data.
Make sure that you do not unplug the drive while the data is processing.
It is also important to keep your USB flash drive in a safe environment. Avoid your drive getting exposed to humidity, extreme temperature, and pressure.
Conclusion
Your important photos from your USB Flash Drive can be deleted due to several reasons and this is definitely a situation to worry about. So, you can try the cmd method or if the backup is taken you can restore the images using the same. But if both these ways do not work, there is only one solution to recover permanently deleted photos- using professional software, and Recoverit works as the best one for this. Simply install the software on your Windows or Mac and leave the rest to the tool.