Roadmap has published data stating that more than half of surveyed enterprises don't have a complete and comprehensive product managing strategy. Project managers of these enterprises are too busy solving problems with product management and trying to adapt the product to customers' requests.
The thing is, a product manager's task can be quite self-contradictory at times.
PMs need to do two things at once, create a viable and profitable product as fast as possible, and produce a vision of another version of the same product, one with multiple superior features and as attractive as possible. Sometimes, trying to achieve these two tasks can mean pulling the production rope in two opposite directions. It is especially true for SaaS project management.
However, we believe that with a decent understanding of product management principles and the main steps of the process you have every chance to succeed. In this article, we're going to review those and present you with a short guide for this end.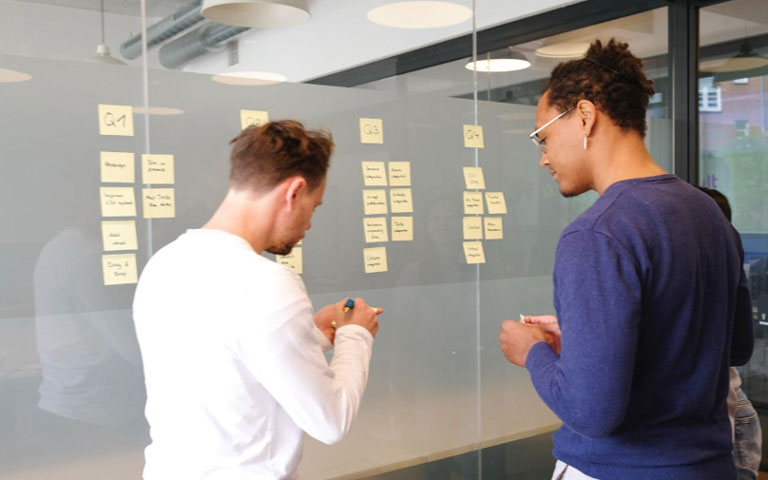 Let's start from the very core.
What is SaaS product management?
SaaS product management encompasses all the processes associated with a SaaS product's lifecycle: developing, launching, marketing, etc. The full list of tasks that project managers do would be enormous, so let's briefly describe some most crucial ones
Research
Before even starting managing the SaaS product, you need to get all crucial information about the customers, the company, and the product itself. Know your battlefield.
Produce the vision
The company usually has a vague vision of any future product before development. The PM's task is to form it and make it comprehensible, clear, and attractive.
A whole team of professionals will work together to bring the SaaS product to market. A product manager needs to ensure their understanding of the product and vision they created.
Form the strategy: plan and roadmap
When the product manager has successfully delivered their vision of the product to the team, it is time to plan the production process. This step includes forming a plan with the main goals that the company wants to achieve with this product and creating a roadmap containing the exact steps to achieve those goals.
Still, a lot to do: supporting and improving the product
After the SaaS product has been launched, it is important to closely follow the reaction of the audience. Succeeding in both meeting growing customers' expectations and requests and reacting to arising issues would significantly improve the product's chances of success.
Now that we covered the main elements of Saas product management, let's get a bit deeper into the process.
SaaS product management process elements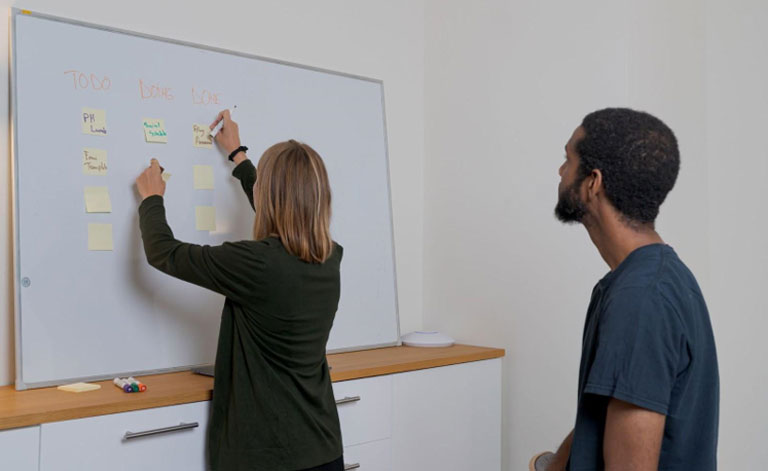 We've mentioned producing a vision above; but what exactly does it include? Well, vision, being one of the most important factors for the success of a new product, requires meticulous research. Several main questions need to be answered in order to form a good product vision:
Problems that the product will help solving
SaaS products are popular because they make customers' lives easier and their experiences more pleasurable. But how exactly? Which pain points will the product relieve?
User persona for the future SaaS product
Your product is intended to be used by certain people. Who are they? What do they want, what attracts them, how much do they earn and how much are they willing to spend?
Of course, you want your product to be successful. But how will you know if it is? To measure that, you will need a set of metrics, such as net promoter score, daily active users, number of customer referrals, etc.
One part of creating the product vision is understanding the people who are going to use the product.
Getting to know your customer
Understanding your audience is not a nice advantage in SaaS product management, it's an absolute must. 80 percent of SaaS product users expect you to know what they need and act accordingly.
One of the best instruments to get to know your customers is market research. Study your competitors and how customers react to them, and learn which products they love and what irritates them to the point of avoiding the product completely. This will give you straight facts about the market and customers.
Customer behavior is a somewhat more subtle matter. It requires a more in-depth analysis of market trends and realities but will provide you with great flexibility when it comes to adapting your product to your audience.
Even when all the preparations are done, the vision is clear and customers understood, it is still possible that product management will encounter challenges. Let's make a short list of the most common product management challenges and what to expect of them
Main SaaS product development challenges
Creating the SaaS product is all about the balance: the PM needs to carefully manage available resources and prioritize the most important tasks. SaaS challenges associated with this balance can arise at any stage of the product life cycle:
It is much easier to derail the SaaS product roadmap than to follow it precisely. Being a complex scheme, it is vulnerable to a long list of potential issues, from sudden resource miscalculations to customer integration requests
Every organization has a staff structure, which gets more complicated with the company's growth. Failing to get all the teams needed for the project on the same page is a danger that an experienced PM must always take into account.
Even the most predictable markets can sometimes make confusing movements. It is impossible to predict all of them, what's important is being able to adapt accordingly.
Some final thoughts on the matter
The SaaS market is constantly growing and evolving, getting more and more acceptance from the global audience. Competition in the SaaS market is harsh already, so any aspiring project managers need to spend all the time they can afford to perfect their projects.