It's an indisputable fact that companies of different sizes and industries require an online presence in this digital age. But to achieve that, they need a solid digital marketing strategy.
That said, if you need to learn how to implement digital marketing into your business, this post will walk you through the essential digital marketing tips to help you succeed in the industry. Just stick with us.
Part 1: What is Digital Marketing?
Digital marketing involves a combination of both content creation and brand building to facilitate how businesses reach their customers through published blog posts, Facebook posts, articles, websites, and other promotional tools. Ultimately, digital marketing connects businesses with prospective customers at the right time and place and enables them to earn their trust.
The following are the main digital marketing strategy tips this post will focus on:
Video Marketing Tips
Steps to Create Good Videos
Part 2: Video Marketing Tips
Video marketing should be a significant marketing plan for any business in this era. Yes, it allows you to reach a wide range of audiences quickly, and if well executed, you can easily convert your audience into customers. If you don't know how to employ video marketing for your business, the following tips should help you out;
Focus on Creating Authentic Videos
What makes your video stand out if it's not authentic? As business personnel, creating original videos is crucial for thriving in any industry. The more authentic your videos are, the more trust you build in the mind of your target customers.
Make Your Story Compelling
Research shows that internet users are being talked to about a brand without being pushed to watch endless videos talking about only sales. If you offer a story that contributes to the information you're looking to pass on to your audience, chances are they'll get more engaged, thus, giving them a reason to come back more.
By doing this, you're ensuring that people get more enlightened about your brand rather than just focusing on sales all the time.
Keep It Concise
Internet users want to get the information they search for as fast as possible. So, you don't want to beat around the bush when creating a video for marketing. Ensure you focus on what the video is all about instead of saying things unrelated to the main subject.
Don't Forget Video SEO
Even though using captions in videos helps to improve their SEO, you still need to perform more video SEO as it'll help increase your search ranking and get your video in front of more viewers.
Part 3: Create Quality Videos With Powerful Video Editing Software
Creating quality and engaging videos is already made easy with free video editing software, such as Wondershare Filmora. It offers many comprehensive features, including speech-to-text, speed ramping, video effects, audio ducking, and lots more that users at any level can utilize to create and edit videos for any purpose without necessarily requiring advanced knowledge.
Besides, Filmora is not limited to just editing and creating videos – it can also edit audio flawlessly. If you wish to know what more Filmora has to offer, don't hesitate to install it on your PC or Mac.
Key Features
Enjoy video editing at its finest using advanced but simple features.
Convert video voice-over to text just within a click.
Facilitate faster video editing.
Boasts over 1000 free video effects to spice up videos, and offer access to professional visual effects provided by Boris FX and NewBlue FX.
Supports stock media for users to explore a plethora of royalty-free effects.
Great audio editing tools, including audio ducking, audio beat sync, etc.
See how to create engaging videos with Filmora below:
Step 1: Download and Install Filmora
Download the video editor from the official website. Then, launch it and click Create New Project. Or, you can select the Instant Mode, if you want to edit videos in a quick way. After uploading the clips and choose the pre-set template, Filmora will complete the video for you.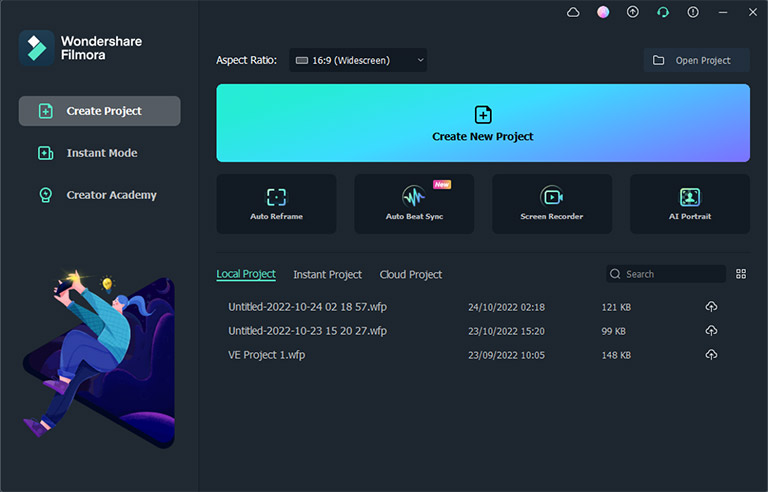 Step 2: Import Video
Click the Import button and upload the video file you want to edit. You can also drag-n-drop the video file if preferable.
Drag-n-drop the uploaded video to the timeline and start editing.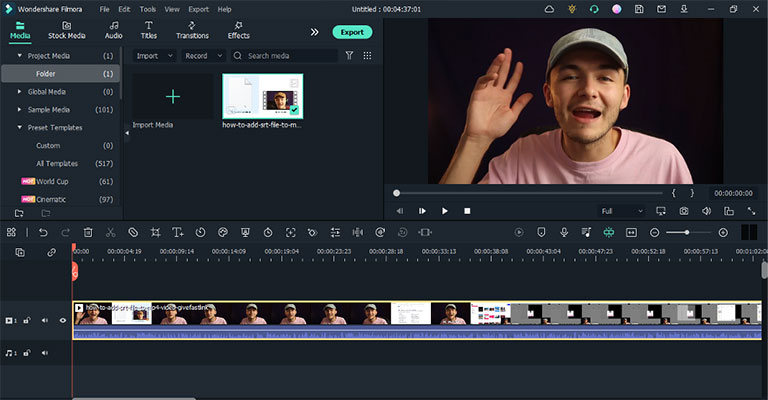 Step 3: Enhance Video Quality
Right-click on the video clip from the timeline > select Edit Properties from the pop-up list.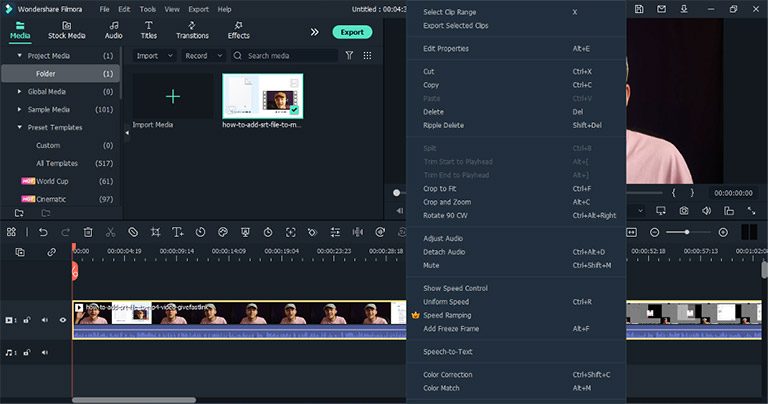 Next, tick the relevant checkboxes from the pop-up that shows up.
Stabilization will make the video more stable.
Auto Enhance will improve its quality automatically. You can also fade in and fade out audio, edit video speed, etc.
Step 4: Remove Unwanted Background
Adding video effects to video is already made simple with Filmora. All you just need to do is to click Effects from the top and choose AI-Portrait from the left side.
After that, you will see the effects that you can use to remove the unwanted background. Just select a preferred option and drag-n-drop it into the timeline. Filmora supports up to 21 quality AI Portrait effects.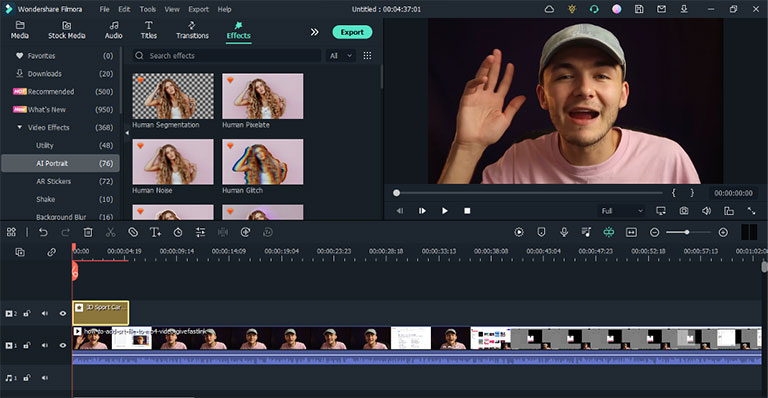 Step 4: Add Video Effects
To spice up your video with transitional effects and other gorgeous effects, click Stock Media, and you'll see the many effects available at your disposal. However, for transition effects, you can click Transition from the top and choose a preferred option.
Drag-n-drop the chosen effect to the timeline afterward.
Step 5: Add Video Caption
Adding subtitles to your video is a great way to improve its SEO. Filmora allows you to do this within a few clicks. Just do the following;
Right-click the video clip from the timeline and right-click it. Then, select Speech-to-Text from the pop-up list.
Select the language you wish your subtitle to be. Filmora supports up to 18 different languages. After that, tick "The entire Timeline Sequence" and click OK. This will prompt the tool to create subtitles.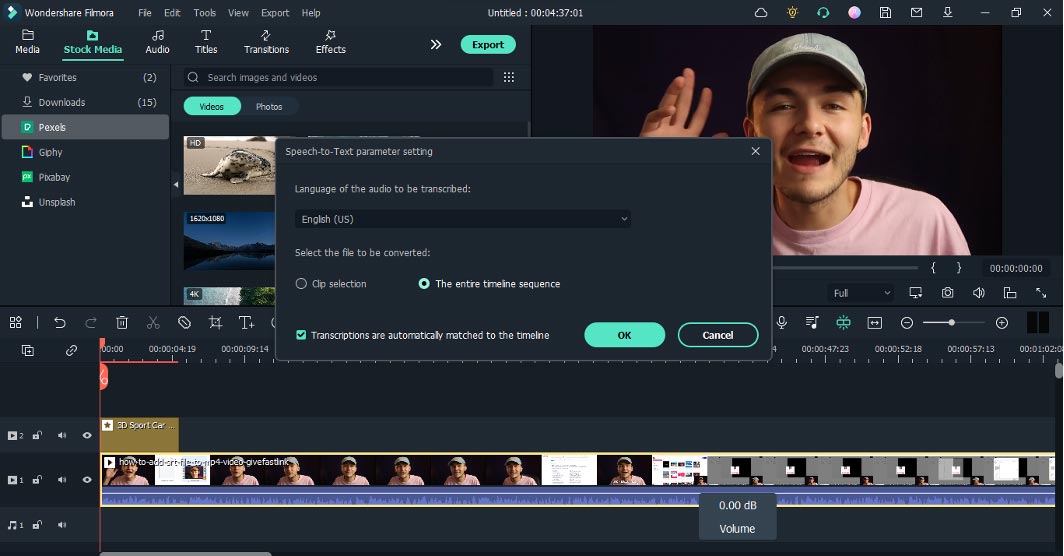 Step 6: Add CTA
It's also essential to add CTA when doing video marketing. To add it to your video, click the >> icon next to Export at the top of the screen and select Element.
Select a preferred effect that you'll like to use for your video CTA. As you can see from the image, we used the YouTube Subscribe button in our video. This will give viewers the heads up to subscribe to our YouTube channel.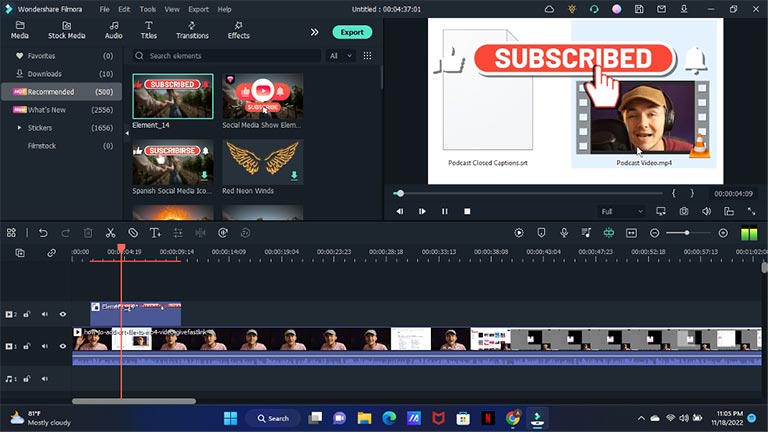 Step 7: Preview and Save Video
Finally, play the video to preview the editing you've made. If you're satisfied, upload it directly to your YouTube channel or click the Export button from the top and select a preferred location to save the video file. Then, click Export to finish.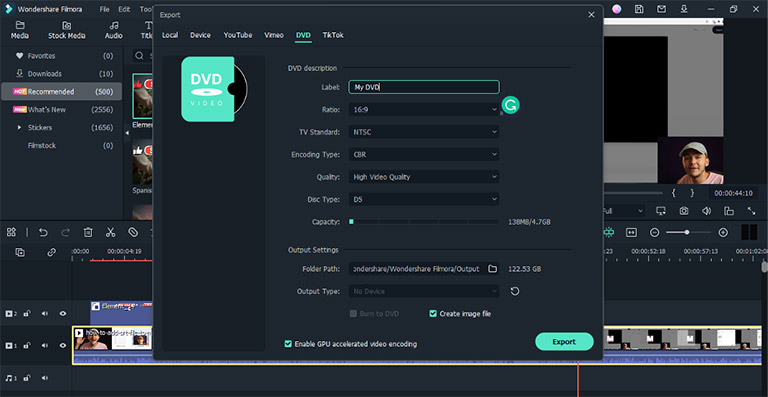 Conclusion
The scope of digital marketing is quite broad. However, the tips introduced above can positively impact the overall growth of your business. Just make sure you use them wisely. Overall, it's highly advisable to create more video content to market your business as most internet users would tend to spend more time watching a video compared to reading long-articles. To create engaging videos, you can use an advanced tool like Filmora video editor.