Becoming a streamer on Twitch is now easier than ever before. However, consistently getting the audience to watch your streams is even more difficult. Here is the saddening part: if you do not understand the audience and adapt your streams according to their tastes, you may be back to square one. While the total number of streams is a good metric, it is not enough to get the full picture.
As surprising as it be, the area you should focus on the most is also an area that many beginner streamers ignore: Twitch chat logs. In other words, if you want to stream on Twitch, you should check Twitch chat logs and Twitch history. Otherwise, you would not know how your viewers thought about the stream. And checking the Twitch chat logs can help you in multiple ways:
Why Should You Check Twitch Chat Logs?
Here are some ways in which Twitch chat logs can help you.
Know Your Audience
Listening to the Twitch chat logs will help you understand what kind of audience you are dealing with. It will provide a clear overview of what your audience wants and what they are the most interested in. The Twitch chat interface is one of those places where your audience speaks their mind, right? So, it happens to be the best way to know about these people.
Feedback Monitoring
Even if you know your audience very well, you cannot take them for granted. Therefore, it is imperative that you check the Twitch chat logs to get constant feedback from your viewers. For instance, you can talk about a topic during the chat and check the chat logs to understand how the people reacted to the point. The rich feedback from chats can help you grow the channel in the form of insights.
Clean the Chat Space
Having a clean and positive chat space is important for your Twitch streaming account. Therefore, you must check the Twitch chat logs and find out the problematic messages and users. If necessary, you can remove or ban these users. In particular, you may come across people who violate the decorum of the chat space. It is possible to take these actions only if you check the chat messages frequently.
Review the Moderators
Moderators are an important part of your Twitch channel. However, these moderators are not always the most reliable option out there, and they make mistakes. As the channel owner, you should check everything that is happening in the chat space. For instance, if a moderator has removed someone mistakenly, you can correct that mistake.
All these factors point to a single thing: a better understanding of your Twitch channel audience. Now that you know this part, shall we check out how you can check Twitch chat logs?
Ways to Check Twitch Chat Logs
Method #1 Checking A Viewer's Chat History as A-Channel Owner
As the channel owner, you have complete control over the Twitch chat logs and chat history. You can use it to check the Twitch chat logs and take the necessary actions. However, we recommend this method if you want to check the chat history of a particular user.
To do it, you have to go to the chatbox of your Twitch channel and type /user [username]. For example, if you want to find the chat messages from a user named AlphaDude17, you should type /user AlphaDude17 on the chatbox. In a second or two, you can see a complete list of chats that have been sent by the user.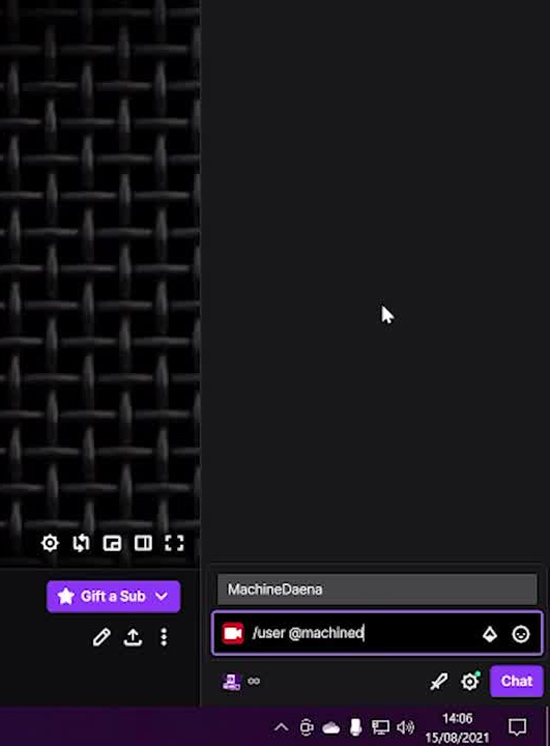 In addition to the messages sent by the user, additional information will also be available when you perform the search function. For instance, you will get to know about the number of times the user was banned and the number of times their chats were moderated. You also get to know some basic information such as the date of joining. In other words, when you check a viewer's chat history as a channel owner, you get to know more about the user.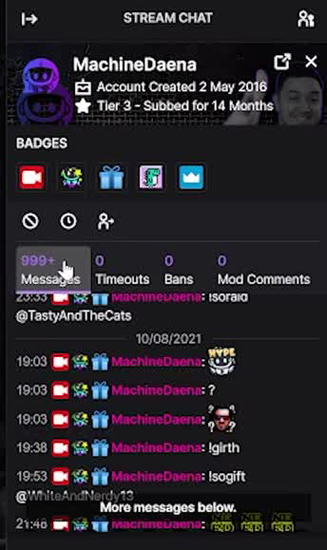 Please keep in mind that this method would not show you the raw comments. Here is what happens. Twitch provides an option to edit one's comments even after they are posted. So, if a user has edited their comment after or during the stream, you cannot find them in this method. Similarly, if a moderator has removed the comment instantly, you cannot see them when you look at the user data later.
This method is also known as the user-search-command method. Are you wondering why? Well, you have to use the user-search function for this method to work. If you want something broader, read along.
Method #2 Checking Your Chat Logs as a Viewer
Let's say that you want to see your Twitch stream's comments as a viewer. It is a great method if you want to understand the general nature and tone of the audience. However, for this to happen, you should have a birds-eye view of the stream. Fortunately, you can use the VOD feature from Twitch.
The VOD feature, when enabled, will record everything that happens during the stream, including all those chat messages from different users. So, after your stream, you can replay the VOD content and understand the pace of comments. You may also be able to understand the areas in which the audience was interested in the process.
We must warn you that this method will consume a lot of time. Even though you get a broad overview of a stream, you have to rewatch the entire chat log. But, if you can dedicate time for this purpose, you can gain a lot of insights into the audience you are dealing with.
Method #3 Check Chat History as a Moderator
Did you know that you can take the role of a moderator on your channel? Well, doing so will be the easiest method to understand chat history and get the Twitch chat log. The steps you have to follow here are pretty simple as well.
You can enable the Moderator View on your Twitch channel by clicking on the Sword button bottom right-hand corner).
After this, you can visit the chat section and explore the content that you want to analyze. For instance, if you want to know the messages left by a particular user, you can click on the user's link, and you will be led to the right page.
It goes without saying that the Moderator View has been designed for moderating the content. So, you can do everything that it takes to keep your chat space clean and welcoming.
This method will also give you an overview of how other mods on your channel are working. For instance, it will show you the comments left by moderators, among other things. Pretty cool, huh?
Method #4 Using Third-party Apps to View Twitch Chat Logs
If you do not like the methods we have mentioned above, you can find the last resort in third-party apps as well as chatbots. Both these elements help you to retrieve Twitch chat history and analyze it at your state of convenience. The best example of a third-party chat management app would be Chatty.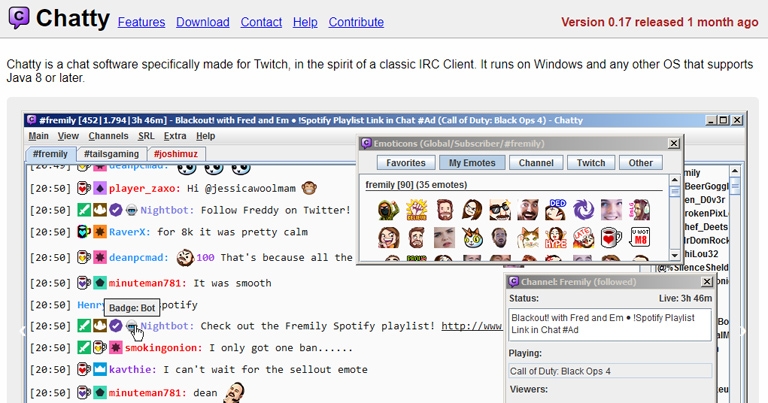 This Java-based open-source tool can help you store chat logs for several weeks. We should warn you that it takes some time to master the art of customizing Chatty. Once you get the hang of the program, it will be a super-easy thing to go through your Twitch chat logs and make decisions. By the way, if you are installing Chatty, you can get some additional benefits as well. For instance, you can use Chatty to download all the chat messages from your Twitch channel. At the same time, we must warn you that you should not put the chat logs in public. It would breach the privacy policy of Twitch, and your channel may get suspended.
You can also use a number of chatbots that are available for the purpose. For instance, Nightbot is a superb chat management bot that you can check out. Installing a chatbot on your Twitch channel is a complex thing in many ways. Once you have installed it, however, you can have complete access to the messages on the chatbox.
These two methods will make sure that you have enough time to go through the Twitch chat logs and other messages. You don't have to rely on features like VOD, either.
To sum up, these four methods are enough to check Twitch chat logs and Twitch history without any problem for the user. You do not have to risk your channel's safety, either.
Frequently Asked Questions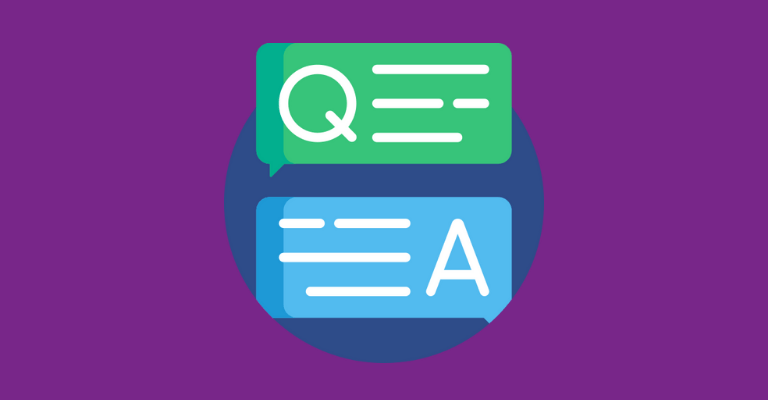 Twitch Logs: how to check anyone's chat history on Twitch?
If you are the owner of the channel, you can use the Search function to find the chat history of the user. You can click on the users' names and find out the comments that they have left on the chat and the actions taken against them if any.
Why should you use Twitch chat logs?
Twitch chat logs will help you in many ways. First and foremost, these chats contain the raw responses from your audience. Due to the same reason, you have an opportunity to get to know your audience and grab the most realistic feedback.
How to check chat history with Twitch Logs?
If you have enabled VOD on your channel, it is the easiest way to check the chat history on Twitch. It would also help you get a complete overview of the chat process as it happened.
Can Twitch streamers see who watched their past videos?
Currently, there is no option for Twitch streamers to know who watched their past videos. Twitch is unlikely to introduce such an option due to privacy concerns.
The Bottom Line
So, we have covered everything you should know about checking the Twitch chat logs and history as a mod, owner, and viewer. By the way, do you want to watch Twitch videos in the best way? Make sure that you check out our guide on the best browsers for Twitch.