Adobe Flash Player has been on the path of its demise since the increasing popularity of HTML5 and other alternatives. Finally, however, 31 December 2020 marked the official expiration of the famous Flash player as Adobe announced that it is ending its support. At that time, Adobe also recommended that all users uninstall Flash Player from their systems to avoid potential security issues. Even if you have the Flash player installed on your system, it cannot load Flash content on it. It means you have to keep searching for the best Adobe Flash Player alternatives out there.
Why Do You Need Adobe Flash Player Alternatives?
The demise of Adobe Flash Player does not mean that Flash technology is dead. We should keep in mind that Adobe Flash Player was one of the many software programs that could help you view Flash content such as games, videos, audio, multimedia, and web apps. If you are into any of these things, you may come across a variety of Flash content on the internet.
For instance, you can find a lot of Flash-based games and SWF files. However, we are not talking about fully-fledged graphical games but simple puzzles and a related genre of titles. Therefore, if you want to explore such legacy content, you ultimately need a Flash player alternative.
As we said, using Adobe Flash Player is one of the biggest security risks you can take. Since the declining popularity and the lack of support, attackers have focused on Adobe Flash Player vulnerabilities. Therefore, if you want to view Flash-based content on your computer, you should check one of the alternatives that we have mentioned below.
Adobe Flash Player Replacements
Lightspark is one of the best Flash player alternatives that you can get today. It is an open-source Flash player that is available for Windows and Linux. Developed as an effective alternative to Adobe Flash Player, it can support all Flash formats that Adobe had supported. The best part about Lightspark is that it has a great dev team behind. In addition, it means you can get regular security updates and feature upgrades.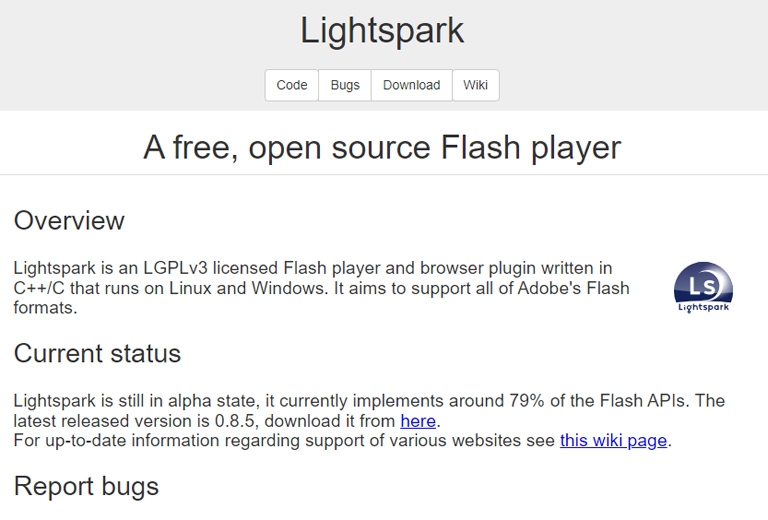 Since it is open-source, you do not have to worry about hidden costs either. Continuous integration support for Lightspark means it is excellent for the future. As of now, Lightspark Flash Player supports 79% of Adobe Flash APIs, but you can see the numbers rising soon enough. You should remember that Lightspark is a standard Flash viewer; it does not have any editing options.
If you need a fully-fledged Flash alternative for your PC, you should check out BlueMaxima Flashpoint. It not only allows you to play a variety of Flash content but also to organize the content for easy access. In addition, it means you can have a little collection of Flash apps, games, and SWF files on your computer. Unlike Lightspark, this tool offers advanced editing options as well.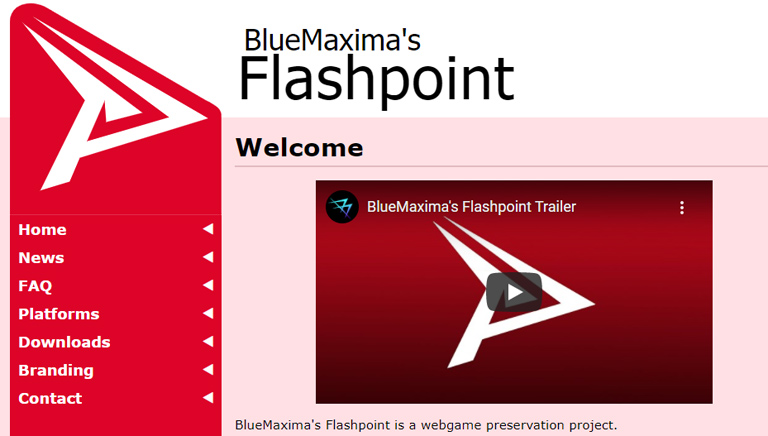 To create such a comprehensive suite, the developers have used Apache and Flashpoint Secure Player. You can use the suite for web-based media as well. Because the project is independent, you do not have to worry about the Flash plugin support, either. You can pick between two versions — Ultimate and Infinity — based on your needs.
SuperNova Player is another Flash player alternative that you can consider. Compared to our first two picks, though, it is not that versatile. For instance, you can use the app to launch SWF files only. However, if you want to keep using Flash content now that Chrome has removed Flash support, you should consider installing SuperNova Player.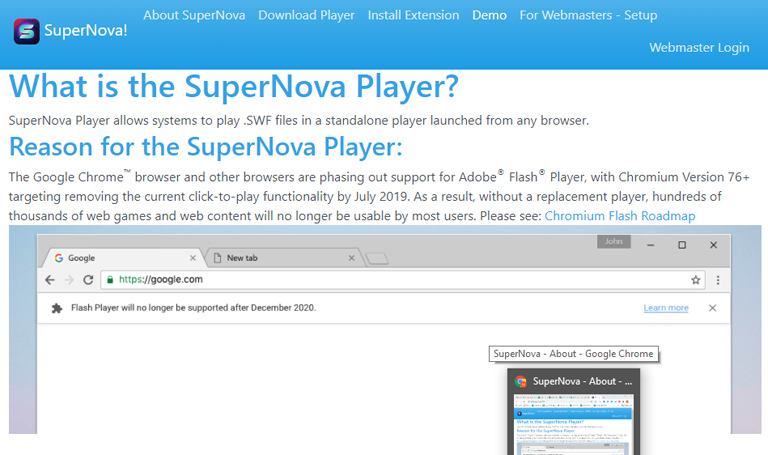 SuperNova Player is available for Windows only, but versions for macOS and Linux are coming soon. The developers believe that big companies like Adobe should not take away the fun from the internet. In this case, installing SuperNova Player means you can enjoy all the legacy Flash content, including those web-based games.
Ruffle is a Flash Player emulator that is built using the Rust programming language. You can consider Ruffle a Flash player alternative for your website or PC. You can also install this Flash player as an extension on web browsers like Google Chrome, Firefox, Edge, and Safari. In addition, Ruffle has desktop apps available for Windows, macOS, and Linux.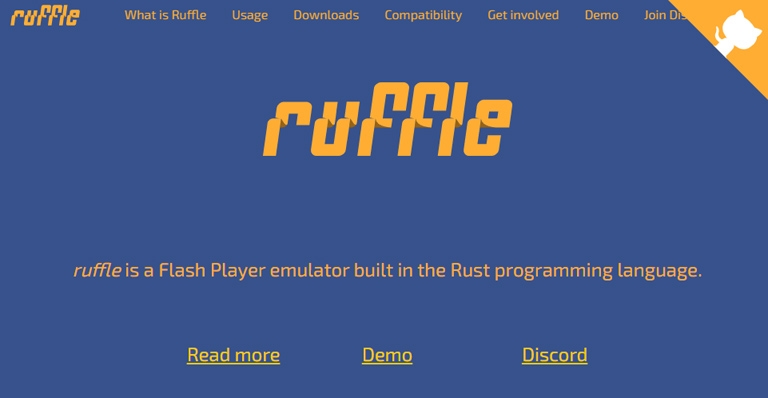 Compatibility is an area where Ruffle can improve things, though. Even though it has support for ActionScript 1, ActionScript 2 and ActionScript 3 support are still underway. Therefore, even though Ruffle can handle a variety of Flash content, you may face a few issues while loading SWF files. On the bright side, Ruffle is open source and will stay free.
You should check out CheerpX for Flash if you need a modern alternative to Adobe Flash Player. Unlike the other tools, it is an HTML5-based Flash emulator. Therefore, if you have a device with HTML5 support, you can use CheerpX for Flash to run any type of flash content. In addition, the system runs within the browser, and you do not have to worry about complicated installation processes.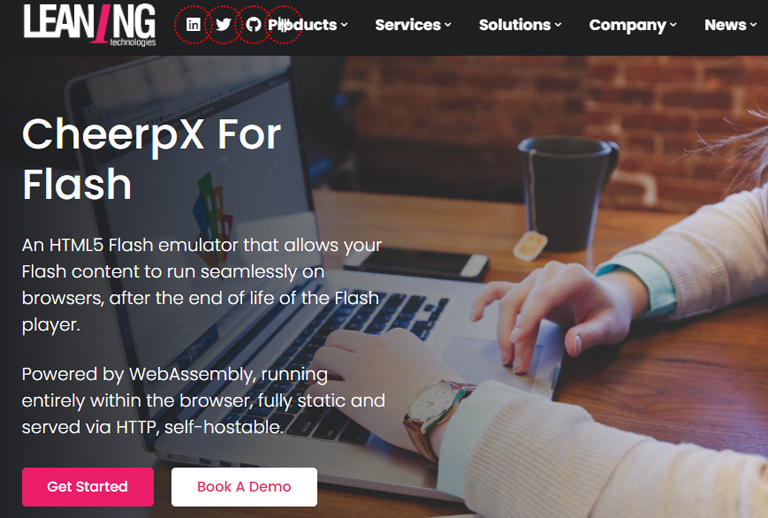 You can run flash content from applications and HTTP servers using the CheerpX for Flash app. Because it offers full support for ActionScript 2, ActionScript 3, Flex, and Spark, you do not have to worry about compatibility issues. You should also keep in mind that CheerpX for Flash is entirely secure and offers ease of access to the maximum level.
Lunascape is one of the few web browsers that still offer support for Flash content. Now that Chrome has removed support for Adobe Flash, you can shift to Lunascape if you want to enjoy Flash-based games or SWF files. You can also consider using Lunascape as your primary browser because it comes with a built-in ad-blocker and privacy-focused features. The best part is that you can enjoy all these features on your PC and mobile devices with the same ease. As you can guess, Lunascape does not offer an option to edit Flash files or SWF content.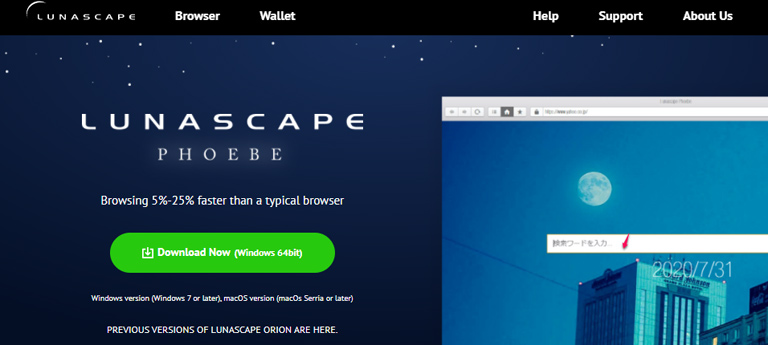 You should check out the SWF File Player if you need a more dedicated Flash Player alternative. As the name says, you can use the app to open SWF files and access the basic data. For instance, it is an excellent option if you want to play SWF-based games on your computer. On the bright side, you can expect maximum compatibility and minimum system resource consumption from the package. Your system must have the .NET framework installed to run the SWF File Player. As you can guess, it does not help you run Flash content on your browser.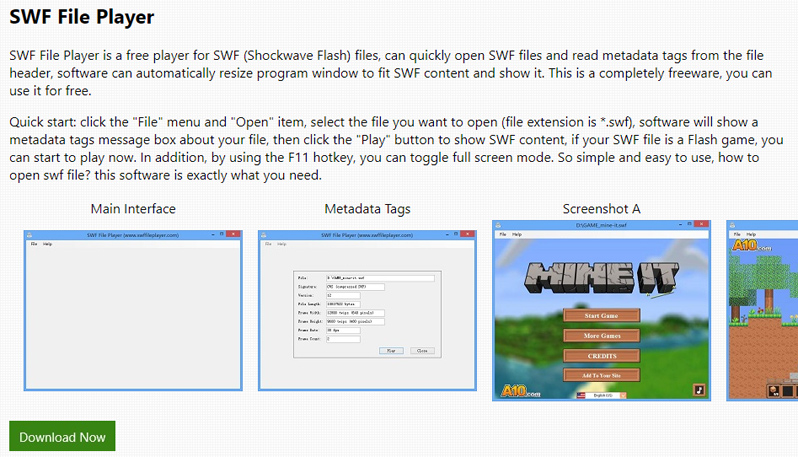 OpenSilver is another Flash Player alternative that hopes to dominate the internet in a few years. It is made as a successor to Silverlight, which reached the end of support. So, if you would like to run an app made for Silverlight, you can rely on OpenSilver, which offers improved speed. The tool has been built with the help of C#, XAML, WebAssembly, .NET, and Microsoft Blazor. Needless to say, you can expect maximum performance from the package. The only problem with OpenSilver is that the installation process can be a little more complicated.
You can check out XMTV Player if you need a general Flash Player replacement. Unlike the other tools that we have talked about, XMTV Player is a fully-fledged media player. You can use the player to run various content on formats like MKV, MP4, and SWF. Unfortunately, it means you cannot use the application to run Flash content on your web browsers. You may also have trouble running Flash-based applications through the player. On the other hand, Flash-based videos should work fine. So, if you have a collection of SWF content, you do not have to look further.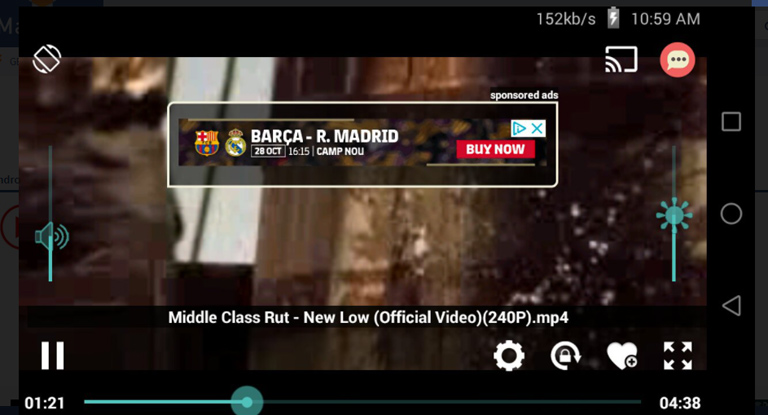 Quick Flash Player is another way to run Flash files from your computer. It is a lightweight package and does not confuse you with a lot of buttons. Instead, you can rely on the simple interface to get the job done. If you have a few Flash-based games on your hard drive, Quick Flash Player must be able to run them properly. You can also explore features like full-screen viewing and zoom functions. By the way, you also have an option to convert SWF content into Windows EXE files so that you can get the maximum speed and support for the content.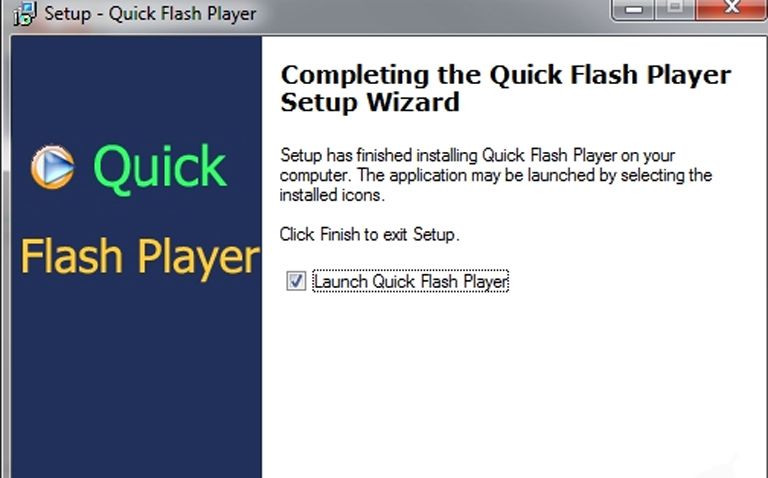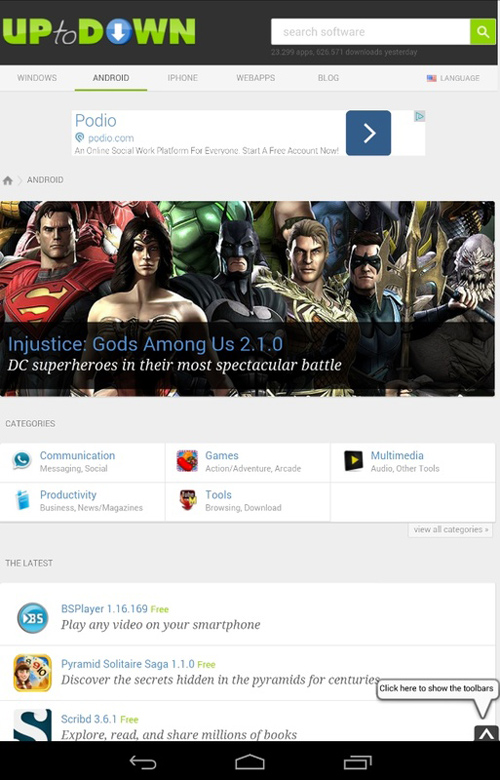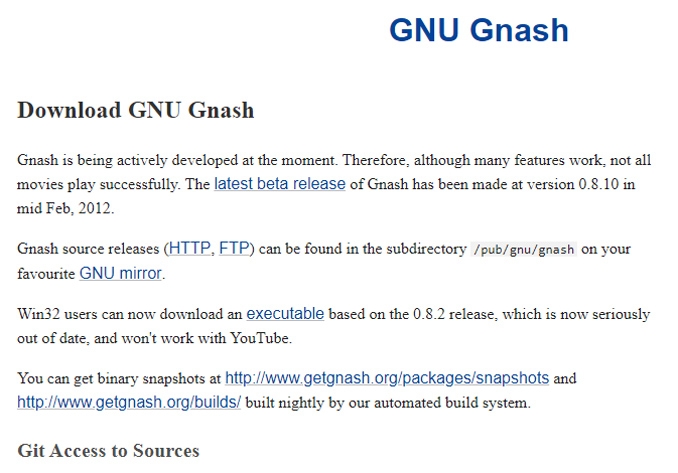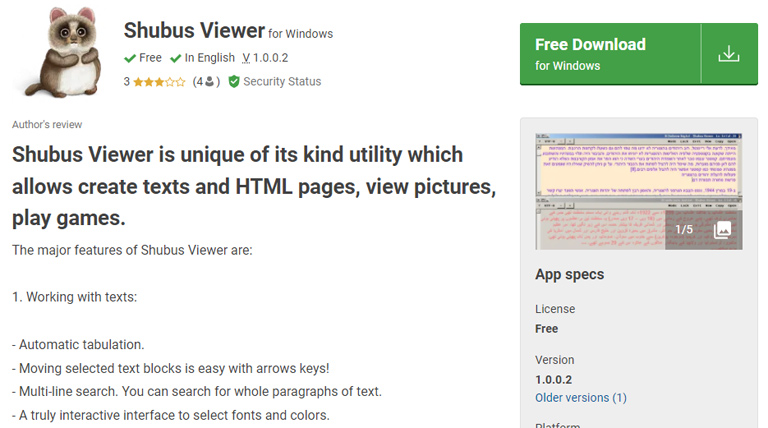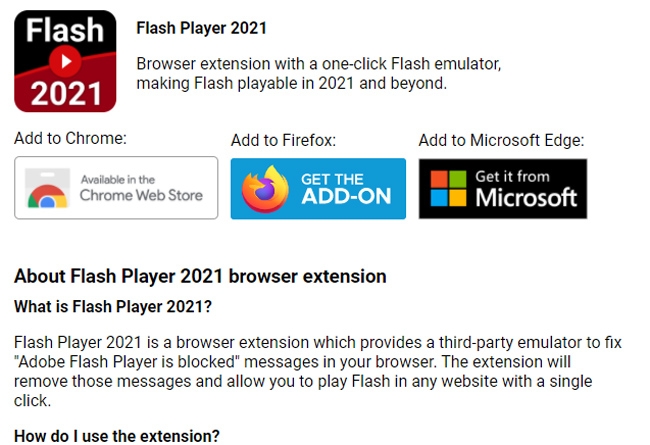 Frequently Asked Questions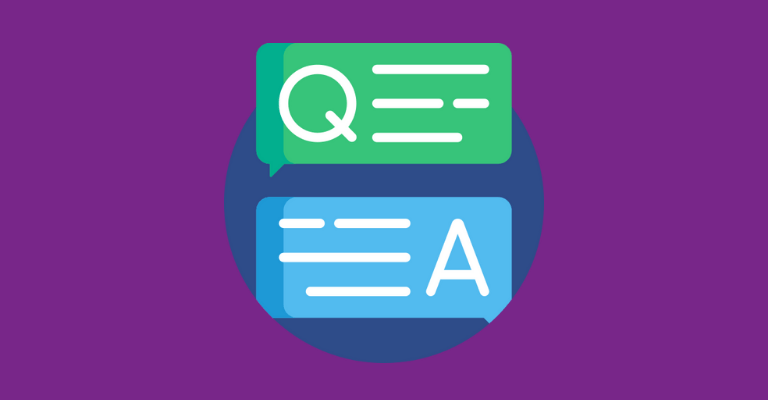 What will Chrome use instead of Flash?
As we said, Chromium has removed the support for Flash content. Instead, it will use technologies such as HTML5, WebGL, etc. Of course, HTML5 happens to be on the top of the list for obvious reasons. At the end of 2021, there is no way to open Flash content on Chrome browsers even if you want to. There was an option called 'click to open,' but it has also been removed.
What technology is replacing Flash player in 2021?
According to statistics, HTML5 and WebGL seem to have an edge in the market. These two technologies have almost replaced Flash players. Because of its versatility, HTML5 is suited for a set of applications, including complex ones. And, compared to Flash, both HTML5 and WebGL offer enhanced security, which is a good thing.
The Bottom Line
We hope the article helped you find the best way to keep running your favorite Flash content on your PC or the browser. As you can expect, we do not recommend the use of Adobe Flash anymore. If you ask us, you must shift to an HTML5-based alternative that is faster and more secure.