Since its inception, Audible has been most people's go-to option for audiobook needs. It was founded back in 1995, but it focused on podcasts in the first few years. As of now, however, most people use the brand to refer to the default audiobook service. In addition, you can use the platform to find audiobooks from different genres and categories with ease. While all these points remain valid, it does not mean that Audible is the only option you have for listening to audiobooks. Many users search for Audible alternatives that are cheaper and better. And if you are looking for the best sites like Audible, you are in the right place.
In this article, we have listed some of the best alternatives to Audible. Although we have used many factors during the selection, our main objective was to find cheaper and better alternatives to Audible. So, if you are looking for a platform that allows you to enjoy high-quality audiobooks at a cheaper cost, you can stop your search. However, you have to keep in mind that we have added an impressive variety of digital book media providers to the list. Therefore, some of them may not have all the features you have enjoyed on Audible, whereas a few services will have additional features.
List of Alternatives to Audible

Did you know that Google Play Books has an impressive collection of audiobooks? Well, you may know the service as a great place to find eBooks, but it is also home to thousands of audiobooks. The best part is that you can find dedicated Google Play Books applications for both Android and iOS devices. It is a great choice for those who do not want to purchase audiobooks in bulk. On the other hand, you can pay for books that you really want to listen to. Like other products on the Play Store, audiobooks also do not require any weekly or monthly subscription fees. Once in a while, you can find impressive sales and offers on the platform also.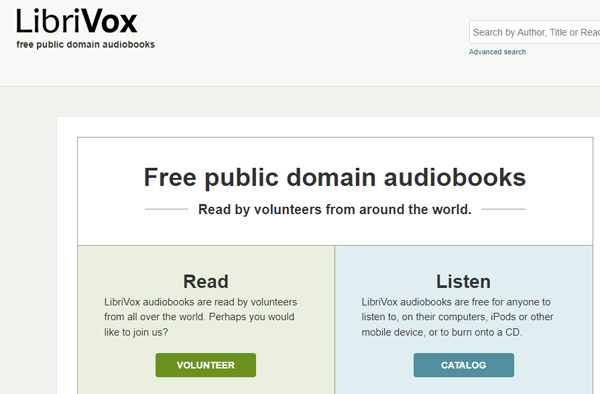 If you want an Audible alternative where you do not have to pay at all, you should check out LibriVox. This platform is home to free public domain audiobooks that you can read or listen to. These books are read by thousands of LibriVox volunteers across the globe. While there could be a difference in the quality, most books on the platform are great. The best part about LibriVox is that you have complete freedom with the books that you download. For instance, you can move them into your MP3 player or burn them into a CD. Similarly, if you want to be a part of the platform, you can start reading right away.

Scribd is another audiobook platform that you can count as a site like Audible. The best part about Scribd is that you get a multi-dimensional subscription. That is, when you subscribe to the service, you will get access to eBooks, magazines, podcasts, audiobooks, documents, and other snapshots. Compared to what Audible costs, Scribd pricing is very affordable for most people. It is impressive that you can access some of the most popular audiobooks by paying only a fraction of what Audible subscription costs per month. We must also add that the collection contains bestsellers from many categories.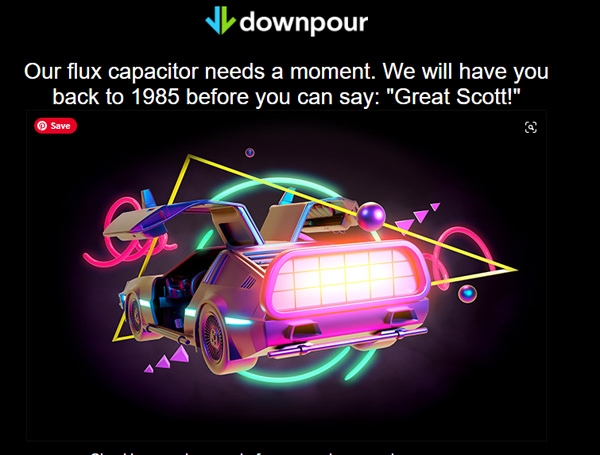 Downpour is another site like Audible where you can find impressive audiobooks for sale. Like we saw in the case of Google Play Books, Downpour also comes with a pay-per-purchase system. It means you can get the individual books based on what you want to read. There is no credit system like the one you can find on the Audible platform. We should add that Downpour has some expensive books, but you can count on the sales that they have every month. At the end of the day, you can browse all the books using the free trial that the platform offers.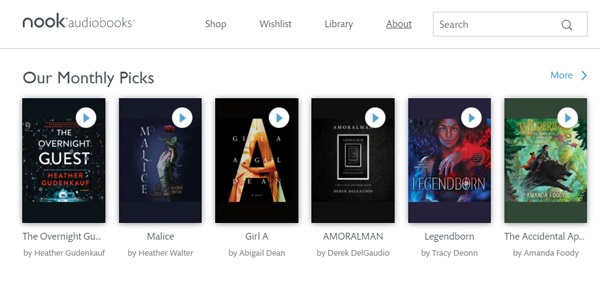 NOOK Audiobooks is another awesome alternative to Audible from all possible aspects. It comes from one of the trusted publishers in the world: Barnes and Noble. Therefore, you do not have to worry about the rich collection of audiobooks that you can find on the platform. Regardless of the category that you select, there will be thousands of books that you can explore. Just like Audible, NOOK Audiobooks also allows you to listen to a sample before you purchase the full book. There is also a Wishlist option for those who want to wait till payday. NOOK comes with robust apps for Android and iOS.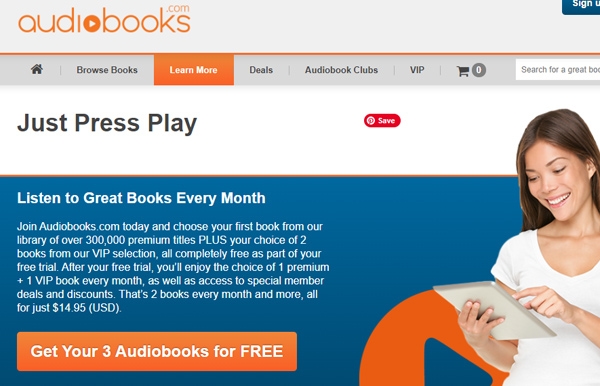 As generic as it sounds, Audiobooks.com is another best alternative to Audible in more than one way. Sure, the website does not look as impressive as the Amazon service. However, you cannot feel the difference in the case of books. The best part? You get three audiobooks for free when you sign up for the free trial. There are also other entertainment-based rewards that you can explore. The platform continues a double-layered system where you can get one VIP book and one premium book every month. At the end of the day, you will not feel any loss subscribing to the service.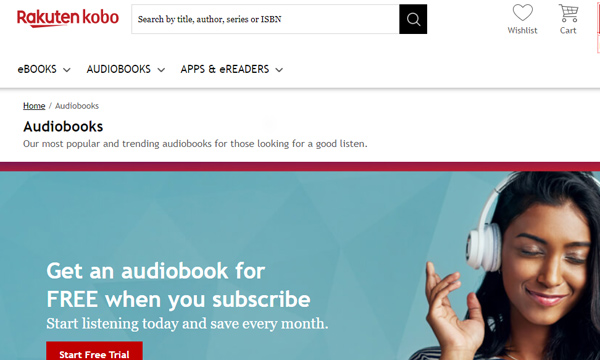 Kobo from Rakuten is another great option if you want another reliable site like Audible. As you may know, Kobo.com is home to some powerful eBooks and eReaders. The collection now also contains audiobooks that you can purchase at will. Even though the service offers a number of features, we must mention that it is rather expensive at first look. However, the real deal comes when you use the service for the first time. You can have the same experience on different devices such as the Kobo app and the Kobo eReaders, which are a great alternative to Amazon Kindle, by the way.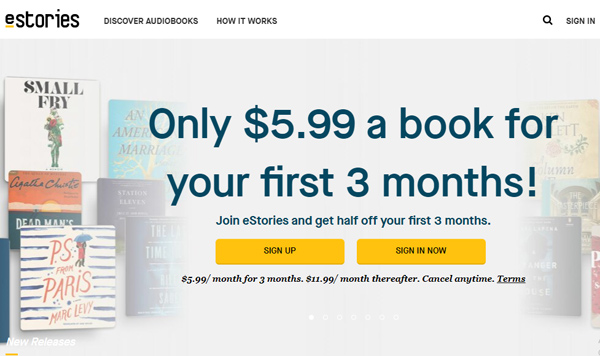 If you are looking for one of the cheapest alternatives to Amazon Audible, you should check out what the eStories platform has to offer. Even though it does not cost as much as the Audible subscription, you get to access some of the best books out there. We are talking about popular autobiographies and trending fiction titles. It is even more impressive that you can get three free books when you sign up for the service. eStories is also known for creating some of the best audiobooks out there. As you can guess, eStories is available via the official apps for Android and iOS.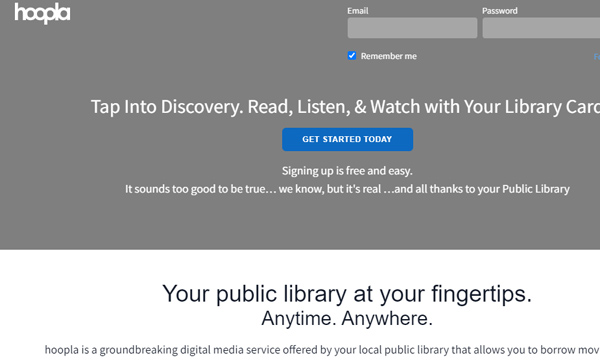 hoopla is another way to access audiobooks on the web. However, on this platform, you do not have to be concerned with subscriptions or one-time payments. On the other hand, a free account on hoopla will allow you to borrow audiobooks from libraries across the world. All you need is a library card from one of the local libraries. It is great for those who can rely on the wonderful collections from local libraries out there. In the end, you do not have to spend a single penny. Here is the wonderful part: hoopla works on not just Android and iOS but also Chromecast, Android TV, Apple TV, Fire TV, and Roku.
Libro.fm takes a different approach when it comes to giving you access to audiobooks. If you want to make sure that you support local authors and bookstores while buying books, Libro.fm will be a great alternative to Audible on any day. While giving you the same freedom of choice and browsing, Libro.fm can connect you to a local audiobook seller and get the book. In the best way possible, you can save more money than you would ever spend on Audible. If you are confused about the book you want to listen to, you can explore a number of the featured playlists on the website.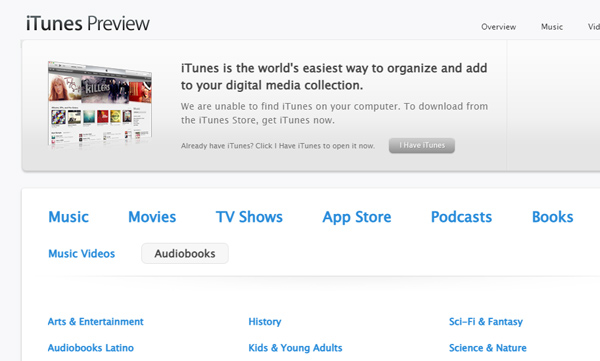 Did you know that Apple Audiobooks is also a great source of audiobooks? Well, if you are tied into the Apple ecosystem, you can buy your favorite audiobooks from the iTunes store. You can access these books from the Books app, which is great. Of course, you have to keep a few things in mind. First and foremost, you will have to pay an extra fee for the books. Secondly, the collection may not be rich in terms of original content.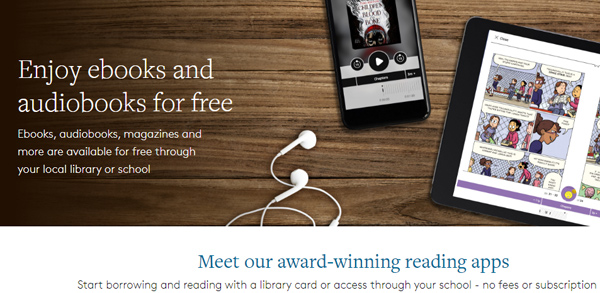 OverDrive is another place where you can find an impressive collection of eBooks and audiobooks. Having said that, you have to install the Libby app to have access to your favorite audiobooks. Once again, you will have to rely on public libraries to have access to content. At the end of the day, it means this Audible alternative does not want you to spend a single penny for maximum entertainment via books.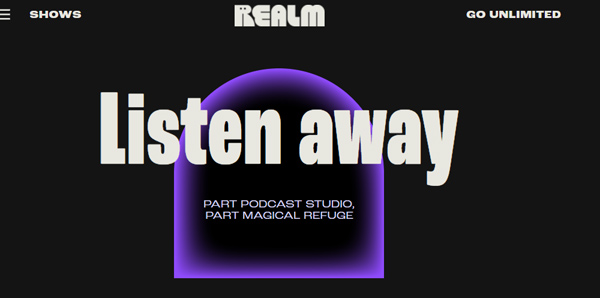 Realm FM is another alternative to Audible that you should keep in mind. Even though the app is primarily designed for podcasts, you can find an impressive collection of audiobooks on the platform. On that note, it is great to check out the Originals section of the website. As you can guess, Realm FM has its apps available on Android and iOS.

Smart Audiobook Player is an Android app that can easily replace Audible in terms of usability and the rich collection of audiobooks. The easy-to-use app is available on Android free of cost. If you can get the books copied to your smartphone, you can manage them with ease on Smart Audiobook Player. As we mentioned earlier, you can find many audiobooks in the public domain.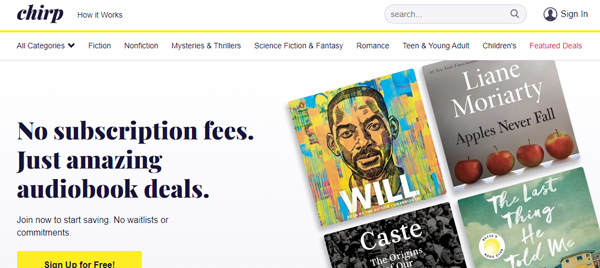 Chirp is another great place where you can find amazing audiobooks without relying on a subscription. If you compare the service to other options on the list, you can find impressive finds on any day. You do not have to worry about waitlists or invites, either. You can sign up for the service, explore the services and download them after paying for the book.
Other Great Apps like Audible
Frequently Asked Questions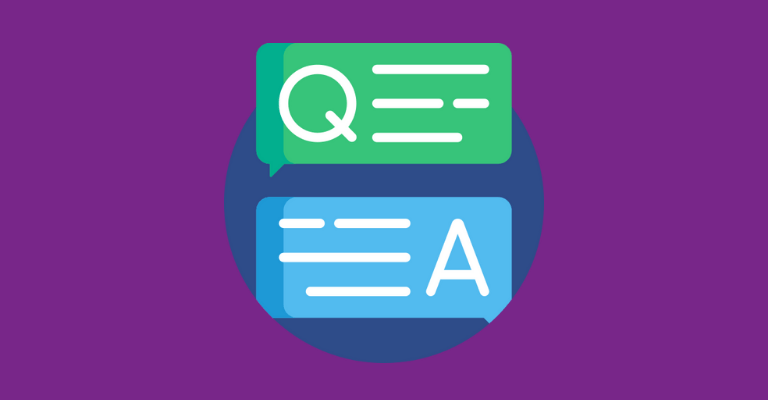 Is there a cheaper alternative to Audible?
There are many cheaper alternatives to Audible. It all depends on how you would like to buy audiobooks in the first place. One, you can buy individual books that may cost less. Or, you can find one of the other sites like Audible that costs less per month.
Is Audible free with Amazon Prime?
Even though there could be some offers, Audible is not free with Amazon Prime. You have to pay a separate monthly fee if you would like to access Audible and the audiobooks collection. In fact, if it were free with the Prime subscription, you won't have to look for Audible alternatives.
What is a free alternative to Audible?
The best free alternative to Audible is LibriVox, which is home to thousands of audiobooks available in the public domain. There are hundreds of creators who contribute to the platform and enrich it with books that are available for free. There are also some apps that help you borrow audiobooks from public libraries using your library card.
What is the cheapest way to use Audible?
The cheapest way to use Audible is through a sharing basis if you ask us. In case you did not know, you can get two Audible credits each month. Probably, you can set up a system where you share half of the credits with another person. Of course, you may have a less personalized experience in this method, but it is a step you have to take for the sake of savings.
How do I listen to audiobooks without Audible?
There are two options to listen to audiobooks without Audible. First, you can choose one of the other sites like Audible, offering you a collection of audiobooks. Two, you can download audiobooks from the public domain and use an app to listen to them. In the second method, however, you will not have a rich collection, per se.
The Bottom Line
As it might be clear to you now, Audible is not the only way to listen to superb audiobooks. Of course, it may seem that Audible has the best collection, but it is not true. You can explore an incredible variety of apps if you want to enjoy the best audiobook listening experience without paying a huge amount every month. You can always choose the option to pay for individual books if you want.