Choosing a niche for blogging is not particularly difficult, but choosing a profitable niche is not so easy. A lot has been written about this subject, but if you check some of the more successful blogs you will that they have some general aspects in common:
They are well-written with outstanding content.
They take a unique perspective on their niche.
The bloggers obviously love their subject.
Keeping these factors in mind, here are some tips, not only on choosing a niche but on how to choose a profitable niche for blogging. The process fundamentally involves identifying popular niches, selecting one that interests you and choosing an aspect of that niche that can make you money.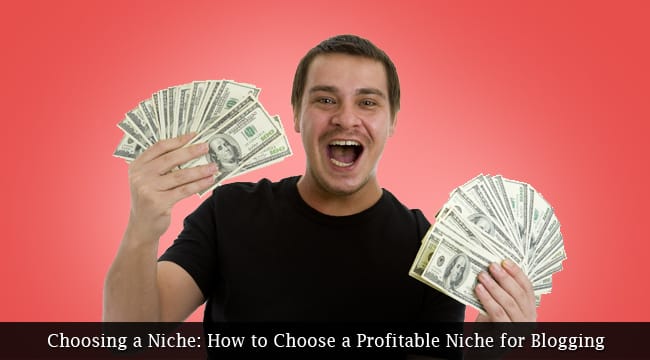 To be profitable, a niche must have a good following, have as few competing sites as possible and also be able to be monetized. There must be products or services available to sell, or be popular enough for you to sell advertising space. Choosing your niche will involve taking all of these factors into account.
You are probably desperate to get going, but it is important not to rush your choice. You will be spending a lot of time on the niche you finally select, so it's worth taking the time to make sure that your choice is the right one. That's enough talk for now so let's get started!
Choosing a Niche: Popular Blog Topics
Justin Bieber is very popular. You might think there's lots of traffic potential in focusing on him as a niche. Google him, and you get over 700 million results for the name alone. Could you compete against 700 million other blogs and web pages for exposure in Google rankings? Nope – so popularity is not enough.
A popular niche will have a good following, true – and certainly, a good starting point for choosing a profitable niche is to check out what's popular. However, forget Justin Bieber and look for something with less competition. Here's how!
There are several ways to do that, but two are: a) to check out the most popular blogs and b) to find out what people have been reading offline. This should give you a good idea of what others are interested in, both on and off the internet.
Popular Blogs
Check out the 100 most popular blog topics on DailyTekk. This is an interesting technology blog, although its top 100 blog list makes interesting reading. Read through the list and make a note of any topics that interest you – each topic could form its own niche! Also, check out Technorati, the social bookmarking site. This site also publishes its top 100 popularity list.
Popular Books
Go to Amazon.com and click on 'books'. You will then find a link to its best-sellers list just under the top search box. This is another useful source of niche topics.
Each of these resources will provide you with lists of topics for potential blog niches. This is itself is not enough information to enable you to select a profitable niche, but will at least give you a start. Make sure you select a few that interest you, and that you feel confident of writing about given some research time.
How to Choose a Profitable Niche for Blogging
To be profitable, your niche must have lots of interested people and as few competing sites as possible. This is where your research gets more interesting. It is essential to carry out some keyword research on your chosen niches. For your initial research, you can use the free trial version of tools such as Wordtracker, Market Samurai or Traffic Travis. There are others if you carry out a Google search.
Using Keyword Tools
While the paid versions are best, the temporary free trials will offer you enough functionality to find the best keywords for your chosen niche. Enter the broad niche into the search boxes of these keyword tools. 'Dog training', 'science fiction' or 'organic foods' for example. You will then find the search terms (keywords) people are using to find information on these niches.
You are looking for keywords with as low supply (competing web pages) and as high demand (searches using that keyword/phrase) as possible. Your choice will always be a compromise, because the most popular keywords generally tend to have the most competing pages using it.
Competing Pages
However, occasionally you will come across certain phrases that people are using, but that few competing pages have been optimized for. Carry out a Google search for your keyword using quote marks, and you will find how many other pages are using that keyword.
These could give you a clue as to what sub-section of your niche you should target. For example, if your niche is science fiction, "the Lensman series" throws up only 24,000 competing pages – very attackable! This sci-fi series of books by E. E. 'Doc' Smith is very popular.
Summary
That is just an example. Here is a summary of where we are so far in choosing a profitable niche for blogging:
You have found what people are reading about, both on blogs and in print.
This lets you identify groups of people seeking information you can provide.
You have chosen a few niches from these lists that interest you.
So, you are interested in the niche and you can provide what they appear to want.
You have chosen some sub-topics from these niches based on your keyword research and supply analysis.
Seek Out Problems and Issues
The next step is to identify the questions people want answers to, and how desperate they are for these answers. They might be unable to access certain books, might want information that you can provide or might even be seeking products to help them.
You could market an eBook on the topic that people worry about or even get involved in affiliate marketing: selling products related to the niche for a commission. You could offer a newsletter on the topic in exchange for their email addresses (list building). Very popular topics that have few potential products might make you money by selling advertising space or even publishing Google AdSense blocks.
If you offer products or services, then choosing a niche might be easier for you, but you will still have to focus on an aspect of that niche in which people are interested, but for which there is still little competition. You can dominate a niche for certain keywords, and use your traffic as an outlet for mainstream products.
Check the Competition
Once you have decided on your niche and keywords, use these keywords to check out your competition. Nobody ever got really successful without being aware of what their competitors were doing.
Simply use your keywords one by one in the Google search field and check up on:
The number of competing sites (you should have done this already)
The top 10 competitors for that keyword
The services/products they are offering
The keywords they are using (right-click on their page and select 'View Page Source').
You will now have a better idea of what you are up against. You must figure how to rank above them and even take their traffic, but that is another topic!
How to Choose a Profitable Niche: Summary
Find out what people are interested in now – not last year!
Choose a few of these topics that you are interested in yourself.
Find out what issues people have in these niches that may not be completely resolved.
Use keyword tools to find out what aspects of these niches others have most questions about.
Find the best keywords to use in your blog – high demand/low supply.
Make sure you can make money from traffic using these search terms.
Check your competition.
Do better than them and make your blog profitable.
To be profitable, you must make more money from your blog than you spend on it.
It all sounds very easy, but it is definitely not. However, those using the above steps when choosing a niche will have a better chance of making money from their blog than those that do not.
Quite frankly, the best way of learning how to choose a profitable niche for blogging is to follow this advice, and if you make mistakes then learn from them. That's how we all did it, but the above advice will certainly help you to avoid at least most of these mistakes.