Unlike in the old days, Google AdSense is not the only option to monetize your blog or website by publishing ads. As you can guess, there are so many ad networks to choose from. But, how do you figure an ad network is legit and worth trying?
Hence, you have to consider a few factors, such as the ease of integration and the Cost per Click. You also have to check whether the ads from the network are appropriate and appealing.
Trust us; it is not easy to find an ad network that checks all the boxes. However, recently, we came across a really good exception: ForeMedia. And we thought we should introduce our readers to ForeMedia through a detailed review of the ad network.
What is ForeMedia?
ForeMedia is a fully-fledged ad network that caters thousands of advertisers and publishers. So, if you want to run an ad campaign through some of the best websites/blogs, you can approach ForeMedia. Similarly, if you have a website/blog that you want to monetize to a maximum level, you can join the platform as one of the many publishers.
By bringing these two categories of people together — publishers and advertisers, ForeMedia creates the perfect platform for running sensible ads on the Internet.
You can also estimate from the description that ForeMedia is a direct competitor to Google AdSense. However, calling it an AdSense alternative is an understatement. In view of our experience with the platform, it has more to offer. In this survey, we shall explore how the ForeMedia ad network serves publishers who own a website, blog, or web app.
Getting Started with ForeMedia
Even if you have not used ad networks before, you can get started with ForeMedia in an instant.
You can create a free-of-cost account from the official website. While signing up, you have to provide some details, such as your name, email ID, website URL, category, etc.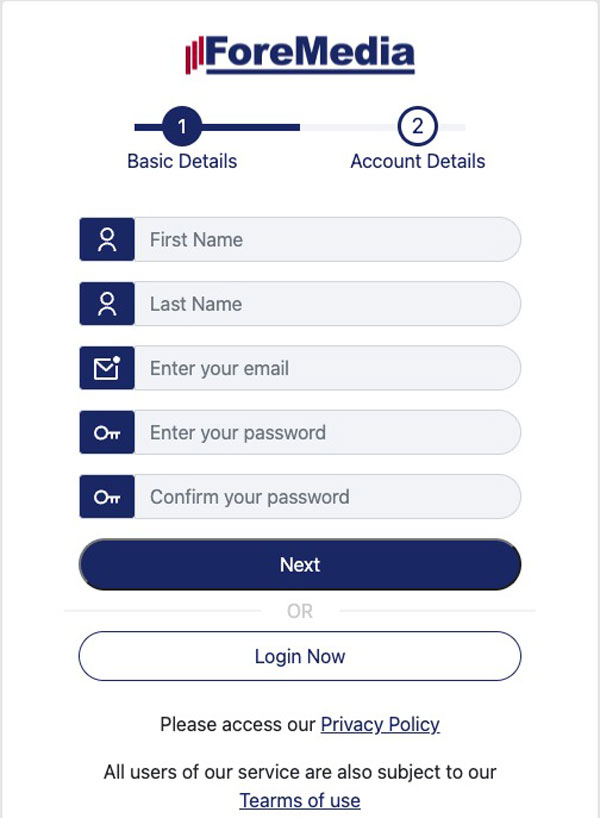 In the next step, ForeMedia will ask you to verify your website by importing the ads.txt to your own website. You can do it by using an ad inserter/manager plugin on WordPress. You can find the full-sized tutorial here. On the dashboard, you may find an option to integrate analytics. If you do it, you can track the number of visitors as well as impressions from the ForeMedia dashboard. In the latter part of the step, you should give your phone number and wait for the verification process.

As an average, the verification process will take around 72 hours. Compared to the setup process and features in the package, we won't say it's time-taking. Once you finish the setup process, you can manage all the options from the super-intuitive dashboard of ForeMedia.
We must also appreciate how automated the setup process is. Once you add the ads.txt as well as the analytics code, you have nothing to worry about. You can sit back and relax while ForeMedia monetizes your website/blog to the maximum level.
Ad Types on ForeMedia
The following types of ads are available on ForeMedia. You can decide which of these ads are displayed on your website/blog.
Display Ads are regular ads that appear as a banner or as dynamic content
Push Notification Ads make use of smartphone notifications to increase click rate
Native Ads are the most integrated ad type, and they can provide the best viewing experience
Pop Ads are also known for their high conversion rates, regardless of the website type
Infinite Scroll Infinite scrolling encourages people to engage with the content, rather than having to bother too much with navigation or the "Next" button. It also removes the need for pages to preload – which means less waiting and more engagement for users.
In addition to the above, ForeMedia has also built a dedicated video player for advertising. This video player is a great option to show video ads on your website without annoying readers. The best part about managing an ad through ForeMedia is the automated-ness of the process. The dashboard makes it incredibly easy to take care of everything.

As you become aware of, you don't get many of these options with Google AdSense. Therefore, in the case of ad management alone, ForeMedia seems to be a better alternative to AdSense.
About the Dashboard
We prefer using two words to describe the ForeMedia dashboard: simple and elegant! As said earlier, it makes it unbelievably easy to manage and monitor your monetization campaign. Once you have set up the analytics code, you can understand when and how you get paid. For instance, you get to know which pages and ads have contributed the most to your revenue.

Furthermore, you may not expect this level of transparency with most ad networks. This is also the reason why top companies are willing to work with ForeMedia for monetizing their websites and blogs. In short, we can recommend it to everyone who needs a more simplified way to manage their monetization campaigns.
Payment and Terms
Making things easier than ever, ForeMedia allows you to withdraw payments through two methods. You can access these methods once you have reached the minimum payout balance: $100.
It goes without saying that PayPal is the most effective way to get paid from ForeMedia. You also have the choice to add a number of payment methods and choose the right option at your convenience.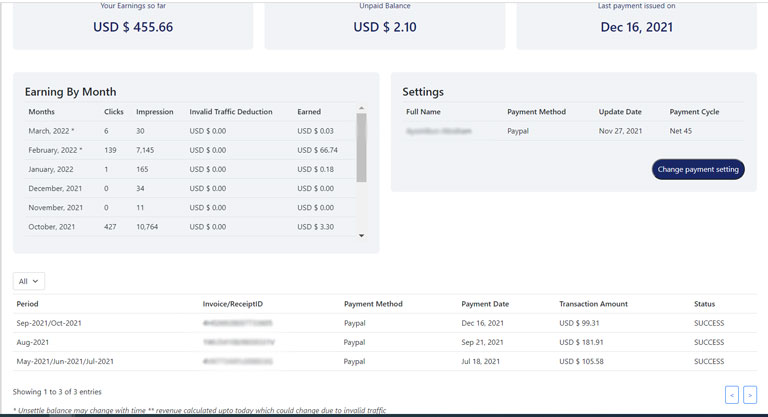 Once again, we cannot ignore the transparency of the ad network. You are able to monitor each cent that is added to your account. You do not have to worry about the timing, either. ForeMedia pays the publishers in Net 45 — an impressive number compared to what other ad networks offer.
Support
You also have the possibility to get in touch with ForeMedia through different methods. Live Chat seems to be an apt option for most people. The response time is very quick, and you can expect to fix the problems as earlier as possible. For every step, ForeMedia provides fully-fledged tutorials on YouTube as well. Hence, it would be great if the ad network could add a Knowledge Base, which is not available at this point.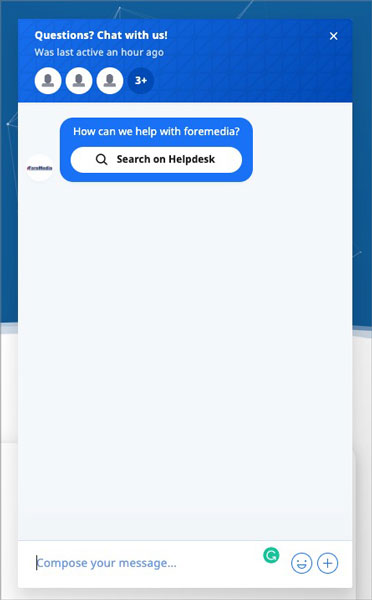 Is ForeMedia Legit?
At this point, this question seems just a formality.
ForeMedia happens to be one of the most legitimate ad networks you can try today. With more than 10,000 publishers and campaigns to its record, the platform is an AdSense alternative that you cannot disregard. We have also attached some payment proofs with the review — showing that the platform is quite punctual in paying the customer.
The Bottom Line
In the end, we have more than one reason to recommend ForeMedia — over AdSense and other ad networks on the Internet. When used properly, this ad network can help you amplify the monetization capacity of your website and blog. You would also love the easy onboarding process that does not take more than 5 minutes.