If people find your blog from a search engine, how do you convert them to regular readers? You have gone to a great deal of trouble to advertise your blog through article marketing or some other form of online or offline promotion. You are now reaping the reward for that with a visit, but you only get one shot – what do you do to keep them?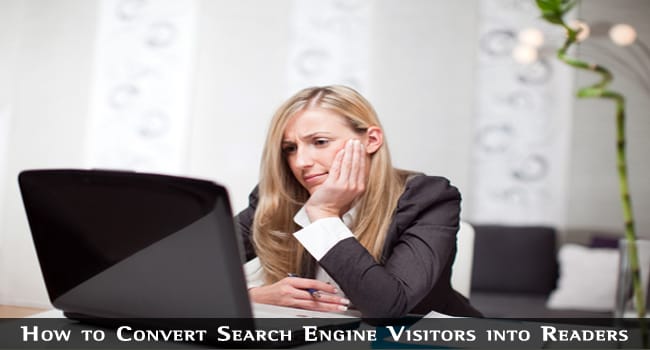 Here are several factors you must consider when attempting to convert visitors into readers. No individual one of these factors will make a significant difference to your conversion of visitors to readers, but if you combine them then the results can make a massive difference to your regular readership.
1. Keep Your Links Honest
You will read a lot of advice, such as 'be yourself' or 'put the reader first', and that is very good advice that we shall discuss shortly. However, they aren't interested in that when they first reach your blog. They clicked on your link for a reason. What they want to see is what you promised with the link.
You offer to teach them how to make money online. They click the link you provide and they see a post on how to use an autoresponder! Imagine their response: "What's that! I want to learn how to make money online – not about 'auto whatevers' – why did I click this link!" Then they click away.
2. Offer a Benefit
When you promote your blog, you must persuade your potential visitors that they will benefit in some way by visiting your blog. You must promise to teach them something or help them to make or save money. People want to learn something when they go online, whether they visit a blog or a regular website. They want to learn something about their business, niche or interest, how to start their own blog or website or they want to learn how make money online.
3. Give Visitors What They Expect
If you don't give search engine visitors what they are looking for then they will click away – it's as simple as that. If you do offer something that attracts them, then your visitors must find that with their first click. If you run a blog about dog breeds and want to attract people interested in the various breeds, then your adverts should ideally be focused on specific breeds, and the link must send interested readers directly to your page or post on that breed.
That is often not possible, and in such cases your landing page should be one that offers links to all the breeds that your blog discusses. Take our first example as another instance – how to make money online. You must have a landing page that explains the basics of online marketing. This should include links to the specific posts that cover each factor in more detail.
The landing page can be a static page or a post. When your search engine visitors reach this landing page you can explain the basics. There should be links on that page that then lead readers to the pages and posts on your blog that teaches them more about the pros and cons of an online home business, how to set one up and how be successful in running it.
4. Be Relevant
As already stated, it is essential that your search engine visitors land on a page related to their search. Imagine yourself using a search term in Google and landing on a page that has nothing to do with what you are looking for! Make sure that your posts and pages are well optimized for the keywords you are targeting.
Ignore those that state keywords to be outdated. Keywords are still extremely important – what you should avoid is overusing them. 1% keyword density is fine if you use other vocabulary connected with your main topic. Search engine users looking for what you have to offer will find you if your page or post has enough relevance to their search term.
However, that's not what we are discussing here – if your page is relevant you will capture them as visitors. The real purpose of this post is to explain how to keep your visitors once you have attracted them. When a visitor reaches your blog, they want to see content that relates to their search – so be relevant, that is your first objective.
5. Focus on Benefits to Your Visitor
We have already mentioned using benefits to persuade people to visit your blog. Once you have a visitor, you must focus on the benefits you have offered them. They are not interested in what you are thinking or how happy you are to have them visiting their blog. They want to know what they will get from it. How do they benefit?
So tell them again. Tell them right away how they will benefit by staying with your blog as a regular reader. You are more likely to convert search engine visitors to readers of your blog if you provide them with what your search engine Title and Description tags say you will. Stick to your promises or you may lose then forever.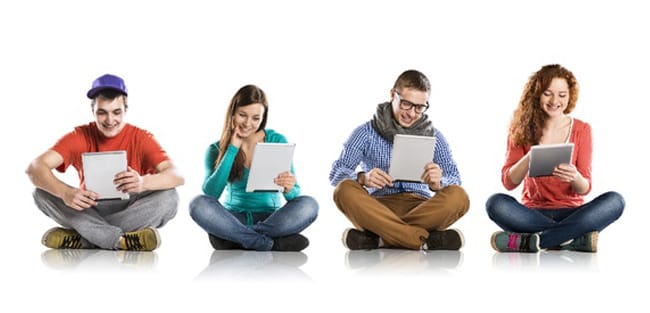 People visit your blog because of an advert. That advert can be a search engine listing, a link on another blog or website or a publication in an article directory. Within that advert you will make an offer of information and advice. If your visitors find exactly what you offer on the landing page of your blog, then they will likely stay as readers.
6. Enable Visitors to Subscribe
Make sure you have a subscription form on your landing page to allow interested visitors to subscribe to your blog – and even more important, subscribe to your email list. However, even if they refuse to join your email list, if your visitors subscribe to receive updates to your blog then they will have become bona fide readers.
7. Publish an RSS Link
The same is true if you publish an RSS link on your blog. Those who subscribe to that will receive notification of your new blog posts and will be able to follow developments as they occur. People who visit your blog might not want to subscribe to it or even to visit to it regularly, but they may subscribe to your feed.
This provides you with the opportunity to continue to make offers to those who have not yet been convinced to follow your blog as genuine readers. It is important to remain faithful to your niche, and to that particular part of it that your existing readers regard you as somebody worth listening to and learning from.
By providing a method by which people can continue to keep in touch with your blog, if not commit to be regular readers, then you will find it easier to convert the former to the latter – to convert the occasional visitors to regular readers.
8. Be Yourself and Be Different
Don't just follow what everybody else does. Be yourself, and offer your knowledge and experience to your readers in your own way. Always keep on the lookout for something different in your niche and pass that onto your readers. Never copy what others are saying – it's OK to say what they are saying if is relevant, but express it in your own way. Try to be first, however, and present new developments before everybody else does.
That means subscribing to RSS feeds yourself, and following the Facebook pages and blogs of those that make the changes. If you are focusing on SEO, then follow the official Google Webmaster Central blog, Matt Cutts' blog and other such as SEOMoz. Keep up with the big boys, and publish their news almost as soon as they do.
Be different by expressing your own take on such information, and explain in layman's terms what it means to your readers. They will then start to rely on you for the new and important information that affects them and their businesses.
9. Be Controversial and Promote Discussion
Once have learned how to convert search engine visitors into readers it is important that you retain them. You can do that by being controversial and promote discussion between them – get your 'Comments' zinging with back and forth opinions.
Do not become too involved, whether you agree or disagree with these opinions. However, you can become involved as moderator if things get too heated, and also if a particular issue appears to be dying away. Sometimes it is OK to let a particular thread die a natural death, while with others you may feel it appropriate to add some zing to it by throwing in a bomb to get it going again.
10. Forget Keywords – Write for Your Readers
It goes without saying that humans read your blog – so there is no need to stress that you should write for your readers and not for search engine spiders. Hummingbird and LSI have largely removed the need for maintaining a high keyword density. Write for humans, and then read what you have written. If it appears stilted and overfilled with keywords, then rewrite it to look as you would like to read it.
Google always tells you to write for human readers through staff such as Matt Cutts. It is generally safe to do what Google asks you to do. They generally stress that if you write for your readers, then the Google indexing and ranking algorithms will reward you accordingly. It seems that a lot depends on your standard of writing!
11. Be Yourself, Have Fun and Show It!
Have fun when you write blog content and simply be yourself. Don't try to be what you are not, and it's not necessary to be a literary genius to convert search engine visitors into regular readers of your blog. Also keep in mind that you don't want regular readers who are not interested in your niche – or your small part of it. So only make offers that are genuinely specialist to your niche.
Be yourself, and express how you feel when you write. If you feel angry about something then write as if you are. If you are happy, then show it. Have one subscription link for your list in a prominent position, but don't push it in the body of your text at the expense of useful content. Avoid too many social buttons and a must is no pop ups.
12. Finally … Talk to Them
If you want to convert search engine visitors into readers then communicate with them. Respond to emails and set up your autoresponder to thank people by name when they register for your email list. It is not difficult to set up a forum on your blog – this is a great way to communicate with new members and discuss matters with prospects.
If you follow these 12 tips on how to convert search engine visitors into readers then you should be successful with your blog. 100 regular readers are worth 10 times that many occasional visitors who have no commitment to your blog. It is regular readers that make a great blog what it is, and that is what you should be working towards.