Although at the moment there are many fairly simple and, most importantly, effective technologies and innovative solutions that IT specialists can use, they still have problems with managing complexity. It would seem that technology should make life easier for IT specialists, but in practice, it turns out that everything is much more complicated.
It's worth noting that many experts are still attempting to enhance processes using infrastructure that is inefficient and long out of date. Furthermore, companies order equipment for data centers from multiple vendors. At the same time, experts must examine equipment compatibility, locate the simplest and most cost-effective solutions, and guarantee that all operations work properly.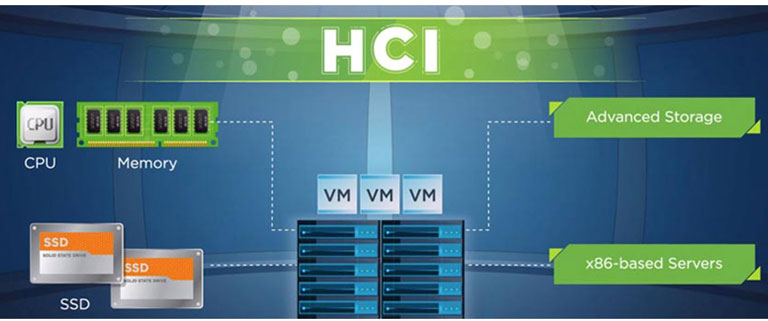 The new reality, given all this, should make the work of data center specialists easier, not more difficult. That is why many companies are looking for solutions that can provide simplicity, efficiency, and cost reduction. 
What is Hyperconverged Infrastructure?
HCI is an infrastructure in which computing power, storage, servers, and networks are arranged into a single space using software tools. A special program is responsible for the operation of the HCI hyper converged infrastructure. By building a hyper converged data center, companies turn a large set of servers into a single system that an IT specialist can easily manage using only a single console.
At any time, when it is necessary, companies can increase the volume of processing of HCI data quite easily and quickly. To do this, you only need to add the required number of new modules.
Based on this, it becomes clear that this is the best decision that companies can make today. However, everything is not so simple, since many different companies are ready to offer such a solution. Depending on which platform of hyper converged infrastructure you choose, you may see changes for the better or worse.
One of the best decisions is to opt for the StarWind HyperConverged Appliance. Today, it is one of the most powerful platforms that guarantees the highest level of performance, and it is also endowed with the ability to maintain its performance even if one or more components fail. It is based on flash memory, so you can be sure of the reliability of such an appliance, as well as the highest possible speed and solution longevity.
Why May Not Everything as Simple as it Might Seem at First Glance?
When you look at the hyper-converged infrastructure definition and see how this solution improves agility while also lowering capital and operating expenses, you might believe this is the best improvement you can make to your data center. This is correct, although there are some challenges.
The work environment in information technology departments is becoming more complex every year. Artificial intelligence, machine learning, shifting workloads, and other factors have all contributed to this. The software solution to such an infrastructure may not be that straightforward.
HCI needs server equipment, programs, and networks to be implemented. Companies may resort to buying from different suppliers, which can end up causing even more problems. Problems may arise already at the initial stage during its deployment and integration into the work of data centers. Thus, the specialists loaded with work will have even more critical problems that need to be quickly resolved. In this case, you will have to contact each supplier for technical assistance.
Companies that have chosen in favor of implementing a hyperconverged infrastructure need to do the following:
Unify the hardware platform;
Make sure the equipment is compatible;
Set up a hardware platform;
Perform integration.
Companies can perform the integration with the help of their specialists, or they can resort to the help of third-party professionals. Thus, it becomes clear that costs can only increase.
When you buy a platform offered by StarWind, you no longer need to worry about these issues. You can get a ready solution for all your problems. All you need to do is just purchase the platform and connect it. There is no need to worry that something will not fit, break or be malfunctioning, as this platform has passed the test of strength.
StarWind HCA – a Turnkey Solution
The platform integrates all components and helps increase your ROI and lower your total cost of ownership. You no longer need to think about finding a whole list of vendors, because when you decide to implement a hyperconverged infrastructure, you will be dealing with only one vendor. Now companies that want to increase process productivity can forget about buying expensive equipment, as well as finding a large number of specialists to work in the IT department. See what you can get by purchasing this platform:
Migration Support for Free 
This appliance is delivered already in the version that you need. That is, you get a fully configured and assembled solution, taking into account all your requirements. Device integration is free of charge, which eliminates additional costs on your part. This means that when you purchase a licensed platform, you won't face any hidden costs or installation hassles. At this point, you should understand that many other suppliers carry out the same operations but charge a fee for this. 
24/7 Technical Support 
Any difficulties or sudden questions can be clarified with the support service, which is available at any time of the day or night throughout the entire time. Qualified staff, consisting of professional engineers, will provide first-class assistance. During the term of the license, any updates, both regarding the program and the hardware, are included in the package.
Single Console for Management 
With all this, for ease of management, you get a single console with which you can manage all processes. This includes monitoring the performance of resources such as network and storage, as well as VMs, backups, and workload.
High-quality Components 
The device is assembled from components produced by world-famous companies that are market leaders in their field. Device components are manufactured by companies such as Dell, Intel, Mellanox Technologies, and NVIDIA.
Conclusion  
There are many benefits to companies choosing hyper-converged infrastructure. However, such a simple solution can become complex if all the necessary equipment is purchased from multiple vendors, causing an increase in technical problems and additional costs. In this case, you just need one single supplier to provide a turnkey solution.