We all have heard or seen someone play Pokémon Go, the popular augmented reality and location-based game. Developed by Niantic, the game stands out amongst others on the web and attracts a large number of users because of its exciting and unique style. Users have to move physically to catch Pokémon, and many want access to opportunities to catch bigger and better rewards. If you want to do this, then you can change your virtual location using Wondershare Dr.Fone – Virtual Location, the only spoof location iPhone tool you should rely on.
Part 1: Understanding the Concept of Location-Based Games
Whilst you might have heard about Pokémon Go and other location-based games, you might not understand how they work. Let's find out the underlying concept and their features:
1. The Essence of Location-Based Games
The popularity of location-based games has been on the rise, especially after the invention of Pokémon Go in 2016, which broadened the horizons for future geogames. The core idea behind this type of gaming is to use location-based technology, so players have to move outdoors for gameplay. Players do not stick to their computers in their houses and instead move around. A virtual world is created for the players to interact with their environment.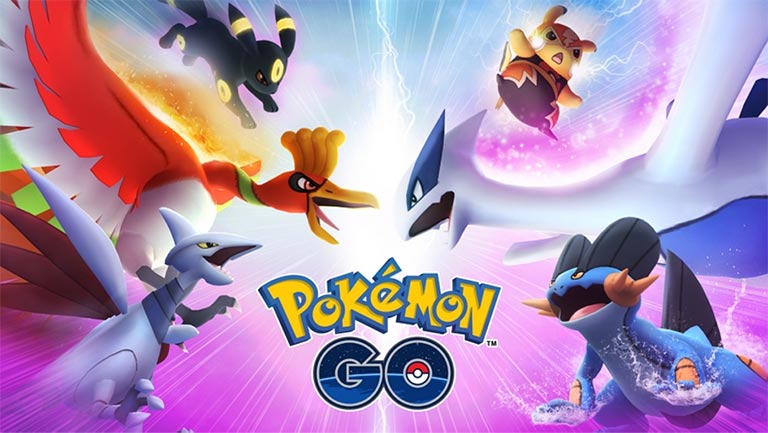 2. How Do They Work?
Location-based gaming applications work on complex phenomena and the usage of advanced technologies such as GPS, Bluetooth, and QR codes. The apps detect players' locations and motivate users to move and interact in a certain way in the real world to gain rewards in the game. Pokémon Go is a great example whereby users walk based on the anime-style gaming map. Players collect Pokémon and receive rewards as they navigate the routes and hurdles.
3. Benefits of Playing
We have traditionally viewed gaming as something that wastes time, causes distraction, and makes us sit in the same spot for hours. Well, with location-based games, you can now play outside like in the old times, yet keep in touch with the modern world. It can be a huge motivation for people who lack exercise and social interaction. When you move around, you meet new people in the neighborhood, discover interesting places, and learn to make informed decisions in your quest to find rewards.
4. Features and Future
Needless to say, successful geogames have deployed measures to get accurate location and proximity data of users. The application needs to have perfect features to become a sensation, and this requires a complex building process, including maps, notifications, and more. The future of location-based gaming seems bright, especially after the offset in the COVID-19 pandemic. More people value quality outdoor activities, and the perfectly balanced real and gaming life is what they need.
Location-based games are the future of gaming, but many users feel restricted because of their location. However, you can enhance your playability and access more features and rewards in these games if you change your virtual location.
Have you been looking for a tool ever since you discovered the endless opportunities you can avail yourself of on Pokémon Go after spoofing your location? Dr.Fone – Virtual Location (iOS) is the perfect location spoofer to change your virtual location within minutes. You can change your location whenever you want, for gaming or for pranking your friends; the choice is yours. It is fully compatible with the latest iOS versions and offers three location-changing modes you can use to catch rare Pokémon in different regions.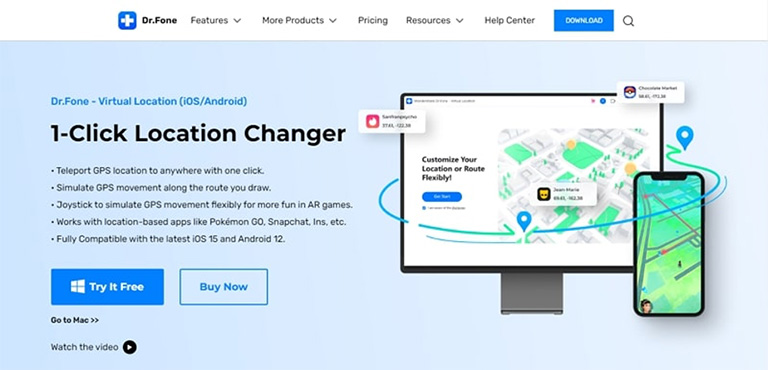 A One-Stop route will move the GPS on a path with challenging tasks, and with Multi-Stop, you can complete your desired route at different speeds. Finally, the Jump Teleport Mode allows you to jump from one part of the world to another to catch the rewards quickly. The all-new features also allow you to add locations to a favorite list and save visited locations. Dr.Fone – Virtual Location (iOS) is an intelligent and reliable tool that does not even require you to jailbreak your phone before location spoofing.
Part 3: Spoofing Location on iPhone While Playing Pokemon Go with Virtual Location (iOS)
Are you ready to try the best location spoofer out there? Follow this quick and simple guide to change your virtual location and experience Pokémon Go like never before:
Step 1: Launch Dr.Fone on your Computer
To start the process, launch Wondershare Dr.Fone – Virtual Location (iOS) on your computer. You will see different features on the home page, so opt for "Virtual Location." Now, connect your iPhone and computer using a USB cable and click "Get Started." This is only required to establish a connection for the first time, and in following location spoofing attempts, only Wi-Fi will be sufficient.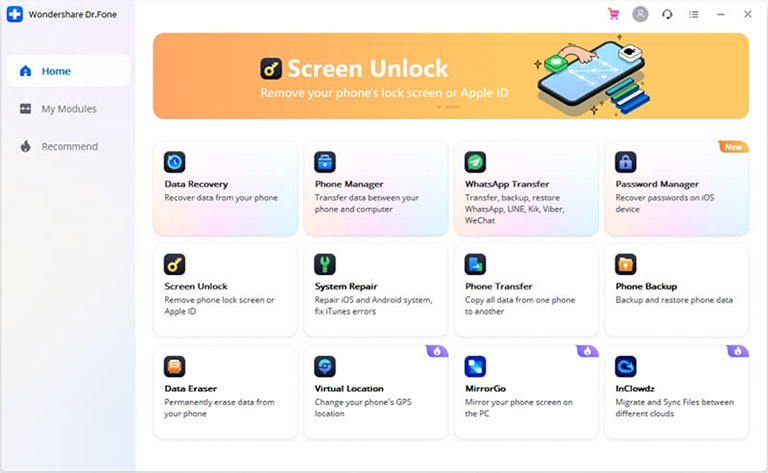 Step 2: Check your Current Location
The system will automatically direct you to the window where your current location is displayed on a map. In case you are searching for spots on the map, and can't find your location, click the "Center On" icon.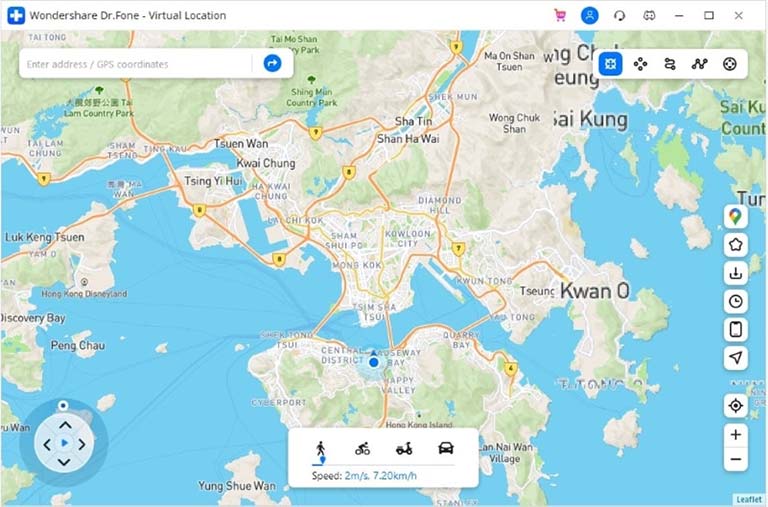 Step 3: Teleport to Desired Location
Afterward, click the icon on the upper right corner to activate "Teleport Mode." Next, enter your desired location in the upper right field and click "Go."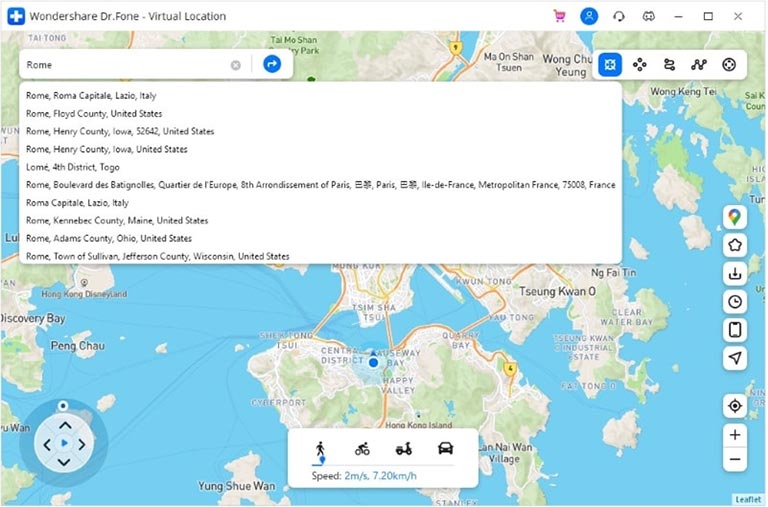 Step 4: Move to New Location for Pokémon Go
The system understands your desired location when you enter it in the third step. Click "Move Here," and your iOS device will be fixed to this place. Now, open Pokémon Go and start playing in the new location.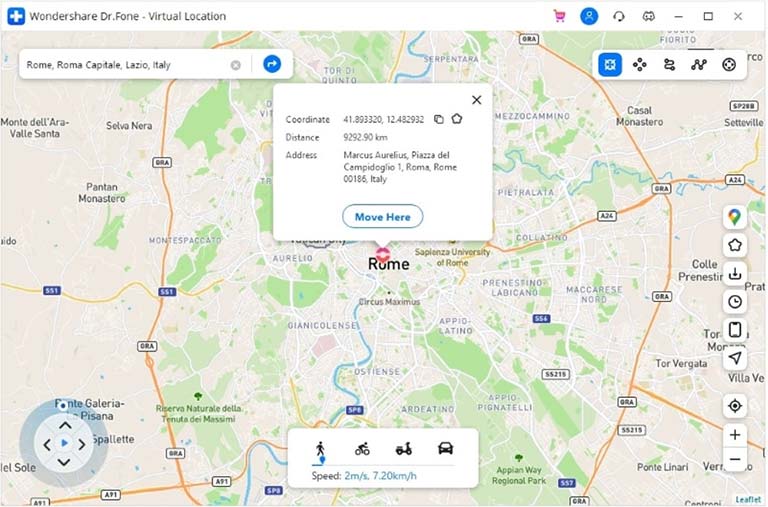 Wrapping Up
If you are a Pokémon Go player, then your gaming experience is incomplete if you remain restricted to your current location only. Try out Wondershare Dr.Fone – Virtual Location (iOS) today and catch legendary Pokémon. This tool will help you play location-based games while saving your time and energy moving around.