Windows 10 launched in 2015, and several users have appreciated the new interface. Volume Mixer in Windows 10 and Windows 11 has been an ancient feature of the operating system that has allowed users to control the volume of each application discretely.
With the Volume Mixer, users have been able to mute notifications, lower the volume of music and change the volume of video games while watching a YouTube video on Chrome at full audio volume.
Traditional Volume Mixer in Windows 10 and Windows 11
Click right on the volume icon in the Windows taskbar
Choose Open Volume Mixer
Since Microsoft has removed the Volume Mixer shortcut that has been available earlier in the taskbar. Volume Mixer in Windows 10/11 has been replaced with an advanced interface in the setting app. Technocrats feel that the new Volume Mixer helps users to manage the volume of different apps but it might not have an easily reachable taskbar interface.
Access to Windows Volume Mixer (Latest)
Open Settings
Click on the System option
Select Advanced Sound options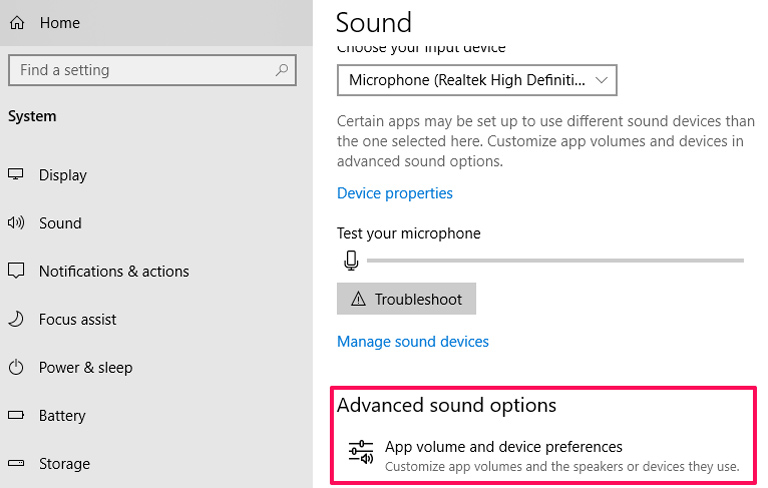 Tick on the App Volume and device preferences tab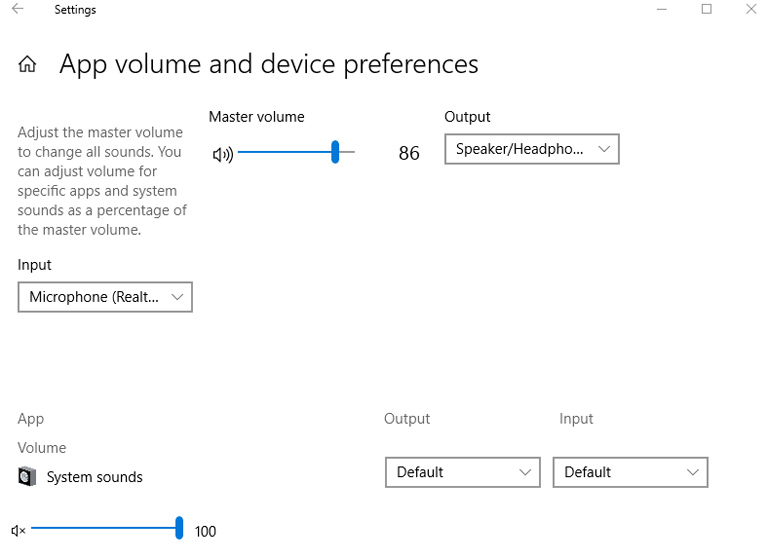 Well, the good thing is that there are many third-party Windows Volume Mixer alternatives such as Audio Slider, EarTrumpet, Volume2, Volumouse, Volume Concierge, and 3RVX. Let us discuss how viable these Windows Volume Mixer replacements are for users.
Best Volume Mixer in Windows 10 and Windows 11
It is a free and open-source Windows 10 app. It is one of the most suitable Windows volume mixer alternatives available. It includes some more efficient new features as well.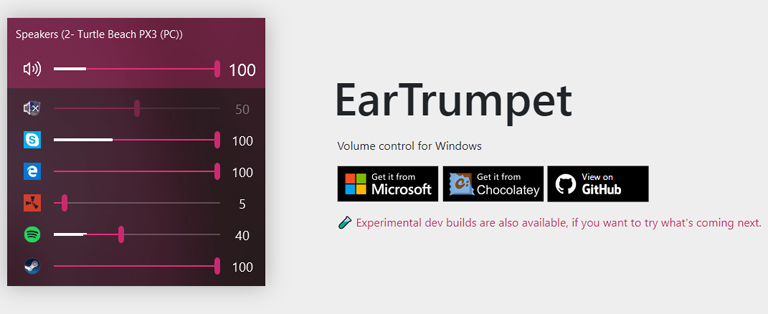 Features
Users can easily shift different audio outputs for each app.
Users will have a smooth interface for watching and managing individual volume levels for modern apps.
It comes with a default playback device management system.
Users will receive automatic updates via Microsoft Store.
This powerful volume control app has configurable hotkeys.
It has a separate Volume Mixer.
Users will get support for light/dark mode along with all accent colors.
It has a modern context menu.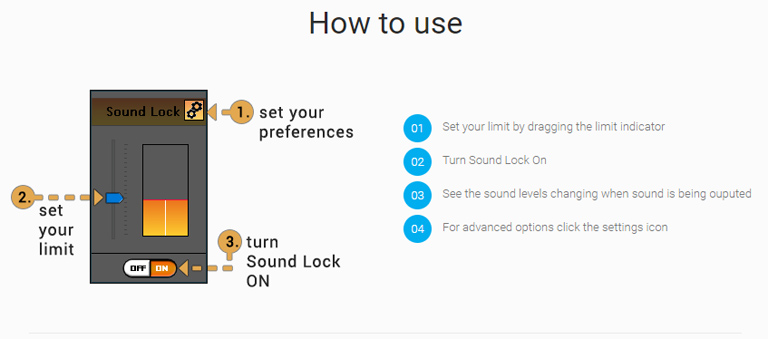 Features
It works as a sound output limiter.
Users can set the limit of the sound output for each playback app running on the system.
This Windows Volume Mixer can regulate the system volume of up to 14 channels.
It can lower the volume on its own during loud scenes while users watch a movie.
It makes sure that quieter sound volume is audible to users.
It does not require a lot of system resources.
It is considered a sophisticated Windows Volume Mixer replacement for the regular volume mixer in Windows 10. It allows users to modify the audio volume by rotating or moving the mouse on the screen border of the system. Users can change the sound volume with keyboard hotkeys as well.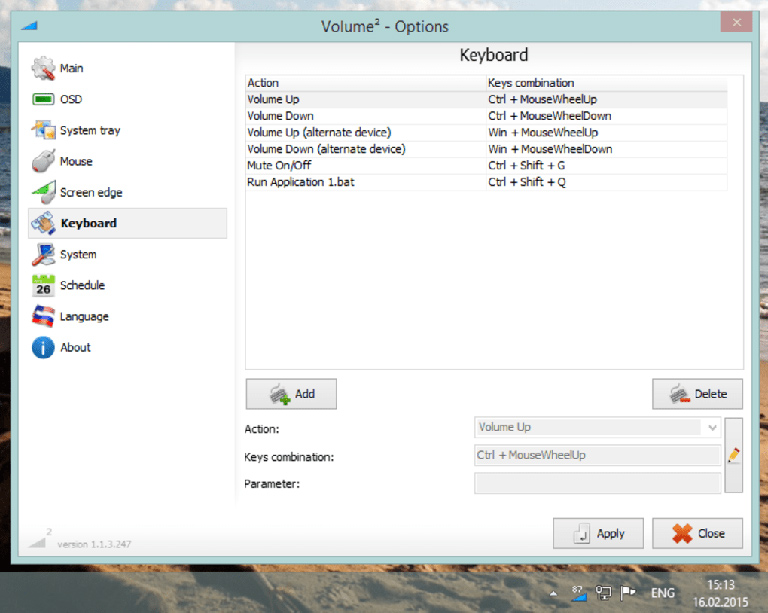 Features
It lets users change the volume by moving the mouse on the screen edges.
It comes with a superior audio mixer with enhanced volume control support.
It offers a scheduler and an on-screen display.
Users will have command line support as well.
It can store and recall various unlimited presets via just one mouse click or keyboard hotkeys.
Volume2 supports a wide range of languages as well such as German, Russian, Serbian, Spanish, Japanese, French, Italian, Polish, Arabian, and Chinese.
The installation of the app is easy and hassle-free. Volume2 does not have the main application window; therefore, users will have a configuration panel that will help them manage all aspects of the app including volume-changing tasks.
Users can manage the sound volume of their systems only by spinning the mouse wheel. However, at times, users want to use their mouse wheel for other tasks as well, thus, Volumouse helps users to make some intricate rules, which identify exactly when users would want to tweak the sound volume of their systems.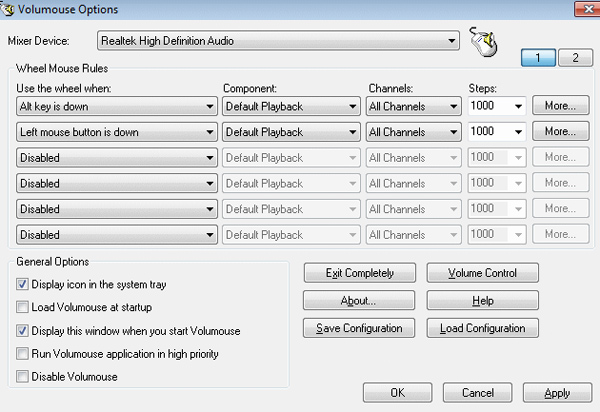 Features
Volumouse can adjust the sound volume for all channels by default.
Users can also control the sound volume of a specific application as well.
Users can spin the mouse wheel to make other changes along with window transparency. For example, With Volumouse running in the background, users can easily turn the current window, less or more transparent with these simple steps.
Users can set 12 different rules that will decide when and the mouse wheel will be utilized to control the sound volume.
There are two default rules in this app:
Hold down the Alt key
Roll the mouse wheel
Users can set 12 different rules that will decide when and the mouse wheel will be utilized to control the sound volume.
There are two defaults rules in this app:
When the Alt button is down
When the left side of the mouse button is downwards
Users can customize the rules on their own.
The program comes with a Screen Indicator as well. Users can see the on-screen indicator whenever the sound volume level is changed.
It will allow users to hold any key while spinning the mouse wheel and make changes in the sound volume.
Four Basic Fields of Some Rules
Use the wheel when: The field is the vital one of the rules. If users choose 'Alt key is pressed' then the rule will be applicable only when the 'Alt key is pressed'. They can disable the rule by choosing disabled in this field.
Component: It selects the sound component that needs to be controlled with a particular rule. The most useful section of the system is Master Volume.
Channels: 'All Channels' is the most functional option in this field. It will help users to alter the sound volume of both right and left channels in the same way.
Steps: Users can allocate the number of steps according to which they can adjust the volume for one movement of the mouse wheel. Increasing the number of steps will lead to faster alteration of the sound volume.
This Windows Volume Mixer alternative can automatically adjust the sound volume of the system to different levels at a certain time of the day. It has been launched in 2011. Since then it has become one of the most helpful Windows Volume Mixer replacements for controlling sound volume.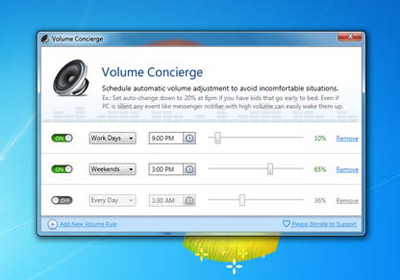 Features
Users can easily make rules for specific days and define the preferred volume level of the system.
It comes with a customization feature that will allow users to set up rules for their schedule according to weekdays, weekends, or each day of the week.
Customers can select any time interval with any volume levels varying from zero to 100 percent.
This utility helps users set up more than 15 rules, however, it will send a warning if users set up contradictory rules.
It is another brilliant Windows Volume Mixer replacement available for users. It is an incredible Volume Mixer in Windows 10 with exciting features. All features of 3RVX can be easily integrated into the Windows Audio Control.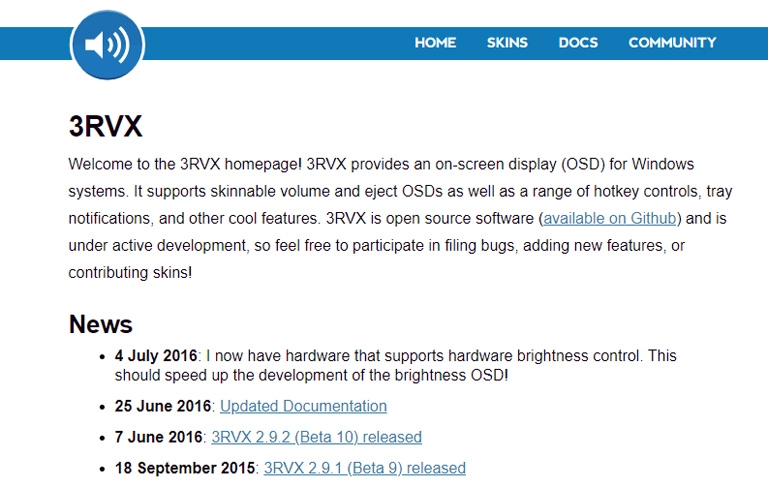 Features
It works as an on-screen display (OSD) tool for Windows 10.
It offers better animation right in the center of the system that will let users see precisely how much sound volume is being modified.
With Toggle Hotkey, users can pick a hotkey in the keyboard for every volume function such as mute and sound volume up and down. Two methods can be applied for this: using only keyboard hotkeys and using the keyboard and mouse collectively.
Users can control the volume via a skinnable slider that helps users customize the display using great-looking skins, which use alpha blend and fade effects.
It is a free open-source program.
The app offers numerous advanced features apart from controlling the sound volume of the system. It is considered one of the best Volume Mixer for Windows 10. It is a far more feature-rich app as compared to the regular Windows version.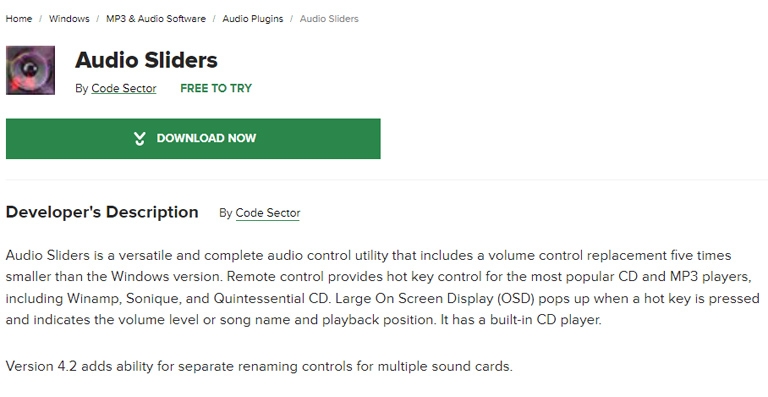 Features
Controlling features given in the app consist of treble levels, bass levels, volume auto-hide, and auto roll-up.
It has preset storage of various audio levels for different tasks.
It comes with customizable global hotkeys for changing volume levels.
As a replacement for the regular control panel, the app has trigger presets customizable on-screen display.
It provides multiple sound cards for system support.
Users can enjoy a skinnable interface with this Volume Mixer in Windows 10.
Some hotkeys given on this app can hide out the window, mute, reduce, and increase the sound volume of the system.
It supports various languages and mixers
It is considered one of the most suitable Volume Mixer in Windows 10 systems. It is a simple tool that is used for sound volume control on a very large scale. The app performs on the basis of commands.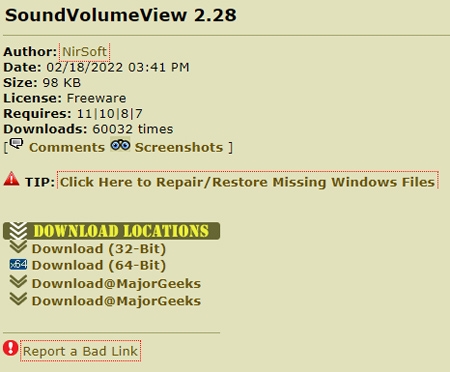 Features
Users can give a command to make some changes in their systems immediately with the help of this app.
The app provides extensive command-line support to allow users to save or load profiles, alter volumes of each sound element without showing any user interface.
People can save sound profiles in cfg formats that can be utilized for another sound component with the same settings later.
If users do not want to wish to use the command box to manage sound volume, they can control volume by choosing certain keys.
Users can choose one or more items from the core window of Sound/VolumeView and then unmute, mute, reduce, and increase the volume of chosen items using Accelerator Keys.
Accelerator Keys in Sound Volume View:
F7 = Mute
F8 = Unmute
Ctrl + Numeric Value = Reduce or Increase the volume
Frequently Asked Questions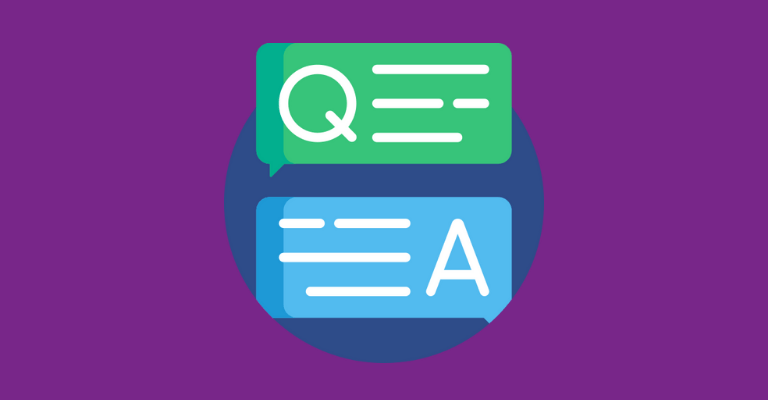 How do I fix the Windows Volume Mixer?
Users can update the audio driver, reset the sound settings, check Windows services, or configure the Taskbar notification settings. However, the quickest way to fix the issue is to restart the Window Explorer.
1. Open Task manager Ctrl + Shift + Esc
2. Click on the Processes Tab
3. Select Window Explorer
What is the best Volume Mixer for Windows 10?
EarTrumpet is considered the best Windows Volume Mixer alternative.
How do I change the sound mixer in Windows 10?
Users can follow the steps to change the volume mixer in Windows 10.
1. Click right on the speaker icon on the taskbar
2. Choose Open Volume Mixer
3. Drag the sliders to change the sound volume for each app
4. If the speaker icon of the app is disabled, it means the app is mute, enable it to unmute it. 
Why is my volume icon not working?
The issue is probably caused by UI interaction or Window explorer. Follow the ways to fix the issue.
1. Restart the Window explorer
2. Update Audio Driver
3. Reset Audio Services
4. Run Audio Troubleshooter
When I click on the volume icon nothing happens?
Open Windows 10 settings > Click On Update & Security > Select Troubleshoot
With the system file checker (SFC) and DISM tools, users can temporarily fix the issue. However, it is not a 100 percent sure shot solution; they might have to try it again rebooting the system.
Conclusion
These are some great Volume Mixer alternatives for Windows 10 with excellent accessibility features. Therefore, users who want to try something new other than the standard Windows Volume Mixer can opt for these apps. They can choose any of these Windows Volume Mixer replacements to get the best audio experience.