You're sitting on the couch, about to binge-watch your favorite show on Netflix, but suddenly your AT&T router starts blinking red. What does it mean? Why is it happening? And most importantly, how can you fix it? Don't panic because we've got you covered.
Below, we'll explore the reasons behind the "AT&T router blinking red light" issue and guide you through the steps to fix it and get back to your streaming session.
AT&T Router Blinking Red—How to Fix It?
If your AT&T router blinking red, it indicates a connection issue. Restarting the router, checking the cables and network settings, and updating the firmware are some of the ways to fix it. If the issue persists, contacting AT&T customer support is recommended.
| | | |
| --- | --- | --- |
| Light Symbol / Name | Light Status | Meaning |
| Service | Red | Your internet connection could not be verified or authenticated |
| Broadband 1 & 2 | Blinking Green and Red | Router attempting to connect to AT&T network for 3+ minutes. |
| | Blinking Red | Router unable to connect or receive DSL signal from AT&T network. |
| Battery | Blinking Red | Battery is dead and needs replacement. |
| Power | Red | Router is getting an inconsistent power supply. |
What Does an AT&T Router Blinking Red Mean?
If your AT&T router blinking red, it means that there might be a problem with the router or the power supply. When your broadband connection is working correctly, the modem gateway should have a green light.
A flashing green light indicates that the gateway is booting up, and an amber light indicates that a software update is in progress.
Common Causes for the Blinking Red Light on Your AT&T Broadband
If the AT&T broadband light blinking red, it could be due to the following reasons:
Router is not receiving an adequate power supply
Router can't connect to the internet
Software malfunctions or outdated software
Potential hardware problem
AT&T service outage in your area
Related Reading: Verizon Fios Router Lights Fixes (White, Blue, Green, Yellow, and Red)
How Do I Resolve the AT&T Router Blinking Red Issue?
Here are nine proven ways to troubleshoot your AT&T router when the light is blinking red. You can try each fix one by one and see which one solves your issue.
Note: If you're facing connectivity issues with your AT&T-supplied router, it might be due to the router's poor hardware performance. To resolve this issue permanently, it's recommended that you get your own router for your AT&T Fiber or U-verse connection. This will allow you more control over your network and improve its performance.
1. Check for Loose Connections
If your AT&T router is not receiving a proper power supply due to a loose or faulty cable, it can cause internet disconnection. It's a good habit to regularly check your cables, and if you find any loose wires, tighten them up. Also, replace any cables that are damaged or faulty.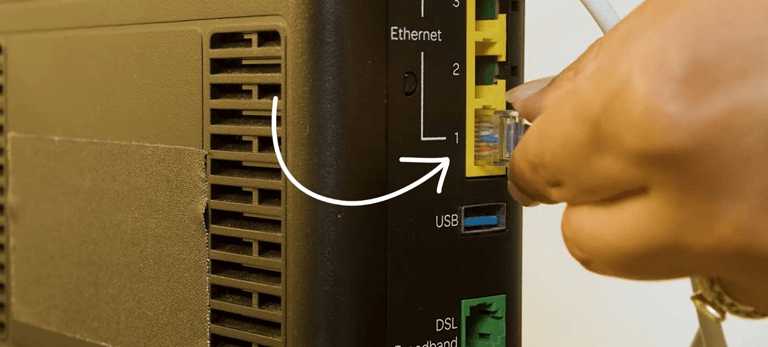 Moreover, power cables work optimally for up to three years. If you've had yours for longer, it might be time to replace it. It's even better to connect your router and modem directly to a wall outlet.
2. Restart the AT&T Router
If you're still experiencing issues with your AT&T router, the first thing you should try is restarting it. This simple step often fixes errors and restores your connection.
To restart your AT&T router, follow these steps: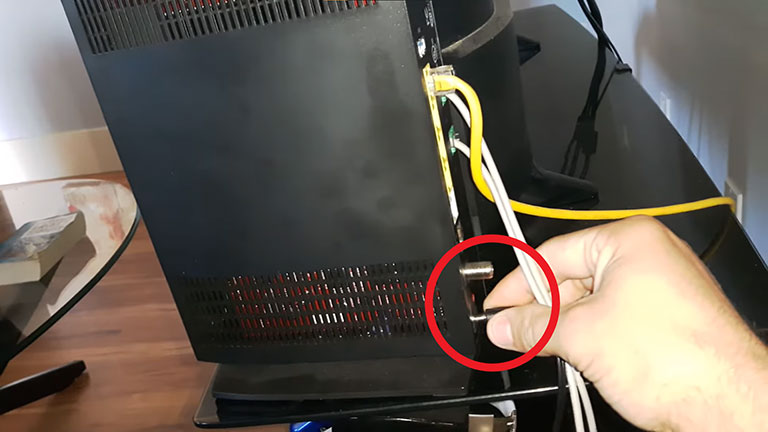 Turn off the router and unplug it from the wall.
Wait for at least 30–40 seconds to ensure all capacitors and electronic components are discharged.
Plug the router back in and turn it on.
Wait a few seconds for the router to restart.
Once the router has restarted, check for the white light on the router. If you see the white light, you're connected to the internet, and the problem should be resolved.
Hopefully, this will troubleshoot the AT&T broadband light blinking red issue. However, if the router continues to blink red, move on to the next method.
3. Check for Maintenance or an Outage
At times, the AT&T service in your area may experience an unexpected internet outage or undergo maintenance, leading to the disconnection of your router from the internet.
To determine if this is the cause, you can contact your local internet provider and ask about any maintenance work or search for official updates on AT&T internet outages.
Unfortunately, if the "AT&T broadband light blinking red" issue is due to an outage, you will have to wait until the provider resolves the problem on their end.
4. Move the Router Higher
If the AT&T router is located in a spot with poor signal strength, it may have trouble connecting to the network. In such cases, the router may blink a red light to alert the user.
To fix this issue, move the router to a spot with less interference, as it can help improve signal strength. It is also recommended to place the router somewhere high, as signals travel better in open spaces.
5. Check for Overheating Issues
When a router is overused, it can become overheated and fail to function correctly. If this happens, try turning the router off for a few minutes to let it cool down before turning it back on.
If the red light goes away, the problem is likely resolved. However, if the red light persists, it may indicate an issue with the router's software. In that case, you may need to contact customer support or a technician for further assistance.
6. Update the Router's Software
If you've tried all the troubleshooting steps above and the red light on your AT&T broadband is still blinking, the problem may be related to the router's firmware. In this case, you must update your router's software to fix the issue.
To update your router's firmware, follow the steps below:
Access the Smart Home Manager website using any web browser on your PC or mobile device.
Log in to your account and go to the "Network" section.
From there, find "Home Network Hardware".
Select your WiFi gateway to check for any available updates.
If there's an update available, download and install it. Once the installation is complete, your router will restart automatically, and the software will update. This process should resolve the AT&T router blinking red issue.
After updating your router's firmware, you may need to reconfigure your network settings, such as setting up your WiFi network and password again.
8. Check for Overloading
When you use your AT&T router beyond its bandwidth limit, it can become overloaded and cause the red light to flash.
This issue can be resolved by disconnecting all devices connected to your router and limiting the number of devices that can connect to the modem or router at a time.
After this, restart the router and check for white lights to confirm that the "ATT broadband light red" issue has been fixed.
9. Factory Reset Router
If you've exhausted all other troubleshooting options and are still having issues with your AT&T router, you can try performing a factory reset. However, keep in mind that a factory reset will erase all your settings and configurations, so it's best to back up any important data beforehand.
To perform a factory reset on your AT&T router, follow these steps:
Look for a small pinhole at the back of the router.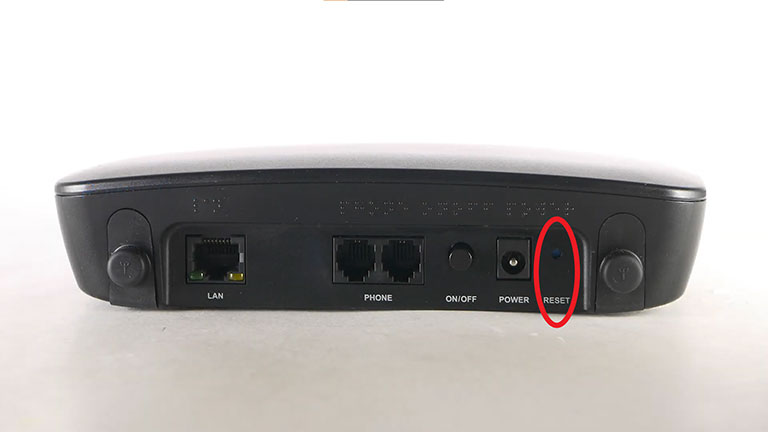 Use a safety pin or needle to press and hold the hole for a few minutes until the router restarts.
Wait for the router to restore the connection and reboot.
Check if your internet is working. If it is, your issue has been resolved.
Performing a factory reset can often fix persistent issues with the router, but if the problem persists even after the reset, it may be time to contact AT&T customer support for further assistance.
10. Contact AT&T Support
If the previous steps did not resolve the issue, it is time to contact AT&T customer support or a technician for further assistance. They will come to your home and troubleshoot the router to identify the problem. It is possible that you may need to replace the device if the issue cannot be fixed.
When you sign up for an AT&T internet plan, a router is typically included as part of the package. However, you will be charged a one-time fee for the router. If you don't want to purchase a router upfront, you can opt to rent one for a monthly fee of around $10.
Alternatively, you can buy your own compatible router from a third-party retailer, which is more cost-effective in the long run.
Related Reading: Frontier Router Lights Meaning (Colors and Troubleshooting)
Which Router Model Is Used By AT&T for Their Services?
If you want to use AT&T broadband, you need to have one of their supported routers. These include the NVG599, 5268AC, or BGW210 models.
AT&T also supports routers from other brands, such as Google Nest WiFi.
In addition to the standard routers provided by AT&T, the TP-Link Archer A8 is also a compatible modem.
For users who require parental controls, the Netgear RAX50 is a viable alternative to the standard AT&T routers.
Related Reading: Xfinity Router Blinking Orange (EASY Fix!)
Frequently Asked Questions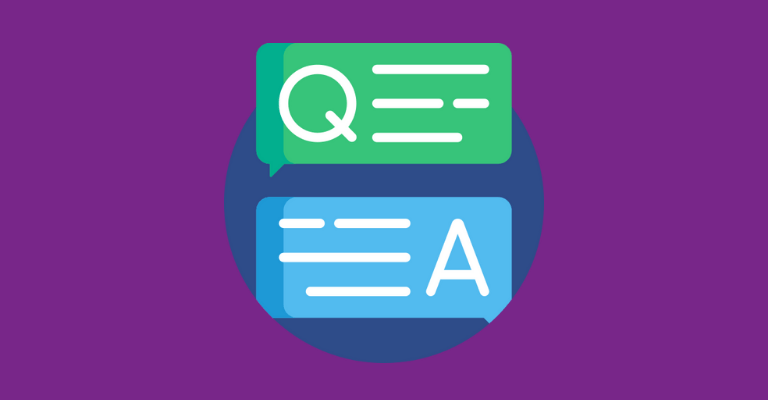 How Do I Fix My AT&T Broadband Connection?
To fix your AT&T broadband connection, try restarting your modem or router, checking cables and connections, and running a diagnostic test on your account. If the issue persists, contact AT&T customer support for further assistance.
How Do I Know if the AT&T Network Is Having Issues?
You can check the AT&T Network Status page on their website or use the myAT&T app to see if there are any reported outages or known issues in your area. Additionally, you can contact AT&T customer support for assistance.
The Bottom Line
A blinking red light on your AT&T router can be frustrating, but it's typically a sign of a connection or device issue. By following the suggested troubleshooting steps, such as:
Restarting the Router
Checking for an Internet Outage
Checking Cables and Settings
Checking for Overheating or Overloading
Updating Firmware
Performing a Factory Reset
You can often resolve the problem. If those steps do not work, contacting AT&T customer support or a technician can help identify and fix the issue. Remember to stay patient and communicate effectively to ensure a quick resolution.
Did you resolve the AT&T router blinking red issue? If so, please share your experience in the comments below!