If you're on the hunt for email finder tools that can help you quickly and easily find email on LinkedIn, then you've come to the right place. We've compiled a list of the top email finder tools to help you get the job done, so let's dive in!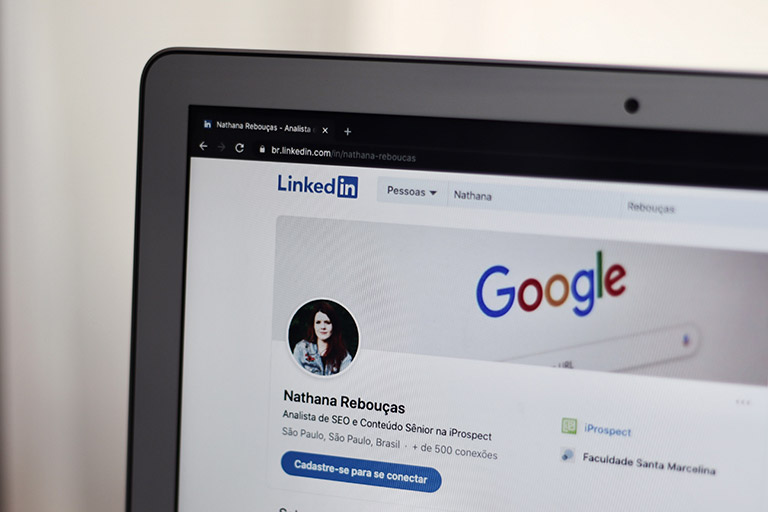 8 Best Email Extractor and Finder Tools for LinkedIn
Swordfish.ai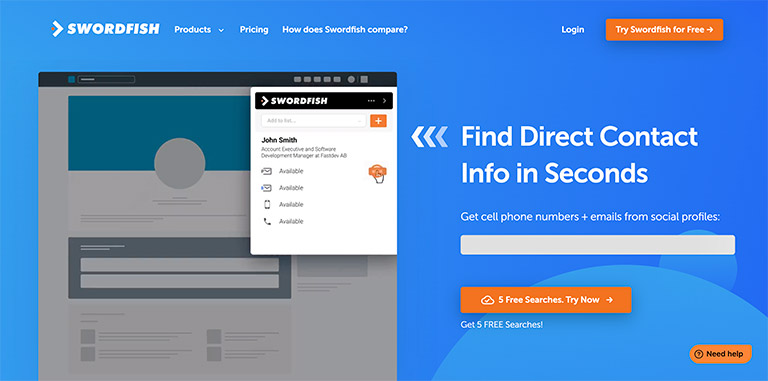 Swordfish.ai is a powerful search engine for finding professionals on LinkedIn. It's easy to use, fast, and reliable—you can search for anyone on the platform with their name or company and then quickly find their email address. Swordfish is the perfect solution for businesses that want to run detailed searches across multiple social media profiles of professionals to find accurate information. Its Chrome integration feature allows admins to extract information from social platforms such as LinkedIn, Facebook, Github, and Google searches. Prices start at $99/month.
Zoominfo.com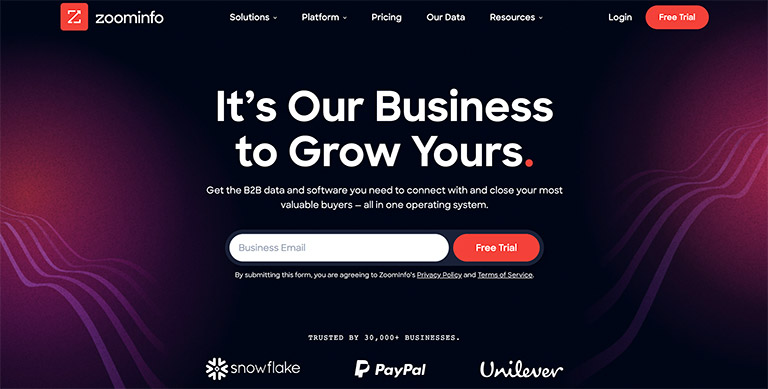 ZoomInfo is a business information provider that can be used for sales, marketing, and talent acquisition. ZoomInfo provides users access to contact information and company profiles, which can be used for research purposes such as studying potential leads or creating targeted lists. ZoomInfo also helps with lead generation and marketing research by allowing users to utilize its extensive database to find potential customers. Additionally, the company profiles on ZoomInfo can come in handy when researching potential competitors or looking for new partner companies. The basic package, Professional+, starts at $14,995/year.
Snov.io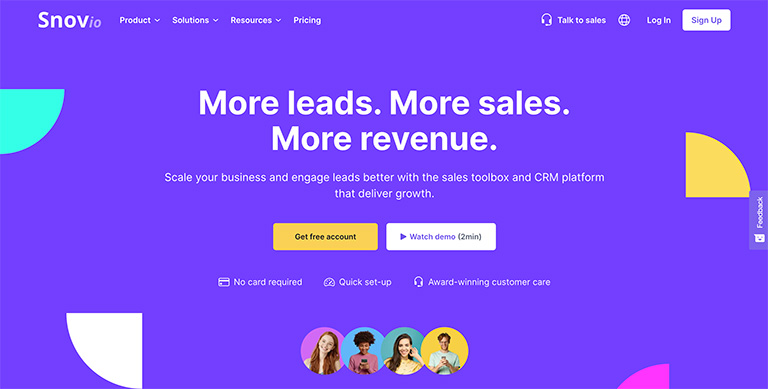 Snov.io is another great email finder tool for LinkedIn that helps users quickly and easily find emails for potential leads or contacts. The platform offers a variety of features designed to make the search process easier and more efficient, including automated email verification which allows users to validate large amounts of email in one go. With Snov.io's Chrome extension, users can scrape the contact information from any website with just a few clicks. Prices start at $39/month.
Emailsearch.io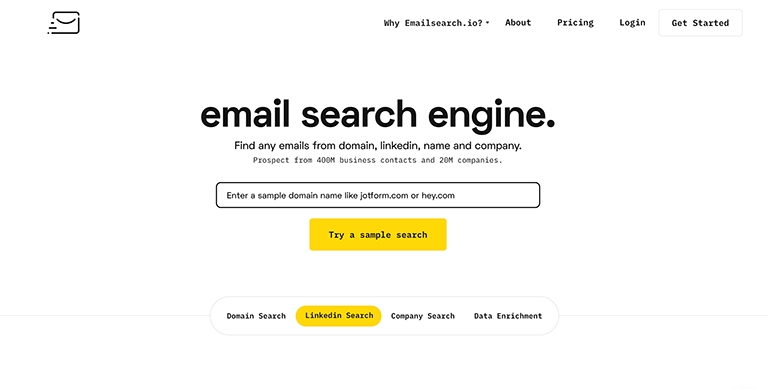 Emailsearch.io is a great tool for finding emails on LinkedIn, as it offers full contact information, including phone numbers and job titles. The platform has an intuitive user interface making the search process simple, and the results are accurate and reliable.
It can do an excellent job of extracting personal and professional email addresses from LinkedIn profiles and provides valid emails with greater accuracy. LinkedIn Sales Navigator support is also available. Additionally, it gives you a chance to send drip email campaigns. You can try Emailsearch.io for free for seven days. After that, the basic plan starts at just $29/month for 1,000 credits.
Adapt.io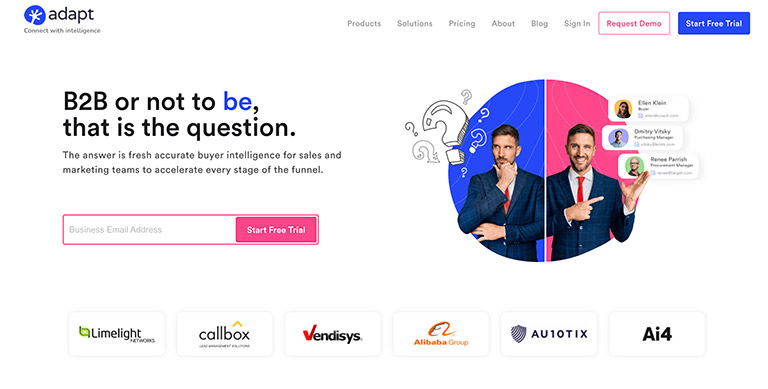 This is a great lead generator and prospector tool for anybody in the B2B area. With Adapt.io, you can take your B2B lead generation to the next level. The Prospector tool makes it easy to extract targeted lead email addresses from LinkedIn. The tool is easy to use and integrates with most CRMs. The Bulk mode allows you to search for multiple contacts and extract their emails and phone numbers. You can also export these found contacts into your CRM system. The free plan comes with 100 credits per month. If you want to upgrade to a paid plan, prices start at $49/month for 500 credits.
Aeroleads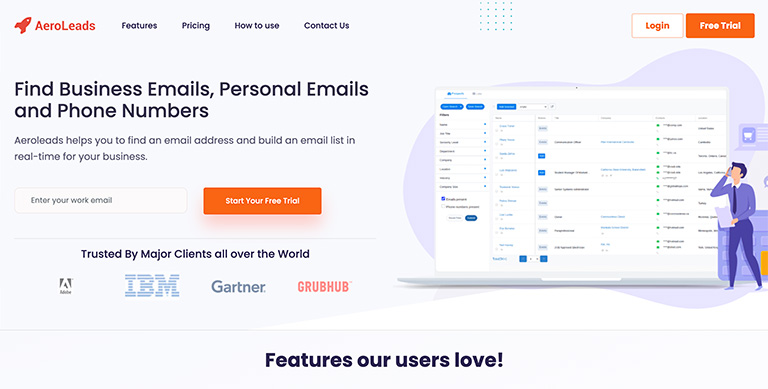 AeroLeads allows you to quickly and easily find individuals' and businesses' email addresses and phone numbers. It also allows users to export that data into a CSV file or transfer it to other CRMs or marketing software. With Aeroleads, you can verify emails and find emails by LinkedIn URL. Pre-existing email templates make it easy to reach out to prospects, and automated scraping helps you save time. The basic plan starts at $49/month for 1000 credits and one user.
Apollo.io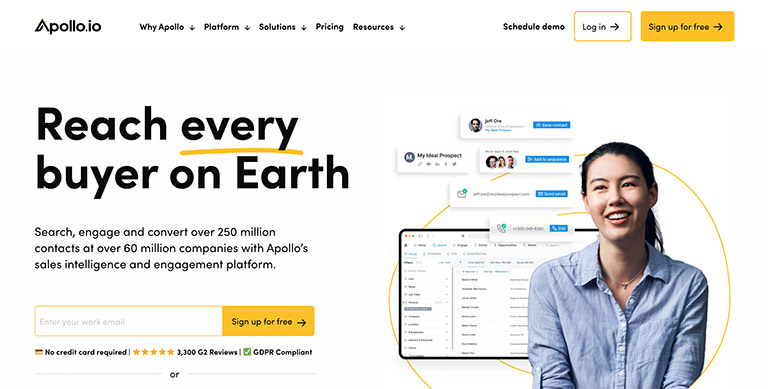 Apollo.io is an AI-powered B2B lead generation platform that helps sales and marketing teams find, qualify, and close leads faster. Apollo.io integrates with LinkedIn to search for contact information of potential customers or prospects. It also allows you to access data from websites like Crunchbase, Upwork, AngelList, and more. The platform supports various features, including email validation and automated outreach campaigns, making connecting with the right people at the right time easier. The free plan gives you 50 credits per month, and our paid plans start at only $49/month for unlimited credits.
GetProspect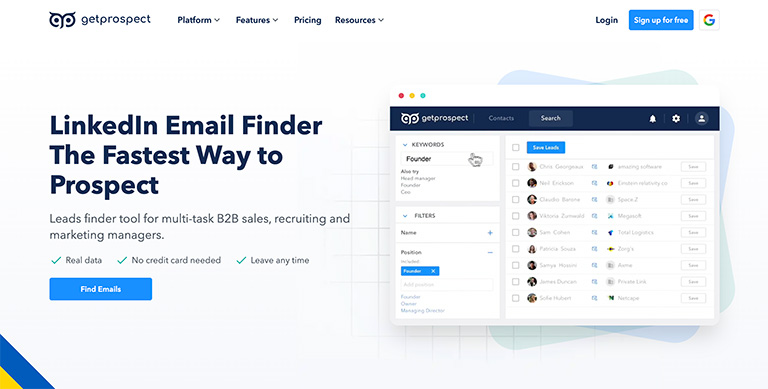 GetProspect is a great lead-generation tool for LinkedIn and other social media networks with CRM features. It allows you to search for potential customers based on industry, job title, location, etc., and get access to their contact information, such as emails, phone numbers, and more. You can use this tool for a variety of purposes, including generating leads, prospecting, searching for qualified job applicants, and preparing cold email sequences.
In addition, you can use GetProspect's Chrome extension to scrape the data from any website quickly. This tool is beneficial because it ensures the safety of your LinkedIn account by limiting profile views per day to avoid LinkedIn penalties. GetProspect also allows you to quickly and easily verify emails, export them in bulk, and import them into your contact list. You can send up to 100 emails per month for free, but the paid plan starts at only $49/month for 1,000 emails.
Summary
There are many email finder tools available for LinkedIn, which can make it easier to access the contact information of potential customers and prospects. From intuitive user interfaces and accurate results to automated outreach campaigns, these tools can provide the data you need without putting your LinkedIn account at risk. Whether you're looking for a free or paid solution, there is an email finder tool out there that will suit your needs.
These are just a few of the most popular email finders available for LinkedIn today. No matter your budget or specific requirements, there's sure to be one that works perfectly for you! With these tools, finding the right contacts and staying in touch with them will be much easier.