When you want to dig deep down the internet or work fast and instigate a better growth of your business, you will need proxies to stop you from getting blocked. IP bans are a severe issue, for they are used to restrict users' access based on their activity records or purely on their location.
One of the easier ways to use your proxies and manage them comfortably is via a proxy extension for the Chrome browser.
You can find various options for proxy managers online. We have collected some of the best and evaluated them for you to choose from without needing to get lost among all the unknown resources.
GeoShift is a proxy extension for Chrome that works only with proxies provided by FoxyProxy. You will need to have their account to use it.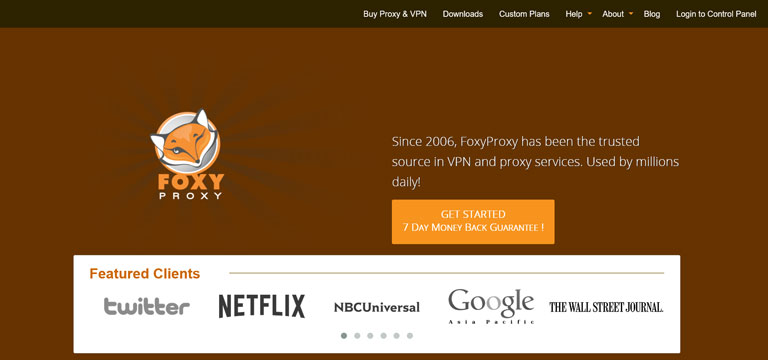 It has an easy-to-use interface. You can pick a country from the list and click on its flag to start using an IP address from that country. You can choose not only countries but cities too. GeoShift moves your computer's physical location to another city or country that will be shown virtually.
GeoShift provides up to 100 countries to choose from. It is a great tool to circumvent IP bans and access all the content that you need. If you are already using FoxyProxy services, your best choice is this extension. But even if you are not, you might want to consider it too.
Oxy Proxy extension is compatible not only with proxies from Oxylabs but also with any other provider. It means that you can manage your proxies from multiple providers in one place. That will give you a comfortable single menu where all your resources can be controlled without having to flounce about different menus with different interfaces to set your settings right.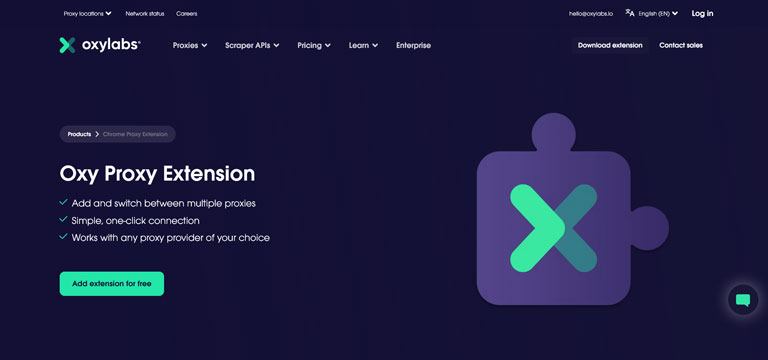 You can use an unlimited number of proxies and switch between them whenever you want. You can make your sessions last longer with the same IP or change it faster.
You can't find a better extension if you need to use proxies from multiple providers. And if you want to use only one, all the necessary features are here for that too.
You should also consider using proxies from Oxylabs since this extension allows you to change residential proxy sessions without editing your username when using residential proxies from Oxylabs.
This extension for Chrome provides advanced proxy settings. It extends the browser's ability to configure the proxy.
One of the advantages of a friGate for Chrome is that it can provide special lists with blocked websites in a specific region. It has a friendly interface that configures the list of sites you want to open through a proxy. Each site can be linked to a particular proxy. This way, the proxy is enabled only for selected sites, allowing you to keep your work at your default settings on every other site.
FriGate supports all proxy types that can be set from anywhere in the world.
It allows you to change your IP address, gives you traffic encryption, and improves your access by also making it faster, among other things.
This one can be used with proxies from multiple providers. It is optimized for Chrome to allow you to manage all your proxies in one place.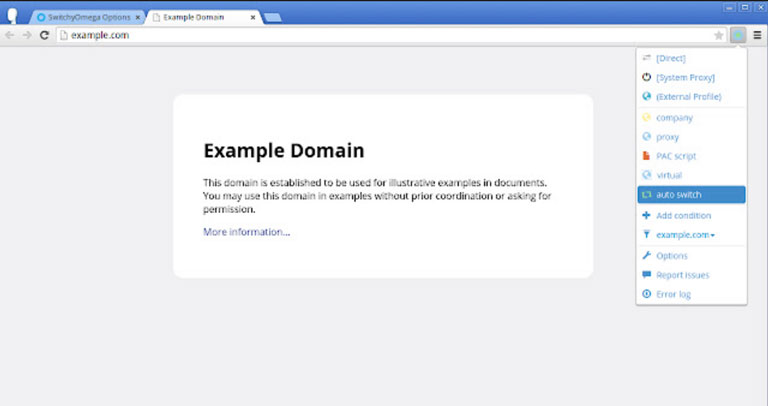 You don't need to go through different menus or manage difficult advanced Chrome proxy settings. With a few clicks, everything you need is done. You can set automatic usage of a specific proxy for a particular site.
Of course, you need to get a proxy first. Proxy SwitchyOmega doesn't have any proxy services, for it provides only proxy configuration.
It also provides reviewing and modifying proxy settings for sites that fail to load, so you will get an instant improvement for any issues that you might face while using this extension.
You should be noted that Proxy SwitchyOmega conflicts with other extensions of the same kind, so you will have problems and should probably use it only if you are not using any other proxy extensions.
The name of this extension should not confuse you. It is called Best Proxy Switcher, although it doesn't mean that it is actually the best. Yet, it is among the great ones.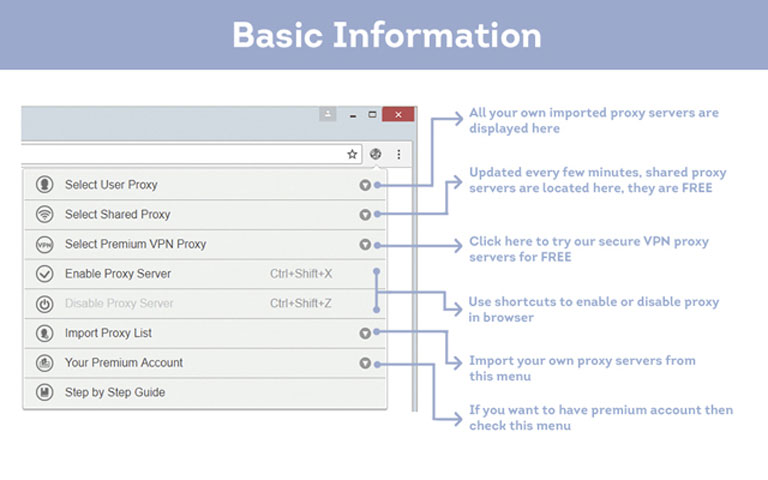 You can use Best Proxy Switcher with the proxy of your choice or let it use free proxies from the most recently checked list from their website. They can offer more than 10 000 working proxy servers per day.
Free proxies are usually not safe, although there are exceptions. You should be very careful before going that route. We suggest using paid proxies, and this extension works fine with them.
This extension provides the necessary comfort where you can control your proxies and change your IP address with just one click on a menu. You can easily access Smartproxy residential and datacenter proxies there.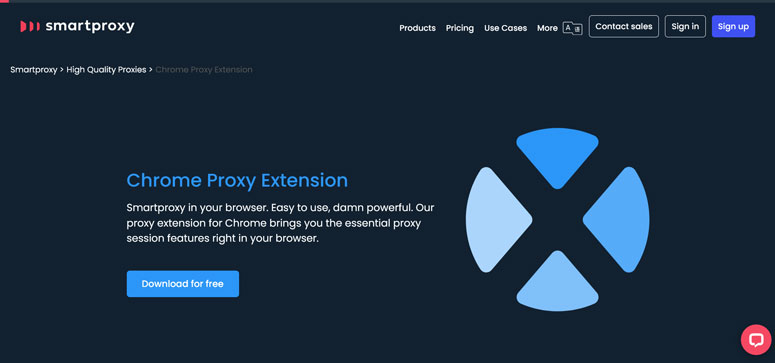 With this extension, you can engage in large-scale activities by setting up a location and using a sticky session to access and manage a social media account when you need an IP to stay longer, or you can change your IP as often as you need to scrape the web.
A residential IP from any country can be used. But datacenter proxies are only US-based from this provider. Whichever you choose, you can set all the settings at once and start using them without bothering about micro-changes each time.
Final thoughts
Out of all these proxy extensions for Chrome, we recommend using those that are compatible with proxies from multiple providers. In this day and age, the best proxy extension is the one with the most features, and those that can be used with any provider are clearly on the top. However, suppose you are using particular proxies from a provider that also offers an extension as an addition to their proxies. In that case, you don't need to look any further, and you can grab that extension for sure.