In discussing the pros and cons of upgrading to Bluehost Pro we should perhaps first check out the difference between that and the regular version of Bluehost web hosting. What does Bluehost Pro offer that the standard shared hosting package does not?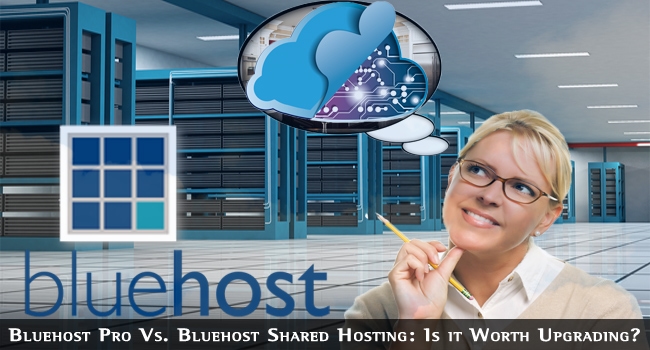 The fundamental difference is more space. The Pro version offers you more resources with significantly fewer other users sharing the server. Standard shared web hosting involves large numbers of people sharing a server, and you get access if there is a room available when you need it.
Generally, that is not an issue, but as your website expands your demand on the server increases. While downtime can occur, it is usually quite rare. This is why most web hosting services advertise 99.9% uptime or more. This is OK for most people, but if you run your system even just 12 hours each day, that is 3.6 hours downtime every 30-day month.
Usually, that doesn't occur. However, as your use of the service increases such as increased traffic, running more websites or subdomains from your account or increasing your upload and download volume, then you may notice a slow-down in the service – it may appear sluggish that, if not an outright downage, can be embarrassing with your clients.
VPS or Bluehost Pro?
A slowdown in your blog's responsiveness is when you would have to consider an upgrade in your hosting service. The next logical step would be to choose an entry-level VPS (virtual private hosting service). This offers you your own section of a server. Not the entire server, which would be a dedicated server account, but your own partition of it that is reserved exclusively for your use. Bluehost offers this from around $30 – $120/month. The more you pay, and then more storage and CPU is reserved for you.
While VPS is good if you are expanding your business, you should consider the cost if you have no need for it. If you are running a blog and are hovering around the CPU usage where things appear to be slowing down occasionally, then this will only get worse. That's the point where you should consider an upgrade – so should it be a full entry-level VPS option or something between that and standard hosting?
This is where a Bluehost Pro shared hosting account might be of benefit to you. If you already have Bluehost, you can buy Bluehost Pro as an add-on at $20/month. You pay more than the standard account, but less than the lowest level of VPS. So the big question is: is it worth it? Let's see!
As a blogger you want a seamless switch from one hosting account to the other. Bluehost can achieve this for those already having a Bluehost account. If not, and you use another service such as HostGator, you will need to switch to Bluehost and change your DNS settings. This is not difficult, but is not as seamless as a switch from one Bluehost account to another.
Let's have look at what Bluehost Pro offers. It lies somewhere between a VSP service and a shared service. It is shared hosting, but you share the server with much fewer people. Where previously you would share with 1,000 others, for example, with the Pro account you might share with around 12. With VSP you have your own area of the server that nobody else can influence.
That is a significant advantage, but there are others:
Increased Speed
Your Bluehost Pro account provides you with more storage space, CPU and memory. This translates into significantly faster loading speeds for your website or blog. If you are using WordPress, then you will be impressed by the way that the Pro account speeds everything up. Uploading files to your site or blog will be much quicker with fewer hang-ups – if any.
Dedicated IP Address
Bluehost Pro offers you your own dedicated IP address. Google gives ranking points to blogs and websites with a unique IP address. Shared hosting involves shared IPs, so if you are looking for these small advantages over your competitors in ranking, then this is a significant one. A private IP is worth the extra cost of the Pro account itself to some people.
Here are some of the advantages of a dedicated IP address:
With a dedicated IP address you can access your website via a web browser or FTP using the IP. This may be important when the domain name is not accessible, such as happens during domain name propagation periods.
Although you now get these without a dedicated IP, many feel a Private SSL Certificate more secure if you have your own static/dedicated IP. An SSL Certificate enables you to accept credit cards online (see below).
Sharing an IP address with known adult or spam sites may have a negative effect on your rankings.
If you use anonymous FTP, many web hosts require a dedicated IP for this to operate properly.
Many believe the dangers of using a shared IP address to be overstated, although using a dedicated IP address will certainly eliminate any uncertainty.
Internet Security: Private SSL Certificate
You get an SSL certificate that will provide extra security to your visitors and customers should they want to pay for products on your blog. A private SSL certificate benefits any sales page, and offers you an advantage over competitors without one.
SSL is short for the Secure Socket Layer protocol, which is an encryption system that makes certain that your personal details, including bank details, are secure and cannot be accessed by any human. Were this not the case, then it would be impossible to purchase online. You get this certification for any page on your website or blog where you accept payments for any reason.
Free Spam Experts Accounts
Another form of security is offered by Spam Experts. This service filters your incoming emails before forwarding them to your email Inbox. You can whitelist email addresses you want to be passed through to you, and blacklist those you want to be blocked. Others will be assessed by Spam Experts, and you will be able to view those flagged as spam that has been blocked and delete or send them to your inbox.
Bluehost Shared Hosting customers will be charged $2.50/month for this service, while Bluehost Pro members get 4 free Spam Experts accounts (covering 4 different email addresses).
Backups Pro
Backups Pro offers free backups of your blog on a daily, weekly and monthly basis. The backups are carried out automatically and help to maintain the security and fidelity of your website databases and website files.
This system protects your blog from crashes and loss of data and is very easy to use to restore your data. Lost data is a thing of the past, and even if you have computer issues that require you to reset to a previous restore point, all your data will be up to date. You can restore any individual file using the search facility provided, and restore it with just one click.
Backups Pro offers simple restore of databases, tables and web files any time you need them. Unless you are a Bluehost Pro client, you must pay $19.99/annum for this service – so it's worth having.
Domain Privacy
Many people love Domain Privacy because they can hide their personal information from a 'Whois' domain search. Rather than seeing your personal details, Bluehost information will be displayed instead. This is important to those who do not want details of the owner of their domain names to be published and easily found out.
Additional Storage and Performance
If you are a Bluehost Pro customer, you are allotted additional server storage space for your MySQL databases and website files. Databases can often be large and take up a great deal of space. In some cases, a shared Bluehost account may not offer sufficient storage for all your web files and MySQL databases. You not only get extra service storage with a Bluehost Pro account but also 5x the server performance of shared accounts.
Is a Bluehost Pro Upgrade Worthwhile?
If you are finding memory issues, or your blog seems to be running slow, then you should consider this upgrade as an option. What else can you do? Unless you reduce the size of your site then VPS is your only other affordable option. A dedicated server would be far too expensive for most bloggers, professional or not.
There is nothing wrong with VPS – it does what it was designed to do, and provides you with lots more space and CPU access. That means you can maintain the speed of your blog irrespective of its growth. Your visitors will have no perceptible reduction in their access speed, and you will have more room for your own programs and apps.
However, this can be expensive, so why pay more each month if you get what you want for only $20 each month. Many pay more than this for their basic web hosting! You get fewer users of your server, more resources and you will pay less than for VPS – even entry level VPS that might not offer you much more than Bluehost Pro!
It's not what you get that matters, but what you can use. Most people cannot use all the aspects of VPS, while they can use what the Pro version offers. It is ideal if you have outgrown the standard web hosting service, but not quite reached the level that could justify the significant extra monthly expenditure.
You also get enhanced security and privacy from others finding that you are the owner of your registered domains. The backup service offered by Bluehost Pro is almost worth the extra charge itself, and if you add the additional server storage and performance, it's a no-brainer if you have a need for these extra services. But that's not all that Bluehost Pro offers:
CPU Throttling
Check your Bluehost cPanel and find the CPU throttling graph. You can see there whether or not your usage of the CPU is taking up more than its fair share of the CPU available on the shared service. Bluehost schedule the use of the CPU in a very sophisticated way, and can show on the graph when your instructions are awaiting space before being executed. This information is useful when you are analyzing why your blog is slowing down. By increasing your access to the CPU with the Pro version, you can avoid such throttling issues that slow down the apparent speed of your blog or website to your visitors.
How to Upgrade
Quite frankly, this upgrade to Bluehost Pro is worth the $20 and is a steal at that price. If you are finding a slowdown on your blog or website loading speed or even in the speed of uploads or downloads requested by your visitors, then this could be due to an overload of the CPU of your hosting service.
Simply go to your cPanel and you will see the upgrade offer. Click to take it and you will be switched over rapidly enough so that your visitors or blog readers won't even notice. Is it worth it? Only you can answer that question! It's not an option you should take if your blog is running fine. However, if it starts to slow down due to the volume of traffic you have, then it's well worth trying – at $20 a month it won't break the bank!