The Technological Airbag helps companies feel more at ease in a rapidly changing global context. Hundreds of thousands of users prefer digital ecosystems and migrate online. This generates a great demand for software products in the fintech segment, and together with the requirements for the volume of services provided, high expectations for their quality.
These conditions define the central vector of development of the industry in the foreseeable future – to improve IT solutions and increase their reliability.
We have collected the 14 most important Fintech trends of 2023 and want to present them to you.
The strategic priority is for those companies that are able to quickly and correctly implement industry trends. But for this, you will need to create a modern fintech software solution. To do this, you need to find a professional fintech development company that will help you implement it.
Top 14 Fintech Trends
Let's take a look at the latest fintech trends.
Development of neobanking
Neobanks, or challenger banks, do not have physical representations, but they carry out financial transactions remotely through the desktop or mobile applications.
Online banks are built on a fundamentally different infrastructure that gives users exclusive benefits: lower fees, higher lending rates, and customer-centric service. Neobank creates an ecosystem of customized services around the basic functions.
Digital onboarding
Every year, connecting and registering users in various applications takes less and less time. This also applies to the banking sector. In 2023, market leadership will be for those who develop digital identities.
Application of robotics
The development of this trend is based on the acceleration of operational productivity through the programming of robots. The solution implemented on the basis of artificial intelligence made it possible to reduce the labor costs of employees for routine operations and significantly speed up production processes.
Using AI
Artificial intelligence in mobile banking is already helping to understand user spending and, based on the data, differentiate services. AI and analytics are important tools for successful digital banks, which traditional banks are just implementing. In 2023, the need for personalized banking offers will only increase.
Distribution of mobile wallets
Mobile wallets are programs that allow you to use your mobile phone as a contactless plastic card, which makes financial transactions safer. After all, the risk of losing or accidentally disclosing payment instrument data is reduced. In addition, the rejection of plastic payment instruments supports eco-orientation.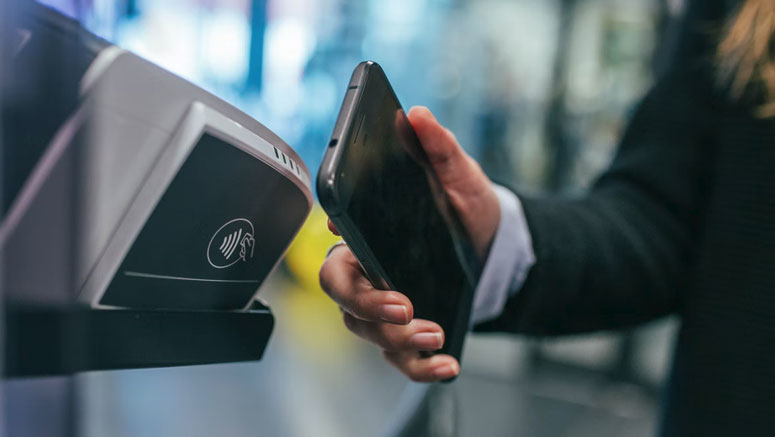 Banks and financial institutions of the world have already introduced dozens of applications on the market that support mobile wallets: iPay, Skrill, PayPal, and others.
The rapid growth of online commerce
More and more people are buying physical goods from their phones. Social media sales are on the rise. Moreover, a complete refusal of mediation is possible and, as a result, the execution and payment of the order directly from the seller.
Implementation of cloud solutions
Cloud-based software is attractive to the fintech industry due to its easy scalability and flexibility. For example, you will be able to migrate a digital product to another platform without visible signs for the user.
The transition to distributed data processing is also creating a digital workspace, which reduces the cost of maintaining corporate infrastructure. But the deployment of cloud-based solutions also has a bottleneck – quality assurance (QA).
Intensive development of Open Banking
Consumers are increasingly interested in digital banking and are looking for banks that provide the best user experience. Analytics predicts a 117% increase in the number of Open Banking users in 2023.
Payment using QR codes
QR codes allow small businesses to simplify the payment process and make it cheaper. Following the markets of Asia and Africa, this trend will cover the rest of the world in 2023.
Omnichannel payments
Omnichannel is a marketing term that refers to the mutual integration of disparate communication channels into a single system in order to ensure seamless and continuous communication with the client. Omnichannel payment processing offers multiple payment channels that are integrated and consistent with the user interface.
Quality assurance
Comprehensive testing helps to timely identify problems in the complex business logic of a product even at the stage of its development. For example, to ensure the privacy of user data. An essential role is played by the localization of financial transactions, taking into account the regulatory requirements of the legislation of a particular country or region.
Another marker of software quality is the speed of request processing. An increase in this indicator is not complete without load testing, which allows you to evaluate the performance of the software under the expected or maximum load, detect bottlenecks, and further guarantee the desired speed of the solution.
Instant payments
Every year the speed of transactions increases. At the same time, it is necessary to ensure the security of payment at high speed. One of the trends in 2021 is the increase in the speed of money transfers.
Growth in installment purchases (BNPL)
BNPL – Buy now, pay later. The rapid growth of online trading is giving rise to new payment models such as BNPL. It will become important for payment systems to pay attention to the creation of technological ecosystems in order to implement the installment system for all payment methods.
Increasing transparency and speed of B2B payments
In 2020-21, the number of automatic payments has grown strongly. During the pandemic and remote work, many companies have had to change their usual transaction patterns. This trend will continue in 2023.
Summary
Understanding digital banking development trends will be useful both for banks and fintech themselves and for third-party developers. Banking in 2023 is increasingly acquiring signs of an ecosystem that includes not only classic banking products but also non-financial services.