Thanks to 4G connectivity and super-fast WiFi connections, video calling apps have become a crucial part of our lives. In addition to the trusted names like WhatsApp, Messenger, and FaceTime, there are thousands of apps that allow video calling. And most of them are trying to increase the streaming quality-which has an impact on the bandwidth requirement as well.
On normal days, when you have a strong WiFi connection, it isn't a problem.
However, if you are on international roaming or stuck with limited data, things could take a difficult turn. It is exactly when you need video calling apps that use less data resources. These apps use complex algorithms to compress the video content so that a video call does not consume a lot of data from your device. You may find them useful if you have a quite restrictive data plan as well.
In this article, we have created a list of the best video calling apps that use the least data. Of course, you may find some familiar names on the list, but others are pretty new to the scene. We have ranked these apps based on their average data consumption during a video call. I hope this helps.
List of Video Calling Apps That Use Less Data
Here's a comparison chart of all the listed video calling apps.
| App | Platform | Record | Number of Simultaneous Users | Talk Time per 1GB Spent |
| --- | --- | --- | --- | --- |
| | Android / iOS | Telephone | 4 | 136 min |
| | Android / iOS | User and password | 16 | 113 min |
| | iOS | Apple ID | 32 | 316 min |
| | Android / iOS / PC | Email or phone | 50 | 133 min |
| | Android / iOS | User and password | 4 | 216 min |
| | Android / iOS | User and password | 20 | 120 min |
| | Android / iOS / PC | User and password | | 374 min |
In this table, we have compared different video calling apps that use less data.
#1 WhatsApp (Low Data Mode)
You may be surprised to see WhatsApp on this list, but it is one of the video calling apps that use fewer data resources. WhatsApp manages to do it through the Low Data mode. You can enable this mode by going to Settings > Storage and data > and enabling 'Use less data for calls.' Once you have enabled this option, all the audio and video calls will use less data.
However, as a result, you may see a drop in the video and audio quality. If you are up for that challenge, you can stick to WhatsApp for your video calls when you are going abroad or when the WiFi is very slow. According to some testing situations, using WhatsApp to make a video call of 10 minutes will cost you 74MB of data. It means if you have 1GB of data, you can talk for more than two hours.
So, if you have WhatsApp installed on your iPhone or Android smartphone, you don't need another app for low-data video calls.
#2 JusTalk
JusTalk is a video calling app available for both Android and iOS devices, and you can download it from official sources. While JusTalk is a decent communication app, an area it shines in will be video call data usage. The app is not a resource-hog by any means. On the other hand, you can video-call someone through JusTalk for 1 hour and spend only 500MB.
It is also great that JusTalk is completely free to use. The app even has a different version that is optimized for kids. On both apps, you can enjoy high-quality video calls without exhausting your data balance. Unlike FaceTime, JusTalk is available for Android and PC as well. Because JusTalk is not connected to any big shots like Google or Apple, you have more freedom as well.
So, if you are going on an international tour, you may want to install JusTalk on your device and share the app with your closest friends or family.
#3 FaceTime
FaceTime by Apple is one of the best video calling apps out there. According to testing, it also happens to be the lowest data-consuming video calling app in the scene. It does not come as a surprise, though. Apple does a lot of things to optimize the performance of FaceTime and other products. It also helps that FaceTime calls are done between Apple devices and nothing else.
As per the testing results, if you have 1GB of data, you can engage in a FaceTime call for a whopping duration of 316 minutes. It must be a solace for those who struggle with video call data usage every month, we are sure. Though it is data-friendly, FaceTime does not compromise the video quality, all thanks to Apple's great works. We cannot forget that FaceTime is still restricted, though.
Therefore, if you are in the FaceTime ecosystem, you can keep using FaceTime on your iPhone or iPad. This decision will help you save as much data as possible.
#4 Skype
Skype, which allows you to have up to fifty members in a video call, is the next choice if you want to make a video call without spending too much data. As per the testing, Skype allows you to talk for approximately 133 minutes if you have 1GB of data. The best part? You can get the same experience on desktop, Android, and iOS.
Skype has been the go-to option for video calls for quite some time. It isn't surprising that the developers have found a way to compress the calls without ruining the experience. In the end, Skype is a far better app compared to the likes of Google Duo and Hangouts. With these apps, you can talk for less than an hour if you have 1GB of data.
Unlike WhatsApp and FaceTime, Skype is accessible on an impressive variety of devices. So, even when you are on the run, you can connect to people around the world.
Other Apps with Less Video Call Data Usage
Here are some lowest data-consuming video calling apps. Some of them are popular while others are used. Therefore, you may have trouble getting these apps installed on your phone.
#5 Zangi Safe Messenger
Zangi Safe Messenger is a security-oriented messaging app available for Android and iOS. You can use the app to make voice and video calls to other people. The company says that the app will need only 134kb of data for a single-minute video call. Judging by many standards, it is really low. On the bright side, you get the additional safety as well.
#6 IMO
IMO is another popular video calling app that is loved by people who live with low data packs. IMO allows you to engage in moderate-quality video calls using less amount of data. Setting up and using IMO will not be a difficult task, either. Before WhatsApp and FaceTime became the norm, IMO used to rule the world of video calls.
#7 LINE
Last on the list, we have LINE, a popular video calling that uses the least data for video calls. You get a number of fancy features in the package as well. For instance, LINE has an incredible collection of text messaging options, such as emojis, stickers, and more. At the end of the day, all these activities will not drain your data pack.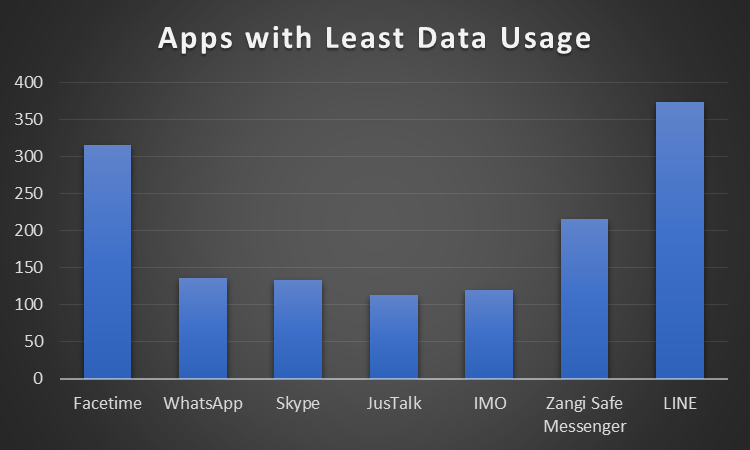 Frequently Asked Questions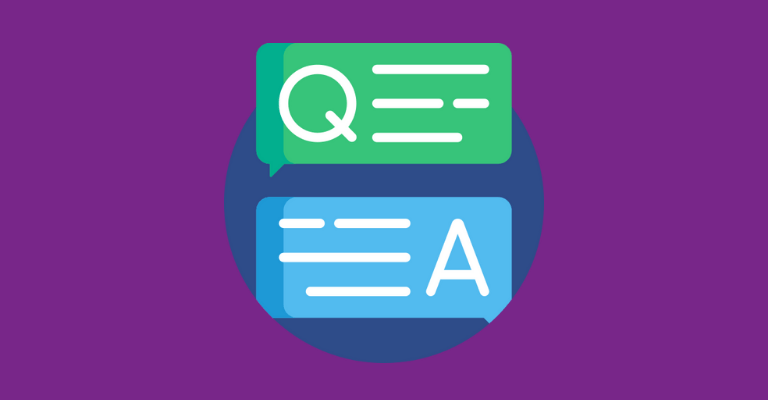 What Uses Less Data: WhatsApp Video Call or Zoom?
As we have mentioned earlier, WhatsApp does not use a lot of resources for a video call. However, the case of Zoom is different. Zoom is not a meeting app that consumes less data. On the other hand, to provide the best meeting experience, Zoom will consume more data from the user. If you want to engage in meetings without spending a lot of data, you need to use Skype and stay away from options like Zoom, Google Meet, and Hangouts.
How much Data do Video Calling Apps Use?
The amount of data a video call uses will vary based on many factors. In particular, we have to consider the video quality of the call. Then, the compression technique used by the messenger will come into play. It is why some messenger apps manage to show high-quality video chat despite using only a minimal amount of data.
Which Video Calling App Uses the Least Data for Video Call?
FaceTime by Apple uses the least data in a video call. It does not come as a surprise, considering that Apple uses high-end algorithms to compress the video.
The Bottom Line
As you can see, sticking to FaceTime or WhatsApp is the best way to make video calls without spending a lot of data. On the other hand, if you would like to engage in multi-people meetings, you can shift to Skype. In general, apps like Google Duo and Google Meet consume more data without you knowing. We hope this list helped you make an informed decision.