I've had my Roku set up and connected through my TV's USB port, but this Roku low power or insufficient power warning kept popping up.
I tried plugging the Roku device into another USB port on the TV and using the official Roku adapter/power cord instead.
Read on to learn more about the steps I tried to fix this lower power issue on Roku!
Roku Low Power — How to Fix
If you see a "Roku low power" warning on your TV when you're using a TV USB port to power your Roku device, it means your TV cannot provide enough power output. Instead, try connecting the Roku device using the original Roku adapter and power cord and plugging it directly into a wall outlet.
If it helps, try connecting to another USB port on your TV, as each has a different power capacity. So, we've shared potential troubleshooting methods you can try to fix Roku insufficient power error on your TV.
1. Reboot Your Roku Device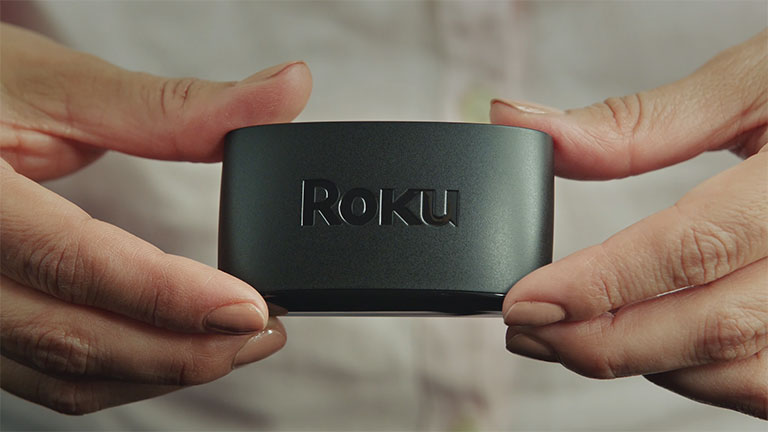 First, you should reboot your Roku device as it can resolve any bug or glitch preventing your Roku device from developing a stable connection. Rebooting your Roku devices not only resolves the power issue but also lets your device soft reset itself, thereby improving its overall performance.
2. Use an Authentic Roku Adapter or Power Cord
All Roku streaming sticks and players come with a dedicated adapter/player.
First, disconnect your Roku device from the USB port on your TV and instead connect it to the Roku adapter. Then plug it into a power outlet.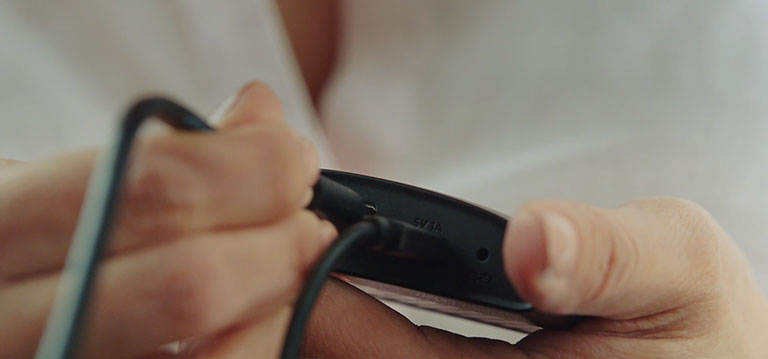 If you can't find the power cord, buy a new one.
Before making a purchase, make sure the cable provides the exact power supply required to power your Roku device; otherwise, it won't work.
Fortunately, Roku provides helpful guides regarding its devices and power supply requirements. Make sure you check the specific voltage required for your Roku device before buying a power cord.
This guide will help you find a compatible power cord or adapter online. To save you some hassle, consider PWR for your Roku device, as it's compatible with most Roku streaming devices.
I've learned it really pays to stick to the original gear!
3. Try Plugging It Into Another USB Port
A Roku low power alert may pop up when there is an insufficient power supply or the USB port malfunctions. In that case, try plugging your Roku device into another USB port on your TV and see if it works. Remember that every USB port has a different power output, so plug your Roku device where it supplies sufficient power to run it optimally.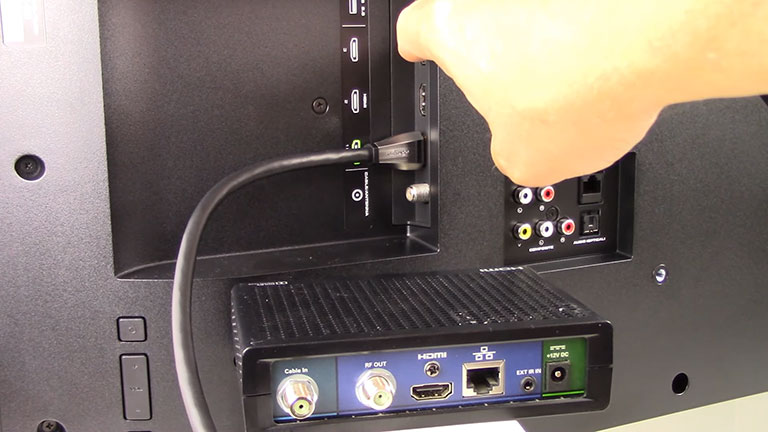 Also, if you have a malfunctioning USB port, then it won't supply ample power to the Roku device, thereby causing your device to pop up with insufficient or low power supply alerts.
4. Plug Into a Wall Outlet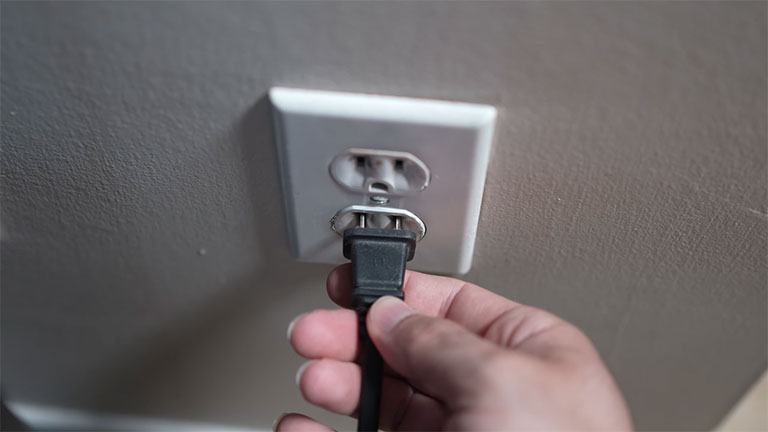 If the above methods didn't fix Roku low power alert on your TV, then you'll have to plug the Roku device into a wall outlet. This will ensure ample power supply to your Roku device, thereby resolving the issue.
5. Delete All Caches on the Roku Device
Sometimes the stored caches on your Roku device are the reason behind the "go.roku.com/lowpower" issue. As a result, your Roku device may become unstable or crash over time. The cache stored in the system often gets missing or corrupted, which can cause various problems on your device.
Fortunately, most users suggested that deleting the caches on their device resolved the problem for them. Here's how to do it.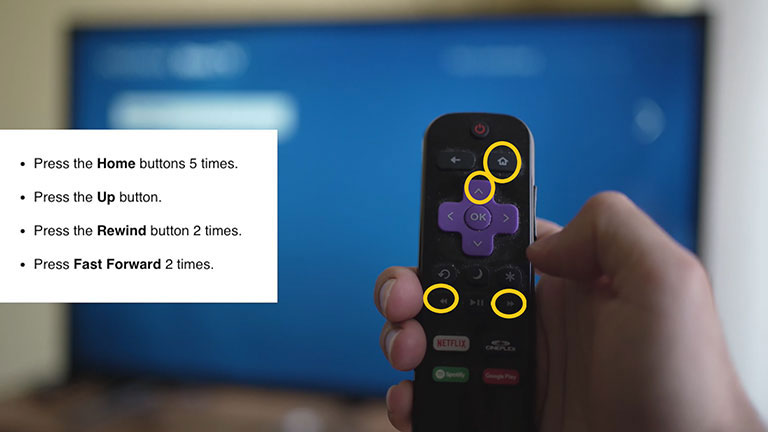 First, press the "Home" button on your Roku TV remote.
Now, you have to press a series of buttons until your Roku device reboots. So, press:
Home button – 5 times;
UP button – 1 time;
Rewind button – 2 times;
Fast forward button – 2 times
Your Roku device will reboot automatically once or twice. So, be patient and wait until the home screen appears.
Use it for a couple more minutes to see if the problem is resolved. Hopefully, clearing the caches on your Roku device will resolve this issue.
6. Let Your Device Rest to Avoid Overheating
If you have been using the Roku streaming player for a long time, unplug and leave it to cool down. Overheating is a common issue nowadays, which can cause your device to run slowly or crash due to low power issues. So, it's best to remove any object placed close to your Roku device to ensure there is sufficient airflow.
7. Remove Cable Extensions
If you are using an extension to connect your Roku device, then you may face this "go.roku.com/lowpower" issue on your TV. So, you should avoid using any extensions as they might malfunction and cause your device to overheat and other related issues.
Frequently Asked Questions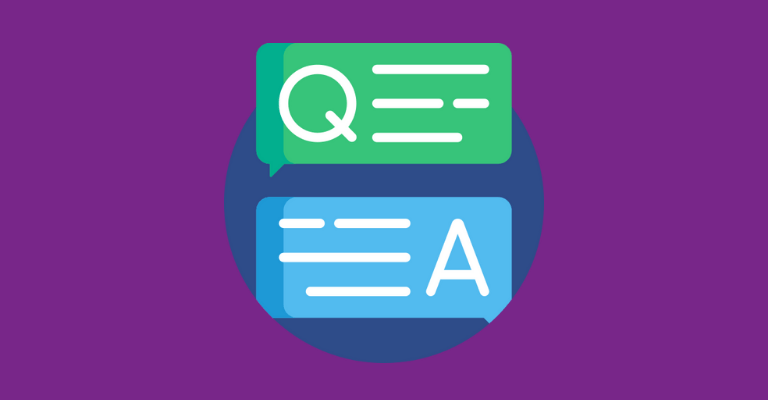 How Do I Fix Insufficient Power on My Roku?
Here's what you need to do.
> Restart your Roku Device
> Use a genuine Roku USB cable
> Try plugging it into another USB port
> Use a Roku Adapter 
> Plug directly into a wall outlet
> Clear caches on the Roku device
> Remove any extensions
Why Does My Roku Keep Saying Low Power?
While you can connect a Roku streaming stick or Roku streaming player to a TV using a USB cable, sometimes the power provided by the TV through USB ports isn't enough to run the device properly. So, if you notice your Roku device saying "Low power," plug it into a wall outlet directly.
What Do You Do When Your Roku Says Low Power?
Here are three things to do when you see a "Roku Low Power" alert.
1. Use the original Roku USB cable
2. Try another USB port
3. Try different wall outlets
How Much Power Does a Roku Need?
Roku usually runs best at 0.6 amps of power. However, most USB ports providing 0.5 amps of power are also good enough to run your Roku device at its best. Roku devices often consume 2–3.5 watts, depending on what you are doing. For instance, if you're streaming UK HDR video, it'll consume up to 4.5 watts.
Why Does My TV Say Insufficient Power?
Here are the causes of the Roku insufficient power error on your TV.
> Cheap or old cables
> Low-powered USB ports 
> A faulty extension
> Not using a direct wall outlet 
> Overloaded caches on Roku Device
> Roku software is outdated.
Can I Power My Roku With USB?
No, you can't because many TV USB ports don't have enough power output to power your Roku devices. So, it's best to use a wall outlet to ensure optimal performance.
The Bottom Line
If you notice a "Roku low power or insufficient power" alert on your TV, try the following troubleshooting tips to resolve this issue quickly.
Reboot your Roku Device
Use an authentic Roku adapter or power cord
Try plugging it into another USB port
Plug into a wall outlet
Delete all caches on the Roku device
Let your device rest to avoid overheating
Remove cable extensions
There you go! Hopefully, this guide has helped you resolve the issue with your Roku device. If we missed any other troubleshooting tips to resolve this issue, feel free to mention them in the comments below!