The Audible vs Scribd debate has been quite active for some time. If you remember, when we listed the best alternatives for Audible, Scribd was on the top of the list – for all the good reasons. To begin with, both the subscription services offer competitive benefits, making it difficult for users to make a pick. If you also seem confused about choosing between Audible and Scribd, you are at the right place. In this ultimate comparison guide, we have talked about everything you should know about the Scribd vs Audible duel. In the end, it will be easy for you to decide. Without further ado, we shall start with an introduction to Audible and Scribd.
Scribd vs Audible – The Basics
Scribd is an all-in-one subscription service that gives you access to books, audiobooks, magazines, podcasts, sheet music, and documents. Currently one of the most popular ways to consume audiobooks, Scribd began its journey in 2007, based in San Francisco, California, United States. Since then, the company has managed to rack up its library with many different services. For instance, Scribd started as an eBook subscription pack, but it is now home to more than 60 million documents. Over time, Scribd has become a direct competitor to Amazon's Audible.
Audible is an audiobook and podcast service that allows users to purchase audiobooks and original content in two ways: by paying for individual titles and through a subscription system. Either way, the user can keep the audiobooks they purchase, and it is one of the distinguishing features of Audible. Audible was founded in 1997, but it was later acquired by Amazon. Currently, Audible is a subsidiary of Amazon. According to the latest statistics, Audible is home to more than 200,000 audio programs, including audiobooks, podcasts, and magazines in audio form.
Now, we will explore how Audible and Scribd perform in different aspects.
Content Diversity
It is always good to have more content that you can explore. Therefore, we have to see which one from the Audible vs Scribd comparison is winning the game.
Scribd Content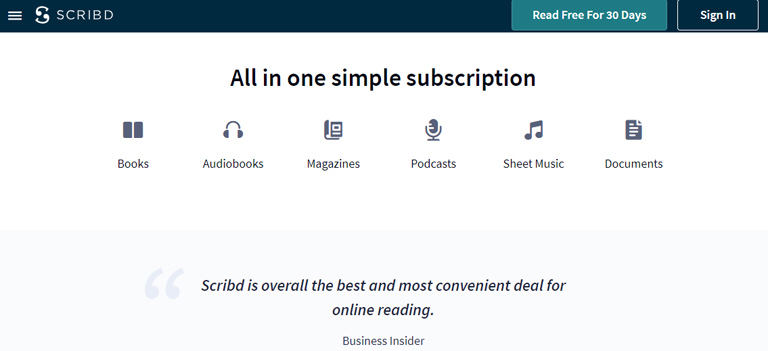 As we said earlier, Scribd offers more than audiobooks. In addition to a well-curated collection of audiobooks on the platform, you can explore magazines, podcasts, sheet music, research papers, and other documents. The best part is that you do not have to pay for these contents separately.
Everything that Scribd offers will be available through the single subscription plan. Therefore, if you want an occasional taste of short stories, essays, or some research content, we recommend that you go for Scribd. We cannot underestimate the big collection of magazines, either.
Let's have a look at what each category from Scribd offers.
Audiobooks: The audiobooks section of Scribd contains popular works like The Alchemist, The Subtle Art of Not Giving a F*ck, The Secret, Think Like A Monk, The Cellist, Noise, Red-Handed, etc.
Audiozines: Audiozines are the audio version of popular magazines. You can find content from trusted sources like The Guardian, Newsweek, People Magazine, Entrepreneur, and The Millions.
eBooks: Scribd offers a superb-rich collection of eBooks, including best-sellers and lesser-known ones from the market. The collection is vast and contains works from categories like Politics, Fiction, Non-fiction, Career & Growth, Biography & Memoir, Science, Self-Improvement, Travel, etc.
Magazines: Print magazines like the NPR, Los Angeles Times, The Guardian, Chicago Tribune, People, DIVA, TIME, Mother Jones, Macworld, Entrepreneur, Inc, The Paris Review, Creative Nonfiction are available on the platform.
Podcasts: Popular podcasts can also be enjoyed using the Scribd subscription. TED Talks Daily, The Daily, On Purpose with Jay Shetty, Planet Money, and Stuff You Should Know are some noteworthy titles.
Sheet Music lessons are also a part of the Scribd subscription.
Documents are also a strong area where Scribd shines. It contains a huge library of documents, such as court filings, business templates, and academic papers. For instance, academic papers from well-reputed journals are available for free on Scribd.
As you can see, the content that Scribd offers under a simple subscription plan is quite impressive. If you get this subscription, you can cancel many others. For instance, you would no longer need individual plans for your favorite magazines or podcasts. Altogether, we can recommend Scribd to those who want a diversity of content.
Audible Content
Unlike Scribd, Amazon's Audible focuses mostly on audiobooks. Even though you can find some podcasts as well as audio versions of magazines, the majority of the Scribd collection is contributed by audiobooks only. Over the past years, however, Amazon has added an impressive collection of originals.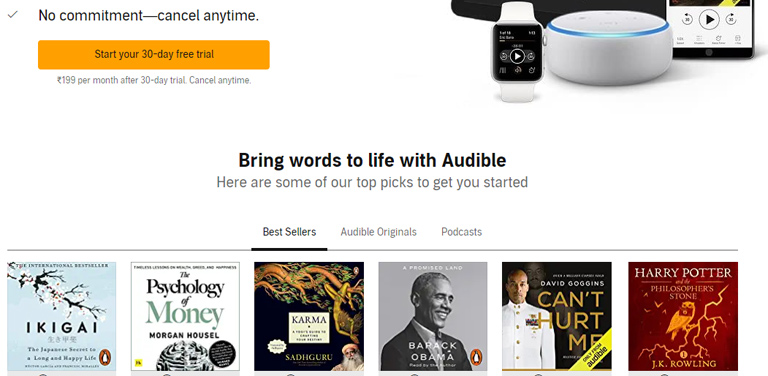 We should also note that the subscription plan does not give you access to the complete library. Instead, a number of credits are provided each month, and you can use these credits to purchase audiobooks or other audio content.
Like we did earlier, we will look at the content variety on Audible.
Audiobooks: Audible has probably the biggest collection of audiobooks one can check out on digital devices. Available in categories like Fiction, Sci-Fi Fiction, Self-Development, and Children's Books are thousands of well-recorded audiobooks. You can explore sub-genres as well. For instance, if you like to listen to Literature & Fiction, many sub-genres such as Action, Classics, Genre Fiction, Historical, Humor, and World Literature are available. Long story short, Scribd cannot overcome Audible when we consider the volume of audiobooks.
Audible Plus Catalogue: Audible Plus Catalogue is a curated collection of audiobooks and originals on the platform. These contents are included as a part of the subscription, and you do not have to pay anything extra. You can explore these originals, podcasts, and audiobooks using any of the supported devices.
Audible Originals: Audible Original is a collection of stories and extracts that you can't find anywhere else. Amazon's Audible team has produced all this content to enrich the library. You can find a great variety of options, including self-help extracts, romance stories, and mystery thrillers. The original collection has attracted a lot of attention in the previous years, increasing the number of people who subscribe to Audible.
Podcasts: Audible also packs an impressive collection of popular and original podcasts. It must be a convenient thing to listen to all this content from the single Audible app.
While not as diverse as the content on Scribd, the content on Audible is also pretty awesome. Of course, the subscription plans on both platforms are different. While Scribd gives you access to the entire library, it isn't the case with Audible. However, we will discuss this aspect more in the next section. At this point of Scribd vs Audible comparison, we'd say that Audible is for those who need the best of the audiobook world.
Audible vs Scribd – the Audiobook Collection
Since we are comparing Audible and Scribd as audiobook platforms, we have to especially consider the case of their audiobook collections. It should be one of the decision-making pointers for most people.
Audible

Audible, as we said, has one of the largest collections of audiobooks. The library consists of 200,000+ titles, which is no small number. Therefore, if you choose a random book and search for it on Audible, you have a better chance of finding the audiobook. Personally speaking, I have been able to find audiobook versions of books whose print versions are unavailable. And, as we said in the beginning, the collection has been split into different categories and sub-genres.
Scribd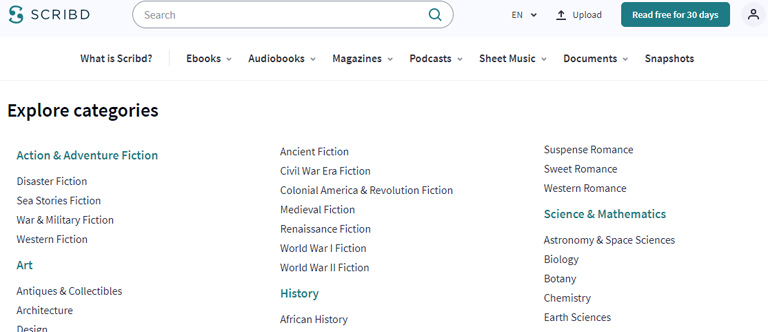 It is no secret that Scribd does not have the biggest collection of audiobooks. The company does not publicly release the number of audiobooks it has due to obvious reasons. Even though there are multiple genres and categories, you can see that Scribd does not have many options. For instance, if you look for recently-released books, you are unlikely to find them on Scribd. Of course, it happens due to the differences in the publishing houses these companies have collaborated with.
Long story short, if you are looking for the biggest collection of audiobooks, you should choose Audible. Of course, when you do so, you will miss access to magazines and other documents. As we said, this is an area where you have to decide.
Scribd vs Audible – Ownership of Content
Let's look at what happens when you listen to an audiobook or read a book on Audible or Scribd.
Scribd
You can think of Scribd as a Netflix for reading. It means two things. One, you do not own the content that you listen to. You are basically renting the material and listening to it. Second, the moment your subscription is expired, you will lose access to the content. Even if you have downloaded an eBook or audiobook to your iPhone or Android smartphone, you cannot play them anymore.
Therefore, Scribd is not recommended if you want to own the audiobooks that you listen to. On the flip side, though, the Scribd subscription gives you access to an ever-growing library.
Audible
Things are the polar opposite when it comes to Amazon's Audible. To listen to an audiobook on Audible, you have to purchase the book. You can do it by paying the full price or redeeming one of the many credits you will have. Once you purchase the book, it is yours. Even if you cancel the Audible subscription in the future, you will retain the ownership of the audiobook.
Having said that, once you cancel the Audible subscription, you will not have access to Audible originals or the Audible Plus Catalogue. Similarly, every time a new book released, you need to purchase it separately.
So, you have to choose between Audible and Scribd based on whether you want to own the content that you listen to.
Customer Support
Customer support is an area where Audible and Scribd reach a tie. Both companies offer top-notch support for sales and tech. You can use the apps without any problem. You can reach out to the Scribd customer support via email only, though. It would be great if the company offered support through additional mediums like live chat and phone. However, considering how smooth it is to use Scribd, you are good.
In the case of Audible, the company is a part of Amazon, and there is a level of integration you can expect. For instance, you can manage the subscription and other purchases through the Amazon account. Similarly, in some countries, Audible offers extra features and discounts for Prime members. For instance, while non-Prime members get 1 credit per month, Amazon Prime members will have access to 2 credits per month.
Despite these advantages, Audible does not have the upper hand here. It is because the tech support, as well as customer service from Scribd, is equally awesome. After all, we cannot judge customer support based on additional benefits, right?
Scribd vs Audible – Pricing Plans
Let's look at how well these two services are priced.
Scribd
Scribd has a simple subscription plan that costs $9.95 per month. In the end, if you want to use the service for a year, you have to pay $119.4, which is not a huge amount when we consider the library that you have access to. As we mentioned earlier, it is a growing library, and you will have unlimited access all the time. You do not have to make additional purchases for newly-released books, audiobooks, or magazines.
In some cases, though, users have seen some throttling tendencies from Scribd. It means the company stops users from accessing more than a specific number of books per month. According to some Reddit posts, the company was not allowing users to access more than four books, which can be a little problematic. However, there is no official word from Audible on this matter.
Audible
Audible from Amazon uses a rather complicated pricing plan. The subscription for Audible will set you back at $14.95 per month. It brings the total to $149.95 per year. While this number looks bigger than Scribd, you need to note a few things. During the entire year, you will have access to Audible originals, podcasts, and the Audible Plus catalogue. In addition, you get 12 credits as well.
Now, this is where things get interesting:
You can use these 12 credits to buy 12 different audiobooks. And you get to keep them even after you have canceled the Audible subscription. As we said in the beginning, with Audible, you are buying audiobooks not simply renting them. So, the effective cost of an audiobook becomes $12.95. You tell me where else you can get audiobooks for this price.
Return Policy
A return policy is not applicable for Scribd because you are not buying anything. Since you are renting the content, you do not have to return anything. You can simply move on to the next piece of content with ease.
On Amazon's Audible, though, there is an amazing return policy. Audible provides a 1-year no-questions-asked return policy for Audible Premium users. Suppose you are an Audible Premium member and bought a book. However, despite the first impression, you did not like the book when you listened to this. Now, you can return this book and get the credit back within 356 days of the purchase.
We must add that the return policy has sparked some controversies among the writers/narrators. They say that people use the return policy after listening to the entire audiobook, thus causing a loss of revenue. So, it is possible that Amazon may remove the policy very soon.
Compatibility
At this point of the Scribd vs Audible duel, we can look at their device compatibility as well.
Scribd
You can Scribd on an impressive variety of devices. The supported list of devices includes Apple devices with iOS 9 or later, Android devices with 4.4 or later, and Kindle devices with Fire OS 4 or later. However, you do not have an option to listen to audiobooks on Kindle Paperwhite.
Audible
Audible has an extensive list of supported devices. We are talking about all iOS devices, Android devices, all Windows phones, Kindle devices, including Paperwhite, Mac, Windows, Linux, VictorReader, etc. Audible is supported on some Braille-based systems as well.
As it goes without saying, Audible wins the compatibility part. Scribd cannot beat Audible.
Comparison Table
| | Audible | Scribd |
| --- | --- | --- |
| Content | Audiobooks, Podcasts, Original stories | Audiobooks, eBooks, Magazines, Podcasts, Documents, Music Sheets, etc. |
| Ownership of Content | You own the audiobook | You rent the audiobook/content |
| Lifetime access | Yes | No |
| Access to content | One audiobook per month + Audible Plus Catalogue | Unlimited/Limited |
| Pricing | $14.95 per month | $9.95 per month |
| Cost per audiobook | $12.95 | Not applicable |
| Return Policy | 356-days, no-questions-asked | Not applicable |
| Audio quality | 64Kbps | 32Kbps |
| Audiobook Library size | 200,000+ titles | Around 40,000 titles |
| Tech support | Via Phone, Chat, Email | Email |
| Compatibility | All devices, including Braille | Standard compatibility |
| Suitable for | Audiobook enthusiasts | Content consumers |
Frequently Asked Questions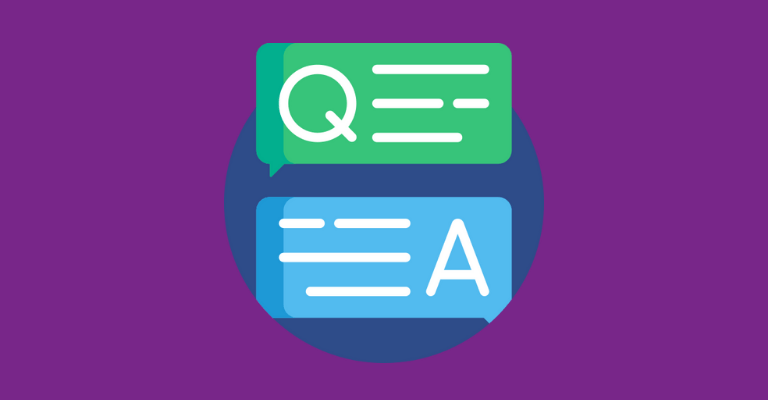 Is Scribd owned by Amazon?
No, Scribd is not owned by Amazon. Scribd is part of a company named Scribd Inc, headquartered in San Francisco, California, United States.
Does Scribd charge for downloads?
No, Scribds does not charge for downloads if you have its premium subscription. All their contents would be available on an unlimited basis.
Is Audible free with Prime?
No, Audible is not free with Prime. However, in some countries, Audible subscribers who have Prime will get 2 audiobook credits instead of 1.
Does Scribd offer unlimited audiobooks?
Yes, Scribd offers unlimited access to the audiobook collection. However, some users have reported a level of throttling from the company.
Is Audible worth it?
Considering the low-cost monthly subscription and the variety of content that you have access to, Scribd is a worthy option, indeed.
Is it better to read or listen on Audible?
You cannot read on Audible. Audible is an audiobook service that has apps available for different devices. You can use the service to listen to audiobooks, which is a convenient way to consume knowledge.
Scribd Vs Audible – What to Pick
Now that we have compared Audible and Scribd based on multiple factors, we shall make some decisions.
If you want to own audiobooks and enjoy some additional content like podcasts and original stories, you are better off with Amazon's Audible. The platform allows you to purchase audiobooks at the lowest price there is. Even after your subscription is over, you can retain ownership of the book. You can also count on the huge library of audiobooks and the top-notch technical support from Amazon.
On the other hand, if you want unlimited access to audiobooks, eBooks, magazines, and documents, Scribd seems to be the better choice. With a Scribd subscription, you do not have to worry about limits or credits. All books part of the Scribd library will be accessible to you. However, even though Scribd offers top-notch technical support and features, its audiobook collection is not as rich as that of Audible.
So, in the end, the Audible vs Scribd question comes down to your preferences.