Why is that around 90% of people quit blogging within a few months of starting? Blogging can be a very lucrative way of making money while enjoying yourself, yet only around 10% of those who start actually succeed in making more than just a few dollars. In fact, some make nothing at all!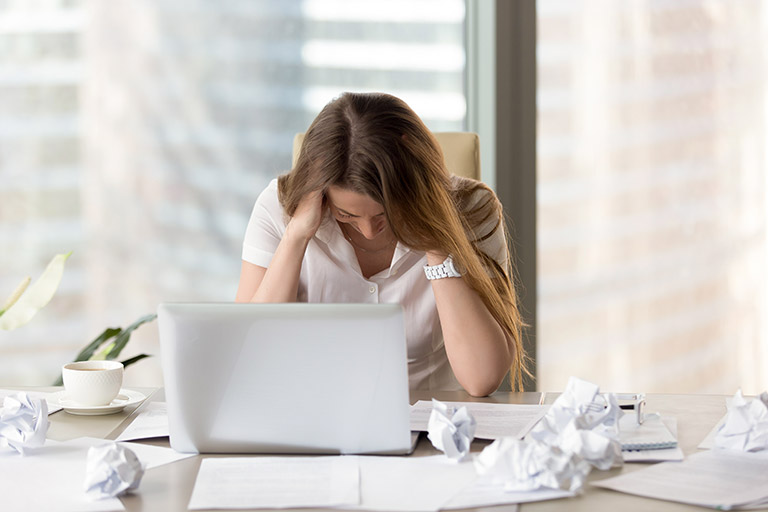 Why is this? Here are some of the more common reasons for newbie bloggers to give up before they have given themselves a chance to become successful. There are generally two major reasons: they are too impatient and they go about it the wrong way. There are no tricks to become a successful professional blogger – just patience and doing things correctly and in the right order.
1. Impatience is Not a Virtue!
Unless you are extremely lucky, it takes time to make money online. Sure, you will read about those claiming to have become millionaires overnight – "just purchase my system and you can too!" They are misleading you – it just doesn't happen.
Whether you are selling affiliate products on a regular website, promoting your own products or blogging professionally, you will not become successful overnight. It takes time and patience! To make money you need a following: a good readership. It can take a few months to build up a consistent flow of regular readers, providing the traffic that will eventually be the source of your income.
If you keep writing good content, interesting blog posts that provide information and solve a few problems, then you will begin to be noticed. By monetizing your blog immediately people will think you are only trying to make money from them and not offering them valuable content. Be patient; leave it for 3 months or so before trying to monetize your blog, or at least until you have a good regular readership that leaves comments and becomes involved.
2. Lack of Motivation
Many bloggers lose their motivation after a few weeks. It's not easy to keep writing interesting information week after week and only getting a few visitors. Many people give up because they lose heart. It takes time to build up a strong following. This will usually begin as a dribble – one or two people noticing your blog, then a few more, then it turns into a small steam.A few readers mention your blog to others on a forum and eventually, you wake up one morning and the stream has begun. If you stay motivated, and keep writing good useful content, you will eventually have enough regular readers to consider offering a few ads and you might even review one or two products.
3. Love Writing and Love Your Niche
Your passion for your niche will show up in your writing. If you don't like writing then don't run a blog – unless you have somebody to write your posts for you. It is okay to use a blog post ghostwriter, but your knowledge and passion must still shine through no matter who does the writing! Your blog will be judged on its content.
Do not be too restrictive in your topics: write on many different aspects of your niche. You have many readers to keep interested, and they are not all interested in on-page SEO. Some might prefer off-page SEO, others link building and yet others be more interested in the black hat SEO methods. Be eclectic in your writing.
4. Be Unique!
The last thing a good blogger should do is trawl other blogs and copy what they are writing. You must be unique in what you write. This is not always possible, of course, but you can keep your readers coming back for more by reading yourself as one of them.
For example, if you are writing about SEO then it is difficult to be unique about the Google algorithm updates that every other professional blogger will be writing about. However, if you can find a fresh outlook on the subject that you were once looking for, then that can help you.
If most bloggers are focusing on the benefits of Google's new Hummingbird algorithm, perhaps you could point out a few negative aspects and what your readers could do to avoid these. Very few things are 100% positive, so by looking at the negatives, you could provide your readers with very useful information that most others have missed.
5. Content is Important!
Avoid writing drivel and treating your readers like idiots. They are likely intelligent and interested people, seeking answers to their questions and solutions to their problems. If their niche involves money rather than their hobby, then they will be seeking guidance from you as to how they can make money themselves. If you can't make money, then how can you teach them how to do so?
Readers can spot poor information and scraped content a mile away. Poor information is that which is already well-known online and scraped content is software-generated from other online content. Each of these can be easily spotted. So don't copy content from other blogs or articles, but write your own based on your own personal knowledge. That is what people want – give them what they want and they will respect you and your blog. Readers can spot honesty in writing, believe it or not!
6. Think Language!
An important issue regarding language is that bloggers from non-English speaking countries may experience problems getting high rankings in the USA, Europe, and Australia. This is a very large potential readership and client base to be excluded from.
In such cases, it might pay to have your blog content written for you by a professional writer. Alternatively, you could use a translation service the other way – to have your blog translated from your language to English. Many people quit blogging because they cannot participate in the English-speaking market.
7. How to Promote Your Blog
An important reason why people quit blogging is that they cannot promote their blog effectively. They might rely totally on SEO and hope to get their blog listed on Page #1 on Google. Yes, that might work after a few months or years, but what makes you think that your blog is amongst the top 10 in the world for your niche?
Here are some questions for you to answer:
Is your site registered with Google Search Console?
Do you have a professional-looking Facebook business page for your blog?
Do you have a Google+ page with +1 chicklets on each post?
Do you have a Twitter account?
Do you have a LinkedIn account with connections to others in your niche?
Are you using Pinterest to your advantage?
Have you made a video and published it on YouTube – all you need is a simple webcam!
Do you publish your articles in PDF format, or even published an eBook on PDF directories?
Do you take part in forums, and attach your forum name to your Google+ Profile?
Each of these should include a link somewhere to your blog. Remember why most people quit blogging because of a lack of traffic? Then each one of these can get you the traffic you need to be successful.
8. Guest Blogging
The best way to promote your blog is to get readers from other blogs. Make a list of other professional blogs in your niche and ask if you can guest blog for them. You are unlikely to be accepted immediately. You must first make intelligent comments in these blogs, perhaps solve some problems and in general, show that you are an expert. You might then get an invitation to guest blog, but if not then why not ask? You get nowhere if you never try!
Why Most People Quit Blogging: Conclusions
Most people quit blogging because:
They have no patience
They lose motivation
They have a 'me too' mentality, rather than be unique
They cannot write interesting content
They cannot promote their blog
You will never be a successful professional blogger if you are too shy to ask: ask people to follow your blog, ask if you can guest blog and ask readers what they want to read.
Don't Quit Blogging
Be pushy, find new ways to keep your readers happy and make sure as far as you possibly can that new reader are constantly being exposed to your blog. Then you will have a good chance of achieving success as a professional blogger.