L'oreal, e.l.f. Cosmetics, NYX, Aquafresh, and Optrex are among the industry-leading brands adopting augmented reality-enabled technologies. Beauty market leaders mostly started leveraging AR-powered capabilities when the COVID-19 pandemic came into play to retain existing customers, evolve their business growth, and even seize new profit-generating opportunities.
The beauty AR landscape is about enhancing marketing and ads campaigns, core business-to-consumer applications, and internal enterprise processes. It becomes possible through adopting ML-based facial detection and tracking software that adds real-time 3D facial effects, filters, and other specific technologies. They help beauty-related vendors increase user engagement, drive sales, and reduce the product return rate.
However, many companies still wonder if beauty AR solutions are game-changing and investment-worthy to implement and evolve within their business. So, this post will help find out how AR beauty technology works, its core use cases, and its must-try features.
What Is AR Beauty Technology
Beauty AR is a wide range of ML-based augmented reality technologies designed to streamline the way market-specific brands engage with their customers in a digital landscape. It utilizes computer vision algorithms trained to detect, recognize, and match tons of points and create a real-life fitting experience for end-users.
The AR beauty technology helps consumers tune, retouch, and even modify any aspect of their appearance in real-time and easily. More than that, up-to-date augmented reality innovations even allow customers to go far beyond plain face retouching and try-on beauty products, makeup outlooks, and multiple hairstyles with a single click.
Must-Try AR Makeup and Beauty Features
Face Morphing
Face morphing is a must-have beauty app feature that enables users to modify the size and shape of their face in real-time. The dragging feature helps users to move the vertices of the 3D generated model and resize cheeks, chin, nose, and many other facial parts to name the core capabilities in greater detail.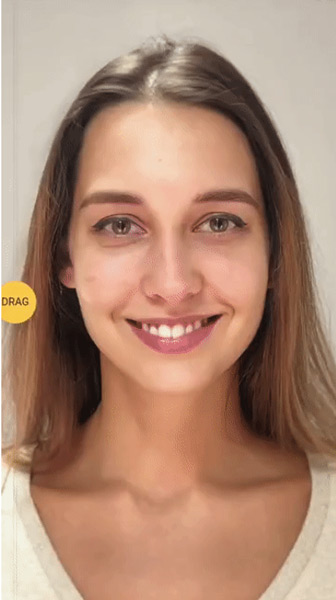 From a technical point of view, morphing effects utilize face mesh technologies to apply them to the base mask. For example, the below-mentioned illustration displays how face tracking technology matches the base mask (pink) and the morphing effect (green) through ML-based facial recognition and tracking.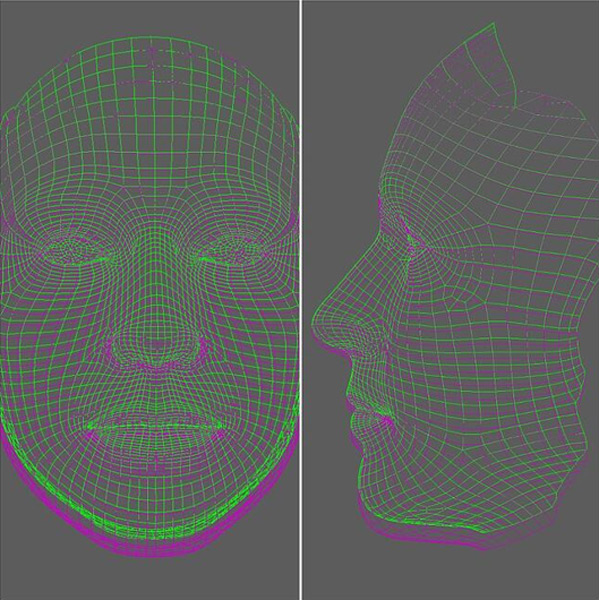 Video Face Beautification
Real-time video portrait beautification is about providing editing tools, filters, and adopting cutting-edge algorithms for face enhancements. The core components of video face beautification include skin smoothing or face softening, teeth whitening, look up tables (LUTs), and eyes-based effects.
Brands utilize AR-powered technology to eliminate camera distortion and streamline video calling, chatting, and conferencing experiences with all-in-one retouch filters.
Face Retouching
Along with face beautification technologies, beauty-related market leaders also adopt blemish removal tools that facilitate appearance imperfection enhancement. End-users can utilize AR-powered video or photo editing tools launched by companies to remove acne, wrinkles, spots, and even eye bags. Computer vision technologies utilize multiple input face data like skin colors and shapes to conduct high-performing tasks in a matter of seconds.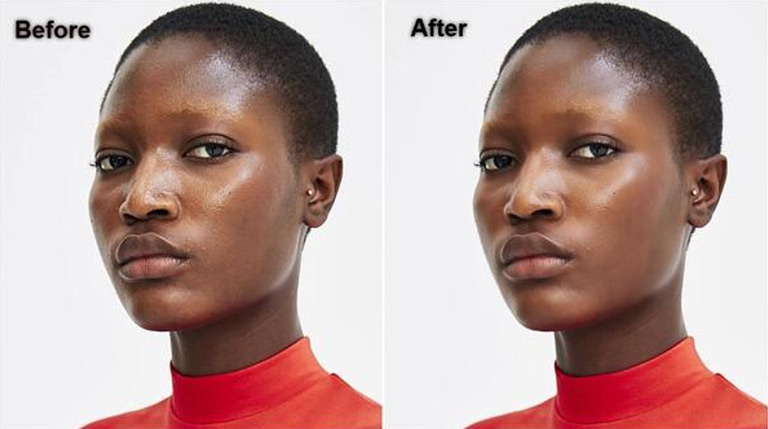 AR Makeup (Coloring)
AR-enabled makeup solutions came into play to help e-commerce, beauty, cosmetics, and other market-specific vendors provide real-time virtual makeup try-on solutions. Either way, when brands utilize web or mobile apps, facial recognition technologies do their heavy lifting to empower real-time editors, photo/video retouching apps, and other products with to-the-second makeup look constructors, hair coloring, and other solutions.
Below is an example of AR makeup technologies and real-time hair coloring by Banuba Limited.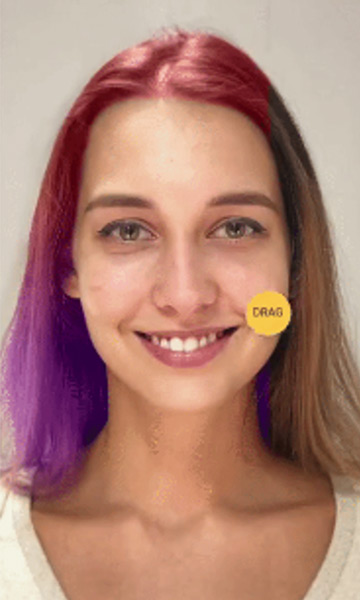 Face Modifiers
Augmented reality-enabled face modification capabilities provide users with never-seen-before face changing experiences. For example, consumers can leverage aging filters to predict their future appearances precisely or adopt face swap features to have fun with friends and colleagues by switching their faces. There are many more face modification solutions available on the up-to-date beauty market.
So, whether you want to evolve your web-based cosmetics store with virtual try-on, kickstart a full-featured makeup app, or launch smart beauty mirror software, beauty AR is your growth driver and go-to-market accelerator enabling customers to experience true-to-life digital products.
5 Beauty AR Technology Use Cases
Touch up filters, virtual try-on solutions, beauty effects, and other AR-powered technologies can become a must-have built-in functionality for your standalone app or a part of current products through an integration. Now we want to discuss 5 must-watch use cases of adopting beauty AR capabilities.
Photo and Video Editing Software
Face Beauty API allows developing a full-featured face editing application or integrating it into your existing photo/video editing software. Whether you have Snapchat- or TikTok-like products, face editing technologies do their heavy lifting while providing higher user engagement and a way more advanced functionality pool for end-users to modify their appearances.
Live Streaming
Beauty filters also have a wide recognition among top-tier streamers and YouTubers as it helps them skyrocket user-generated content and produce more purpose-wide videos, highlights, and clips with immersive effects. Supporting web and mobile platforms, the AR beauty technology allows content creators to make the most out of their audience coverage.
Video conferencing
Zoom fatigue and confidence-limited virtual calls have become a real headache for multiple virtual conferencing attendants. However, beauty AR was designed to solve these issues by offering real-time 3D beauty filters, face modification tools, and other appearance-changing technologies that increase user privacy and confidence and increase the average video call session time for brands.
Entertainment
Snapchat and TikTok have boomed the social media and entertainment industries by evolving real-life 3D animations, feature-rich graphics, character-centric masks, and other augmented reality solutions. So, beauty AR is actively seizing the entertainment landscape, helping brands meet the ever-changing demands of users and increase in-app session times and content purchases.
Medical Apps
Market-leading healthcare brands also leverage multiple benefits of the beauty AR technology by providing their staff with immersive effects that help simulate real-life scenarios virtually. For example, plastic surgery companies can adopt fillers, facelifting, or botox filters with up to 90% accuracy, which accelerates in-house training and engages both trainees and experts.